Donald Trumps Notenbank
CAMBRIDGE – Mit der Ernennung von Jerome Powell zum nächsten Vorsitzenden des US Federal Reserve Board hat Donald Trump die vielleicht wichtigste Entscheidung seiner Präsidentschaft getroffen. Es ist eine vernünftige, sachgerechte Entscheidung, die auf kurzfristige Kontinuität bei der Zinspolitik der Fed und möglicherweise auf einen einfacheren und saubereren Ansatz bei der Regulierungspolitik hindeutet.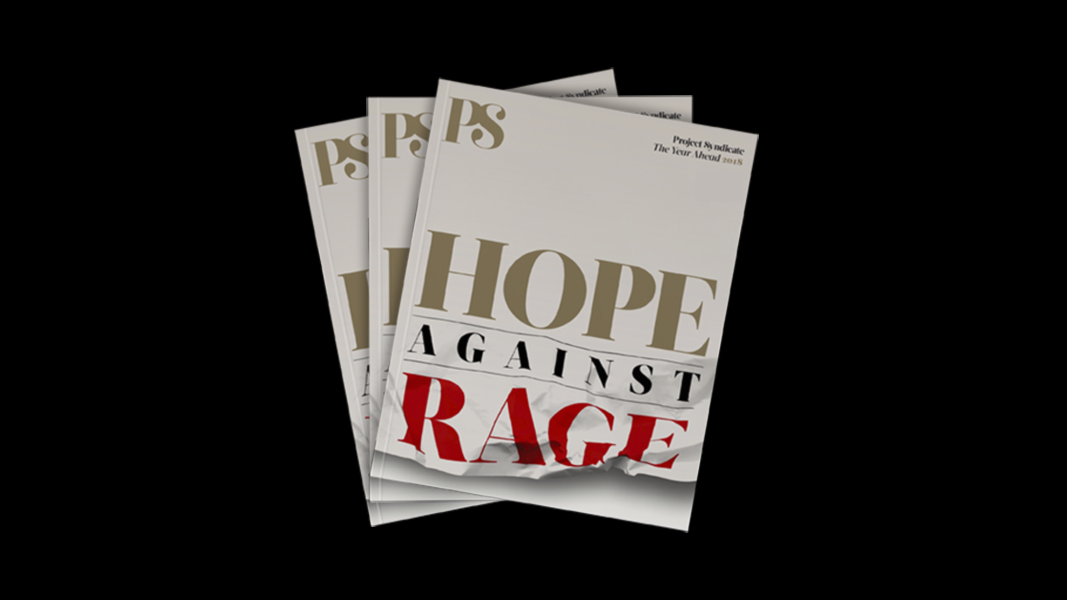 The Year Ahead 2018
The world's leading thinkers and policymakers examine what's come apart in the past year, and anticipate what will define the year ahead.
Obwohl Powell kein Doktor der Ökonomie ist wie die derzeitige Chefin der Fed Janet Yellen und ihr Vorgänger Ben Bernanke, hat er seine Jahre als "gewöhnlicher" Gouverneur der Fed genutzt, um ein tiefgreifendes Wissen über die zentralen Fragen zu erwerben, die sich ihm stellen werden. Doch man darf sich nicht täuschen: Die Institution, die Powell jetzt leiten wird, beherrscht das globale Finanzsystem. Alle anderen Notenbanker, Finanzminister und sogar Präsidenten rangieren weit abgeschlagen dahinter.
Falls das übertrieben erscheint, dann nur, weil die meisten von uns der Fed im Alltag nicht allzu viel Aufmerksamkeit schenken. Wenn die Fed alles richtig macht, herrscht Preisstabilität, die Arbeitslosigkeit bleibt niedrig, und die Produktion brummt. Doch "alles richtig zu machen" ist nicht immer einfach, und wenn die Fed es nicht hinbekommt, kann das ziemlich üble Folgen haben.
Die Bemühungen der Notenbank, Ende der 1920er Jahre eine Spekulationsblase am Aktienmarkt zu zähmen, lösten bekanntermaßen die Große Depression der 1930er Jahre aus. (Zum Glück ist Powell unter allen Kandidaten, die Trump für den Posten bei der Fed in Betracht gezogen hatte, derjenige, von dem am unwahrscheinlichsten ist, dass er diesen Fehler wiederholt.) Und als die Fed in den 1970er Jahren Berge von Geld druckte, um die von den Ölschocks dieses Jahrzehnts ausgehenden Schmerzen zu betäuben, löste sie einen steilen Anstieg der Inflation aus, den zu überwinden mehr als ein Jahrzehnt dauerte.
Manchmal scheint die übrige Welt sich mehr Gedanken über die Politik der Fed zu machen als die Amerikaner selbst. Das ist kein Wunder: Vielleicht mehr denn je steht der Dollar im Herzen des globalen Finanzsystems. Das liegt unter anderem daran, dass ein großer Teil des Welthandels und des Finanzgeschehens an den Dollar gekoppelt ist, was viele Länder dazu bringt, die Politik der Fed nachzuahmen, um ihren Wechselkurs zu stabilisieren.
Powell wird gleich zu Beginn seiner fünfjährigen Amtszeit vor einigen außergewöhnlichen Herausforderungen stehen. Bei Ansatz bestimmter Messgrößen erscheinen die Aktienmärkte heute sogar noch überhitzter als in den 1920er Jahren. Angesicht der heutigen außergewöhnlich niedrigen Zinsen scheinen die Anleger immer stärker bereit, auf der Suche nach höheren Renditen größere Risiken einzugehen.
Zugleich bleibt die Inflation, trotz starken Wirtschaftswachstums in den USA und weltweit, verblüffend niedrig. Dies macht es für die Fed extrem schwierig, den Leitzins zu normalisieren (der noch immer bei lediglich 1% liegt), um beim unweigerlichen Eintritt der nächsten Rezession Spielraum für Zinssenkungen zu haben. (Die Eintrittswahrscheinlichkeit einer Rezession liegt in jedem beliebigen Jahr bei etwa 17%, und das erscheint derzeit als eine gute Schätzung.)
Wenn Powell und die Fed die Zinssätze nicht vor Eintritt der nächsten Rezession normalisieren können, was werden sie dann tun? Yellen beharrt darauf, dass kein Grund zur Besorgnis besteht; die Fed habe alles unter Kontrolle, weil sie auf alternative Instrumente zurückgreifen könne. Aber viele Ökonomen glauben inzwischen, dass viele davon Taschenspielertricks sind.
So geht es etwa bei der sogenannten quantitativen Lockerung darum, dass die Fed kurzfristige Schuldpapiere ausgibt, um langfristige Staatsanleihen aufzukaufen. Doch ist das US-Finanzministerium Eigentümer der Fed und könnte derartige Käufe von Schuldtiteln ohne Weiteres selbst durchführen.
Manche sprechen sich für "Helikoptergeld" aus, bei dem die Fed Geld druckt und unter die Leute bringt. Aber auch das ist Schall und Rauch. Die Fed hat weder die gesetzliche Befugnis noch ein politisches Mandat für die Fiskalpolitik; wenn sie also etwas Derartiges versucht, läuft sie Gefahr, ihre Unabhängigkeit für immer zu verlieren.
Angesichts der Tatsache, dass die Geldpolitik die erste und beste Verteidigungslinie gegen eine Rezession ist, besteht eine dringende Aufgabe für den neuen Notenbankchef darin, einen besseren Ansatz zu entwickeln. Zum Glück gibt es hierfür gute Ideen, und man kann nur hoffen, dass Powell schnell einen Ausschuss ins Leben rufen wird, um langfristige Lösungen zu untersuchen.
Eine Idee besteht darin, das Inflationsziel der Fed anzuheben. Aber das wäre problematisch, nicht zuletzt, weil es gegen ein jahrzehntelanges Versprechen verstoßen würde, die Inflation bei rund 2% zu halten. Zudem würde eine höhere Inflation zu größerer Indexierung anregen, was die Effektivität der Geldpolitik langfristig untergraben würde. Den Weg für eine Politik negativer Effektivzinssätze zu bereiten, ist eine radikalere, aber deutliche elegantere Lösung.
Zum Mandat der Fed gehört auch die Bankenregulierung. Das Dodd-Frank-Gesetz zur Finanzreform von 2010, das Regeln im Umfang von über 30.000 Seiten ausgelöst hat, war ein Glücksfall für die Anwälte. Doch sind es letztlich kleine und mittelständische Unternehmen, die auf den enormen Compliance-Kosten sitzenbleiben. Viel besser wäre es, die Banken einfach zu verpflichten, einen deutlich größeren Teil ihrer Ressourcen an den Aktienmärkten statt durch Anleihen aufzubringen. In diesem Fall würden bei einer Krise die Aktionäre und nicht die Steuerzahler leiden.
Das offensichtlichste mögliche Problem habe ich noch nicht erwähnt: Die von einem Präsidenten, der fest entschlossen scheint, alle institutionellen Normen in Frage zu stellen, ausgehende Bedrohung für die Unabhängigkeit der Notenbank. Als Präsident Richard Nixon 1972 wiedergewählt werden wollte, setzte er den damaligen Notenbankchef Arthur Burns schwer unter Druck, der Wirtschaft "Saft zu geben". Nixon wurde wiedergewählt, doch die Inflation schoss steil in die Höhe und es kam zu einem Wachstumseinbruch. Niemand sollte sich eine Wiederholung wünschen – auch wenn gegen Nixon letztendlich ein Amtsenthebungsverfahren eingeleitet wurde.
Aus dem Englischen von Jan Doolan