La neutralité veule d'Israël
TEL AVIV – Par sa condamnation en demi-teinte de l'agression russe contre l'Ukraine, Israël n'a pas réussi à trouver un juste équilibre entre moralité et realpolitik. Étant donné que le Premier ministre israélien Naftali Bennett a même refusé de rencontrer le président palestinien Mahmoud Abbas, le chef d'une autre nation occupée, son effort de pure forme visant à servir de médiateur de la paix ne peut guère être pris au sérieux. C'est une tentative pathétique de se faire pardonner les fautes morales de son gouvernement. Alors que l'Inde et les amis de l'Amérique dans le monde arabe ont également utilisé le prétexte de la « médiation » pour éviter de prendre parti, ils ne partagent pas les prétentions d'Israël à être « un flambeau pour guider les nations ».
Israël est de loin l'allié américain le plus favorisé au Moyen-Orient, pour ne pas dire dans le monde. Chaque fois qu'Israël a besoin d'une grande puissance pour venir à sa rescousse – comme lors de la guerre d'octobre 1973 – ce pays ne s'est pas tourné vers la Russie, mais vers les États-Unis. Sa dépendance à l'égard du soutien des États-Unis est écrasante et son accès à l'armement américain le plus avancé est sans égal, même parmi les alliés de l'OTAN de l'Amérique. Sans le soutien des États-Unis, Israël n'aurait pas conclu les accords de paix considérables avec les grandes puissances arabes.
Certes Israël a voté en faveur de la résolution des Nations Unies condamnant la Russie et a envoyé une aide humanitaire considérable aux Ukrainiens. Mais Israël a refusé de critiquer publiquement la Russie ou de compléter l'aide humanitaire par du matériel défensif. Il a même rejeté dans un premier temps la demande du président ukrainien Volodymyr Zelensky de prendre la parole devant la Knesset de peur d'attiser la colère de Poutine. Apparemment, le feu vert de la Russie pour qu'Israël frappe des cibles militaires iraniennes en Syrie est plus important que de se tenir aux côtés des États-Unis et de l'Europe pour s'opposer au comportement irresponsable et criminel du président russe Vladimir Poutine.
Il y a sûrement d'autres façons de gérer les relations avec l'Iran. Il faut l'espérer, car la stratégie actuelle n'a pas fonctionné. Les attaques incessantes d'Israël contre les installations iraniennes en Syrie n'ont ni rompu les liens avec l'allié libanais par procuration de l'Iran, le Hezbollah, ni obligé l'Iran à changer de comportement. À présent que l'Iran est sur le point d'obtenir un accord nucléaire qui serait plus faible que le Plan d'action global commun d'origine, le passage de la confrontation à la diplomatie semble être à l'ordre du jour. Il n'y a aucune raison de penser que persévérer dans cette voie va brusquement produire des résultats différents.
En outre, Israël ne doit rien à Poutine. En permettant à l'armée de l'air israélienne d'opérer librement en Syrie, Poutine a été en mesure de sous-traiter la tâche consistant à limiter la présence de l'Iran dans un pays qu'il souhaite voir dominé par la Russie. Ces derniers temps, les relations russo-iraniennes sont loin d'être solides. Plus récemment, la Russie a entravé la signature du nouvel accord nucléaire comme représailles contre les sanctions américaines et les conservateurs en Iran ont critiqué le régime iranien pour avoir servi la soupe à Poutine en s'abstenant du vote de résolution de l'ONU.
Les attaques russes contre des civils ukrainiens devenant de plus en plus épouvantables, la tentative du gouvernement israélien de ne pas prendre position est devenue intenable et indéfendable. Zelensky, le président juif héroïque de l'Ukraine, a lancé un appel direct, en hébreu, au peuple juif et les Israéliens devraient savoir mieux que quiconque ce que signifie être soumis à une stratégie d'annihilation. L'Ukraine est une démocratie courageuse qui résiste à l'attaque d'une autocratie – précisément la posture difficile dans laquelle Israël a toujours affirmé se trouver lors de ses guerres passées avec les pays arabes.
Secure your copy of PS Quarterly: The Year Ahead 2023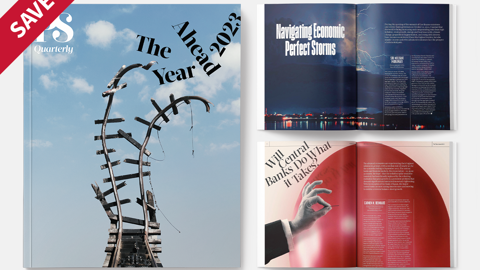 Secure your copy of PS Quarterly: The Year Ahead 2023
Our annual fourth-quarter magazine is here, and available only to Digital Plus and Premium subscribers. Subscribe to Digital Plus today, and save $15.

Il est bon de rappeler qu'Israël a refusé d'envisager l'option nucléaire même durant la Guerre du Kippour, quand son existence même était mise en péril. Comment le même pays peut-il rester silencieux après que la Russie a explicitement formulé la menace nucléaire dans ce qui est clairement une guerre choisie ? Comment ce refuge pour les survivants de l'Holocauste peut-il accepter l'utilisation veule par Poutine du terme « nazi » pour décrire Zelensky – dont les propres parents ont combattu les troupes d'Hitler et sont morts entre leurs mains ? Comment un pays dont les ennemis ciblent ses civils peut-il ne pas dire un mot quand la Russie agit de même en Ukraine ?
Les dirigeants israéliens doivent choisir leur camp. Le choix devrait être facile. C'est un choix entre l'acceptation tactique par la Russie de la liberté d'opération de l'armée de l'air israélienne en Syrie – et l'alliance stratégique, morale et politique à long terme d'Israël avec les États-Unis et l'Occident. Israël doit également reconnaître la guerre en Ukraine pour ce qu'elle est : un tournant décisif qui va sans doute changer la face des priorités mondiales de l'Amérique. L'endiguement occidental de la Russie devra désormais s'appliquer au-delà de l'Europe, y compris au Moyen-Orient. Les États-Unis ont toutes les raisons de croire qu'Israël va s'aligner entièrement sur cette politique.
Si le gouvernement israélien a besoin de davantage de persuasion, il doit noter que même le président autoritaire de la Turquie, Recep Tayyip Erdoğan, a choisi son camp. La Turquie s'est révélée être un membre imprévisible de l'OTAN, quand elle a acheté non seulement des armes occidentales mais également des systèmes avancés de missiles surface-air S-400 à la Russie. Pourtant, malgré la proximité du pays avec la Russie et sa dépendance à l'égard du pétrole et du gaz russes, la Turquie a condamné sans équivoque l'invasion et a fourni des armes aux Ukrainiens. Les drones turcs se sont révélés être l'arme la plus efficace dont disposent les Ukrainiens contre les chars russes.
Les Israéliens ont tendance à considérer toutes leurs guerres comme des considérations « existentielles » - les considérations éthiques étant, quant à elles, un luxe qu'ils ne peuvent pas se permettre. Mais il y a des moments où la moralité et la realpolitik s'alignent l'une sur l'autre. Les dirigeants israéliens doivent se souvenir que la démocratie de leur pays est un atout stratégique. S'affirmer comme étant un membre sans équivoque du front démocratique résistant à la destruction de l'Ukraine produira bien plus de dividendes que la neutralité.