La cobarde neutralidad de Israel
TEL AVIV – Con su tenue condena al ataque de Rusia a Ucrania, Israel no ha podido lograr un justo equilibrio entre moralidad y realpolitik. Dado que el Primer Ministro israelí Naftali Bénet se ha negado incluso a reunirse con el Presidente palestino Mahmud Abás, líder de otra nación ocupada, su gesto para las cámaras de los medios de servir como mediador para la paz apenas se puede tomar en serio. Es un intento patético de compensar las carencias morales de su propio gobierno. Si bien la India y los amigos de EE.UU. en el mundo árabe también han usado el pretexto de la "mediación" para evitar tomar bandos, no comparten las pretensiones de Israel se ser "una luz para las naciones".
Israel es, con mucho, el aliado de EE.UU. más favorecido de Oriente Medio, si no del mundo. Siempre que ha necesitado que un aliado venga en su rescate –como en la guerra de octubre de 1973-, ha recurrido a Estados Unidos, no a Rusia. Su dependencia del apoyo estadounidense es abrumadora, y su acceso al armamento más avanzado de EE.UU. no tiene rivales, incluso entre los aliados de EE.UU. de la OTAN. Sin el respaldo estadounidense, Israel no habría llegado a sus trascendentales acuerdos de paz con otras potencias árabes clave.
Sin duda, Israel votó en apoyo de la resolución de las Naciones Unidas que condenó a Rusia, y ha enviado considerable ayuda humanitaria a los ucranianos. Pero se ha negado a criticar públicamente a Rusia o complementar la asistencia humanitaria con material defensivo. Incluso, inicialmente rechazó la petición del Presidente ucraniano Volodimir Zelensky de hablar ante el Knesset, para no causar la ira de Putin. Aparentemente, la luz verde de Rusia a Israel para atacar objetivos militares iraníes en Siria es más importante que alinearse con EE.UU. y Europa para oponerse a la conducta temeraria y criminal del Presidente ruso Vladimir Putin.
Seguramente hay otros modos de tratar con Irán. Cabría esperar eso, ya que la estrategia actual ni siquiera ha funcionado. Los incesantes ataques israelíes en Siria no han invalidado a Hizbolá, movimiento títere de Irán en el Líbano, ni hecho que Irán cambie de conducta. Ahora que el país pérsico está a punto de lograr un acuerdo nuclear que sería más débil que el Plan de Acción Integral Conjunto original, parecería ser razonable un paso de la confrontación a la diplomacia. No hay ninguna razón para pensar que más de lo mismo repentinamente dé resultados distintos.
Más todavía, Israel no le debe nada a Putin. Al permitir que la Fuerza Aérea Israelí opere libremente en Siria, Putin ha podido externalizar la tarea de limitar la presencia de Irán en un país en que desea que Rusia predomine. Últimamente, las relaciones ruso-iraníes no han estado en terreno muy sólido. Más recientemente, Rusia ha obstaculizado la firma del nuevo tratado nuclear como represalia contra las sanciones de EE.UU., y en Irán los conservadores han criticado al régimen por apoyar solapadamente a Putin con su voto de abstención en la resolución de la ONU.
En estos días, en que los ataques rusos a civiles ucranianos son cada vez más terribles, el intento del régimen israelí por nadar entre dos aguas se ha vuelto indefendible e insostenible. Zelensky, el heroico Presidente ucraniano, ha hecho llamados directos, en hebreo, al pueblo judío, y los israelíes deberían saber más que ninguna nación del planeta lo que significa estar sujeto a una estrategia de aniquilación. Ucrania es una valiente democracia que resiste el ataque de una autocracia, precisamente el mismo predicamento en que Israel siempre ha reclamado estar durante sus guerras pasadas contra países árabes.
WINTER SALE: Save 25% on a new PS subscription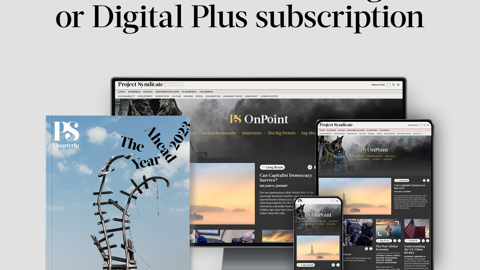 WINTER SALE: Save 25% on a new PS subscription
For a limited time, you can gain greater access to Project Syndicate – including every commentary and our entire On Point suite of subscriber-exclusive content – starting at less than $6 per month.
Merece la pena recordar que Israel se negó a considerar la opción nuclear incluso durante la Guerra del Yom Kippur, cuando su mera existencia estaba siendo puesta en cuestión. ¿Cómo puede el mismo país seguir manteniendo silencio después de que Rusia haya planteado explícitamente la amenaza nuclear en lo que claramente es una guerra optativa? ¿Cómo puede este refugio para supervivientes del Holocausto aceptar que Putin use vilmente el término "nazi" para referirse a Zelensky, cuyos propios parientes lucharon contra las fuerzas de Hitler y murieron en sus manos? ¿Cómo puede un país cuyos enemigos atacan a sus civiles no decir ni una palabra sobre el que Rusia haga lo mismo en Ucrania?
Los líderes israelíes tienen que escoger un lado. O eligen la aceptación táctica de Rusia de la libertad de operación de la Fuerza Aérea Israelí en Siria, o bien su alianza estratégica política y moral de largo plazo con EE.UU. y Occidente. Israel también tiene que reconocer la guerra en Ucrania como lo que es: un momento decisivo que dará una nueva forma a las prioridades globales de Estados Unidos. A partir de ahora la contención occidental de Rusia se deberá aplicar más allá de Europa, lo que incluye Oriente Medio. EE.UU. tiene todo el derecho a esperar que Israel se ponga completamente de su lado.
Si el gobierno israelí necesita más argumentos, no tiene más que ver que el presidente turco, el autoritario Recep Tayyip Erdogan, ya ha tomado una decisión. Turquía ha sido un errático miembro de la OTAN, comprando no solo armas occidentales sino también avanzados sistemas de misiles tierra-aire S-400 rusos. Y, sin embargo, y a pesar de la proximidad de su país con Rusia y su dependencia del petróleo y el gas rusos, ha condenado inequívocamente la invasión y suministrado armas a los ucranianos. Los drones turcos han demostrado ser el arma más eficaz de los ucranianos contra los tanques rusos.
Los israelíes tienden a ver todas sus guerras como "existenciales" y las consideraciones éticas como un lujo que no se pueden permitir. Pero hay veces en que la moralidad y la realpolitik coinciden. Los líderes de Israel deben recordar que la democracia de su país es un recurso estratégico. Ser un miembro inequívoco del frente democrático que está resistiendo la destrucción de Ucrania rendirá muchos más dividendos que lo jamás podría la neutralidad.
Traducido del inglés por David Meléndez Tormen