El lado bueno del "Brexit duro"
LONDRES – Es fácil olvidar que defensa y seguridad no son la misma cosa. La defensa es el recurso al que deben apelar los países cuando falla la seguridad. Y porque temen por su seguridad, los países gastan dinero en defensa en tiempos de paz.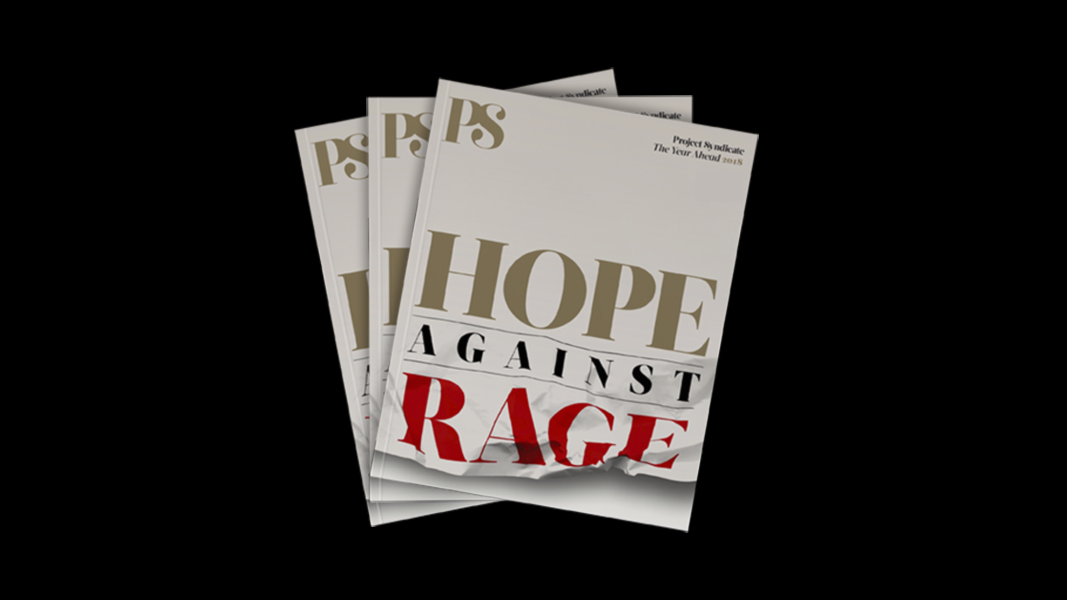 The Year Ahead 2018
The world's leading thinkers and policymakers examine what's come apart in the past year, and anticipate what will define the year ahead.
Desde 2014, Gran Bretaña y la Unión Europea se enfrentan a un panorama de seguridad cada vez peor. En marzo de aquel año, Rusia invadió Ucrania y anexó Crimea; fue la primera vez desde la Segunda Guerra Mundial que una gran potencia europea busca redibujar sus fronteras por la fuerza de las armas.
Rusia había acordado en 1994 defender la integridad territorial de Ucrania a cambio de que esta entregara las armas nucleares heredadas de la Unión Soviética, pero después, además de Crimea, ha librado una guerra no convencional de baja intensidad contra Ucrania en la región oriental de Donbás.
Y Ucrania no es la única. El Kremlin envió barcos y aviones de guerra a amenazar las costas de otros países occidentales, secuestró a un funcionario de inteligencia estonio en territorio de la OTAN, y está acumulando fuerzas militares en Europa del Este, el Ártico y otros lugares.
Pese a este deterioro de las condiciones de seguridad, en junio de 2016 una ínfima mayoría de los británicos votó a favor de retirarse de la UE, decisión que puede debilitar fatalmente la relación del Reino Unido con sus socios europeos de la OTAN. Para colmo de males, en noviembre de 2016, Donald Trump (viejo admirador declarado del presidente ruso Vladimir Putin) fue electo presidente de los Estados Unidos.
Aunque en la campaña de 2016 Trump se refirió a la OTAN con desdén, parece que los muchos generales que instaló en altos puestos consiguieron controlarlo. Pero siempre puede cambiar de ideas. El Partido Republicano atraviesa un profundo cisma interno que puede saldarse con la victoria de su ala populista, liderada por Stephen Bannon, el monje negro nacionalista y antieuropeísta de Trump.
Si Bannon consigue amoldar el Partido Republicano a su visión nacionalista, y si los republicanos retienen el poder o lo recuperan más tarde, las garantías de seguridad estadounidenses para Europa ya no serán confiables. Rusia podría seguir interfiriendo en los sistemas políticos de Occidente, o incluso lanzar un ataque militar declarado en Europa, sin que haya respuesta de EE. UU.
Sin el apoyo firme de EE. UU., una UE políticamente dividida sería cada vez más vulnerable a la dominación política de Rusia. En cambio, una UE políticamente cohesionada sería un muro de estabilidad extendido desde el Canal de la Mancha hasta el río Dniéper en Ucrania. Sin el liderazgo estadounidense, una UE estable y segura se convertiría tal vez en el principal pilar de la estrategia de seguridad post-Brexit del RU.
Pero la estabilidad de la UE dista de estar garantizada, porque un Brexit inocuo puede alentar a otros estados miembros a abandonar el bloque. Algunos dicen que esta posibilidad es remota, porque en la práctica los países de la eurozona no pueden irse: bastaría que alguno insinúe la posibilidad de abandonar el euro y la UE para que la fuga de capitales resultante haga estragos en su economía. Según esta visión, el hecho de que dos tercios de los estados miembros de la UE usen el euro es suficiente para prevenir la desintegración del bloque.
Ojalá fuera tan fácil. En realidad, numerosos miembros importantes de la UE siguen fuera del euro, entre ellos Polonia, la República Checa, Dinamarca, Rumania y Suecia. Además, en circunstancias favorables, los países de la eurozona con superávit de cuenta corriente (por ejemplo, Alemania, Países Bajos, España y Austria) tal vez podrían dejar el euro sin sufrir daños catastróficos. Y no olvidemos que los electorados occidentales han demostrado una capacidad increíble para autoinfligirse daño. Además del Brexit y la elección de Trump, basta pensar en la ruleta rusa económica a la que están jugando los separatistas catalanes hace un mes y medio.
Por ahora, el RU parece políticamente incapaz de cancelar el Brexit (aunque sería el mejor curso de acción para todos los implicados). Pero puestos a elegir entre un Brexit "blando" y otro "duro" (en el que Gran Bretaña abandonara el mercado común europeo y la unión aduanera), puede que la segunda opción ofrezca una ventaja: no seguir debilitando la estabilidad europea, que también resulta ser el principal factor de seguridad para Gran Bretaña.
Sin duda un Brexit "duro" supone un alto costo económico para el RU: las cadenas de suministro industriales se cortarán, la industria de la construcción se quedará sin trabajadores de la UE, la City londinense perderá importancia internacional, la libra se seguirá devaluando, y el sector público (en particular, el Servicio Nacional de Salud) afrontará enormes dificultades. Y también le costará a la UE, aunque mucho menos en proporción al total de su economía.
Pero pese a los costos, un Brexit "duro" serviría, al menos, para disuadir a otros miembros de la UE de imitar al RU, lo que reforzará la estabilidad europea y ayudará a Gran Bretaña a mantener su seguridad nacional, algo que a largo plazo puede ser la cuestión más importante. Este resultado sería irónico, por decir poco. Pero incluso más irónico es que lo estén impulsando los mismos partidarios del Brexit a los que les gustaría ver fracasar a la UE. Están convencidos de que su idea de una Gran Bretaña intrépida y global sólo es posible cortando todos los lazos con Europa. Muy pronto sabrán si tienen razón.
Traducción: Esteban Flamini