Der Silberstreif eines harten Brexit
LONDON – Man vergisst leicht, dass Verteidigung und Sicherheit nicht dasselbe sind. Verteidigung ist das, worauf sich Länder bei einem Zusammenbruch ihrer Sicherheit stützen müssen. Und in Friedenszeiten geben Länder Geld für die Verteidigung aus, eben weil sie Angst um ihre Sicherheit haben.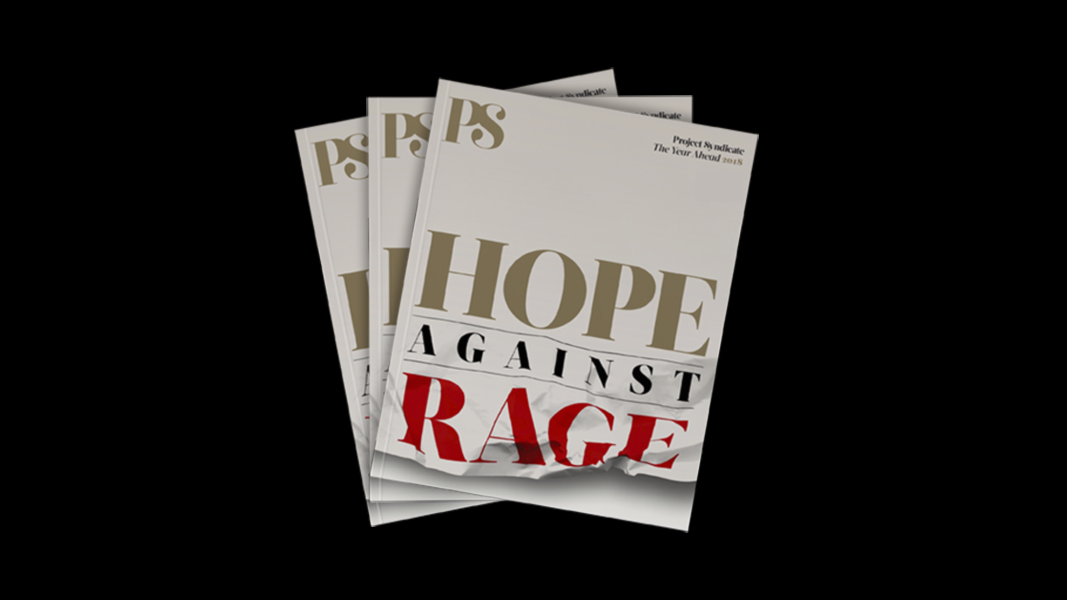 The Year Ahead 2018
The world's leading thinkers and policymakers examine what's come apart in the past year, and anticipate what will define the year ahead.
Seit 2014 hat sich das Sicherheitsumfeld für Großbritannien und die Europäische Union rapide verschlechtert. Im März jenes Jahres marschierte Russland in der Ukraine ein und annektierte die Krim. Es war das erste Mal seit dem Zweiten Weltkrieg, dass eine europäische Großmacht ihre Grenzen mit Waffengewalt neu zu ziehen suchte.
Im Jahr 1994 hatte sich Russland verpflichtet, im Austausch gegen die Übergabe der Atomwaffen, die die Ukraine von der Sowjetunion geerbt hatte, die territoriale Integrität der Ukraine zu schützen. Doch ließ Russland es nicht mit der Krim bewenden; es führt seitdem im ostukrainischen Donezbecken einen niedrigschwelligen unkonventionellen Krieg gegen das Land.
Und die Ukraine ist nicht allein betroffen. Russland hat Schiffe und Kriegsflugzeuge ausgesandt, um die Küsten anderer westlicher Länder zu bedrohen, einen estländischen Geheimdienstoffizier auf NATO-Gebiet entführt und in Osteuropa, der Arktis und anderswo nachhaltig militärisch aufgerüstet.
Trotz dieser sich verschlechternden Sicherheitslage stimmte im Juni 2016 eine kleine Mehrheit der Briten für einen Austritt aus der EU – eine Entscheidung, die die Beziehung des Vereinigten Königreichs zu seinen europäischen NATO-Partnern ernsthaft in Mitleidenschaft ziehen könnte. Zusätzlich verschlimmert wurde die Lage noch durch die Wahl von Donald Trump, der seit langem seine Bewunderung für den russischen Präsidenten Wladimir Putin zum Ausdruck bringt, zum Präsidenten der USA im November 2016.
Obwohl Trump 2016 im Wahlkampf seine Verachtung für die NATO geäußert hat, scheinen ihn die vielen Generäle, die er in Führungspositionen installiert hat, bisher im Zaum gehalten zu haben. Doch er könnte jederzeit seine Meinung ändern. Die Republikanische Partei steckt mitten in einem tiefen internen Schisma, das mit dem Sieg ihres von Trumps nationalistischem, EU-feindlichem Swengali Stephen Bannon geführten populistischen Flügels enden könnte.
Falls Bannon es schafft, die Republikanische Partei gemäß seiner nationalistischen Vision umzugestalten, und falls die Republikaner weiter an der Macht bleiben oder diese später wiedergewinnen, ist kein Verlass mehr auf die US-Sicherheitszusagen gegenüber Europa. Fortdauernde russische Angriffe auf die politischen Systeme des Westens oder sogar ein direkter militärischer Angriff in Europa blieben durch die USA möglicherweise unbeantwortet.
Ohne feste Unterstützung der USA wäre eine politisch gespaltene EU zunehmend anfällig für eine politische Vorherrschaft Russlands. Zugleich wäre eine politisch geschlossene EU ein vom Ärmelkanal bis hin zum ukrainischen Dnjepr reichendes Bollwerk der Stabilität. In Ermangelung der Führung durch die USA könnte eine stabile und sichere EU daher die wichtigste Säule der britischen Sicherheitsstrategie nach dem Brexit sein.
Doch die Stabilität der EU ist alles andere als garantiert, weil ein reibungs- und schmerzloser Brexit andere Mitgliedsstaaten in Versuchung führen könnte, dem Block ebenfalls den Rücken zu kehren. Manche argumentieren, dass das unwahrscheinlich sei, weil ein Austritt für die Euroländer faktisch unmöglich sei. Würde ein Euroland seinen Austritt aus dem Euro und der EU auch nur suggerieren, würde die dadurch ausgelöste Kapitalflucht seine Wirtschaft verheeren. Laut dieser Sicht reicht die Tatsache, dass zwei Drittel der EU-Mitgliedsstaaten dem Euro angehören, aus, um ein Auseinanderfallen der EU zu verhindern.
Wenn dem nur so wäre. In Wahrheit gehört eine Anzahl wichtiger EU-Länder nach wie vor nicht zum Euroraum, darunter Polen, die Tschechische Republik, Dänemark, Rumänien und Schweden. Zudem könnten Euroländer mit Leistungsbilanzüberschüssen – wie Deutschland, die Niederlande, Spanien und Österreich – den Euro vermutlich unter günstigen Umständen verlassen, ohne katastrophalen Schaden zu nehmen. Und man sollte zudem Eines nicht vergessen: Die westlichen Wähler haben eine einzigartige Fähigkeit zur Selbstbeschädigung an den Tag gelegt. Man denke hier nicht nur an den Brexit und die Wahl Trumps, sondern auch an das wirtschaftliche Russisch-Roulette, das die katalonischen Separatisten während der vergangenen anderthalb Monate gespielt haben.
Wie es derzeit aussieht, scheint das Vereinigte Königreich politisch nicht in der Lage zu sein, den Brexit komplett aufzugeben, obwohl das für alle Beteiligten das Beste wäre. Doch was die Optionen eines "weichen" und eines "harten" Brexit – bei dem Großbritannien den EU-Binnenmarkt und die Zollunion verlassen würde – angeht, hätte Letzterer zumindest einen Vorteil. Er würde nämlich die europäische Stabilität, die zufällig Großbritanniens wichtigster Sicherheitsfaktor ist, nicht weiter untergraben.
Natürlich wäre ein "harter" Brexit für das Vereinigte Königreich mit hohen wirtschaftlichen Kosten verbunden. Die industriellen Lieferketten würden gestört, der Bauindustrie kämen die Arbeiter aus der EU abhanden, die Londoner City würde international an Bedeutung verlieren, das Pfund würde weiter abwerten, und der öffentliche Sektor – insbesondere der staatliche britische Gesundheitsdienst NHS – stünde unter starker Anspannung. Auch der EU würden Kosten entstehen, obwohl diese als Anteil an ihrer Gesamtwirtschaft sehr viel geringer wären.
Trotz der Kosten würde ein "harter" Brexit mindestens andere Mitgliedsstaaten davon abhalten, dem britischen Beispiel zu folgen, und würde so die europäische Stabilität erhöhen und Großbritannien helfen, seine nationale Sicherheit aufrechtzuerhalten, was langfristig der wichtigste Gesichtspunkt sein könnte. Ein derartiges Resultat wäre gelinde gesagt ironisch. Sogar noch ironischer wäre die Tatsache, dass diejenigen, die auf einen harten Brexit drängen, dieselben sind, die sich ein Scheitern der EU wünschen. Sie sind der Überzeugung, dass ihre Vision eines freibeuterischen, globalen Großbritanniens sich nur bei einem klaren Bruch mit Europa verwirklichen lässt. Sie könnten möglicherweise bald herausfinden, ob sie damit richtig liegen.
Aus dem Englischen von Jan Doolan