Le bon côté d'un Brexit dur
LONDRES - Il est facile d'oublier que la défense et la sécurité ne sont pas la même chose. La défense est ce à quoi les pays doivent recourir lorsque leur sécurité tombe en panne. En temps de paix, les pays dépensent de l'argent dans la défense, précisément parce qu'ils craignent pour leur sécurité.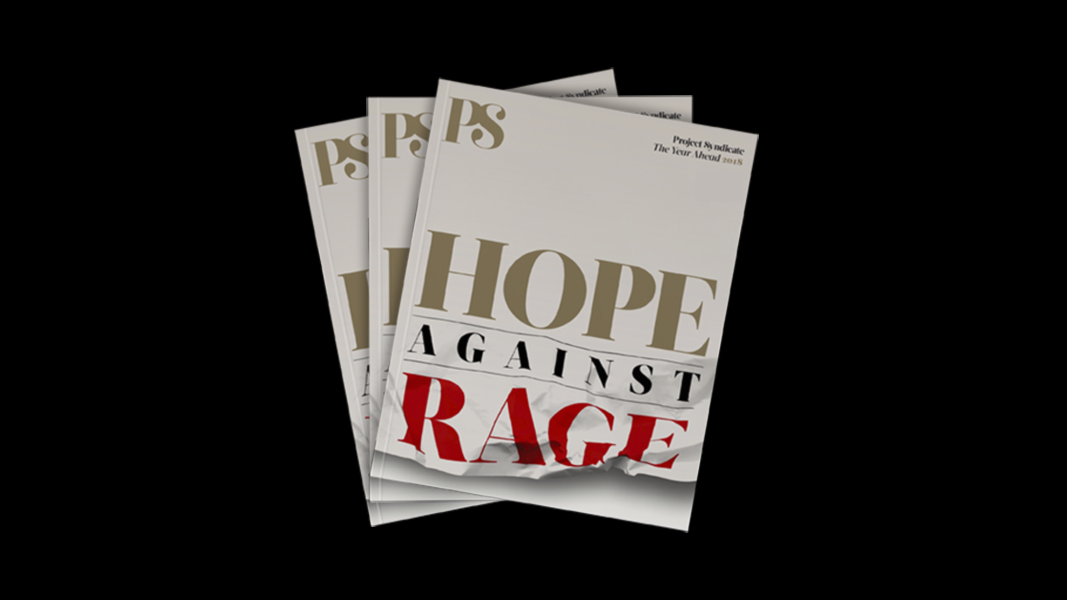 The Year Ahead 2018
The world's leading thinkers and policymakers examine what's come apart in the past year, and anticipate what will define the year ahead.
Depuis 2014, l'environnement de sécurité de la Grande-Bretagne et de l'Union européenne s'est fortement dégradé. En mars de cette année-là, la Russie a envahi l'Ukraine et a annexé la Crimée. C'était la première fois depuis la Seconde Guerre mondiale qu'une grande puissance européenne cherchait à redessiner ses frontières par la force des armes.
En 1994, la Russie a accepté de défendre l'intégrité territoriale de l'Ukraine en échange de la remise des armes nucléaires de l'Ukraine héritées de l'Union soviétique. Mais la Russie ne s'est pas arrêtée à la Crimée : depuis lors, elle a mené une guerre non conventionnelle de faible intensité contre l'Ukraine dans la région de l'Est de la région de Donbas.
Et l'Ukraine n'est pas un cas isolé. La Russie a également envoyé des navires et des avions pour menacer les côtes d'autres pays occidentaux, a enlevé un officier de renseignements sur le territoire de l'OTAN et a maintenu une présence militaire active en Europe de l'Est, en Arctiqueet ailleurs.
Malgré la détérioration des conditions de sécurité, une faible majorité de Britanniques a voté en juin 2016 pour se retirer de l'UE, une décision qui pourrait nuire mortellement à la relation que la Royaume-Uni entretient avec ses partenaires européens de l'OTAN. Pire encore, en novembre 2016, Donald Trump, qui témoigne depuis longtemps de son admiration envers le président russe Vladimir Poutine, a été élu président des États-Unis.
Bien que Trump ait exprimé du dédain à l'égard de l'OTAN durant sa campagne de 2016, il semble avoir été bridé par les nombreux généraux qu'il a installés à des postes clés. Pourtant, il pourrait encore changer d'avis. Le Parti républicain est au beau milieu d'un profond schisme interne qui pourrait se terminer par la victoire de son aile populiste, dirigée le manipulateur nationaliste anti-UE de Trump, Stephen Bannon.
Si Bannon réussit à transformer le Parti Républicain conformément à sa vision nationaliste et si les Républicains conservent ou reprennent le pouvoir dans l'avenir, les engagements de sécurité des États-Unis vis à vis de l'Europe ne seront plus fiables. La poursuite des attaques russes sur les systèmes politiques occidentaux, ou même une attaque militaire manifeste en Europe, pourraient rester sans réponse de la part des États-Unis.
Sans un ferme soutien des États-Unis, une UE divisée politiquement serait de plus en plus vulnérable à la domination politique russe. En même temps, une cohésion politique européenne serait un rempart de stabilité s'étendant de la Manche anglaise au fleuve Dniepr en Ukraine. En l'absence de leadership américain, un environnement stable et sûr pour l'UE pourrait ainsi devenir le pilier le plus important de la stratégie de sécurité post-Brexit du Royaume-Uni.
Mais la stabilité de l'UE est loin d'être garantie, parce qu'un Brexit doux et indolore peut tenter d'autres États membres de quitter le bloc. Certains affirment que ce résultat est peu probable, parce qu'il est impossible, en pratique, pour les pays de la zone euro de partir. Si un pays de la zone euro suggérait pouvoir se retirer de l'euro et de l'UE, la fuite de capitaux aurait un effet dévastateur sur son économie. Selon ce point de vue, le fait que les deux tiers des États membres de l'UE appartiennent à l'euro est suffisant pour empêcher l'UE de s'effondrer.
Tout n'est malheureusement pas aussi simple. En réalité, un certain nombre d'importants membres de l'UE restent hors de la zone euro, notamment la Pologne, la République tchèque, le Danemark, la Roumanie et la Suède. En outre, dans des circonstances favorables, les pays de la zone euro ayant des excédents des comptes courants - comme l'Allemagne, les Pays-Bas, l'Espagne et l'Autriche - pourraient probablement sortir de l'euro sans subir de dommages catastrophiques. Et ne l'oublions pas, les électorats occidentaux ont démontré une capacité unique à se causer du tort à eux-mêmes. Souvenons-nous à ce sujet non seulement du Brexit et de l'élection de Trump, mais également du jeu de roulette russe économique des séparatistes catalans au cours du dernier mois et demi.
En l'état actuel des choses, le Royaume-Uni semble encore être politiquement incapable d'abandonner purement et simplement le Brexit, bien que ce soit le meilleur plan d'action pour toutes les parties concernées. Mais entre les options d'un Brexit « doux » et « dur » - dans lequel la Grande-Bretagne quitterait le marché unique et l'union douanière de l'UE- ce dernier peut avoir au moins un avantage. En l'espèce, cela ne risque pas de fragiliser davantage la stabilité de l'Europe, qui se trouve être le plus grand atout de la sécurité de la Grande-Bretagne.
Sans aucun doute, un Brexit « dur » aurait un coût économique élevé pour le Royaume-Uni. Les chaînes d'approvisionnement industrielles risquent d'être perturbées, l'industrie de la construction privée de ses travailleurs de l'Union européenne, la City de Londres risque de perdre son importance internationale, la livre risque de continuer à baisser et le secteur public - notamment le Service national de santé - pourrait bien se trouver à bout de souffle. L'UE pourrait également engendrer des coûts, quoique moins importants en proportion de son économie globale.
Malgré les coûts, un Brexit « dur » pourrait à tout le moins décourager les autres membres de l'UE de suivre l'exemple du Royaume-Uni, permettant ainsi de consolider la stabilité de l'Europe et d'aider la Grande-Bretagne à maintenir sa sécurité nationale, ce qui est peut-être le facteur le plus important à long terme. Un tel résultat serait pour le moins ironique. Mais encore fait plus ironique, c'est que ceux qui font pression dans ce sens sont les mêmes Brexiteers qui auraient souhaité assister à la faillite de l'UE. Ils sont convaincus que leur vision aventureuse d'une Grande-Bretagne mondialiste n'est possible que par une rupture franche avec l'Europe. Ils pourraient bientôt s'apercevoir qu'ils ont raison.