Le fiasco démocratique du Royaume-Uni
CAMBRIDGE – La véritable folie du vote britannique sur une sortie hors de l'Union européenne réside moins dans le fait que les dirigeants britanniques se soient risqués à demander à leur peuple de peser le pour et le contre entre appartenance à l'UE et pressions migratoires liées à ce statut de membre, que dans le fait que la barre ait été placée incroyablement bas en termes de scrutin, le oui au Brexit n'ayant en effet exigé qu'une majorité simple. Compte tenu d'un taux de participation de 70 %, la campagne du Leave l'a ainsi emporté grâce au soutien de seulement 36 % des électeurs.
La démocratie, ce n'est pas cela. Ce vote revient à jouer à la roulette russe au sein même d'un régime politique moderne. Une décision empreinte d'énormes conséquences – au-delà même de ce qu'il peut arriver lorsque la Constitution d'un pays se trouve modifiée (texte qui bien entendu n'existe pas au Royaume-Uni) – vient d'être prise sans que ne soient intervenus de garde-fous appropriés.
A-t-il été prévu que le vote ait à nouveau lieu dans un délai d'un an, pour plus de certitude ? Non. Est-il nécessaire qu'une majorité au Parlement approuve le Brexit ? Apparemment non. Le peuple britannique avait-il réellement connaissance du sujet du vote ? Absolument pas. Personne n'a en effet la moindre idée des conséquences du Brexit, que ce soit pour le Royaume-Uni ou pour le système commercial mondial, ni de son impact sur la stabilité politique du pays. Et j'ai bien peur que le tableau s'annonce pour le moins déplaisant.
Certes, nous autres citoyens de l'Occident avons la chance de vivre une époque de paix : l'évolution des circonstances et des priorités peut être gérée au travers du processus démocratique plutôt que par la guerre civile ou à l'étranger. Mais quel genre de processus juste et démocratique peut aboutir à des décisions aussi irréversibles, et aussi déterminantes à l'échelle de toute une nation ? Une majorité de 52 % est-elle réellement suffisante pour décider un beau matin de tout plaquer ?
En termes de permanence et de conviction des choix, la plupart de nos sociétés érigent davantage de barrières sur le chemin d'un couple qui souhaite divorcer que sur celui du gouvernement du Premier ministre David Cameron lorsque la question n'est autre que la sortie de l'UE. Les partisans du Brexit n'ont pas inventé ce jeu de la roulette russe, tant les précédents existent, notamment dans le cas de l'Écosse en 2014, ou du Québec en 1995. Seulement voilà, jusqu'à présent, le barillet du revolver ne s'était jamais arrêté sur la cartouche. Maintenant que c'est chose faite, l'heure est venue de repenser les règles du jeu.
Le fait de considérer que n'importe quelle décision convenue à n'importe quel moment via la règle de la majorité serait nécessairement « démocratique » revient à pervertir cette notion. Les démocraties modernes disposent de systèmes évolués qui font intervenir des garde-fous afin de préserver les intérêts des minorités, et d'éviter que ne soient prises des décisions malavisées, aux conséquences désastreuses. Plus la décision en question est conséquente et permanente, plus les barrières sont élevées.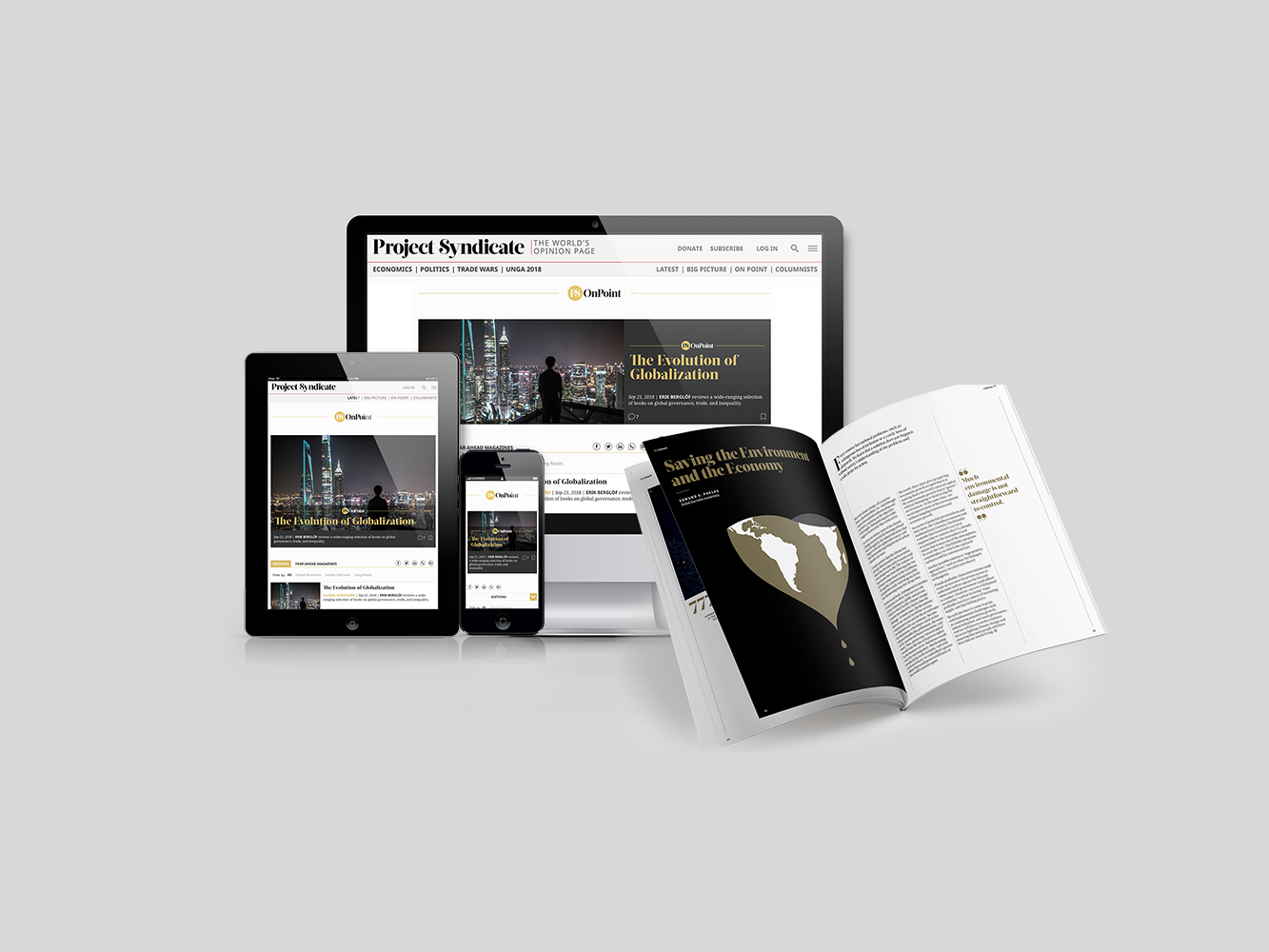 Subscribe now
For a limited time only, get unlimited access to On Point, The Big Picture, and the PS Archive, plus our annual magazine, for less than $2 a week.
C'est la raison pour laquelle une révision constitutionnelle, par exemple, requiert généralement de satisfaire à des obstacles bien plus importants que dans le cas de la simple promulgation de lois budgétaires. Il semble pourtant que la norme internationale actuelle régissant la rupture d'un pays auprès d'autres États soit désormais moins exigeante que le vote d'un texte sur l'abaissement de l'âge légal pour la consommation d'alcool.
L'Europe étant désormais confrontée au risque d'une vague de nouveaux votes de rupture, la question urgente consiste à déterminer s'il existerait une meilleure manière de procéder à de telles décisions. J'ai personnellement interrogé plusieurs experts majeurs en sciences politiques sur la question de savoir s'il existe ou nom un consensus académique en la matière ; malheureusement, la réponse est rapide et négative.
Une chose est sûre, bien que la décision sur le Brexit puisse avoir semblé simple dans le cadre du scrutin, nul ne sait en vérité ce qu'il peut advenir à la suite d'un tel vote de sortie. Ce que nous savons en revanche, c'est que la plupart des pays exigent en pratique une « supermajorité » lorsqu'une décision s'avère déterminante à l'échelle d'une nation, et non une simple majorité de 51 %. Il n'existe certes pas de chiffre universel, de type 60 %, mais le principe général veut qu'au minimum la majorité en question soit manifestement stable. Un pays ne devrait pas pouvoir procéder à des changements fondamentaux et irréversibles sur la base d'une majorité acquise sur le fil du rasoir et susceptible de ne l'emporter qu'au cours d'une brève fenêtre d'élan émotif. Même s'il est possible que l'économie du Royaume-Uni ne plonge pas dans une récession pure et simple à l'issue de ce vote (le déclin de la livre sterling étant susceptible d'amortir le choc initial), il y a de fortes chances que le désordre économique et politique provoqué suscite chez ceux qui ont voté en faveur du Leave une sorte de « remord de l'acheteur ».
Depuis l'Antiquité, les philosophes s'efforcent de concevoir des systèmes visant à équilibrer la puissance de la règle majoritaire avec la nécessité de veiller à ce que les toutes les parties informées puissent peser d'un poids plus conséquent en cas de décisions critiques, sans parler de la nécessité que soient entendues les voix de la minorité. À l'époque des assemblées organisées à Sparte dans la Grèce antique, les votes étaient exprimés par acclamation. Les citoyens donnaient ainsi plus ou moins de voix afin de refléter l'intensité de leurs préférences, tandis qu'un magistrat président y prêtait une oreille attentive et se prononçait ensuite sur l'issue du vote. La procédure était certes imparfaite, mais pas forcément moins judicieuse que celle à laquelle nous venons d'assister au Royaume-Uni.
À certains égards, Athènes, cité homologue de Sparte, a pour sa part appliqué le plus parfait exemple historique de démocratie. Les voix de chaque individu, issu de n'importe quelle catégorie de citoyens, pesaient d'un poids équivalent (même si seuls les hommes étaient concernés). Cependant, à l'issue de plusieurs décisions catastrophiques dans le domaine de la guerre, les Athéniens considérèrent nécessaire de conférer davantage de pouvoir à des organes indépendants.
Qu'aurait dû faire le Royaume-Uni s'il avait effectivement été nécessaire de poser la question de son appartenance à l'UE (nécessité qui en réalité n'existait pas) ? De toute évidence, les freins à toute décision en la matière auraient dû être beaucoup plus conséquents ; le Brexit aurait par exemple pu nécessiter deux consultations populaires, espacées d'au moins deux ans, et suivies d'un vote de la Chambre des communes à 60 %. Si la volonté d'un Brexit avait malgré cela persisté, nous aurions au moins su qu'il ne s'agissait pas uniquement de la photographie ponctuelle d'un fragment de la population.
Le vote britannique plonge désormais l'Europe dans la tourmente. Beaucoup de choses dépendront de la manière dont le monde réagit, et de la capacité du gouvernement britannique à gérer sa propre reconstruction. Il est néanmoins important que nous fassions non seulement le bilan de l'issue du référendum, mais également celui du processus de vote. Toute démarche visant à redéfinir un accord de longue date portant sur les frontières d'un État devrait exiger bien plus qu'une majorité simple, exprimée dans le cadre d'un seul et unique vote. Nous venons tout juste de constater à quel point l'actuelle norme internationale consistant à employer la règle de la majorité simple peut constituer une recette désastreuse.
Traduit de l'anglais par Martin Morel