USA vyvážejí obezitu
CAMBRIDGE – Jak se administrativa amerického prezidenta Donalda Trumpa v obchodních jednáních rozmachuje ostrými lokty a systematicky ruší předpisy zavedené prezidentem Barackem Obamou, jednou z obětí budou patrně snahy bojovat proti celosvětové epidemii obezity. Ponechá-li se rychle stoupající míra obezity bezuzdně růst, mohla by zbrzdit, ba dokonce zvrátit dramatická zlepšení v oblasti zdraví a očekávané délky života, jimž se velká část světa těší několik posledních desetiletí. Vnucováním své stravovací kultury zemím jako Mexiko a Kanada navíc Spojené státy problém ještě zhoršují.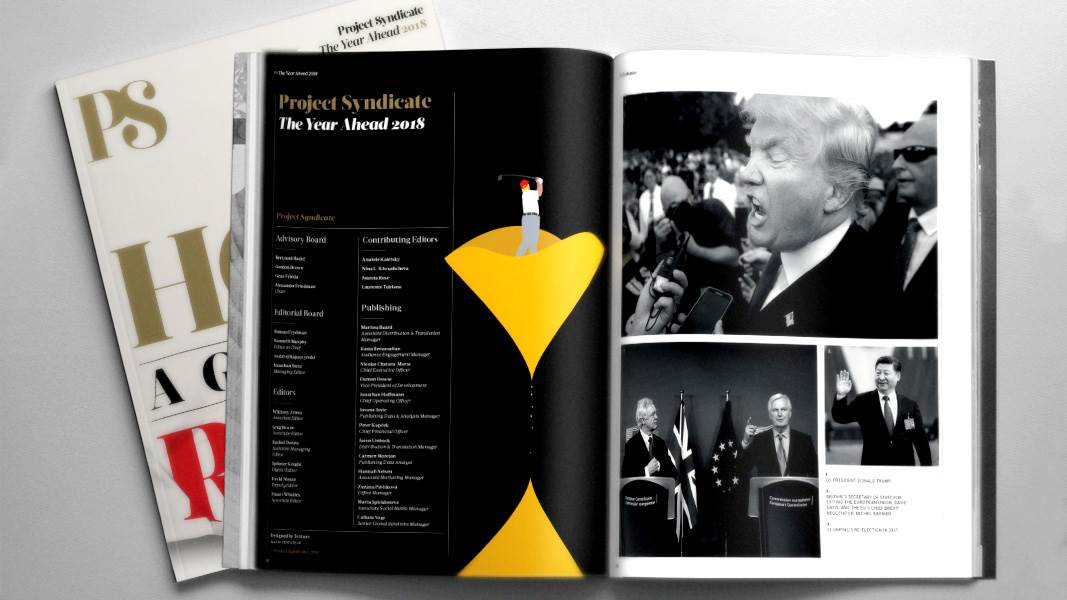 The Year Ahead 2018
The world's leading thinkers and policymakers examine what's come apart in the past year, and anticipate what will define the year ahead.
Jedním z paradoxů moderního globálního kapitalismu je, že zatímco víc než 800 milionů lidí na světě trpí nedostatkem jídla, zhruba 700 milionů lidí (včetně 100 milionů dětí) trpí obezitou. Samozřejmě že tyto dva jevy nemají nutně přímou souvislost. Ke značné části světového hladovění dochází v zemích sužovaných domácími sváry či závažnými poruchami funkčnosti vlády.
Důsledky epidemie obezity jsou však mnohem širší, neboť postihují vyspělé ekonomiky a většinu rozvíjejících se trhů. Existuje sice určitá souvislost mezi obezitou a chudobou uvnitř jednotlivých zemí, je však pozoruhodné, že k nejvyšším na světě se řadí míry obezity v bohatých zemích, jako jsou Spojené státy, Velká Británie a Kanada.
Centra USA pro kontrolu a prevenci nemocí (CDC) nedávno odhadla, že obezitou (definovanou jako index tělesné hmotnosti přes 30) trpí ohromujících 40 % všech Američanů, přičemž tento údaj zahrnuje 20,6 % dospívajících (12-19 let). Průměrná hmotnost americké ženy je dnes podle CDC vyšší než průměrná hmotnost amerického muže v roce 1960 (75 kilogramů).
V roce 1960 průměrná Američanka vážila 63,5 kilogramu, zatímco průměrná hmotnost amerického muže dnes činí 88,5 kilogramu. (Ve stejném období se průměrná výška Američanů zvýšila jen o 2,5 centimetru.) K takovému vývoji dochází po celém světě, míry obezity strmě rostou v Evropě, Latinské Americe, a dokonce v Číně.
Odhadnout dlouhodobé zdravotní následky je sice obtížné, ale existuje dostatek důkazů, že obezita významně přispívá k vyššímu výskytu diabetu II. typu, infarktu a některých typů rakoviny. Náklady na zdravotní péči jsou ohromující, podle odhadů kolem 200 miliard dolarů ročně jen v samotných USA. A jelikož celosvětově rostoucí obezita dětí předznamenává výrazně větší zdravotní problémy budoucí dospělé populace, náklady pravděpodobně citelně porostou.
Příčiny obezity jsou rozmanité a spletité. Narůstajících soubor důkazů nicméně naznačuje, že jádrem problému je kultura zdůrazňující zpracované potraviny a obecně sedavý způsob života. Na rozvíjejících se trzích je dalším důležitým faktorem rychlá urbanizace, jakož i touha napodobit západní životní styl.
Mnohé vlády zahájily iniciativy usilující o zlepšení výživové osvěty. Bohužel průmyslová reklama tyto snahy obvykle zastíní, stejně jako úsilí amerických podnikatelských lobbistů vnutit zbytku světa zpracované potraviny a rychlé občerstvení.
Stěží lze přehlédnout, že míra obezity dospělých v Mexiku strmě stoupá od přijetí Severoamerické dohody o volném obchodu (NAFTA) v roce 1993. Tento vývoj má sice mnoho příčin, ale významný podíl mají přímé zahraniční investice v odvětví zpracovaných potravin a prudký nárůst reklamy.
Spotřeba slazených nápojů se v Mexiku v letech 1993 až 2014 téměř ztrojnásobila a nová daň ze slazených nápojů od té doby poptávku jen mírně ztlumila. Druhý partner NAFTA, Kanada, rovněž zažil vzestup obezity, částečně proto, že dovoz z USA vedl k prudkému poklesu ceny fruktózy.
Veřejné regulační orgány bohužel dosud jen velice pomalu přistupují k pokusům o zvrácení těchto trendů, například pomáhají vzdělávat veřejnost v oblasti vědy o výživě. Už příliš dlouho zase většina vlád zaměřuje osvětu usilující o potlačování obezity na mechanickou regulaci příjmu kalorií, aniž by braly v úvahu, že různé potraviny mají výrazně odlišné účinky na chuť k jídlu (jak ve své skvělé nové knize Always Hungry zdůrazňuje David Ludwig, profesor lékařské fakulty na Harvardu).
Skeptici snad namítnou, že výživová doporučení působí dojmem neustálých zvratů, při nichž se loňský stravovací hřích stává letošní superpotravinou a naopak. Na tom je sice něco pravdy, ale je faktem, že výzkum výživy učinil v posledních desetiletích významný pokrok.
Kromě osvěty má vláda k dispozici ještě další nástroje k ovlivnění stravovacích návyků lidí. Může a měla by přísněji omezit reklamu zaměřenou na děti, jak už učinily Británie, Francie a několik dalších zemí; obezita v raných letech může vyústit v celoživotní problémy. Dále jsme Ludwig, Dariush Mozaffarian z Tuftsovy univerzity a já navrhli zavedení daně ze zpracovaných potravin, charakterem velice podobné zdanění tabáku. Výnosy daně by bylo možné využít k subvencím do zdravějších alternativ.
Je možná fantazírováním očekávat, že současná americká administrativa bude uvažovat o jakékoli strategii proti obezitě, dokud má stále plné ruce práce s demontáží politik Obamy éra. Právě proto je o důvod víc, aby se země uzavírající nové obchodní dohody se Spojenými státy (například Británie po brexitu nebo Kanada po NAFTA) měly na pozoru před ustanoveními, které by jim v boji proti obezitě svazovaly ruce.
Z angličtiny přeložil David Daduč