Het is tijd voor een op vrouwen gerichte klimaatagenda
LONDEN – Door de met veel publiciteit omgeven transatlantische reis van tieneractiviste Greta Thunberg op een nulemissie-boot naar de Algemene Vergadering van de Verenigde Naties in New York en de mondiale proliferatie van klimaatprotesten is de wereld zich bewuster dan ooit van de klimaatdreiging. Toch moet dit hogere bewustzijn zich nog vertalen in collectieve actie van de wereldleiders om de klimaatverandering te verzachten, om maar te zwijgen van gerichte pogingen om de meest kwetsbare groepen te beschermen – te beginnen met vrouwen en meisjes.
De feiten spreken voor zichzelf. Het is voor vrouwen waarschijnlijker dan voor mannen dat ze in armoede zullen leven, en op gender gebaseerde sociale rollen die sociaal-economische machtsonevenwichtigheden reproduceren zorgen ervoor dat vrouwen en meisjes bijzonder kwetsbaar zijn voor een brede verscheidenheid aan klimaatgevolgen, inclusief verminderde toegang tot water, voedsel, onderdak en cruciale diensten.
Het is geen verrassing dat 80% van de mensen die door de klimaatverandering van huis en haard worden verdreven vrouwen zijn. Bovendien is het waarschijnlijker dat vrouwen zullen lijden onder de hogere werkdruk en het inkomensverlies als gevolg van klimaatrampen dan mannen. In Zuid-Soedan – een van 's werelds snelst opwarmende landen – hebben droogtes en overstromingen meisjes en vrouwen gedwongen verder te lopen voor brandhout en water, een tijdrovende en potentieel gevaarlijke verandering.
Naarmate huishoudens het moeilijker hebben om in hun energie-, water- en voedselbehoeften te voorzien, worden meisjes vaker al op jonge leeftijd van school gehaald of uitgehuwelijkt. Dit verscherpt de bestaande ongelijkheden en versterkt de kwetsbaarheid van deze meisjes.
Vrouwen zullen ook eerder met het klimaat samenhangende gevolgen voor hun gezondheid ondervinden, zoals ondervoeding en malaria, of omkomen door toedoen van natuurrampen, zoals droogten en overstromingen. Uit een rapport van Oxfam bleek dat het aantal overlevende mannen in India, Indonesië en Sri Lanka dat van de overlevende vrouwen met bijna drie tegen één overtrof na de tsunami van 2004. Tijdens de aardbeving van 2015 in Nepal waren veel zwangere vrouwen niet in staat de gezondheidscentra te bereiken, waardoor het risico dat er complicaties zouden optreden of dat ze zouden komen te overlijden toenam.
De Wereldgezondheidsorganisatie laat weten dat de gevolgen van genderverschillen voor de levensverwachting bij natuurrampen meestal groter zijn bij ernstigere rampen, en op plekken waar de sociaal-economische status van vrouwen lager is. Met andere woorden: we kunnen de klimaatcrisis niet aanpakken zonder de genderongelijkheid aan te pakken.
Subscribe now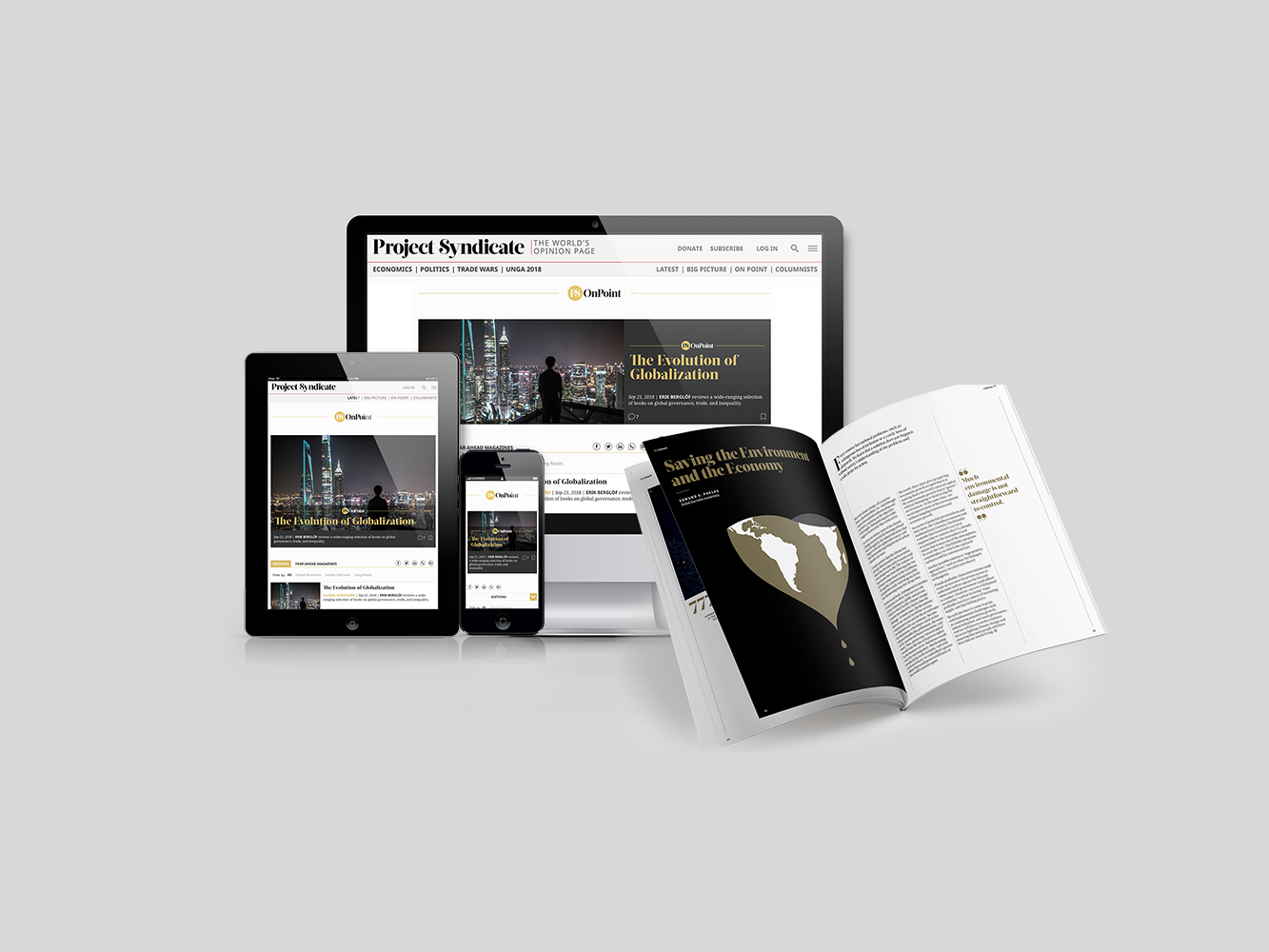 Subscribe now
Subscribe today and get unlimited access to OnPoint, the Big Picture, the PS archive of more than 14,000 commentaries, and our annual magazine, for less than $2 a week.
En vergis u niet: er is inderdaad een crisis op dat gebied. Ons partnerschap, Equal Measures 2030, heeft onlangs de SDG Gender Index gelanceerd, waarin data worden geanalyseerd over de meeste van de zeventien Sustainable Development Goals (Duurzame Ontwikkelingsdoelstellingen) uit 129 landen, die 95% van de meisjes en vrouwen in de wereld vertegenwoordigen. Op basis van indicatoren als kwetsbaarheid voor klimaatverandering, gezondheid, economische kansen, eigendomsrechten en op gender gebaseerd geweld, hebben we voor ieder land een score berekend. Op een schaal van honderd punten bedroeg het mondiale gemiddelde slechts 65,7 – nauwelijks indrukwekkend – waarbij geen enkel land de gendergelijkheid, zoals voorzien door SDG5, volledig heeft verwezenlijkt.
Wat betreft SDG13 – "het ondernemen van urgente actie om de klimaatverandering en de gevolgen ervan te bestrijden" – heeft ons onderzoek drie onderwerpen bestreken. Het eerste was de algehele kwetsbaarheid voor het klimaat. Die varieert afhankelijk van het land en de regio: in de regio Azië-Pacific worden bijvoorbeeld nu al ruim honderd miljoen mensen ieder jaar met de gevolgen van de klimaatverandering geconfronteerd. Maar niemand is immuun.
Op het terrein van het tweede onderwerp – de belofte van de staat om de rampendreiging terug te dringen – hebben slechts 15 van de 129 landen (11%) een uitmuntende score. Nu de wereld voor een klimaatcatastrofe staat, moeten landen proberen zich voor te bereiden op rampen, met een oog op het beschermen van de meest kwetsbaren onder ons.
Het derde onderwerp – de vertegenwoordiging van vrouwen in het politieke proces rond de klimaatverandering – leverde eveneens teleurstellende resultaten op. Hoewel uit onderzoek blijkt dat een grotere participatie van vrouwen in de beleidsvorming tot betere uitkomsten leidt, inclusief lagere ongelijkheid, blijven vrouwen over de hele wereld ondervertegenwoordigd in de lichamen die over het klimaatbeleid beslissen.
Wat zou er voor nodig zijn om landen vooruitgang te laten boeken op het gebied van de onderling verbonden SDG5 en SDG13? Wij doen zeven aanbevelingen.
·                                                         Creëer, om de planning te verbeteren, op gender uitgesplitste databases met informatie over gemarginaliseerde en kwetsbare gemeenschappen.
·                                                         Versterk de verantwoordingsplicht door van overheden te eisen dat de toegang tot gegevens voor iedereen openstaat.
·                                                         Verbeter de coördinatie tussen ministeries en andere relevante lichamen.
·                                                         Streef vernieuwende, doelgerichte initiatieven na, zoals het gezamenlijke programma van het Asian Pacific Resource and Research Centre for Women (ARROW) en de Deense Family Planning Association, dat zich richt op de intersectie van de klimaatkwetsbaarheid en de seksuele en reproductieve gezondheidszorg en rechten.
·                                                         Verhoog de vertegenwoordiging van vrouwen in nationale en mondiale beleidsorganen die werken aan met het klimaat samenhangende kwesties.
·                                                         Ontwikkel oplossingen die de perspectieven weerspiegelen van vrouwen die door de klimaatverandering zijn getroffen.
·                                                         Beloof ambitieuzere actie op het gebied van de klimaatverandering en de gendergelijkheid, en volg die ook op.
Als je te maken hebt met complexe problemen kan het verleidelijk zijn om valse vergelijkingen te maken, waarbij leiders beweren dat ze moeten kiezen tussen twee doelen waarvoor ze in actie kunnen komen. Maar SDG13 kan niet worden verwezenlijkt zonder vooruitgang inzake SDG5, en we kunnen niet wachten met het verwezenlijken van SDG5 voordat we tot actie inzake SDG13 overgaan.
Dit geldt voor de hele SDG-agenda: als landen proberen op eigen kracht individuele doelen  te verwezenlijken, zullen ze daar in geen enkel geval in slagen. Er zijn dringend ambitieuze, gecoördineerde en holistische strategieën nodig.
Vertaling: Menno Grootveld
,