Het Parijse klimaatspektakel
OTTAWA – De VN-Klimaatconferentie in Parijs in december zal verlopen volgens de strakke choreografie van een Hollywoodproductie. De cast zal enorm zijn: presidenten en premiers in de hoofdrol, ondersteund door duizenden figuranten, waaronder demonstranten, oproerpolitie, en wagonladingen media. Het script is nog geheim, maar de plot is al uitgelekt: in scherp contrast met de mislukte onderhandelingen in Kopenhagen wint de planeet deze keer.
Het is een verleidelijk plot, maar een dat niet bepaald samenhangend is. De wereld zal verteld worden dat goede wil en hard onderhandelen deze keer uitbetaalden. Overheden hebben toegestemd in vrijwillige verminderingen van de uitstoot van broeikasgassen die zullen voorkomen dat de wereld meer dan 2 graden Celsius opwarmt. Dan zal er door middel van een verbluffende deus ex machina worden onthuld dat de grootste fossiele brandstoffenproducenten – de zogenoemde supermajors – er mee hebben ingestemd hun netto-uitstoot in 2100 tot nul te hebben teruggebracht, door koolstof bij de bron af te vangen, het uit de atmosfeer te zuigen, en het ondergronds op te slaan. De planeet zal gered zijn, en de economie zal vrij kunnen bloeien. Muziek en eindtitels.
Het probleem is dat dit script fictie is en geen realiteit. De benodigde technologie is nog niet uitgevonden en het terugbrengen van de netto-uitstoot tot nul is gewoonweg onmogelijk. En net zoals bij een Hollywoodproductie zal de boodschap van de conferentie in Parijs zwaar worden beïnvloed door degenen met het meeste geld.
De optelsom is niet moeilijk te maken. 's Werelds energie-infrastructuur – fijn afgestemd op het gebruik van fossiele brandstoffen – is 55 biljoen dollar waard. De reserves aan fossiele – waarvan de meeste in bezit van de supermajors – zijn op papier ongeveer 28 biljoen dollar waard.
De invloed van de industrie is goed zichtbaar in het feit dat regeringen wereldwijd dit jaar verwacht worden 5,3 biljoen dollar uit te geven om deze te subsidiëren, inclusief de gigantische projecten die nodig zijn om de negatieve gezondheids- en milieueffecten tegen te gaan. Met andere woorden spenderen de regeringen die in Parijs bijeenkomen meer aan het subsidiëren van de oorzaken van klimaatverandering dan ze doen aan de wereldgezondheidszorg of, wat hier meer van toepassing is, de verlichting van en aanpassing aan klimaatverandering.
Maar dat zal in Parijs geen onderdeel van het verhaal zijn. Daar zal het mondiale publiek worden gepresenteerd met een verhaallijn die is gebaseerd op twee onbewezen vormen van 'geo-engineering', waar voorstanders van de aardse systemen willen manipuleren. De poging die de meeste aandacht zal trekken is bio-energie met afvang en opslag van koolstof (BECCS). In mei organiseerde het ministerie van Energie van de VS een ontmoeting achter gesloten deuren om deze technologie te bespreken, die het excuus van de supermajors zal worden om hun bezittingen te beschermen.
Subscribe to Project Syndicate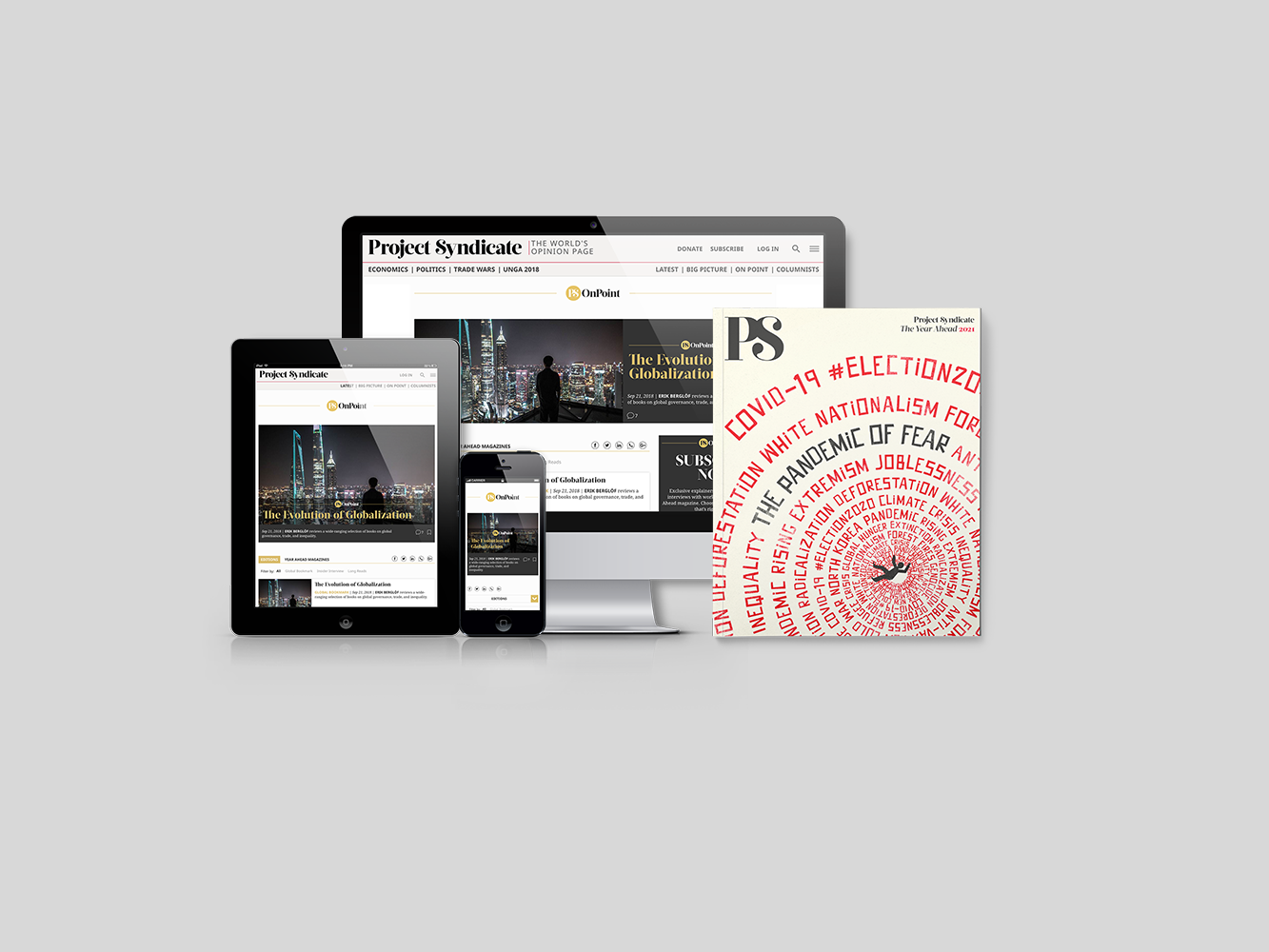 Subscribe to Project Syndicate
Enjoy unlimited access to the ideas and opinions of the world's leading thinkers, including weekly long reads, book reviews, topical collections, and interviews; The Year Ahead annual print magazine; the complete PS archive; and more – for less than $9 a month.
Het inzetten van BECCS echter zou van de wereld vereisen dat het een gebied zou onderhouden dat 1,5 maal zo groot is als India, vol velden of bossen die in staat zijn om enorme hoeveelheden CO2 te absorberen, terwijl ze nog steeds genoeg voedsel produceren voor een wereldbevolking die in 2050 wordt verwacht 9 miljard zielen groot te zijn. Tegen die tijd, beloven voorstanders van de technologie, zal biologische sekwestratie worden vergezeld van systemen die de uitstoot opvangen op het moment dat deze vrijkomt of die uit de atmosfeer trekken om in diepe onderaardse schachten te pompen – uit het gezicht en uit de gedachten.
Producenten van fossiele brandstoffen promoten koolstof-afvang om ze in staat te stellen hun mijnen open te houden en bronnen te laten vloeien. Helaas voor de planeet denken veel wetenschappers dat dit technisch onmogelijk is en financieel funest – vooral als zulke technologie wordt ingezet om chaotische klimaatverandering te voorkomen.
Voorkomen dat de temperaturen de pan uit rijzen zal een tweede geo-engineering oplossing vereisen, bekend als zonnestralingsmanagement. Het idee is om de natuurlijk verkoelende effecten van een vulkaanuitbarsting na te doen, door het gebruik van technieken zoals het inzetten van slangen om sulfaat 30 kilometer de stratosfeer in te pompen om zonlicht tegen te houden.
De Royal Society van het Verenigd Koninkrijk gelooft dat de noodzaak tot zulke technologie onvermijdelijk zou kunnen blijken en werkt samen met zijn tegenhangers in andere landen om manieren te onderzoeken waarop het gebruik ervan overzien zou kunnen worden. Eerder dit jaar gaf de National Academy of Science van de VS de techniek een voorzichtige goedkeuring en de Chinese regering kondigde grote investeringen in modificatie van het weer aan, waaronder ook zonnestalingsmanagement zou kunnen vallen. Rusland werkt al aan ontwikkeling van deze technologie.
In tegenstelling tot het afvangen van koolstof heeft het tegenhouden van zonlicht daadwerkelijk de potentie om de mondiale temperatuur te verlagen. De technologie is in theorie simpel, goedkoop en kan ingezet te worden door een enkel land of een klein samenwerkingsverband; er is geen consensus binnen de VN voor nodig.
Maar het beheren van zonnestraling verwijdert geen broeikasgassen uit de atmosfeer. Het maskeert slechts hun effecten. Als de slangen er mee ophouden zal de temperatuur op de planeet enorm oplopen. We zouden met de technologie tijd kunnen kopen, maar het levert de controle over de thermostaat van de planeet uit aan degenen die de brandslangen vasthouden. Zelfs de voorstanders van de technologie geven toe dat hun computermodellen voorspellen dat deze een sterke negatieve impact op tropische en subtropische regio's zal hebben. Klimaatverandering is een slechte zaak, maar geo-engineering heeft de potentie deze nog erger te maken.
Het verhaal dat de producenten van de klimaatconferentie in Parijs hun kijkers zullen vragen te geloven leunt op technologieën die niet effectiever zijn dan rookeffecten en spiegels. Het is van groot belang dat we hier doorheen leren kijken. Het doek zal opgaan met een reeks valse beloftes en vallen met beleid dat alleen maar tot chaos kan leiden – tenzij het publiek ook zijn rol zal opeisen.