La Legge Usa 2017 sugli Sgravi Fiscali "Pro-Donatori"
NEW YORK – Un atto legislativo, definito allo stesso tempo intervento di riduzione delle tasse e riforma fiscale, non è mai stato accolto con altrettanta disapprovazione e derisione quanto il disegno approvato dal Congresso USA e convertito in legge dal presidente Donald Trump poco prima di Natale. I Repubblicani che hanno votato per il provvedimento (non lo hanno fatto i Democratici) sostengono che il loro "regalo" verrà apprezzato più tardi, non appena gli Americani vedranno aumentare il loro stipendio. Quasi certamente si sbagliano. Piuttosto, la legge racchiude in un unico pacchetto tutto ciò che non va nel Partito Repubblicano e, in certa misura, lo stato degradato della democrazia americana.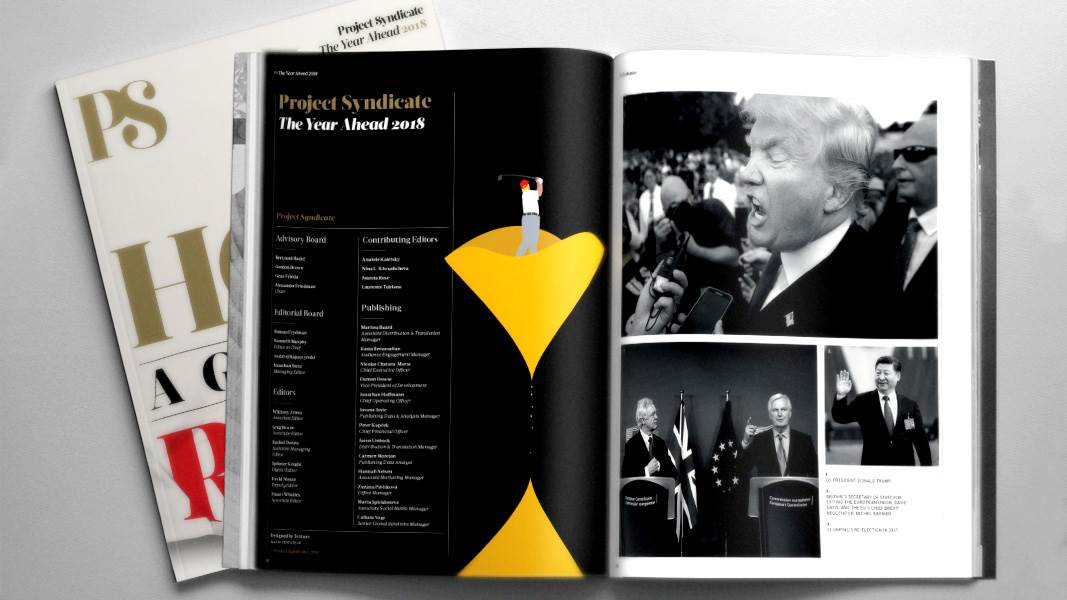 The Year Ahead 2018
The world's leading thinkers and policymakers examine what's come apart in the past year, and anticipate what will define the year ahead.
La legge non rappresenta una "riforma fiscale" nemmeno secondo la più elastica delle letture. Una riforma dovrebbe comportare l'eliminazione delle scappatoie distorsive e l'aumento dell'equità della normativa tributaria. Di importanza fondamentale per l'equità è la capacità contributiva. Ma la suddetta normativa fiscale riduce le tasse di decine di migliaia di dollari, in media, a favore delle persone più in grado di pagare (il quintile superiore). E, allorché fosse pienamente attuata (nel 2027), essa farebbe innalzare le tasse della maggioranza degli Americani che si trovano nel mezzo (secondo, terzo e quarto quintile).
Il codice fiscale degli Stati Uniti era già regressivo molto prima della presidenza Trump. In effetti, l'investitore miliardario Warren Buffett, uno degli uomini più ricchi del mondo, ha notoriamente dichiarato di ritenere sbagliato che egli dovesse pagare un'aliquota fiscale inferiore a quella della sua segretaria. La nuova legislazione rende il sistema fiscale americano ancora più regressivo.
È ormai universalmente riconosciuto che le crescenti disuguaglianze costituiscono un problema economico cruciale negli Stati Uniti, con coloro che stanno ai livelli più alti che nell'ultimo quarto di secolo si sono accaparrati quasi tutti i guadagni di PIL. La nuova legislazione aggiunge la beffa al danno: piuttosto che compensare questa tendenza inquietante, la "riforma" dei Repubblicani dà ancora di più a coloro che stanno in cima.
Un'economia più distorta non è un'economia sana. Il Fondo Monetario Internazionale ha sottolineato che una società più iniqua peggiora le prestazioni economiche – e la nuova legislazione fiscale condurrà inesorabilmente a una società più iniqua.
Gran parte della complessità e della distorsione dell'ordinamento tributario statunitense deriva dall'esistenza di diverse tipologie di reddito soggette ad aliquote differenti. Tale trattamento differenziato comporta non solo la (corretta) percezione che il codice fiscale sia ingiusto, ma anche delle inefficienze: le risorse vengono trasferite verso settori privilegiati, e vengono sprecate dal momento che le imprese cercano di convertire i loro redditi ed attività nelle forme più agevolate. Sono state mantenute le peggiori disposizioni del vecchio codice fiscale – come la scappatoia dei "carried-interest", che consente alle società di private-equity, che distruggono l'occupazione, di pagare le imposte a tassi bassi – e inoltre sono state create nuove categorie di reddito privilegiato (le cosiddette entità "pass-through").
È improbabile, per diverse ragioni, che lo stimolo sperato per la crescita economica si materializzi. Innanzitutto, l'economia è già prossima alla piena occupazione. Se la Federal Reserve USA lo ritenesse necessario, aumenterebbe i tassi di interesse al primo segno di un significativo aumento della domanda aggregata. Ed un più elevato livello dei tassi di interesse significherebbe un rallentamento degli investimenti, e quindi della crescita, anche in caso di aumento del consumo dei molto ricchi.
Inoltre, "spremere" gli stati "blu" (democratici), tra cui la California e New York, prevedendo disposizioni di legge specificamente mirate a loro, non solo amplia ulteriormente le divisioni politiche dell'America; ma costituisce anche una cattiva economia. Nessun governo di buon senso andrebbe a compromettere le parti più dinamiche della propria economia, eppure questo è ciò che l'amministrazione Trump sta facendo. Agevolazioni fiscali speciali per il settore immobiliare potrebbero aiutare Trump e suo genero, Jared Kushner, ma non rendono l'America grande o competitiva. E la limitazione della deducibilità dell' imposta statale sul reddito e sulla proprietà riduce quasi sicuramente gli investimenti in istruzione e infrastrutture – ancora una volta, non si tratta di una saggia strategia per incrementare la competitività americana. Anche le altre nuove disposizioni andranno a danneggere l'economia statunitense.
Poiché il deficit fiscale crescerà – l'unica domanda è di quanto, ed io scommetto che sarà molto più grande delle stime attuali di 1-1,5 trilioni di dollari – aumenterà anche il deficit commerciale, indipendentemente dal fatto che Trump persegua politiche più localistiche/protezionistiche. Livelli minori di esportazioni e maggiori di importazioni indeboliranno ulteriormente la produzione statunitense. Ancora una volta (come già fatto con l'assistenza sanitaria e le riduzioni delle tasse), Trump sta tradendo i suoi principali sostenitori.
Ma il Partito Repubblicano è cinico. I suoi leader si stanno "rimpinzando alla mangiatoia" – Trump, Kushner, e molti altri della sua amministrazione sono tra i maggiori beneficiari – ritenendo che questa potrebbe essere la loro ultima chance ad una "festa" di tal genere. E nessun Repubblicano è più convinto di Trump che la "festa possa passare liscia".
Questo è il motivo per cui la normativa è strutturata in modo da concedere agli individui una riduzione temporanea delle imposte, a fronte di una riduzione permanente delle aliquote fiscali delle società. I Repubblicani sembrano fiduciosi che gli elettori non vedranno oltre il prossimo stipendio. Ma gli elettori non sono così facilmente manipolabili: hanno capito il trucco, e si sono giustamente convinti, mediante la dimostrazione di numerosi studi, provenienti da fonti dentro e fuori il governo, che la parte del leone del taglio delle tasse va alle multinazionali e ai molto ricchi.
La normativa tributaria di Trump attesta anche la convinzione di molti Repubblicani che i dollari siano più importanti degli elettori. Tutto ciò che conta è compiacere le imprese loro sponsor, che premieranno il partito con contributi, utilizzati a loro volta per l'acquisto di voti, garantendo in tal modo il perpetuarsi di un'agenda politica guidata dalle imprese.
Speriamo che gli Americani siano davvero più intelligenti degli avidi amministratori aziendali e del credo dei loro cinici servitori repubblicani. Con le elezioni del congresso di midterm che si terranno a novembre, essi avranno ampie possibilità di dimostrarlo.