Trump et les impôts
NEW-YORK – Jamais une loi qualifiée à la fois de réduction d'impôt et de réforme n'a suscité autant de désapprobation et de moquerie que celle qui a été adoptée par le Congrès et signée par le président Trump peu avant Noël. Les républicains qui l'ont votée (aucun démocrate ne l'a fait) prétendent que les Américains apprécieront plus tard toute la valeur de leur "cadeau", lorsqu'ils verront augmenter leur revenu net. Il est à peu près sûr qu'ils se trompent. Cette loi symbolise les défauts du parti républicain et dans une certaine mesure la dégradation de la démocratie américaine.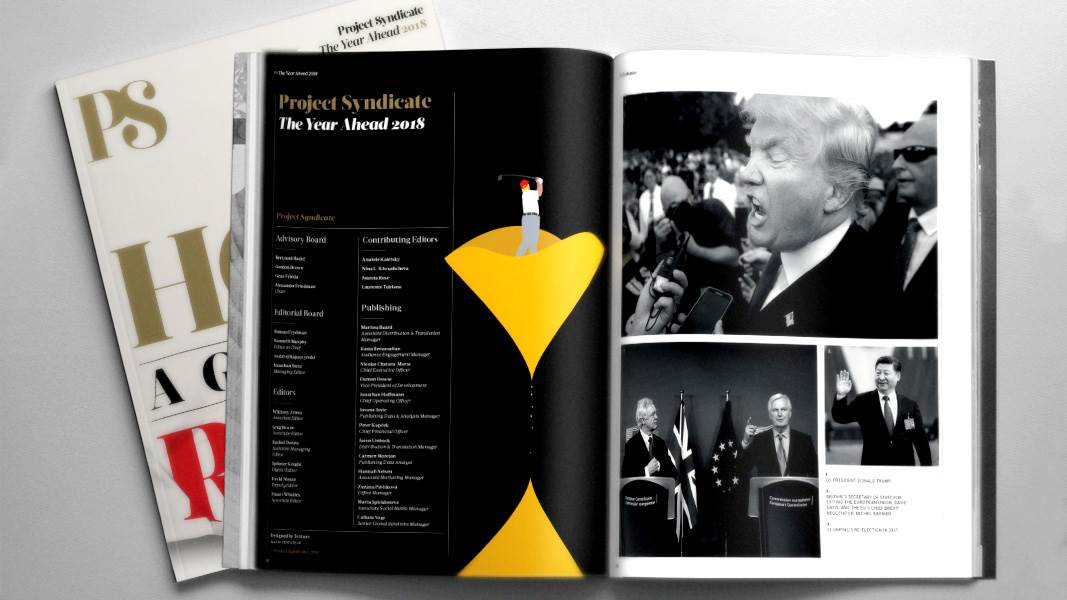 The Year Ahead 2018
The world's leading thinkers and policymakers examine what's come apart in the past year, and anticipate what will define the year ahead.
Quelle que soit la manière dont on la considère, cette loi n'est en rien une réforme fiscale, car une véritable réforme fiscale vise à remédier aux points faibles du code des impôts et à le rendre plus équitable. La capacité de payer est au centre de l'équité fiscale. Mais la nouvelle législation fiscale réduit de plusieurs dizaines de milliers de dollars les impôts des plus riches (les 20% au sommet de la pyramide des revenus). Et lorsqu'elle sera appliquée dans sa totalité, elle se traduira par une hausse d'impôts pour la majorité des 60% d'Américains appartenant aux classes moyennes.
La fiscalité américaine était régressive bien avant l'arrivée de Trump à la présidence. Ainsi  l'investisseur milliardaire Warren Buffett, l'un des hommes les plus riches de la planète, a frappé l'opinion publique en critiquant le fait que son taux d'imposition est inférieur à celui de sa secrétaire. Or nouvelle loi rend la fiscalité américaine encore plus régressive.
Tout le monde reconnaît maintenant que l'augmentation des inégalités est un problème économique majeur aux USA, les plus riches s'appropriant presque tous les bénéfices du PIB depuis un quart de siècle. Pire encore, au lieu de chercher à remédier à cette évolution inquiétante, la "réforme" des républicains accorde encore davantage aux plus riches.
Un systéme économique de plus en plus inéquitable est malsain. Le FMI souligne que le creusement des inégalités ralentit l'économie - or la nouvelle loi fiscale conduit inexorablement à une aggravation des inégalités.
La complexité du code des impôts et les distorsions qu'il génère tiennent en grande partie à la variation du taux d'imposition en fonction du type de revenu. Cette différence de traitement fait que le code des impôts est inéquitable et entraîne des gaspillages : certains secteurs bénéficiant d'un traitement de faveur, des entreprises font des montages financiers dans le seul but d'en profiter. Les pires dispositions de l'ancien code sont conservées - par exemple le faible taux de taxation dont peuvent bénéficier les gestionnaires de fonds d'investissement destructeurs d'emplois - tandis que de nouvelles niches fiscales ont été créées, notamment au profit des "entités intermédiaires" (pass-through entities) qui échappent à l'impôt.
Contrairement à ce que disent ses concepteurs, il est peu probable que la nouvelle loi dope la croissance, ceci pour plusieurs raisons. Tout d'abord l'économie est proche du plein emploi. Si la Réserve fédérale en prend acte, elle augmentera les taux d'intérêt au premier signe d'une hausse significative de la demande agrégée. Or si les taux augmentent, l'investissement, et en conséquence la croissance ralentiront, même si la consommation des plus riches augmente.
Par ailleurs, presser financièrement les Etats démocrates (notamment la Californie et l'Etat de New-York) en incluant dans la législation des dispositions qui les visent spécifiquement, accroîtra la polarisation politique du pays et nuira à l'économie. Aucun gouvernement sensé ne chercherait à fragiliser les éléments les plus dynamiques de son économie, or c'est exactement ce que fait le gouvernement de Trump. Ce dernier et son beau-fils, Jared Kushner, bénéficieront peut-être des réductions d'impôt en faveur du secteur immobilier, mais elles ne "rendront pas sa grandeur à l'Amérique" et n'amélioreront pas sa compétitivité. Limiter la déductibilité des impôts locaux (au niveau des Etats) et de la taxe foncière se traduira presque inévitablement par une réduction des sommes allouées à l'éducation et aux infrastructures - à nouveau, sûrement pas une stratégie efficace pour améliorer la compétitivité des USA. D'autres dispositions de la nouvelle loi nuiront aussi à l'économie.
Du fait de l'augmentation du déficit budgétaire (je parie que cette augmentation va dépasser largement la prévision actuelle de 1000 à 1500 milliards de dollars), le déficit commercial va lui aussi augmenter - que Trump applique ou pas une politique plus protectionniste ou nationaliste. Une baisse des exportations alliée à une hausse des importations fragilisera encore davantage le secteur manufacturier américain. Une fois de plus (comme il l'a fait avec l'assurance maladie et les baisses d'impôt), Trump trahit le cœur même de son électorat.
Le parti républicain fait preuve de cynisme. Ses dirigeants s'engraissent (Trump, Kushner et beaucoup d'autres dans son équipe en sont les premiers à le faire), car ils pensent que c'est probablement la dernière occasion qui s'offre à eux. Aucun républicain ne pense que leur parti s'en tirera plus facilement que Trump.
C'est pourquoi la nouvelle loi fiscale prévoit des allégements fiscaux temporaires pour les personnes, mais permanents pour les entreprises. Les républicains croient que les électeurs ne voient pas plus loin que leur porte-monnaie. Mais ils ne sont pas si facilement manipulables : grâce à de nombreuses études, qu'elles soient officielles ou indépendantes, ils savent qu'ils se font berner et que la part du lion des baisses d'impôt revient aux entreprises et aux plus riches.
La réforme fiscale de Trump montre aussi que pour beaucoup de républicains l'argent compte davantage que les électeurs. Tout ce qui compte pour eux est de répondre à l'attente des entreprises qui les financent pour acheter des voix, de manière à assurer la pérennité d'un agenda politique qui leur convienne.
Espérons que les Américains sont plus intelligents que ce qu'imaginent les PDG rapaces et leurs serviteurs républicains. Ils pourront le démontrer en novembre prochain lors des élections de mi-mandat pour le Congrès.
Traduit de l'anglais par Patrice Horovitz