La plutocracia populista y el futuro de Estados Unidos
NUEVA YORK – Donald Trump obtuvo la presidencia estadounidense con el apoyo de votantes blancos de clase trabajadora, socialmente conservadores, y una plataforma populista de nacionalismo económico. Rechazó la tradicional agenda promercado y pro libre comercio del Partido Republicano, y (como Bernie Sanders desde la izquierda) convocó a los estadounidenses perjudicados por tecnologías disruptivas y políticas "globalistas" que promueven el libre comercio y las migraciones.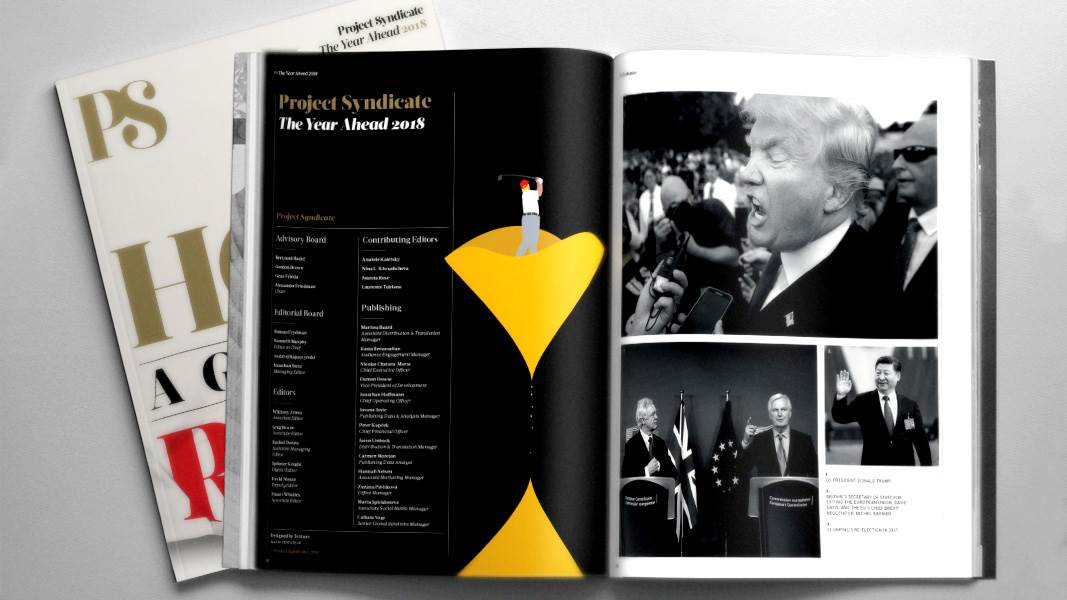 The Year Ahead 2018
The world's leading thinkers and policymakers examine what's come apart in the past year, and anticipate what will define the year ahead.
Pero pese a su campaña populista, en el gobierno Trump se ha conducido como un plutócrata, de lo que el ejemplo más reciente es el apoyo a la desprestigiada teoría ofertista de los impuestos (a la que todavía se aferra la mayoría de los republicanos). Y aunque también prometió "limpiar la ciénaga" de Washington y de Wall Street, ha llenado el gobierno de multimillonarios (no apenas millonarios) y exempleados de Goldman Sachs y está dejando que la ciénaga del lobby empresarial llegue a alturas nunca antes vistas.
El plan de Trump y los republicanos de derogar la Ley de Atención Médica Accesible de 2010 (Obamacare) hubiera dejado sin cobertura médica a 24 millones de estadounidenses (en su mayoría pobres o de clase media, muchos de los cuales votaron por él). Sus políticas de desregulación van manifiestamente en contra de los trabajadores y los sindicatos. Y el plan republicano de reforma impositiva, que Trump avaló, favorecerá desproporcionadamente a las corporaciones multinacionales y al 1% de hogares más ricos (muchos de los cuales saldrán especialmente beneficiados por la derogación del impuesto sucesorio).
Trump también abandonó a sus votantes en lo concerniente al comercio internacional, donde su retórica no ha ido acompañada de acciones concretas. Es verdad que sacó al país del Acuerdo Transpacífico (ATP), pero Hillary Clinton hubiera hecho lo mismo. Dijo algo acerca de abandonar el Tratado de Libre Comercio de América del Norte (NAFTA, por la sigla en inglés), pero puede que sólo sea una táctica de negociación. Amenazó con imponer un arancel del 50% a las importaciones desde China, México y otros socios comerciales, pero la medida no se materializó. Y las propuestas de un impuesto de ajuste fronterizo quedaron prácticamente en la nada.
Los amenazantes tuits de Trump contra las empresas estadounidenses que trasladen al extranjero la producción o el domicilio fiscal son pura cháchara (y los dirigentes empresariales lo saben). Fabricantes que hicieron creer a Trump que mantendrían la producción en Estados Unidos, siguen trasladando discretamente fábricas a México, China y otros países. Además, las cláusulas del proyecto de ley tributaria referidas a la actividad internacional darán todavía más incentivos a las multinacionales estadounidenses para invertir, producir y contratar mano de obra en el extranjero, y usar precios de transferencia y otros mecanismos para llevar las ganancias a jurisdicciones donde paguen menos impuestos.
En cuanto a la inmigración, la política de Trump ha sido relativamente moderada en comparación con su retórica agresiva, tal vez porque en realidad así lo prefieren muchos de los empresarios que apoyaron su campaña. La "veda" al ingreso de musulmanes no repercute sobre la oferta de mano de obra en Estados Unidos. En cuanto a las deportaciones, es verdad que con Trump se aceleraron, pero no hay que olvidar que con Barack Obama también hubo millones de inmigrantes indocumentados deportados. El muro fronterizo que Trump quería hacerle pagar a México sigue siendo un sueño desfinanciado. Y hasta el plan oficial de dar preferencia al ingreso de trabajadores cualificados no significa necesariamente una reducción de la inmigración legal.
En resumidas cuentas, Trump está gobernando como un plutócrata con ropajes populistas, es decir, un plutopopulista. ¿Por qué sus votantes le están dejando aplicar políticas que en su mayoría los perjudican? Según una interpretación, Trump apuesta a que sus simpatizantes blancos, obreros y socialmente conservadores residentes en áreas rurales votarán movidos por el sentimiento nacionalista y religioso, y la antipatía hacia las élites seculares de las dos costas de Estados Unidos, más que por sus propios intereses financieros.
Pero ¿cuánto tiempo puede uno esperar que la gente vote por "Dios y libertad de poseer armas" en vez de por "pan y mantequilla"? Los plutopopulistas que gobernaban el Imperio Romano sabían que para aplacar a la turba populista se necesita sustancia además de diversión: panem et circenses, "pan y circo". Los tuits enardecidos de Trump no significan nada para alguien que apenas consigue ganarse una vida digna, y mucho menos entradas al Coliseo moderno para ver fútbol americano.
Un elemento particularmente peligroso del plan es la reforma impositiva que los republicanos vienen apurando en el Congreso, ya que millones de familias de clase media y de bajos ingresos no sólo obtendrán pocos beneficios de ella, sino que en realidad terminarán pagando más cuando caduque la rebaja del impuesto sobre la renta personal. Además, los republicanos quieren derogar el "mandato individual" del Obamacare, esto es, la obligación de las personas de tener seguro médico. La Oficina de Presupuesto del Congreso (un órgano independiente) prevé que en los próximos diez años trece millones de personas quedarán sin cobertura y las primas aumentarán un 10%. Como era de esperar, una encuesta reciente de la Universidad Quinnipiac señala que sólo el 29% de los estadounidenses apoyan el plan republicano.
Sin embargo, Trump y los republicanos parecen dispuestos a correr el riesgo. Concibieron el plan para que les permita atravesar sin contratiempos la elección intermedia de 2018 y la elección general de 2020, ya que la suba de impuestos a la clase media tendrá lugar después. Entre ahora y la elección intermedia pueden alardear de que la mayoría de los hogares pagarán menos impuestos; y calculan que las rebajas impositivas darán el máximo estímulo a la economía en 2019, justo antes de la próxima elección presidencial (y mucho antes de que haya que saldar cuentas).
Además, es probable que la ley definitiva reduzca la deducción federal de los intereses de las hipotecas y elimine la posibilidad de deducir impuestos estatales y locales. Esto afectará a las familias de estados mayormente demócratas como Nueva York, Nueva Jersey y California, mucho más que a los estados republicanos.
Otra parte de la estrategia republicana (la parte que en Estados Unidos llaman "hambrear a la bestia", esto es, al gobierno federal) consiste en usar el aumento de déficit derivado de las rebajas impositivas como argumento para recortar prestaciones sociales como Medicare, Medicaid, la Seguridad Social y los vales alimentarios. También es una propuesta peligrosa, porque los estadounidenses de bajos ingresos, ancianos y de clase media dependen en gran medida de estos programas. Es verdad que algunos receptores pobres (con o sin trabajo) de esta clase de prestaciones pertenecen a minorías que tienden a votar por los demócratas. Pero estos programas (y otros similares) también ayudan a millones de votantes blancos, obreros y socialmente conservadores que votaron por Trump.
En un momento de expansión de la economía mundial, es probable que Trump espere que las rebajas impositivas y la desregulación alienten suficiente crecimiento y creación de empleo para tener algo de que vanagloriarse. Una tasa de crecimiento potencial del 2% no ayudará necesariamente a sus votantes obreros, pero al menos puede impulsar la bolsa a alturas nunca antes vistas. Y por supuesto, Trump seguirá diciendo que la economía estadounidense puede crecer a un ritmo del 4%, aunque la mayoría de los economistas (incluidos los republicanos) coincidan en que la tasa de crecimiento potencial no superará el 2% independientemente de las políticas que aplique.
Pase lo que pase, Trump seguirá tuiteando como un desaforado, difundiendo noticias falsas y alardeando de tener la "mayor y mejor" economía de la historia. Puede que así hasta consiga crear un circo digno de un emperador romano. Pero si no le basta la retórica rimbombante, tal vez decida pasar a la ofensiva, particularmente en la esfera internacional; por ejemplo, retirarse en serio del NAFTA, poner barreras a China y otros socios comerciales o redoblar la apuesta a endurecer la política migratoria.
Y si estas medidas no satisfacen a la base, a Trump todavía le quedará una última opción, tradicionalmente usada por emperadores romanos y toda clase de dictadores en tiempos de dificultad interna. A saber, la "cortina de humo": inventar una amenaza externa o embarcarse en aventuras militares en el extranjero para desviar la atención de sus simpatizantes de lo que él y los congresistas republicanos han estado haciendo.
Por ejemplo, siguiendo la estrategia de política exterior de "hacerse el loco", Trump podría iniciar una guerra con Corea del Norte o Irán. O seguir publicando tuits incendiarios sobre las maldades del Islam, lo que arrojaría a individuos desequilibrados y marginados a brazos de Estado Islámico (ISIS) u otras bandas extremistas. Eso aumentaría la probabilidad de que se produzcan ataques en nombre de ISIS (por ejemplo, que "lobos solitarios" ejecuten atentados suicidas con bombas o atropellamientos masivos) dentro de Estados Unidos. Con decenas o centenares de víctimas, Trump podrá entonces envolverse en la bandera y proclamar "yo les dije". Y si la situación se agrava lo suficiente, Trump y sus generales pueden declarar el estado de emergencia, suspender las libertades civiles y convertir a Estados Unidos en una auténtica autocracia plutopopulista.
Uno se da cuenta de que ya es hora de preocuparse cuando un conservador como el presidente republicano de la Comisión de Relaciones Exteriores del Senado, Bob Corker, advierte abiertamente que Trump es capaz de iniciar la Tercera Guerra Mundial. Y los incrédulos sólo tienen que pensar en la historia reciente de Rusia o Turquía; o en la historia del Imperio Romano bajo Calígula o Nerón. Los plutopopulistas llevan miles de años convirtiendo democracias en autocracias con el mismo manual, y nada induce a pensar que se detendrán ahora. El reinado del emperador Trump puede estar a la vuelta de la esquina.
Traducción: Esteban Flamini