Populistische Plutokratie und die Zukunft Amerikas
NEW YORK – Donald Trump gewann die US-Präsidentschaftswahlen mit Unterstützung der Arbeiterschaft und sozialkonservativer weißer Wähler auf der Grundlage eines populistischen wirtschaftsnationalistischen Programms. Trump verwarf dabei das traditionelle wirtschafts- und handelsfreundliche Programm der Republikanischen Partei und wandte sich, wie Bernie Sanders auf der Linken, an Amerikaner, die unter disruptiven Technologien und einer "globalistischen", für Freihandel und Migration eintretenden Politik litten.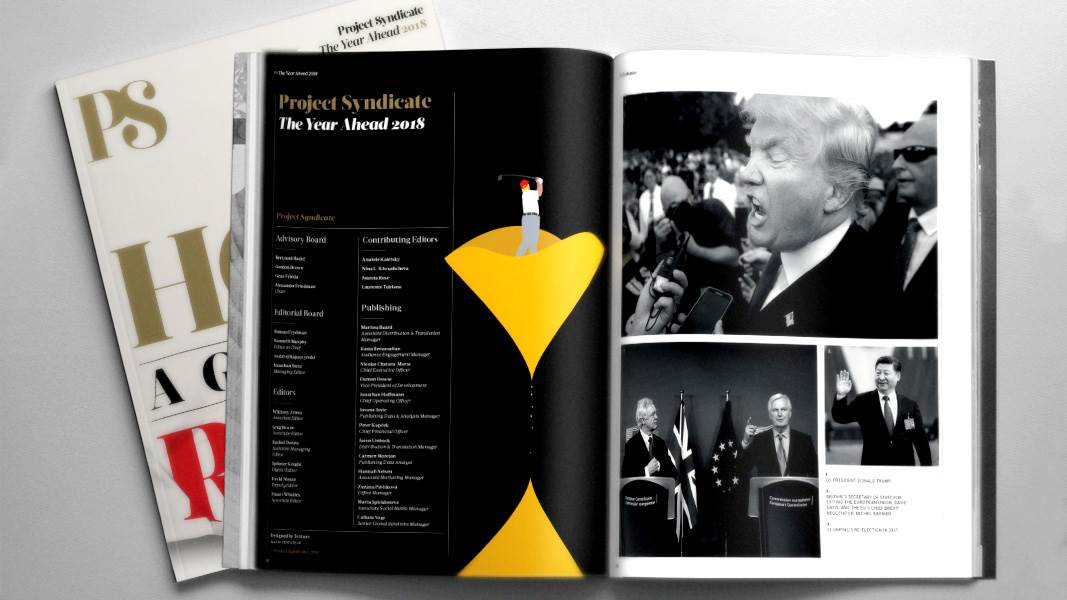 The Year Ahead 2018
The world's leading thinkers and policymakers examine what's come apart in the past year, and anticipate what will define the year ahead.
Doch während Trump als Populist kandidierte, hat regiert er bisher als Plutokrat. Jüngstes Beispiel dafür ist seine Unterstützung für die diskreditierte Theorie der angebotsorientierten Besteuerung, an der die meisten Republikaner noch immer festhalten. Trump versprach zudem im Wahlkampf, den "Sumpf" in Washington, D.C. und an der Wall Street trockenzulegen. Seine Regierung jedoch besteht zu großen Teilen aus Milliardären (nicht bloß Millionären) und ehemaligen Goldman-Sachs-Führungskräften, und er hat zuglassen, dass sich der Sumpf von Unternehmenslobbyisten immer mehr ausbreitet.
Der Plan von Trump und den Republikanern, den Affordable Care Act von 2010 (Obamacare) aufzuheben, hätte 24 Millionen Amerikaner – überwiegend Arme und Angehörige der Mittelschicht, darunter viele Trump-Wähler – die Krankenversorgung gekostet. Seine Deregulierungspolitik benachteiligt Arbeiter und Gewerkschaften in eklatanter Weise. Und der von Trump unterstützte Plan der Republikaner zur Steuerreform begünstigt in überwältigender Weise multinationale Konzerne und das oberste Prozent der Haushalte, von denen viele insbesondere von der Abschaffung der Erbschaftssteuer profitieren würden.
Auch im Bereich des Handels hat Trump seine Basis im Stich gelassen. Hier bot er Phrasen, aber keine konkreten Maßnahmen. Zwar hat er die Trans-Pazifische Partnerschaft (TPP) kassiert, aber das hätte Hillary Clinton auch getan. Er hat laut über den Ausstieg aus dem Nordamerikanischen Freihandelsabkommen (NAFTA) nachgedacht, aber das könnte auch bloße Verhandlungstaktik sein. Er hat gedroht, einen Zoll von 50% auf Waren aus China, Mexiko und anderen Ländern, mit denen die USA Handel treiben, zu verhängen, aber bisher ist nichts Derartiges passiert. Und die Vorschläge für eine Grenzanpassungssteuer sind so gut wie vergessen.
Trumps einschüchternde Tweets gegenüber US-Unternehmen, die ihre Produktion ins Ausland verlagern oder Steuerflucht betreiben, waren nur billiges Gerede, und die Wirtschaftsbosse wissen das. Jene Hersteller, die Trump glauben machten, dass sie ihre Produktion in den USA aufrechterhalten würden, haben still und leise weiter Produktionsbereiche nach China, Mexiko und anderswo hin ausgelagert. Zudem bieten die Auslandsbestimmungen im anhängigen Steuergesetz multinationalen US-Konzernen sogar noch größere Anreize, im Ausland zu investieren, Personal einzustellen und zu produzieren und dabei durch Transferpreise und andere Maßnahmen die Gewinne in Niedrigsteuerländern zu bunkern.
Genauso war Trumps Politik im Bereich der Einwanderung trotz seiner aggressiven Rhetorik relativ moderat, vielleicht, weil viele der Geschäftsleute, die ihn im Wahlkampf unterstützt haben, tatsächlich ein milderes Vorgehen befürworten. Das "Einreiseverbot gegen Muslime" hat auf das Angebot an Arbeitskräften in den USA keinen Einfluss. Obwohl sich das Tempo der Abschiebungen unter Trump beschleunigt hat, sollte man nicht vergessen, dass auch unter Barack Obama Millionen von illegalen Einwanderern abgeschoben wurden. Die Grenzmauer, zu deren Bezahlung Trump Mexiko zwingen wollte, bleibt ein nicht finanzierter Traum. Und selbst der Plan der Regierung, qualifizierte Arbeitnehmer gegenüber unqualifizierten Arbeitern zu bevorzugen, wird die Anzahl der legalen Einwanderer im Lande nicht zwangsläufig verringern.
Alles in Allem regiert Trump wie ein Plutokrat im populistischen Gewandt: ein Plutopopulist. Aber warum lässt ihm seine Basis eine Politik durchgehen, die weitgehend zu ihren Lasten geht? Laut einer Sichtweise setzt er darauf, dass sozialkonservative und weiße Arbeiter auf dem Land auf der Grundlage nationalistischer und religiöser Einstellungen und ihrer Antipathie gegenüber den weltlichen Eliten der Küstenregionen abstimmen statt gemäß ihren eigenen finanziellen Interessen.
Doch wie lange kann man von irgendjemandem erwarten, dass er "Gott und Gewehre" auf Kosten von "Brot und Butter" unterstützt? Die Plutopopulisten, die das Römische Reich regierten, wussten, dass Substanz und Ablenkung – Brot und Spiele – erforderlich sind, um den populistischen Mob auf Abstand zu halten. Wütende Tweets sind bedeutungslos für Menschen, die sich kaum ein menschenwürdiges Leben leisten können, von Eintrittskarten zu Football-Spielen in einem modernen Kolosseum ganz zu schweigen.
Als besonders gefährlich erweisen könnte sich das Steuergesetz, das die Republikaner im Kongress durchgepeitscht haben. Millionen Mittelschicht- und einkommensschwache Haushalte werden davon nicht nur wenig haben, sondern nach dem allmählichen Auslaufen der Steuersenkungen bei der Einkommensteuer tatsächlich mehr bezahlen. Zudem würde der Republikanische Plan die allgemeine Versicherungspflicht für Obamacare abschaffen. Laut dem überparteilichen Congressional Budget Office wird das dazu führen, dass 13 Millionen Menschen ihre Krankenversicherung verlieren und dass die Versicherungsprämien im Verlauf des nächsten Jahrzehnts um 10% steigen. Es überrascht nicht, dass laut einer aktuellen Quinnipiac-Umfrage lediglich 29% der Amerikaner den Republikanischen Plan unterstützen.
Trotzdem scheinen Trump und die Republikaner bereit, das Risiko einzugehen. Schließlich haben sie, indem sie die Steuererhöhungen für die Mittelschicht in die Zukunft verlagert haben, ihren Plan so konzipiert, dass sie damit die Zwischenwahlen 2018 und die allgemeinen Wahlen 2020 überstehen. Bis zu den Zwischenwahlen können sie jetzt prahlen, dass sie die Steuern für die meisten Haushalte gesenkt hätten. Und sie können erwarten, dass die von den Steuersenkungen ausgehenden Impulse für die Konjunktur 2019 ihre größte Wirkung entfalten, also gerade vor der nächsten Präsidentschaftswahl – und lange, bevor dann die Rechnung dafür präsentiert wird.
Zudem wird das endgültige Gesetz den Steuerfreibetrag von Hypothekenzinsen auf Bundesebene senken und die Abzugsfähigkeit von Steuern der Einzelstaaten und von Kommunalabgaben streichen. Dies wird Haushalte in den Demokraten zuneigenden Staaten wie New York, New Jersey und Kalifornien sehr viel härter treffen als Haushalte in den Republikanern zugeneigten Staaten.
Ein weiterer Aspekt der Republikanischen Strategie (häufig als "starve the beast" – Aushungern der Bestie – bezeichnet) wird darin bestehen, anhand der durch die Steuersenkungen bedingten höheren Haushaltsdefizite zu argumentieren, dass die Ausgaben für gesetzlich vorgeschriebene Leistungen wie Medicare, Medicaid, Lebensmittelmarken und die Sozialversicherung gesenkt werden müssten. Auch dies ist riskant angesichts der Tatsache, dass viele Senioren und weite Teile der Mittelschicht und der einkommensschwachen Amerikaner stark auf diese Programme angewiesen sind. Zwar gehören zu den arbeitenden und nicht arbeitenden armen Empfängern von Sozialleistungen oder Lebensmittelmarken auch Minderheiten, die tendenziell die Demokraten wählen. Doch Millionen sozialkonservativer weißer Arbeiter, die Trump gewählt haben, sind ebenfalls auf diese und ähnliche Programme angewiesen.
Angesichts der expandierenden Weltwirtschaft hofft Trump vermutlich, dass Steuersenkungen und Deregulierung für ausreichend Wachstum sorgen und genügend Arbeitsplätze schaffen werden, damit er etwas zum Angeben hat. Eine potentielle Wachstumsrate von 2% wird nicht unbedingt viel tun, um seinen Wählern aus der Arbeiterschaft zu helfen, könnte aber zumindest die Aktienkurse in bisher ungekannte Höhen treiben. Und natürlich wird Trump weiterhin behaupten, dass die US-Wirtschaft mit einer Rate von 4% wachsen kann, obwohl alle etablierten Ökonomen, auch bei den Republikanern, übereinstimmen, dass die potenzielle Wachstumsrate unabhängig von der von Trump verfolgten Politik bei rund 2% verharren wird.
Egal, was passiert: Trump wird weiterhin wie ein Verrückter seine Tweets absetzen, Fake News propagieren und mit der "größten und besten" Konjunktur aller Zeiten prahlen. Möglicherweise sorgt er damit sogar für einen Zirkus, der eines römischen Kaisers würdig wäre. Doch wenn aufgeblasene Phrasen allein nicht ausreichen, könnte er sich entscheiden, in die Offensive zu gehen, insbesondere auf internationaler Ebene. Dies könnte bedeuten, dass er sich wirklich aus NAFTA zurückzieht, Handelsmaßnahmen gegenüber China und anderen Handelspartnern ergreift oder seine einwanderungsfeindlichen Maßnahmen verschärft.
Und falls diese Maßnahmen seine Basis nicht zufriedenstellen, bleibt Trump immer noch eine letzte Option, wie sie die römischen Kaiser und allerlei andere Diktatoren in Zeiten innenpolitischer Schwierigkeiten immer wieder angewendet haben. Diese besteht darin, wie im Film Wag the Dog eine außenpolitische Bedrohung zu fabrizieren oder ausländische Militärabenteuer zu starten, um seine Anhänger von dem abzulenken, was er und die Republikaner im Kongress getan haben.
Zum Beispiel könnte Trump in der außenpolitischen Tradition der sogenannten "Madman-Theorie" einen Krieg mit Nordkorea oder dem Iran anfangen. Oder er könnte weitere hetzerische Tweets über den bösen Islam absetzen und damit gestörte, marginalisierte Einzelne in die Arme des Islamischen Staats (ISIS) oder anderer extremistischer Gruppen treiben. Das würde die Wahrscheinlichkeit ISIS-inspirierter Anschläge in den USA erhöhen – etwa durch Einzeltäter, die sich selbst in die Luft sprengen oder einen Lastwagen in eine passantenreiche Fußgängerzone steuern. Angesichts dutzender, wenn nicht gar hunderter Toter könnte sich Trump dann in die amerikanische Flagge hüllen und sagen; "Ich habe euch ja gewarnt." Und wenn sich die Lage ausreichend verschlimmert, könnten Trump und seine Generäle den Notstand ausrufen, die bürgerlichen Freiheiten aussetzen und Amerika in einen echt plutopopulistischen autoritären Staat verwandeln.
Wenn der konservative Republikanische Vorsitzende des außenpolitischen Ausschusses des US-Senats, Bob Corker, offen warnt, dass Trump den Dritten Weltkrieg auslösen könnte, ist es Zeit, sich Sorgen zu machen. Und falls Sie immer noch nicht überzeugt sind, denken Sie an die jüngsten Ereignisse in Russland oder der Türkei, oder an die Geschichte des Römischen Reiches unter Caligula oder Nero. Plutopopulisten haben Demokratien seit tausenden von Jahren mit immer demselben Drehbuch in Autokratien verwandelt. Es gibt keinen Grund, anzunehmen, dass sie jetzt plötzlich damit aufhören. Die Herrschaft von Kaiser Donald Trump könnte gleich hinter der nächsten Ecke warten.
Aus dem Englischen von Jan Doolan