Populistická plutokracie a budoucnost Ameriky
NEW YORK – Donald Trump získal křeslo amerického prezidenta díky pracujícím a sociálně konzervativním bělošským voličům, kteří podpořili jeho populistickou platformu ekonomického nacionalismu. Trump odmítl tradiční profiremní a proobchodní agendu Republikánské strany a podobně jako Bernie Sanders na levici apeloval na Američany, které poškodily disruptivní technologie a "globalistická" politika podporující volný obchod a migraci.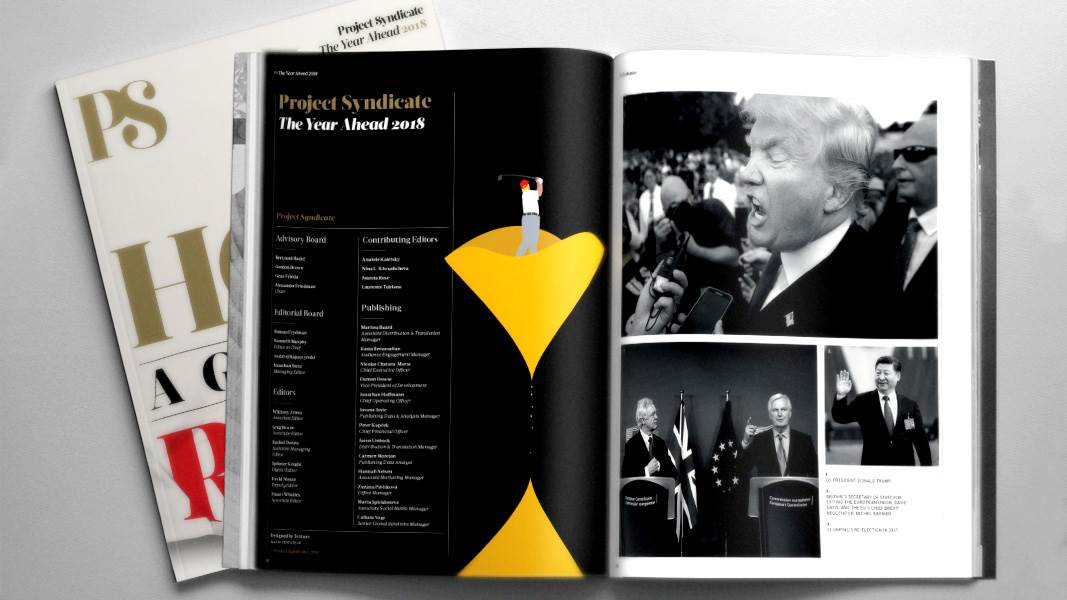 The Year Ahead 2018
The world's leading thinkers and policymakers examine what's come apart in the past year, and anticipate what will define the year ahead.
Ačkoliv však Trump kandidoval jako populista, vládne jako plutokrat – naposledy tím, že se přihlásil ke zdiskreditované teorii strany nabídky v oblasti zdanění, na které většina republikánů dodnes lpí. Trump rovněž kandidoval jako člověk, který "vysuší bažinu" ve Washingtonu a na Wall Street. Svou administrativu ovšem obsadil miliardáři (nikoliv jen milionáři) a lidmi, kteří prošli bankou Goldman Sachs, přičemž dopustil, aby bažina podnikatelských lobbistů dosáhla rekordní hloubky.
Trumpův a obecně republikánský plán zrušit zákon o dostupné péči (Obamacare) z roku 2010 by ponechal bez zdravotní péče 24 milionů Američanů – vesměs chudých lidí či příslušníků středních vrstev, z nichž mnozí ho volili. Jeho deregulační politika je až křiklavě zaujatá proti zaměstnancům a odborům. A republikánský plán daňové reformy, který Trump schválil, by zdrcujícím způsobem upřednostňoval nadnárodní korporace a horní 1% domácností, z nichž mnohé budou těžit zejména ze zrušení dědické daně.
Trump svou voličskou základnu opustil také v oblasti obchodu, kde nabízí rétoriku, ale nikoliv konkrétní činy. Ano, pustil k vodě Transpacifické partnerství (TPP), avšak Hillary Clintonová by učinila totéž. Přemýšlí o odstoupení od Severoamerické dohody o volném obchodu (NAFTA), ale to může být jen vyjednávací taktika. Pohrozil uvalením padesátiprocentního cla na zboží z Číny, Mexika a od dalších obchodních partnerů USA, avšak na žádná podobná opatření nedošlo. A návrhy na daň z přechodu zboží přes hranice téměř upadly v zapomnění.
Trumpovy zastrašující tweety proti americkým firmám, které přesunou výrobu do zahraničí nebo sídlo do daňového ráje, nejsou ničím více než lacinými řečmi a podnikatelské špičky to vědí. Výrobci, kteří uvedli Trumpa v mylné přesvědčení, že zachovají produkci v USA, dál v tichosti přesouvají provozy do Mexika, Číny i jinam. Mezinárodní ustanovení v navržené daňové legislativě navíc poskytnou nadnárodním americkým firmám ještě větší motivaci k tomu, aby investovaly, přijímaly pracovníky a vyráběly v zahraničí a aby využívaly optimalizace převodních cen a dalších metod k ponechávání zisků v právních prostředích s nízkými daněmi.
Podobně i Trumpova imigrační politika je zatím navzdory jeho agresivní rétorice relativně umírněná – snad proto, že mnozí podnikatelé, kteří prezidenta v kampani podpořili, upřednostňují mírnější přístup. "Zákaz muslimů" nemá vliv na nabídku pracovní síly v USA. A třebaže se deportace za Trumpa zrychlily, není na škodu připomenout, že miliony imigrantů bez dokladů byly deportovány i za Baracka Obamy. Zeď na hranicích, k jejímuž zaplacení chtěl Trump donutit Mexiko, zůstává nefinancovaným snem. A dokonce i plán Trumpovy administrativy upřednostňovat kvalifikované pracovníky před nekvalifikovanými nepovede nutně ke snížení počtu legálních migrantů v zemi.
Celkově vzato tedy Trump vládne jako plutokrat v populistickém hávu – tedy jako plutopopulista. Proč ho však jeho voličská základna nechává dělat politiku, která jí většinou škodí? Podle jednoho názoru Trump sází na to, že sociální konzervativci a bílí přívrženci z řad dělníků ve venkovských oblastech budou hlasovat na základě nacionalistického a náboženského smýšlení a antipatií vůči sekulárním elitám z obou pobřeží Spojených států, a nikoliv v souladu s vlastními finančními zájmy.
Jak dlouho však lze očekávat, že někomu vydrží podpora "Boha a zbraní" na úkor "chleba s máslem"? Plutopopulisté, kteří vládli římské říši, dobře věděli, že chtějí-li udržet populistický dav v patřičných mezích, je třeba mu nabídnout něco hmatatelného i něco pro rozptýlení: panem et circenses – "chléb a hry". Rozběsněné tweety jsou bezcenné pro lidi, kteří si sotva mohou dovolit důstojný život, natožpak vstupenky do novodobého kolosea, kde se hraje fotbalový zápas.
Daňová legislativa, kterou republikáni prohnali Kongresem, by se mohla ukázat jako obzvláště nebezpečná vzhledem k faktu, že miliony středněpříjmových a nízkopříjmových domácností z ní nejen budou mít pramalý prospěch, ale dokonce budou platit ještě více, jakmile se škrty v oblasti daně z příjmu postupem času utlumí. Republikánský plán by navíc zrušil individuální povinnost výběru některého typu zdravotního pojištění Obamacare. Podle nadstranického Kongresového rozpočtového úřadu to povede k tomu, že 13 milionů lidí přijde o zdravotní pojištění a pojistné se během příštích deseti let zvýší o 10%. Není divu, že nedávný výzkum Quinnipiacké univerzity zjistil, že republikánský plán má podporu pouhých 29% Američanů.
Nicméně se zdá, že Trump a republikáni jsou ochotni to risknout. Tím, že odsunuli zvýšení daní pro střední vrstvu k pozdějšímu datu, koneckonců naprojektovali svůj plán tak, aby je přenesl přes volby v roce 2018 i prezidentské volby v roce 2020. Až do voleb se tak mohou chvástat, že snížili daně většině domácností. A také mohou očekávat, že ekonomický stimul spojený s daňovými škrty dosáhne vrcholu v roce 2019, těsně před příštími prezidentskými volbami – a dávno předtím, než přijde čas na placení účtů.
Závěrečná legislativa navíc pravděpodobně sníží federální odpočet zaplacených úroků z hypoték a eliminuje odpočitatelnost státních a místních daní. To zasáhne domácnosti v tradičně demokratických státech, jako jsou New York, New Jersey a Kalifornie, mnohem tvrději než domácnosti ve státech, které se kloní k republikánům.
Další součástí republikánské strategie (známé pod názvem "vyhladovět bestii") bude využití vyšších deficitů způsobených daňovými škrty k argumentaci ve prospěch škrtů v takzvaných mandatorních výdajích, jako jsou programy Medicare, Medicaid, potravinové lístky či sociální zabezpečení. I v tomto případě jde o riskantní záležitost vzhledem k tomu, že starší Američané se středními a nízkými příjmy jsou na tyto programy silně odkázaní. Jistě, mezi pracující a nepracující chudé občany pobírající dávky v nezaměstnanosti nebo potravinové lístky patří příslušníci menšin, kteří mají sklon volit demokraty. Na těchto a podobných programech jsou však závislé i miliony sociálně konzervativních pracujících bělochů, kteří volili Trumpa.
Trump podle všeho doufá, že v době, kdy globální ekonomika expanduje, podnítí daňové škrty a deregulace natolik vysoký růst a vytvoří natolik vysoký počet pracovních míst, že se bude mít čím pochlubit. Potenciální tempo růstu ve výši 2% nemusí příliš pomoci jeho dělnickému elektorátu, ale přinejmenším by mohlo vyšroubovat akciový trh do nejvyššího bodu v historii. A Trump bude samozřejmě stále tvrdit, že americká ekonomika může růst čtyřprocentním tempem, třebaže všichni ekonomové hlavního proudu včetně republikánů se shodují, že bez ohledu na prezidentovu politiku zůstane potenciální tempo růstu na úrovni kolem 2%.
Ať se stane cokoliv, Trump bude dál zběsile tweetovat, prosazovat historky o "fake news" a vychloubat se "největší a nejlepší" ekonomikou v dějinách. Přitom se mu možná podaří vytvořit "hry" hodné římského císaře. Pokud však nabubřelá rétorika sama o sobě nepostačí, mohl by se rozhodnout, že přejde do ofenzívy, zejména v mezinárodní sféře. To by mohlo znamenat skutečné vystoupení z NAFTA, přijetí obchodních sankcí vůči Číně a dalším obchodním partnerům nebo výrazné přitvrzení imigrační politiky.
A pokud ani tato opatření jeho voličskou základnu neuspokojí, bude Trumpovi stále zbývat poslední možnost, kterou kdysi dávno používali při potížích doma římští císaři i různí jiní diktátoři. Konkrétně se může pokusit "zavrtět psem" a vymyslet si vnější hrozbu nebo se pustit do vojenského dobrodružství v zahraničí, aby odvedl pozornost svých stoupenců od toho, co spolu s republikány v Kongresu provádí.
Například by se mohl řídit "teorií šílence" v zahraniční politice a rozpoutat válku se Severní Koreou nebo s Íránem. Případně by mohl zveřejnit další štvavé tweety o zlech islámu, a tím vehnat narušené či marginalizované jedince do náručí Islámského státu (ISIS) nebo jiných extremistických skupin. To by zvýšilo pravděpodobnost útoků inspirovaných ISIS ve Spojených státech – například "vlků-samotářů", kteří na sobě odpálí výbušninu nebo vjedou nákladním autem do davu chodců. A v reakci na desítky, ne-li stovky obětí by se Trump mohl zahalit do americké vlajky a prohlásit: "Já jsem vám to říkal." A kdyby situace začala být dostatečně zlá, mohli by Trump a jeho generálové vyhlásit výjimečný stav, pozastavit občanská práva a proměnit Ameriku ve skutečný plutopopulistický autoritářský stát.
Že je čas se znepokojovat, poznáte ve chvíli, kdy konzervativní republikánský předseda senátního výboru pro zahraniční vztahy Bob Corker otevřeně varuje, že Trump by mohl rozpoutat třetí světovou válku. A pokud vás ani toto nepřesvědčilo, zamyslete se nad nedávnými dějinami Ruska či Turecka, případně nad dějinami starého Říma za Caliguly či Nerona. Plutopopulisté už tisíce let mění demokracie v autokracie podle téhož scénáře. Není důvod si myslet, že s tím právě nyní přestanou. Vláda císaře Trumpa je možná za humny.
Z angličtiny přeložil Jiří Kobělka.