Популистская плутократия и будущее Америки
НЬЮ-ЙОРК – Дональда Трамп победил на президентских выборах в США благодаря поддержке социально консервативных белых избирателей из рабочего класса, выступив на популистской платформе экономического национализма. Трамп отказался от традиционной программы Республиканской партии (за бизнес и за свободную торговлю) и, как и Берни Сандерс на левом фланге, апеллировал к тем американцам, которые пострадали из-за новых революционных технологий и политики «глобализации», способствующей свободе торговли и миграции.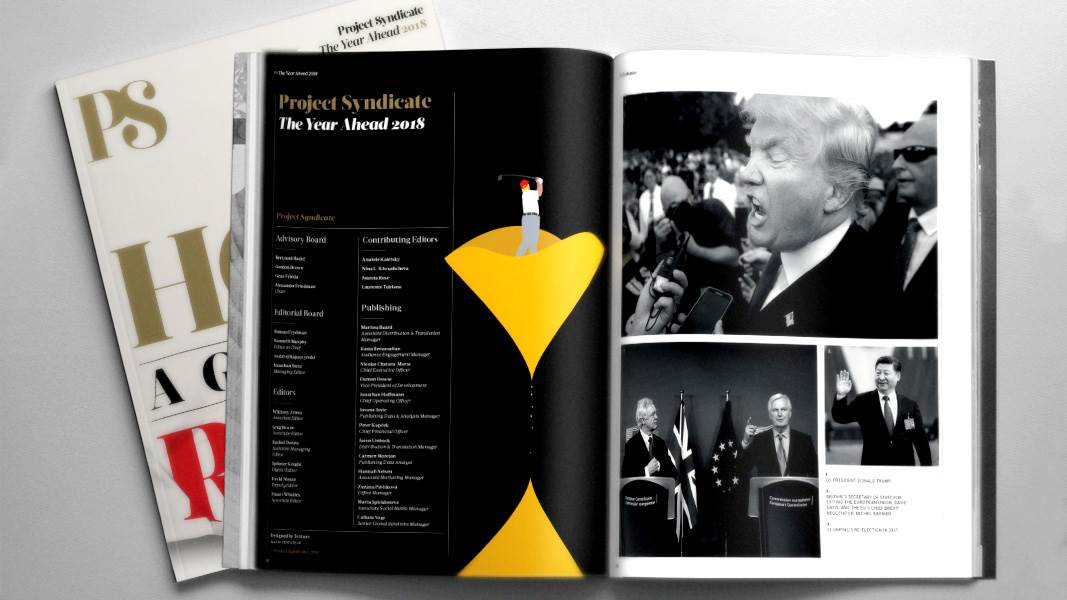 The Year Ahead 2018
The world's leading thinkers and policymakers examine what's come apart in the past year, and anticipate what will define the year ahead.
Но хотя Трамп и баллотировался как популист, правит он как плутократ. Новейшим подтверждением этого стала его поддержка дискредитировавшей себя теории налогового стимулирования рыночного предложения, за которую до сих пор цепляется большинство республиканцев. Трамп баллотировался ещё и как человек, готовый «осушить болото» в Вашингтоне и на Уолл-стрит. Но он заполнил свою администрацию миллиардерами (то есть не просто миллионерами) и выходцами из банка Goldman Sachs, одновременно позволив болоту бизнес-лоббистов достичь невиданных размеров.
Трамп и республиканцы планируют отменить закона 2010 года «О доступной медицине» (Obamacare), что лишит доступа к медицинской помощи 24 миллиона американцев, в основном бедняков и представителей среднего класса, многие из которых голосовали за Трампа. Его политика дерегулирования откровенно направлена против рабочих и профсоюзов. А республиканский план налоговой реформы, который он поддержал, совершенно явно перекошен в пользу транснациональных корпораций и 1% самых богатых домохозяйств: многие из них особенно выиграют от отмены налога на наследство.
Трамп кинул своих избирателей и в вопросах внешней торговли: он много об этом говорил, но ничего конкретно не сделал. Да, он выкинул в мусор Транс-Тихоокеанское партнёрство (ТТП), но Хиллари Клинтон собиралась сделать то же самое. Он говорил о возможности выхода США из Североамериканского соглашения о свободной торговле (НАФТА), но, возможно, это просто тактический приём на переговорах. Он грозился ввести пошлину в размере 50% на товары из Китая, Мексики и других государств, являющихся торговыми партнёрами США, но ничего подобного так и не произошло. А предложение ввести пограничную коррекцию налога на прибыль уже полностью забыто.
Твиты Трампа, в которых он резко критиковал американские компании, выводящие производство за рубеж или занимающиеся налоговой инверсией (перерегистрацией в юрисдикции с низкими налогами), оказались не более чем дешёвой болтовнёй. Лидеры бизнеса это понимают. Производители, которые обманули Трампа, заставив его поверить в то, что они намерены сохранить производство в США, продолжают тихонечко переводить свои операции в Мексику, Китай и другие страны. Более того, международные положения налогового закона, который сейчас рассматривается, предоставят американским транснациональным корпорациям новые стимулы для инвестиций, найма персонала и производства за рубежом, при этом они смогут использовать трансфертное ценообразование и различные другие схемы, чтобы накапливать прибыли в юрисдикциях с низкими налогами.
Аналогичная ситуация с агрессивной риторикой Трампа по поводу иммиграции: его политика оказалась сравнительно умеренной, и, наверное, потому, что многие бизнесмены, поддержавшие его на выборах, в реальности выступают за более мягкие подходы. «Мусульманский запрет» не влияет на приток рабочей силы в США. При Трампе ускорились процессы депортации, но стоит напомнить, что при Бараке Обаме тоже были депортированы миллионы иммигрантов, не имевших документов. Пограничная стена, заплатить за которую Трамп пытался заставить Мексику, остаётся мечтой без финансирования. И даже планы администрации отдавать предпочтение квалифицированным работникам-мигрантам (вместо неквалифицированных) совершенно не обязательно приведут к снижению числа легальных мигрантов в стране.
Иными словами, Трамп правит как плутократ в одеяниях популиста, то есть как плуто-популист. Но почему его избиратели позволяют ему уходить от возмездия за проведение политики, которая в основном им вредит? Есть мнение, что Трамп сделал ставку на то, что его сторонники – социальные консерваторы и белые работяги из сельской местности – будут голосовать, исходя из националистических и религиозных побуждений, а также чувства антипатии к светской элите прибрежных штатов, а не из собственных финансовых интересов.
Но как долго можно ожидать от человека поддержки «Бога и оружия» за счёт «хлеба и масла»? Плуто-популисты, управлявшие Римской империей, знали, что для удержания популистской толпы в стойле ей нужно давать и корм, и развлечения: panem et circenses – «хлеб и зрелища». Гневные твиты бессмысленны для людей, которые едва могут позволить себе приличную жизнь, не говоря уже о билетах на футбол в современные колизеи.
С этой точки зрения, налоговый закон, который республиканцы спешно протащили через Конгресс, может оказаться особенно опасным: он не просто мало что даёт миллионам домохозяйств из среднего класса или с низкими доходами, в реальности они начнут платить даже больше, поскольку со временем пониженные ставки подоходного налога будет поэтапно отменяться. Кроме того, план республиканцев отменяет «индивидуальный мандат» (т.е. обязанность граждан покупать медицинскую страховку) в рамках программы Obamacare. По данным беспартийного Управления Конгресса США по бюджету, этот шаг приведёт к потере медицинской страховки 13 миллионами человек, а размер страховых премий вырастет на 10% в течение десятилетия. Неудивительно, что, согласно данным недавнего опроса Quinnipiac, лишь 29% американцев поддерживают план республиканцев.
Тем не менее, Трамп и республиканцы, похоже, готовы рискнуть. Отложив повышение налогов для среднего класса, они создали такой план, который позволяет им успешно пройти через промежуточные выборы 2018 года и всеобщие выборы 2020 года. Накануне промежуточных выборов они смогут хвастаться, что снизили налоги для большинства домохозяйств страны. И они могут рассчитывать на то, что пик эффекта от экономических стимулов в виде снижения налогов придётся на 2019 год, то есть ровно накануне следующих президентских выборов – и задолго до того, как придёт час расплаты.
Окончательный текст закона, очевидно, будет предусматривать снижение федеральных вычетов по ипотечным процентным платежам, а также отмену вычетов местных налогов, в том числе налогов штатов. Это ударит по домохозяйствам в демократических штатах, таких как Нью-Йорк, Нью-Джерси и Калифорния, намного сильнее, чем по домохозяйствам в штатах, склонных поддерживать республиканцев.
Другим элементом республиканской стратегии (под названием «умори чудовище») станет использование возросшего – из-за снижения налогов – дефицита бюджета в качестве аргумента в пользу снижения так называемых адресных расходов, в том числе расходов на программы Medicare, Medicaid, программу продовольственных карточек и систему социальной защиты (Social Security). Это также очень рискованная идея, поскольку пожилые люди, средний класс и американцы с низкими доходами серьёзно зависят от этих программ. Да, в число работающих или неработающих бедняков, которые получают социальные пособия или продовольственные карточки, входят меньшинства, которые обычно голосуют за демократов. Однако и миллионы социально консервативных белых из рабочего класса, которые голосовали за Трампа, тоже зависят от этих и аналогичных программ.
Мировая экономика сейчас на подъёме, поэтому Трамп, наверное, надеется, что снижение налогов и дерегулирование помогут повысить темпы роста и создать новые рабочие места в достаточных размерах, чтобы ему было чем хвастаться. Однако потенциальные темпы роста на уровне 2% вряд ли сильно помогут его избирателям из рабочего класса, хотя они, по крайней мере, способны поднять фондовый рынок до рекордных уровней. Конечно, Трамп будет и дальше заявлять, что экономика США способна расти на 4% в год, хотя все ведущие экономисты, в том числе и республиканские, согласны, что потенциальные темпы роста останутся на уровне 2%, вне зависимости от политики, проводимой Трампом.
Что бы ни произошло, Трамп продолжит маниакально публиковать твиты, распространять фейковые новости, хвастаться «самой большой и самой лучшей» экономикой. Тем самым, он может устроить цирк, достойный римского императора. Но когда одной болтовни станет недостаточно, он может решить перейти к нападению, особенно в международной сфере. Это может означать реальный выход из НАФТА, введение торговых санкций против Китая и других торговых партнёров, резкое ужесточение иммиграционной политики.
А если и эти меры не удовлетворят его избирателей, тогда у Трампа останется  ещё одна, последняя опция, к которой прибегали римские императоры и другие многочисленные диктаторы в периоды внутренних трудностей. А именно: он может попытаться применить тактику «хвост виляет собакой» – сфабриковать внешнюю угрозу или начать зарубежную военную авантюру, чтобы отвлечь внимание сторонников от реальных действий конгрессменов-республиканцев и своих собственных.
Например, в соответствии с тактикой «психопата» во внешней политике Трамп может начать войну с Северной Кореей или Ираном. Или же он может продолжить публиковать разжигающие рознь твиты об исламском зле, тем самым, толкая возбуждённых маргиналов в руки Исламского государства (ИГИЛ) или других экстремистских группировок. Это повысит вероятность осуществления в США терактов, инспирированных ИГИЛ, например, «одинокие волки» начнут взрывать себя или направлять грузовики на многолюдные пешеходные зоны. На фоне десятков (если не сотен) убитых Трамп сможет гордо поднять флаг и сказать: «А ведь я вам говорил». Если же ситуация станет совсем плохой, Трамп и его генералы могут ввести чрезвычайное положение, приостановить действие гражданских свобод и превратить Америку в настоящее плуто-популистское, авторитарное государство.
Вы понимаете, что уже пора беспокоиться, когда консервативный председатель сенатского комитета по международным отношениям, республиканец Боб Коркер открыто предупреждает: Трамп может начать Третью мировую войну. Если вас это не убеждает, взгляните на новейшую историю России и Турции; или же на историю Римской империи при Калигуле или Нероне. Плуто-популисты превращают демократию в автократию по одному и тому же учебнику уже тысячи лет. Нет причин полагать, что сейчас они остановятся. Правление императора Трампа, возможно, уже за ближайшим поворотом.