Trumps Narrativ und die nächste Rezession
NEW HAVEN – Auf dem jüngsten G7-Gipfel schloss US-Präsident Donald Trump seine Ausführungen mit einer Einladung an die versammelten Staats- und Regierungschefs, das Treffen im nächsten Jahr in seinem Doral Country Club in der Nähe von Miami abzuhalten, den er als märchenhafte Welt mit "prachtvollen Bauten" beschrieb, deren "Festsäle zu den größten und besten in Florida" gehören.  Dabei handelte es sich um ein weiteres Beispiel für Trumps öffentliches Narrativ, das er seit beinahe einem halben Jahrhundert mit wachsendem Erfolg pflegt.
Beobachten lässt sich das, indem man Trumps Namen in digitalen Nachrichtenquellen wie Google N-Gramme sucht. Sein Narrativ verbreitete sich langsam, aber über lange Zeit, so dass seine Dominanz im öffentlichen Diskurs der Vereinigten Staaten beinahe unplausibel erscheint.
Ein Teil der Begabung Trumps besteht darin, dass er ein Leben lang Dinge tat, die die Verbreitung des Narrativs unterstützten: er zelebrierte den Glamour, umgab sich mit schönen Frauen, die ihn scheinbar anhimmelten und er erweckte immer wieder den Anschein enormen Einflusses.
Diese Strategie hatte Trump bereits bis 1983 entschlossen verfolgt, als in einem Artikel in der  New York Times unter dem Titel "The Empire and Ego of Donald Trump" berichtet wurde, dass er in diesem Jahr schon ein "international anerkanntes Symbol für New York City als Mekka der Superreichen dieser Welt" war.
Man denke an sein Interesse am Profi-Wrestling – einer die Massen anziehenden Unterhaltungsform, bei der das Publikum aufgrund einer sonderbaren menschlichen Eigenart an die Authentizität einer offensichtlich inszenierten Darbietung glauben will. Trump beherrscht den Kayfabe-Stil der Branche und setzt ihn auch überall wirksam ein, um sein Narrativ schneller zu verbreiten, wobei er 2007 sogar so weit ging und an einem inszenierten Schaukampf teilnahm.
Im Jahr 2004 hatte Trump das Glück, als Moderator für die Fernseh-Reality-Show The Apprentice eingeladen zu werden, in der es um realitätsnahen wirtschaftlichen Wettbewerb ging. Sofort erkannte er die einmalige Chance, seine öffentliche Person noch stärker in den Vordergrund zu rücken und er wurde mit einem Narrativ der liebevollen Strenge berühmt. "Sie sind gefeuert!" blaffte er die Verlierer in seiner Show an, während er Siegern und Verlierern gleichermaßen durchaus auch Freundlichkeit entgegenbrachte.
Subscribe now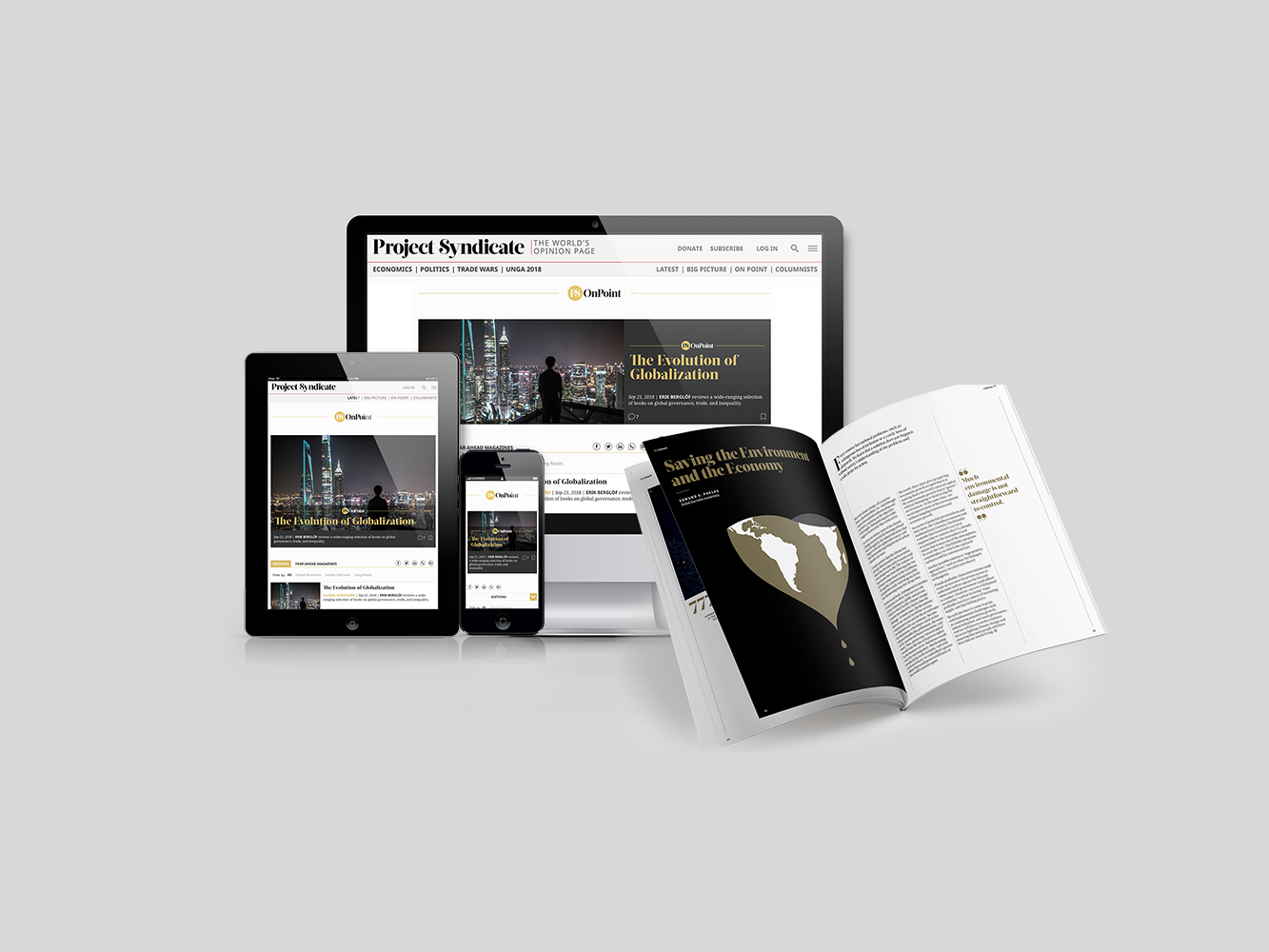 Subscribe now
Subscribe today and get unlimited access to OnPoint, the Big Picture, the PS archive of more than 14,000 commentaries, and our annual magazine, for less than $2 a week.
Nun, da Trump ein sich ausbreitendes Narrativ etabliert hat, lebt er weiterhin seine TV-Show-Persönlichkeit aus. Nachdem er die USA auf dem Parteitag der Republikanischen Partei im Jahr 2016 als eine Macht im Niedergang dargestellt hatte, erklärte er: "Ich allein kann das ändern." Dementsprechend entließ er hochrangige Regierungsvertreter in beispielloser Geschwindigkeit, um sicherzustellen, dass bloß niemand mit dem Anschein der Unabhängigkeit Teil seiner Administration bleibt. Diese Vorgehensweise begründete eine neue Form der Willkür in der US-Regierung, die Trump-Kapriolen, die angesichts der Verflechtungen der USA und der globalen Volkswirtschaften die ganze Welt betreffen können.
Doch nichts davon ist neu. Trump verfolgt eine Spielart eines wiederkehrenden Narrativs, das bereits seit tausenden Jahren existiert. Der antike Satiriker Lukian von Samosata beschreibt in einem aus dem 2. Jahrhundert stammenden Aufsatz über die Redekunst unter dem Titel " Die Rednerschule" für angehende Führungspersönlichkeiten, wie man ein Machtnarrativ nutzen kann, indem man es selbst auslebt:
" ... Im Privatleben magst du alles treiben, was dir gefällt, spielen, saufen, huren, ehebrechen, oder dich dessen wenigstens gegen jedermänniglich rühmen, auch wenn du es nicht thust, und Liebesbriefchen vorweisen, die von Weibern an dich geschrieben seyn sollen. Denn es muß dir daran liegen, für einen liebenswürdigen Mann zu gelten, um den sich alle schönen Frauen Mühe geben. Der gemein Haufe wird dieß auf die Rechnung deiner Rednerkunst schreiben, deren Ruhm sogar schon in die Gemächer der Weiber gedrungen sey."
Bei Lukian beschreibt dieses Narrativ nicht die Wirklichkeit, sondern es schafft diese erst. Es kommt nicht auf die Substanz an, sondern auf Stimmigkeit:
"Das Erste nun und Wichtigste, was du mitzubringen hast, ist Unwissenheit und Keckheit, nicht minder auch Frechheit und Unverschämtheit. Alles anständige, bescheidene und verschämte Wesen hingegen laß mir ja zu Hause; dieß würde zu deiner Absicht nicht nur nichts nützen, sondern sogar entgegenwirken … Entwischt dir ein Sprachschnitzer oder gar ein Barbarismus, so ist Unverschämtheit das beste Mittel."
Zu einer Zeit, da die Menschen in der Regel nicht so lange lebten wie heute, konnte sich Lukian freilich nicht vorstellen, dass man die Aufrechterhaltung eines stimmigen Narrativs über 50 Jahre planen kann. Aber ebenso wenig kann ein derartiges Narrativ ewig bestehen. Und das Ende des Vertrauens in Trumps Narrativ wird wohl mit einer Rezession verbunden sein.
Während einer Rezession ziehen sich die Menschen zurück und überdenken ihre Sicht der Dinge. Die Verbraucher geben weniger aus und vermeiden Anschaffungen, die aufgeschoben werden können: ein neues Auto, Renovierungen zu Hause und teure Urlaube. Unternehmen geben weniger für neue Produktionsstätten und Anlagen aus und stellen keine neuen Mitarbeiter ein. Sie müssen ihre Gründe dafür nicht darlegen. Ihr Bauchgefühl und ihre Emotionen können dafür schon reichen.
Bislang war Trump mit seinem protzigen Lebensstil für viele Verbraucher und Anleger ein maßgebender Impuls. Die US-Wirtschaft war außergewöhnlich "stark" und verlängerte die Erholung von der großen Rezession, die ihren Tiefpunkt erreichte, als Barack Obama 2009 die US-Präsidentschaft übernahm. Die darauffolgende Expansion ist die längste, die seit den 1850er Jahren verzeichnet wurde. Im Grunde ist ein starkes Narrativ die Ursache für die Stärke der US-Wirtschaft.
Doch motivierende Redner stoßen letztendlich oft genau die Menschen ab, die sie einst inspirierten. Man denke an die Reaktionen der Studierenden an der Trump University, jener auf Betrug aufgebauten Ausbildungsstätte, die ihr Namensgeber 2005 gründete und die fünf Jahre später nach mehrfachen Gerichtsprozessen geschlossen wurde. Oder man erinnere sich an den abrupten politischen Fall von US-Senator Joe McCarthy im Jahr 1954, nachdem er seine antikommunistische Rhetorik zu weit getrieben hatte.
In der Art und Weise, wie Trump seine Präsidentschaft gestaltet, herrschen zu viele Unwägbarkeiten, um überzeugende Vorhersagen treffen zu können. Er wird sicherlich versuchen, an seinem öffentlichen Narrativ festzuhalten, das so lange so gut funktioniert hat. Doch eine schwere Rezession könnte sein Verderben sein. Und womöglich wird die Öffentlichkeit noch vor Eintritt der wirtschaftlichen Katastrophe beginnen, seinen Verirrungen mehr Aufmerksamkeit zu schenken – ebenso wie den sich ausbreitenden neuen Gegennarrativen, die jene Trumps dann verdrängen werden.
Aus dem Englischen von Helga Klinger-Groier