Het Trump-narratief en de volgende recessie
NEW HAVEN – De Amerikaanse president Donald Trump besloot zijn opmerkingen op de recente top van de G7 in Biarritz met het uitnodigen van de verzamelde wereldleiders om de bijeenkomst volgend jaar te houden op zijn country club in de buurt van Miami. Daarbij beschreef hij een fantasie-wereld van "prachtige gebouwen," waarvan "de ballrooms tot de grootste en de beste in Florida behoren." Dit was een nieuw voorbeeld van het publieke narratief van Trump, dat zich al bijna een halve eeuw lang op een groeitraject bevindt.
Dit is te zien als je Trumps naam intypt in digitale zoekmachines voor nieuwsonderwerpen, zoals Google Ngrams. Zijn narratief groeit langzaam via besmetting, maar doet dat al wel heel lang, zodat zijn overheersing van het publieke discours in de Verenigde Staten bijna implausibel lijkt.
Een deel van het genie van Trump is geweest dat hij zijn leven lang de eigenschappen heeft gecultiveerd die deze narratieve besmetting in stand hebben gehouden: het tentoonspreiden van glamour, het omringen van zichzelf met hem schijnbaar aanbiddende mooie vrouwen, en het omhoog houden van de schijn van enorme invloed.
Trump had deze carrièrestrategie al in 1983 stevig omarmd, toen een artikel in de New York Times, getiteld "The Empire and Ego of Donald Trump" vermeldde dat hij dat jaar al "een internationaal erkend symbool was van New York City als mekka voor de superrijken van de wereld."
Neem zijn belangstelling voor professioneel worstelen – een vorm van vermaak waar horden mensen op af komen die op grond van een of andere vreemde menselijke kronkel lijken te willen geloven in de authenticiteit van iets wat overduidelijk in scène is gezet. Hij beheerst de kayfabe-stijl van de sector als geen ander en gebruikt die overal op effectieve wijze om zijn besmetting uit te breiden, waarbij hij zelfs zo ver is gegaan als het deelnemen aan een fake vechtpartij in 2007.
Trump had het geluk dat hij werd uitgenodigd om in 2004 als gastheer op te treden van een nieuwe realityshow op tv, getiteld The Apprentice, waarin mensen om baantjes concurreerden. Hij zag onmiddellijk de kans van zijn leven om zijn publieke persoonlijkheid verder uit te venten, en werd beroemd door zijn hardvochtige optredens. "Je bent ontslagen!" schreeuwde hij tegen de verliezers in zijn show, maar hij toonde ook enige warmte voor zowel winnaars als verliezers.
Subscribe now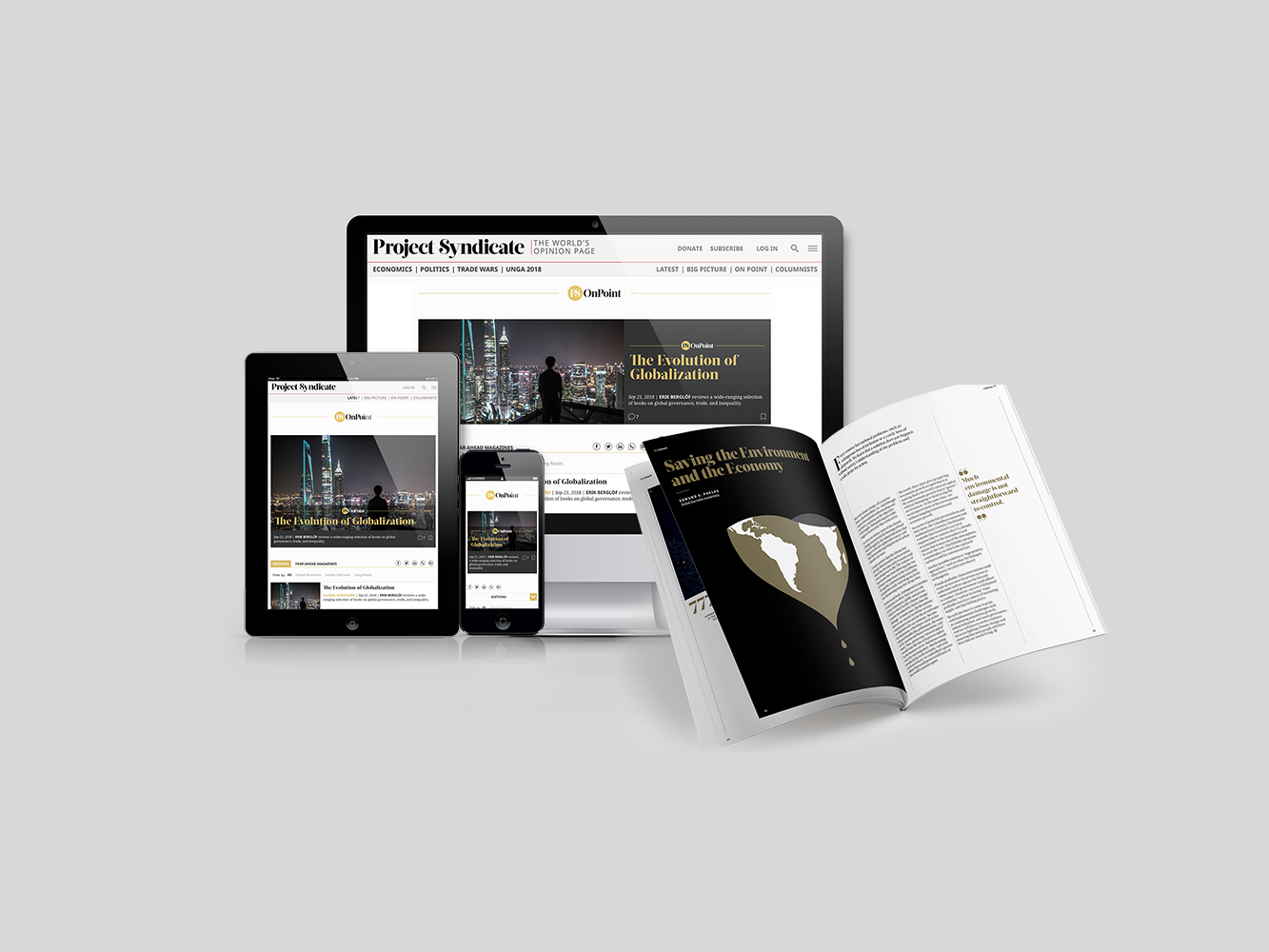 Subscribe now
Subscribe today and get unlimited access to OnPoint, the Big Picture, the PS archive of more than 14,000 commentaries, and our annual magazine, for less than $2 a week.
Nu Trump een besmettelijk narratief heeft neergezet blijft hij zijn televisiepersoonlijkheid belichamen. Op de conventie van de Republikeinse Partij in 2016 verklaarde hij, nadat hij de VS had afgeschilderd als een neergaande macht: "I alone can fix it." Dientengevolge heeft hij zijn topfunctionarissen in een ongekend tempo ontslagen en ervoor gezorgd dat niemand met een onafhankelijke statuur deel kan blijven uitmaken van zijn regering. Dit heeft geleid tot een nieuwe vorm van willekeur in de Amerikaanse regering, de "Trump-gril," die – vanwege de banden tussen de VS en de mondiale economie – de hele wereld kan raken.
Niets van dit alles is origineel. Trump volgt slechts een voorbeeld dat al duizenden jaren oud is. De klassieke cynicus Lucianus van Samosata beschrijft in een essay uit de tweede eeuw, over de kunst van het in het openbaar spreken, hoe aspirant-leiders een sterk narratief kunnen uitbuiten door het in hun eigen leven te belichamen:
" ... Wees bereid om in je eigen leven alles te doen wat in je opkomt, om te dobbelen, veel te drinken, er een luxueuze levensstijl en maîtresses op na te houden, of er in ieder geval over op te scheppen, ook al doe je dat allemaal niet, door iedereen er over te vertellen en briefjes te laten zien die zogenaamd door vrouwen geschreven zijn. Je moet elegant willen zijn en moeite doen om de indruk te wekken dat vrouwen dol op je zijn. Dit zal door het publiek worden gezien als kwaliteit van je retoriek, eruit afleidend dat je roem zich zelfs tot de vrouwenvertrekken uitstrekt."
Volgens Lucianus beschrijft dit narratief niet de werkelijkheid, maar creëert hij die. Niet de inhoud doet ertoe, maar de consistentie:
"Wend vooral onwetendheid voor, en in de tweede plaats roekeloosheid, aangevuld met onbeschaamdheid. Je moet je bescheidenheid, respectabiliteit, zelfbeheersing en schaamte thuis laten, want die zijn nutteloos en enigszins hinderlijk voor zover het om de ter zake doende kwestie gaat … Als je een blunder of een barbaarse daad begaat, is schaamteloosheid de enige remedie."
In een tijd waarin mensen gewoonlijk niet zo lang bleven leven als vandaag de dag kon Lucianus zich uiteraard niet voorstellen dat je van plan zou kunnen zijn om deze narratieve consistentie vijftig jaar lang vol te houden. Maar evenmin is het mogelijk een dergelijk narratief oneindig lang overeind te houden. En het einde van het vertrouwen in het narratief van Trump zal waarschijnlijk samenvallen met een recessie.
Tijdens een recessie nemen mensen een stap terug en onderwerpen ze hun mening aan een herwaardering. Consumenten geven minder geld uit, en vermijden aankopen die kunnen worden uitgesteld: een nieuwe auto, een renovatie van het huis, of dure vakanties. Bedrijven geven minder geld uit aan nieuwe fabrieken en machines, en nemen geen nieuwe mensen in dienst. Zij hoeven daar lang niet altijd een verklaring voor te geven. Hun onderbuikgevoel en emoties kunnen genoeg zijn.
Tot nu toe is Trump met zijn opzichtige levensstijl voor veel consumenten en beleggers een grote inspiratiebron geweest. De Amerikaanse economie heeft het buitengewoon goed gedaan, waardoor het herstel van de Grote Recessie – die op het moment dat Barack Obama Amerikaans president werd zijn dieptepunt had bereikt – werd opgerekt. De daaropvolgende expansie van de Amerikaanse economie was de langste ooit sinds de jaren vijftig van de 19e eeuw. Uiteindelijk is een sterk narratief de reden voor de kracht van de Amerikaanse economie.
Maar enthousiasmerende sprekers stoten uiteindelijk vaak dezelfde mensen af die zij ooit inspireerden. Kijk maar naar de reacties van studenten van Trump University, de op fraude gestoelde school die Trump in 2005 oprichtte en vijf jaar later weer moest sluiten onder druk van meerdere rechtszaken. Of kijk naar de plotselinge val van de Amerikaanse senator Joe McCarthy in 1954, nadat hij te ver was gegaan met zijn anti-communistische retoriek.
Er is te veel willekeur in de manier waarop Trump zijn presidentschap voert om overtuigende voorspellingen te kunnen doen. Hij zal zeker proberen vast te houden aan zijn publieke narratief, dat al heel lang zo goed heeft gewerkt. Maar een ernstige recessie zou daar wel eens het einde aan kunnen maken. En ook al vóórdat er een economische ramp plaatsvindt kan het publiek steeds meer aandacht gaan schenken aan zijn dwalingen – en besmettelijke nieuwe tegen-narratieven kunnen omarmen die dat van hem overstemmen.
Vertaling: Menno Grootveld