Le Narrazioni di Trump e la Prossima Recessione
NEW HAVEN – Il presidente degli Stati Uniti Donald Trump ha concluso le sue osservazioni al recente vertice del G7 invitando i leader riuniti a tenere l'incontro del prossimo anno nel suo country club Doral vicino a Miami, descrivendo un mondo fantastico di "magnifici edifici" le cui "sale da ballo sono tra le più grandi e migliori della Florida". Si è trattato dell'ennesimo esempio della narrazione pubblica di Trump, che si è sviluppata in modo crescente per quasi mezzo secolo.
Si può notare questo cercando il nome di Trump all'interno delle fonti di informazioni digitali, come Google Ngrams. La sua narrazione è cresciuta lentamente per contagio, ma è in crescita da molto tempo, tanto che il suo dominio del dibattito pubblico negli Stati Uniti sembra quasi inverosimile.
Parte del genio di Trump è stato quello di perseguire per tutta la vita i tratti che hanno sostenuto il propagarsi della narrazione: esibire glamour, circondarsi di belle donne apparentemente adoranti, e continuare a dare l'impressione di avere una grande influenza.
Trump aveva abbracciato con fermezza questa strategia carrieristica fin dal 1983, quando un articolo del New York Times intitolato "L'impero e l'ego di Donald Trump" riferiva che egli era già, in quell'anno, "un simbolo, riconosciuto a livello internazionale, di New York City, la Mecca dei super ricchi del mondo".
Si consideri il suo interesse per il wrestling professionale – una forma di intrattenimento che attira folle di persone che per qualche strana bizzarria umana sembrano voler credere nell'autenticità di ciò che è ovviamente una messa in scena. Egli ha fatto suo lo stile "kayfabe" del settore e lo usa efficacemente ovunque per accrescere la propria influenza, arrivando, nel 2007, persino a participare ad una falsa rissa.
Nel 2004, Trump ha avuto l'occasione di essere invitato a partecipare ad un nuovo reality show televisivo chiamato The Apprentice, che consisteva in una competizione tra imprenditori nella vita reale. Egli ha immediatamente visto l'opportunità irripetibile di far avanzare il proprio personaggio pubblico, diventando famoso con la retorica del "pugno di ferro". "Sei fuori!", abbaiava ai perdenti del suo show, mostrando allo stesso tempo un po' di calore sia per i vincitori che per i perdenti.
Subscribe now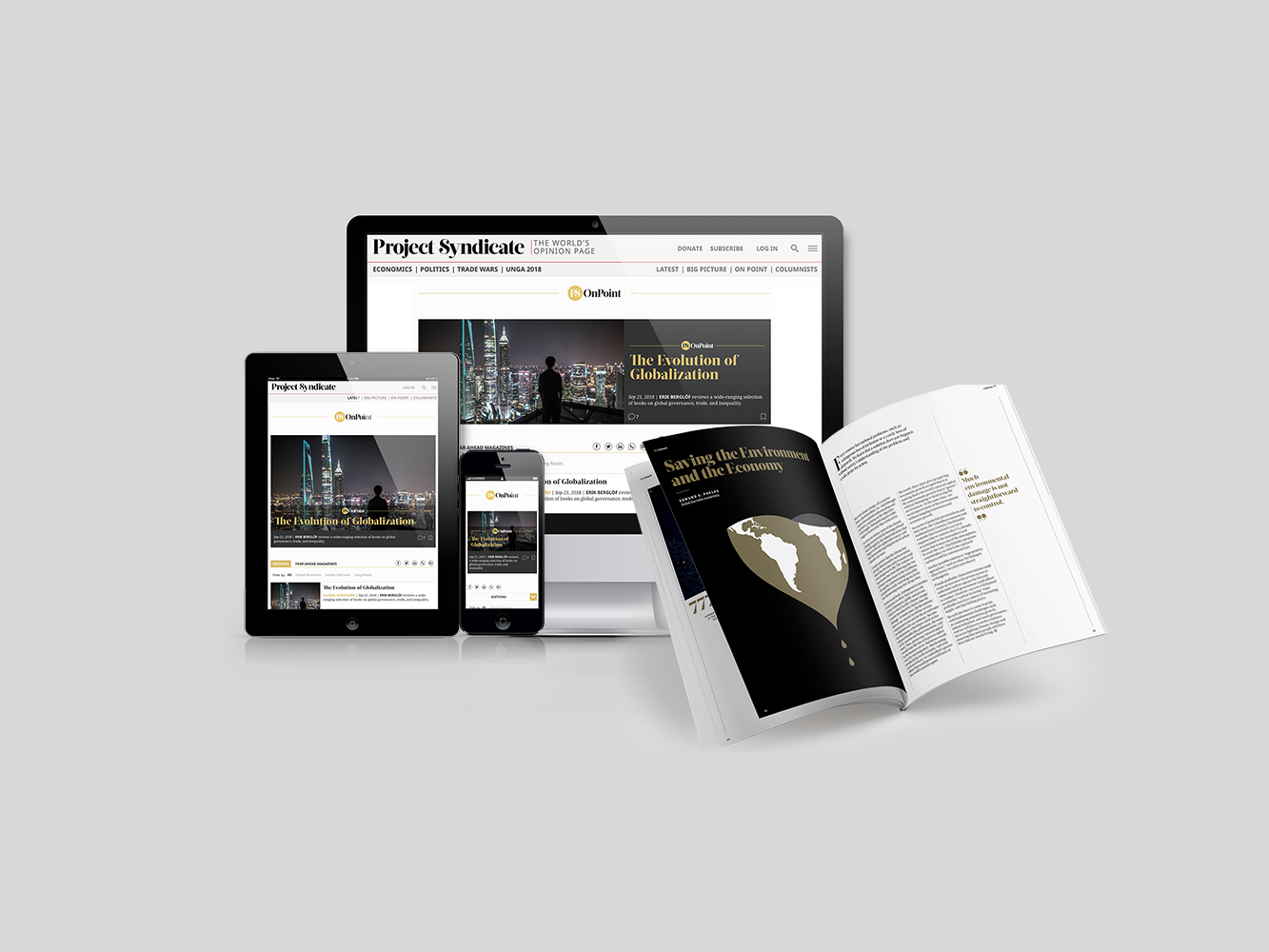 Subscribe now
Subscribe today and get unlimited access to OnPoint, the Big Picture, the PS archive of more than 14,000 commentaries, and our annual magazine, for less than $2 a week.
Oggi che Trump ha creato una narrazione virale, continua a vivere tramite il suo personaggio televisivo. Alla convention del Partito Repubblicano del 2016, dopo aver raffigurato gli Stati Uniti come una potenza in declino, ha dichiarato: "Solo io posso sistemare le cose". Quindi, egli ha licenziato i suoi funzionari di più alto livello ad un ritmo senza precedenti, assicurandosi che nessun esponente di statura indipendente continuasse a far parte della sua amministrazione. Ciò ha affermato una nuova forma di discrezionalità nel governo americano, "i capricci di Trump", che, dati i legami tra gli Stati Uniti e le economie globali, possono influenzare il mondo intero.
Niente di tutto questo è originale. Trump persegue la variante di una narrazione ricorrente che risale a migliaia di anni fa. L'antico filosofo del "Cinismo" Luciano di Samosata, in un saggio sull'oratoria del II secolo, "Il Maestro di Retorica", descrive agli aspiranti leader come si può sfruttare la retorica del potere mettendola in atto nella propria vita:
"... Nella tua vita privata, sii deciso a compiere qualsiasi cosa, giocare a dadi, ubriacarti, fare la bella vita e mantenere delle amanti, o comunque vantartene anche se non lo fai, raccontando di questo a tutti e mostrando note che pretendono di essere scritte da donne. Devi mirare ad essere elegante, sai, e fare del tuo meglio per dare l'impressione che le donne ti siano devote. Anche questo sarà attribuito al merito della tua retorica da parte del pubblico, che ne dedurrà che la tua fama si estende anche ai quartieri delle donne".
Per Luciano, questa narrazione non descrive la realtà, ma la crea. Ciò che conta non è la sostanza, ma la coerenza:
"Porta con te, quindi, come cosa principale, l'ignoranza; in secondo luogo l'incoscienza, e quindi la sfrontatezza e la spudoratezza. Modestia, rispettabilità, autocontrollo e arrossamenti possono essere lasciati a casa, perché sono inutili e un po' di ostacolo alla questione in esame ... Se commetti un fallo o una barbarie, lascia che la spudoratezza sia il tuo unico rimedio. "
Certo, in un'epoca in cui le persone di solito non vivevano così a lungo come oggi, Luciano non avrebbe potuto immaginare che si potesse pianificare di mantenere la coerenza narrativa per 50 anni. Ma tale narrazione non può essere sostenuta per sempre. E la fine della fiducia nella narrazione di Trump è probabile che si associ ad una recessione.
Durante una recessione, le persone si ritraggono e riesaminano le loro posizioni. I consumatori spendono meno, evitando acquisti che possono essere rinviati: una nuova auto, ristrutturazioni di case e vacanze costose. Le aziende spendono meno in nuovi impianti e attrezzature, e rimandano le assunzioni. Esse non devono spiegare le ragioni ultime delle loro condotte. I loro sentimenti e le loro emozioni viscerali possono essere sufficienti.
Finora, con il suo stile di vita appariscente, Trump è stato un'ispirazione clamorosa per molti consumatori e investitori. L'economia americana è stata eccezionalmente "forte", protraendo la ripresa dalla Grande Recessione, che aveva toccato il fondo nel 2009, proprio mentre Barack Obama assumeva la presidenza degli Stati Uniti. La successiva espansione degli Stati Uniti è la più lunga mai registrata dal 1850. In definitiva, una narrazione forte è la ragione della forza dell'economia americana.
Ma gli oratori motivazionali spesso finiscono per respingere le persone che una volta hanno ispirato. Ne sono testimonianza le reazioni degli studenti della Trump University, la scuola basata sulla frode che il suo omonimo ha fondato nel 2005, che è stata chiusa da molteplici cause legali dopo un quinquennio. Oppure si consideri l'improvvisa scomparsa politica del senatore americano Joe McCarthy nel 1954, dopo che aveva esagerato nel portare avanti la sua retorica anticomunista.
C'è troppa casualità nella gestione della presidenza Trump per fare previsioni convincenti. Egli cercherà sicuramente di attenersi alla sua narrazione pubblica, che ha funzionato così bene per così tanto tempo. Ma una grave recessione potrebbe essere la sua rovina. E anche prima che scoppi una catastrofe economica, il pubblico può iniziare a prestare maggiore attenzione alle sue aberrazioni – e alle contagiose nuove contro-narrazioni che tolgono spazio alla sua.