La narrativa de Trump y la próxima recesión
NEW HAVEN – El presidente de Estados Unidos, Donald Trump, finalizó sus intervenciones en la reciente cumbre del G7 invitando a los líderes allí reunidos a celebrar la reunión del próximo año en el club campestre Doral: un club de su propiedad que se encuentra ubicado cerca de Miami. Trump describió un mundo casi de fantasía con "magníficos edificios" cuyos "salones de baile están entre los mejores y los más grandes en Florida". Este es un ejemplo más de la narrativa pública de Trump, misma que ha estado en una senda de crecimiento al alza durante casi medio siglo.  
Se puede aseverar lo antedicho tras buscar el nombre de Trump en las distintas fuentes de noticias digitales, como por ejemplo Google Ngrams. La narrativa de Trump ha crecido de manera lenta mediante la diseminación por contagio; sin embargo, ha estado creciendo durante mucho tiempo, de modo que su dominio del discurso público en Estados Unidos casi parece inverosímil.
Parte de la genialidad de Trump ha sido ir, a lo largo de toda la vida, tras el logro de las características que han sostenido el contagio narrativo: exhibir glamour, rodearse de mujeres hermosas que supuestamente lo adoran, y aparentar que mantiene una inmensa influencia.
Trump ya había adoptado firmemente esta estrategia para su carrera profesional en el año 1983, cuando un artículo en el New York Times titulado "El imperio y el ego de Donald Trump" comunicó que Trump ya era, en ese año, "un símbolo internacionalmente reconocido de la ciudad de Nueva York, ciudad que es la meca para los súper ricos del mundo".
Considere su interés en la lucha libre profesional: una forma de entretenimiento que atrae a multitudes; y, que por alguna peculiaridad humana, parece querer hacer creer en la autenticidad de lo que obviamente ha sido escenificado. Trump ha dominado el estilo kayfabe de la industria de la lucha libre, y lo utiliza de manera efectiva en todos los ámbitos con el propósito de aumentar su diseminación por contagio, incluso hasta llegó a participar en una gresca falsa en el año 2007.
En el año 2004, Trump tuvo la suerte de ser invitado a desempeñar el papel de anfitrión de un nuevo 'reality show' de televisión: El aprendiz, programa cuya temática giraba alrededor de una competencia empresarial en la vida real. Trump inmediatamente vio la gran oportunidad de su vida para avanzar como personaje público, convirtiéndose en famoso por su narrativa de amor duro. "¡Estás despedido!", Trump ladraba a los perdedores en su programa, a la vez que mostraba algo de calidez a ganadores y perdedores por igual.
Subscribe now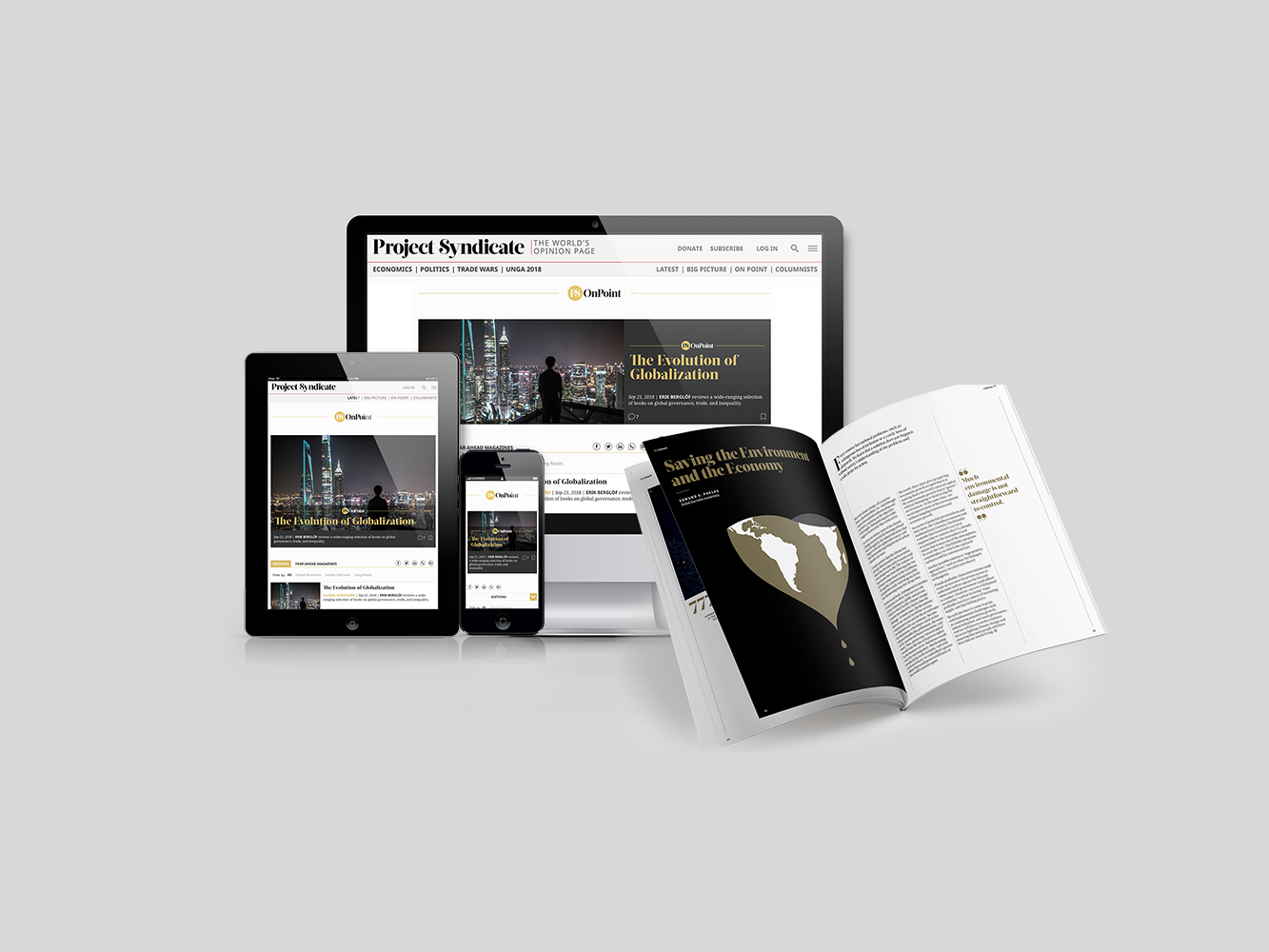 Subscribe now
Subscribe today and get unlimited access to OnPoint, the Big Picture, the PS archive of more than 14,000 commentaries, and our annual magazine, for less than $2 a week.
En la actualidad, después de solidificar su narrativa contagiosa, Trump continúa representando su personaje de dicho programa de televisión. En la convención del Partido Republicano del 2016, después de retratar verbalmente a Estados Unidos como una potencia en declive, declaró: "Únicamente yo puedo arreglar esta situación". Consiguientemente, Trump ha despedido a sus altos funcionarios a un ritmo sin precedentes, asegurándose que nadie que posea una envergadura independiente siga siendo parte de su gobierno. Esto ha establecido una nueva forma de arbitrariedad en el gobierno estadounidense, por lo que, los caprichos de Trump – tomando en cuenta los vínculos entre la economía estadounidense y las economías del mundo – pueden afectar al mundo entero.
Nada de esto es algo nuevo. Trump ha estado buscando una variación dentro de una narrativa recurrente que se remonta a miles de años atrás. El antiguo cínico Luciano de Samósata, en un ensayo del siglo II sobre oratoria titulado "Un profesor del hablar público", realiza una descripción dirigida a potenciales líderes sobre cómo una persona puede explotar una narrativa de poder a través de los actos que lleva a cabo durante su propia vida:
 "... En vuestra vida privada, esté decidido a hacer de todo: juegue a los dados, beba profusamente, viva una vida de ricos y mantenga amantes, o en todo caso, presuma de todo ello; incluso si no realiza lo antedicho, cuénteles a todos sobre lo que hace y muestre mensajes que supuestamente fueron escritos por mujeres. Debe tener como objetivo el ser elegante, como usted ya lo sabe, y debe hacer sacrificios para crear la impresión de que las mujeres tienen devoción hacia su persona. Esto también establecerá la credibilidad de su retórica en lo que respecta al público, ya que dicho público deducirá que su fama se extiende incluso a los aposentos de las mujeres".
Para Luciano, esta narrativa no describe la realidad, sino que la crea. Lo que importa no es la sustancia, sino la consistencia:
 "Luego, traiga consigo, como algo primordial, la ignorancia; y, en segundo lugar, la imprudencia, y posteriormente, mediante ello, atraiga la deshonra y la desvergüenza. La modestia, la respetabilidad, la moderación y el sonrojo pueden quedarse guardados en casa, porque son inútiles y hasta cierto punto son un obstáculo para el tema en consideración… Si comete un solecismo o una barbarie, deje que la desvergüenza sea el único remedio que usted ofrezca".
Por supuesto, en una era en la que las personas generalmente no vivían tan largo como lo hacen hoy, Luciano no pudo haber imaginado que una persona sería capaz de planificar la mantención de la consistencia de una narrativa durante 50 años. Pero, esta narrativa tampoco puede sostenerse eternamente. Y, es probable que el fin de la confianza en la narrativa de Trump esté asociado con una recesión.
Durante una recesión, las personas retroceden y reevalúan sus puntos de vista. Los consumidores gastan menos, evitando realizar compras que pueden posponerse: como por ejemplo, un auto nuevo, renovaciones en el hogar y vacaciones costosas. Las empresas gastan menos en nuevas fábricas y equipos, y posponen la contratación de personal. Las personas no tienen que explicar las razones que las llevaron, en última instancia, a hacer todo lo mencionado. Sus instintos y emociones pueden considerarse como razón suficiente.
Hasta ahora, con su estilo de vida llamativo, Trump ha servido de contundente inspiración para muchos consumidores e inversores. La economía de Estados Unidos ha estado excepcionalmente "fuerte", extendiéndose la recuperación de la Gran Recesión, la cual tocó fondo justo cuando Barack Obama asumió la presidencia de Estados Unidos en el año 2009. La posterior expansión económica en Estados Unidos es la más larga registrada desde la década de 1850. En última instancia, una fuerte narrativa es la razón de la fortaleza del crecimiento de la economía estadounidense.
No obstante, los oradores motivacionales a menudo terminan repeliendo a las mismas personas que alguna vez inspiraron. Hemos sido testigos de las reacciones de los estudiantes de la Trump University, la escuela basada en el fraude que su homónimo fundó en el año 2005 y que cerró a causa de múltiples demandas judiciales una media década después. O, también debemos considerar la repentina desaparición política del senador estadounidense Joe McCarthy en el año 1954, después de llevar su retórica anticomunista demasiado lejos.
Hay demasiada aleatoriedad en la gestión presidencial de Trump, de manera que no es posible hacer predicciones contundentes. Indudablemente Trump intentará atenerse a su narrativa pública, que ha funcionado tan bien durante tanto tiempo. Sin embargo, una recesión severa puede ser su ruina. E incluso antes de que ocurra la catástrofe económica, el público puede comenzar a prestar más atención a sus aberraciones, y a las nuevas contra narrativas contagiosas que desplazan a las propias narrativas del público.
Traducción del inglés: Rocío L. Barrientos.