Das Atomabkommen mit dem Iran ist schlecht – und notwendig
TEL AVIV – US-Präsident Donald Trump ist im Begriff, das Atomabkommen mit dem Iran zu dezertifizieren und damit einen Prozess in Gang zu setzen, im Rahmen dessen der US-Kongress erneut Sanktionen gegen den Iran verhängen könnte. Glücklicherweise scheint es wahrscheinlich, dass der Kongress dem Abkommen nicht unmittelbar ein Ende bereitet, sondern nach einer Alternative suchen wird, die es Trump gestattet, gegenüber seinen Anhängern das Gesicht zu wahren, denen er seit langem den Ausstieg der USA aus dem Abkommen mit dem Iran versprochen hat. Dennoch wäre eine Dezertifizierung ein gravierender Fehler.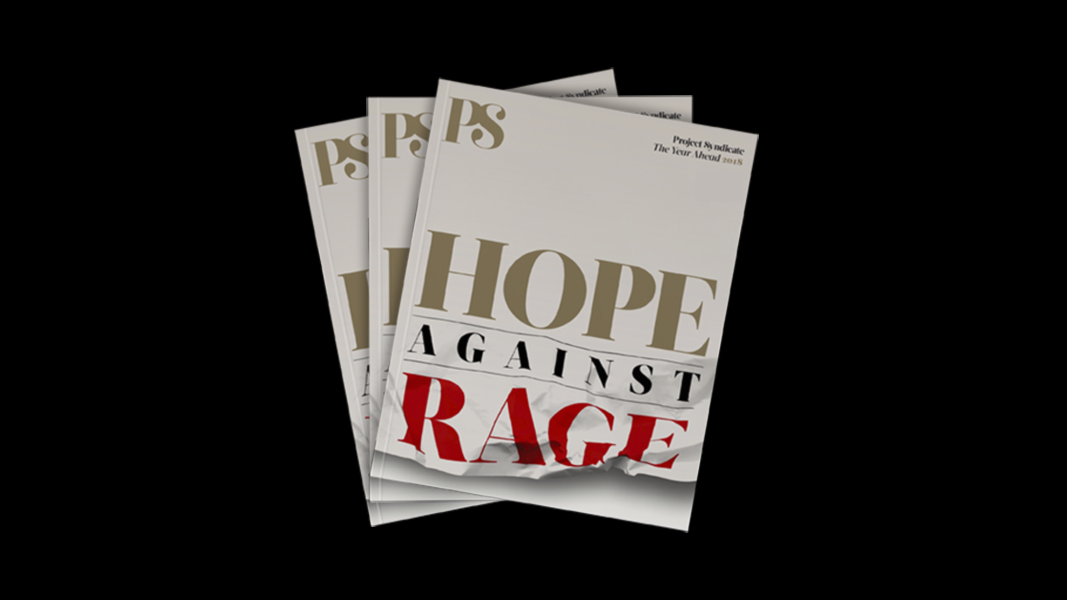 The Year Ahead 2018
The world's leading thinkers and policymakers examine what's come apart in the past year, and anticipate what will define the year ahead.
Ebenso wie viele Israelis stimme ich Trump zu, dass die mit dem Iran im Jahr 2015 geschlossene Übereinkunft ein grundlegend schlechtes Abkommen ist. Aber es wurde eben abgeschlossen. Selbst wenn sich die Vereinigten Staaten entschließen, ganz auszusteigen, wird sich ihnen keine der anderen Vertragsparteien - weder China noch Russland oder gar die Europäer (Frankreich, Deutschland und Großbritannien) - anschließen. Der Iran würde also weiterhin von den Vorteilen des Abkommens profitieren.
Gleichzeitig allerdings könnte der Iran die Entscheidung der USA, das Abkommen nicht einzuhalten, als Rechtfertigung dafür betrachten, sein unterbrochenes Atomprogramm wiederaufzunehmen. Denn schließlich ist der US-Präsident nach dem amerikanischen Gesetz über das Abkommen – dem Iran Nuclear Agreement Review Act – befugt, die Übereinkunft zu dezertifizieren, wenn der Iran die Bestimmungen verletzt. Und zumindest rein technisch hat der Iran das nicht getan.  
Freilich ist das Verhalten des Iran – die Entwicklung leistungsstarker ballistischer Raketen, sein Beitrag zur Verbreitung des Terrors im Nahen und Mittleren Osten sowie die Verfolgung massiver Kampagnen im Bereich Cyber-Kriegsführung – zutiefst beunruhigend und es sollten Maßnahmen ergriffen werden, um den Iran zu drängen, sich dieser Probleme anzunehmen. Aber keine dieser Fragen war Teil des Atomabkommens.
Sollte Trump den Iran-Deal jetzt dezertifizieren, untergräbt das Amerikas Glaubwürdigkeit, wenn es darum geht, eine andere atomare Bedrohung einzudämmen: nämlich Nordkorea. Warum sollte Kim Jong-un sich die Mühe machen, in Verhandlungen einzutreten, wenn sich die USA grundlos aus ihren internationalen Verpflichtungen verabschieden? 
Kim ist vielleicht ein Extremist ersten Ranges, aber seine Beweggründe sind leicht zu erkennen. Er betrachtet Atomwaffen als ultimative Versicherung gegen einen jähen und schmachvollen Absturz der Art wie ihn Muammar Gaddafi in Libyen und Saddam Hussein im Irak erlebten. Zudem kann das US-Militär trotz all seiner Schlagkraft das nordkoreanische Atomarsenal nicht zerstören, ohne damit einen Gegenangriff zu provozieren, der in Südkorea und möglicherweise auch in Japan – beides enge Verbündete der USA - beispiellose Zerstörungen mit sich bringen würde. Das verleiht Kim ein beträchtliches Druckmittel.
Der einzig mögliche Weg, Kim aufzuhalten, besteht in Zwangsdiplomatie, die ihn dazu verpflichtet, sein Atomprogramm etwa auf dem jetzigen Stand einzufrieren. Es war nämlich genau diese von Sanktionen und einer einheitlichen Position internationaler Akteure untermauerte Zwangsdiplomatie, mit der man den Iran dazu brachte, sein eigenes Abkommen zu unterschreiben.
Verliert diese Art der Diplomatie ihre Glaubwürdigkeit, wird Kim sein Atomwaffenprogramm zwangsläufig ausweiten und die Risiken werden weltweit exponentiell ansteigen – nicht zuletzt, weil Nachbarstaaten wie Südkorea und Japan zunehmend daran interessiert sein werden, ihre eigenen Atomwaffen zu entwickeln. In diesem Fall wären nukleare Nichtweiterverbreitung und Abrüstung – ein Ziel, das die USA seit fast 70 Jahren verfolgen – so gut wie hinfällig.
Die unmittelbarste Bedrohung wäre eine Entscheidung des Iran, sein Atomwaffenprogramm wiederaufleben zu lassen. Sollte das passieren, würden Ägypten, Saudi Arabien und die Türkei fast sicher ihre eigenen Programme zur Anreicherung einer für den Bau einer Atombombe ausreichenden Menge an waffenfähigem Uran (den so genannten Breakout) verfolgen. Tatsächlich könnte jeder drittklassige Diktator, der diese Entwicklungen beobachtet, entscheiden, ein Atomwaffenprogramm zu etablieren. Die gesamte Weltordnung würde sich damit fundamental verändern.
Im Falle Nordkoreas hat man das Problem zu spät in Angriff genommen. Aber dank des aktuellen Abkommens bleibt eine Lösung mit dem Iran möglich. Die USA sollten versuchen, Nordkorea in Schach zu halten, anstatt dem Iran einen Grund zu geben, sich ebenfalls aus dem Deal zu verabschieden.  
Das heißt nicht, dass sich die USA passiv verhalten müssen. Vielmehr sollten sie sich auf eine mögliche Zukunft vorbereiten, in der es dem Iran gelingt, ausreichend atomwaffenfähiges Uran anzureichern – eine dezidierte Möglichkeit, die auch besteht, wenn das aktuelle Abkommen hält. Der Iran würde sein Anreicherungsprogramm wohl nicht sofort verfolgen, da man aufgrund des Abkommens immer noch beträchtliche Vorteile genießt. In ein paar Jahren allerdings hätte man sich diese Vorteile weitgehend gesichert, wodurch der Iran weniger Gründe hätte, sich an seine Versprechen zu halten.
In Anbetracht dessen sollten die USA, statt sich von den anderen Vertragspartnern, die das Abkommen mitverhandelten, zu distanzieren, lieber einen Konsens darüber anstreben, wie der iranische Breakout zu definieren sei, um einen Leitfaden für die von der Internationalen Atomenergiebehörde durchgeführten Inspektionen zu erstellen. Außerdem sollten sich die USA auch mit den anderen Unterzeichnern des Abkommens hinsichtlich der Sanktionen und anderer Strafmaßnahmen absprechen, die zu ergreifen wären, sollte der Iran die Übereinkunft tatsächlich verletzen. 
Doch damit das funktioniert, hat der "große amerikanische Knüppel" präsent zu sein. Die USA müssen hinsichtlich Aufklärung, Waffen und politischen Willen zur Intervention bereit sein, – falls nötig auch unilateral – um den Iran Einhalt zu gebieten, sollte dieser versuchen, in die Fußstapfen Nordkoreas zu treten.
Der Iran stellt – Abkommen hin oder her – eine gravierende Bedrohung natürlich für Israel dar, aber auch für die Stabilität des Nahen und Mittleren Ostens und in gewissem Sinne auch für die ganze Welt. Dennoch ist diese Bedrohung vorerst nicht existenzieller Natur. Zu verhindern, dass es soweit kommt, sollte heute oberste Priorität sein. Wir in Israel, die wir uns mit dieser Herausforderung schon einige Zeit ernsthaft auseinandergesetzt haben – von den Bemühungen, uns auf verschiedene Eventualitäten vorzubereiten ganz zu schweigen -  erkennen, dass unserer Sicherheit derzeit am besten gedient ist, wenn das aktuelle Abkommen in Kraft bleibt.
In den letzten 25 Jahren haben sechs Länder versucht, zu Atommächten zu werden. Zwei von ihnen – Libyen und Südafrika – gaben auf. Weitere zwei – Syrien und der Irak – wurden gestoppt. Und zwei – Pakistan und Nordkorea – hatten unter Missachtung der internationalen Gemeinschaft Erfolg. Wir müssen sicherstellen, dass es dem Iran nicht ermöglicht wird, sich Letzteren anzuschließen. Und so lange sich der Iran an die Bestimmungen hält, bleibt das Atomabkommen, so schlecht es auch sein mag, unsere beste Chance genau das zu verhindern.
Aus dem Englischen von Helga Klinger-Groier