El acuerdo sobre el programa nuclear iraní es deficiente... y necesario
TEL AVIV – El presidente estadounidense Donald Trump se ha negado a certificar el acuerdo sobre el programa nuclear de Irán; esto inicia un proceso por el cual el Congreso de los Estados Unidos puede volver a imponerle sanciones. Felizmente, parece probable que los congresistas, en vez de poner fin al acuerdo, buscarán alguna alternativa que permita a Trump quedar bien con sus partidarios, a los que siempre les prometió que EE. UU. se retiraría. Pero la negativa a certificarlo es un error grave.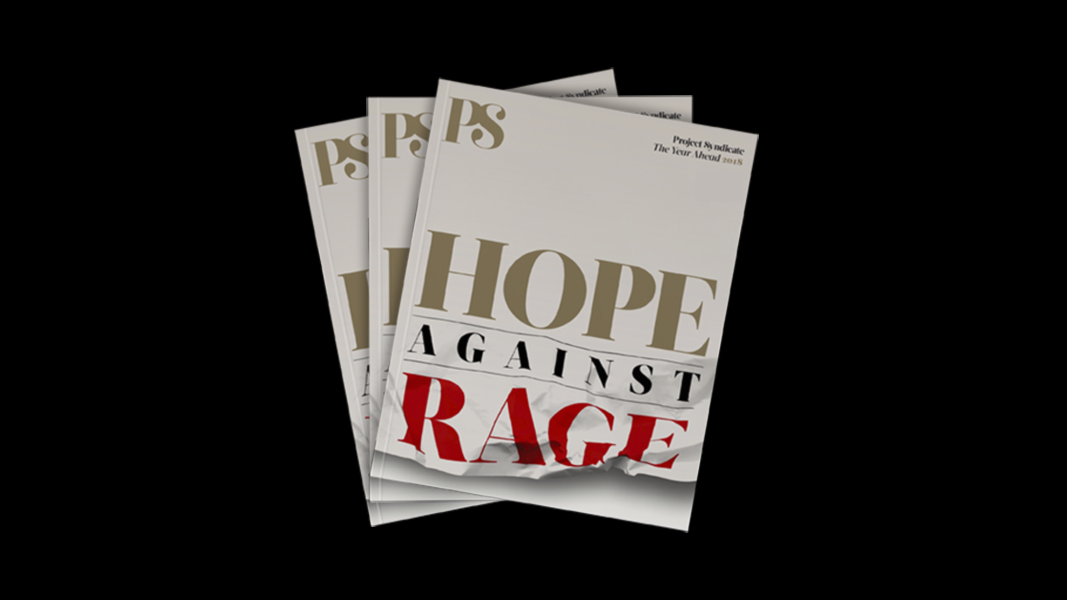 The Year Ahead 2018
The world's leading thinkers and policymakers examine what's come apart in the past year, and anticipate what will define the year ahead.
Como muchos israelíes, coincido con Trump en que el acuerdo internacional alcanzado con Irán en 2015 es fundamentalmente deficiente. Pero es un acuerdo ya firmado. Incluso si EE. UU. decide abandonarlo totalmente, ninguna de las otras partes (China, Rusia o los europeos: Francia, Alemania y el Reino Unido) lo acompañarán, de modo que Irán seguirá obteniendo los beneficios del acuerdo.
En tanto, Irán puede ver la retirada estadounidense como justificación para reactivar el programa nuclear, que ahora está detenido. La Ley de Revisión del Acuerdo Nuclear con Irán autoriza al presidente de los EE. UU. a no certificarlo si Irán incumple sus condiciones. Y al menos técnicamente, Irán no lo ha hecho.
Es verdad que la conducta iraní (desarrollo de misiles balísticos de alto poder, promoción del terrorismo en Medio Oriente, ciberguerra intensiva) es muy preocupante, y hay que tomar medidas que presionen a Irán para que resuelva estos temas. Pero estos no están incluidos en el acuerdo sobre el programa nuclear.
En este contexto, no certificar el acuerdo con Irán resta credibilidad a EE. UU. en relación con el control de otra amenaza nuclear: la norcoreana. Si EE. UU. puede incumplir sus compromisos internacionales arbitrariamente, ¿qué motivo tendría Kim Jong-un para negociar?
Kim será un extremista hecho y derecho, pero sus motivaciones son fácilmente discernibles. Para Kim, la posesión de armas nucleares es la protección definitiva contra una caída súbita e ignominiosa, como la del libio Muammar Qaddafi o la del iraquí Saddam Hussein. Además, el inmenso poder del ejército de los EE. UU. no le alcanza para destruir el arsenal nuclear norcoreano sin provocar un contraataque devastador sobre Corea del Sur y tal vez Japón, estrechos aliados de Washington. Eso es una carta poderosa en manos de Kim.
La única forma de disuadir a Kim es apelar a la diplomacia coercitiva para obligarlo a congelar el programa nuclear más o menos en el estado actual. Fue esa clase de diplomacia (reforzada con sanciones y una postura unida de los principales actores internacionales) lo que obligó a Irán a firmar el acuerdo.
Si la diplomacia coercitiva pierde credibilidad, Kim seguirá ampliando su programa de armas nucleares, y el riesgo para el mundo crecerá en forma exponencial (en particular, vecinos como Corea del Sur y Japón tendrán cada vez más interés en desarrollar armas nucleares propias). En tal caso, la causa de la no proliferación y el desarme nuclear (objetivos que EE. UU. persigue hace casi setenta años) puede darse por terminada.
El riesgo más inmediato es que Irán decida relanzar su programa de armas nucleares. En tal caso, es casi seguro que Egipto, Arabia Saudita y Turquía querrán desarrollar capacidad nuclear bélica propia; en realidad, puede que quiera hacerlo hasta el último dictadorzuelo del mundo. El orden internacional quedaría totalmente alterado.
Corea del Norte ya se salió de cauce, pero Irán todavía no, gracias al acuerdo vigente. El objetivo de EE. UU. tiene que ser obligar a Corea del Norte a volver al redil, no dar motivos a los iraníes para escapar ellos también.
Esto no implica que EE. UU. adopte una actitud pasiva, sino todo lo contrario: debe prepararse para el supuesto de que Irán obtenga en el futuro una capacidad de enriquecimiento de uranio que le permita construir un arma nuclear (el nivel de "breakout", una posibilidad cierta incluso con el acuerdo actual). Es improbable que suceda de inmediato, porque el acuerdo todavía confiere a Irán importantes beneficios. Pero en unos pocos años, cuando ya no exista riesgo de perderlos, Irán tendrá menos motivos para respetar sus promesas.
Por eso, en vez de abandonar a las otras partes que ayudaron a negociar el acuerdo, EE. UU. debe consensuar una definición de breakout que facilite las inspecciones del Organismo Internacional de Energía Atómica; y debe también coordinar con los otros firmantes del acuerdo respecto de sanciones y otros castigos que se aplicarían en caso de incumplimiento real por parte de Irán.
Pero para que esto funcione, es necesario que se sienta el poder disuasorio de EE. UU. (el proverbial "palo"). EE. UU. debe estar preparado (en términos de inteligencia, armas y voluntad política) para intervenir (unilateralmente, si es necesario) y evitar que Irán siga los pasos de Corea del Norte.
Con o sin acuerdo, Irán es una amenaza seria; para Israel, sin duda, pero también para la estabilidad de Medio Oriente y, en cierto sentido, de todo el mundo. Pero por ahora esa amenaza no es existencial. Impedir que llegue a serlo debe ser la máxima prioridad ahora. Los israelíes llevamos bastante tiempo pensando seriamente en este desafío (y preparándonos para las diversas contingencias) y somos conscientes de que, por ahora, el acuerdo actual es lo mejor para nuestra propia seguridad.
En los últimos veinticinco años, seis países trataron de alcanzar estatus nuclear. Dos de ellos (Libia y Sudáfrica) desistieron. A otros dos (Siria e Irak) se los detuvo. Y los dos restantes (Pakistán y Corea del Norte) lo lograron, a despecho de la comunidad internacional. Debemos evitar que se sume Irán. Y el mejor modo es mantener el acuerdo nuclear, por malo que sea, mientras Irán lo siga respetando.
Traducción: Esteban Flamini