Welke weg slaat Amerika in?
NEW YORK – De aanval op het Amerikaanse Capitool door de aanhangers van president Donald Trump, opgehitst door Trump zelf, was het voorspelbare gevolg van zijn vier jaar durende aanval op democratische instellingen, geholpen en ondersteund door velen in de Republikeinse Partij. En niemand kan zeggen dat Trump ons niet heeft gewaarschuwd: hij heeft zich niet ingezet voor een vreedzame machtsoverdracht. Velen die profiteerden van het feit dat hij de belastingen voor bedrijven en de rijken verlaagde, de milieuregelgeving terugschroefde en bedrijfsvriendelijke rechters aanstelde, wisten dat ze een pact met de duivel aan het sluiten waren. Ófwel ze geloofden dat ze de extremistische krachten die hij ontketende in bedwang zouden kunnen houden, ófwel het kon ze niets schelen.
Welke kant zal Amerika nu opgaan? Is Trump een afwijking, of een symptoom van een diepere nationale kwaal? Zijn de Verenigde Staten nog wel te vertrouwen? Zullen over vier jaar de krachten die tot Trump hebben geleid, en de partij die hem in overweldigende mate heeft gesteund, opnieuw zegevieren? Wat kan er gedaan worden om die uitkomst te verhinderen?
Trump is het product van meerdere krachten. De Republikeinse Partij begrijpt al minstens een kwart eeuw lang dat zij de belangen van de zakelijke elites alleen maar kan behartigen door het omarmen van antidemocratische maatregelen (zoals het ontnemen van het stemrecht aan delen van het electoraat en het manipuleren van de grenzen van kiesdistricten), en bondgenoten als de religieuze fundamentalisten, witte nationalisten en nationalistische populisten.
Het populisme impliceerde natuurlijk een beleid dat tegen de zakelijke elites inging. Maar veel leiders uit het bedrijfsleven hebben zich tientallen jaren bekwaamd in het beheersen van het vermogen om het publiek te misleiden. Big Tobacco heeft veel geld aan advocaten en namaakwetenschap uitgegeven, teneinde de negatieve gevolgen van hun producten voor de gezondheid te kunnen ontkennen. Big Oil heeft hetzelfde gedaan om de bijdrage van fossiele brandstoffen aan de klimaatverandering te kunnen ontkennen. Zij hebben ingezien dat Trump één van hen was.
Vervolgens heeft de technologische vooruitgang de snelle verspreiding van desinformatie mogelijk gemaakt, en heeft het Amerikaanse politieke systeem, waarin geld de boventoon voert, de opkomende technologiereuzen vrijgesteld van iedere verantwoordingsplicht. Dit politieke systeem heeft nog iets gedaan: het heeft een reeks beleidsmaatregelen gegenereerd (soms neoliberalisme genoemd) die enorme inkomens- en welvaartswinst opleverden voor degenen die aan de top stonden, maar vrijwel de hele rest van de samenleving lieten stagneren. Al snel werd een land, dat zich onderscheidde door snelle wetenschappelijke vooruitgang, gekenmerkt door een dalende levensverwachting en steeds grotere gezondheidsverschillen.
De neoliberale belofte dat rijkdom en inkomenswinst naar beneden zouden doorsijpelen, naar de mensen aan de onderkant van de samenleving, was fundamenteel onjuist. Toen grote delen van het land door enorme structurele veranderingen gedeïndustrialiseerd werden, werden de achterblijvers voor een groot deel aan hun lot overgelaten. Zoals ik in mijn boeken The Price of Inequalityen People, Power, and Profitsheb gewaarschuwd, bood deze giftige mix een uitgelezen kans voor een would-be demagoog.
Subscribe to Project Syndicate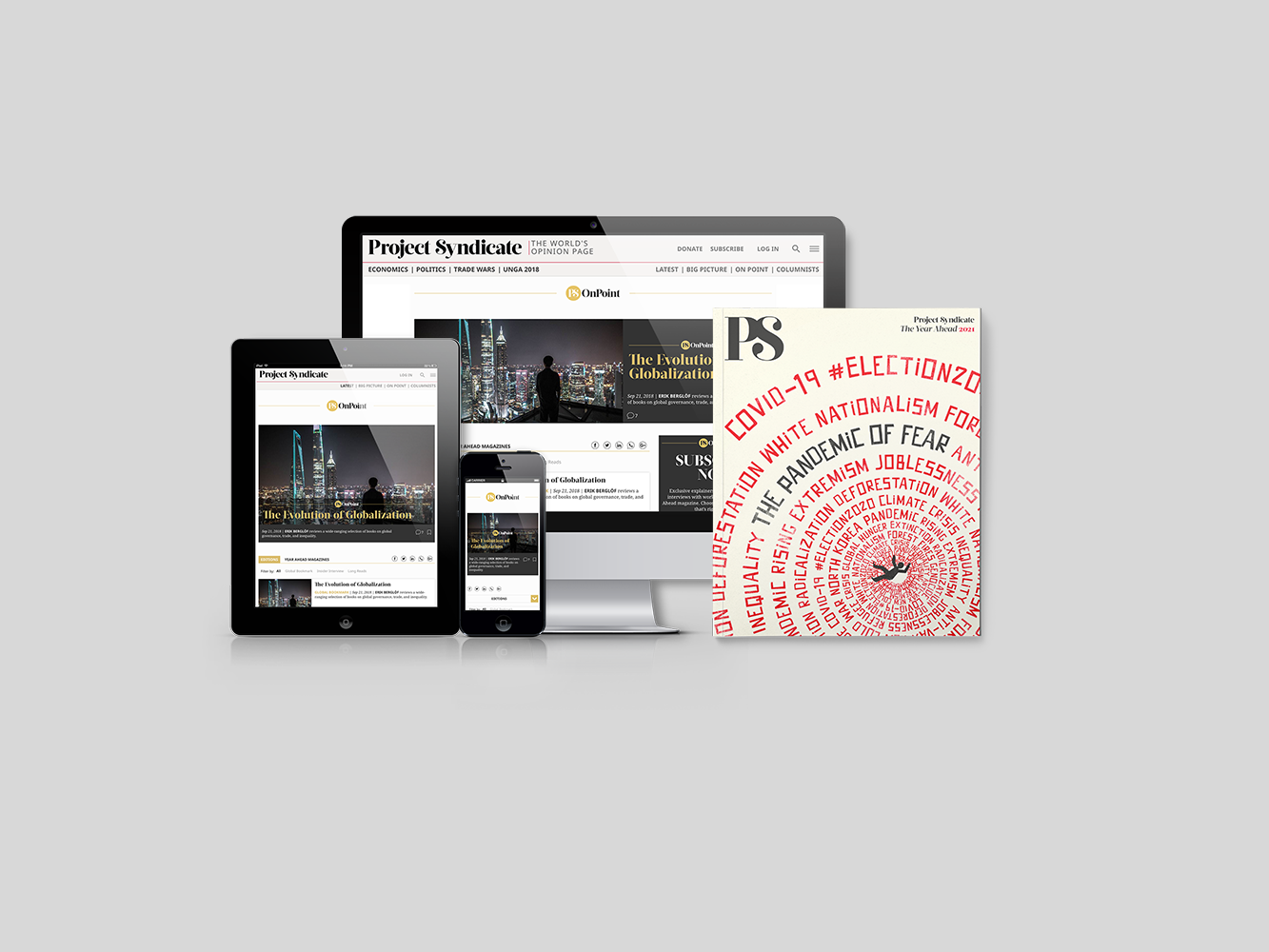 Subscribe to Project Syndicate
Enjoy unlimited access to the ideas and opinions of the world's leading thinkers, including weekly long reads, book reviews, and interviews; The Year Ahead annual print magazine; the complete PS archive; and more – All for less than $9 a month.
Zoals we herhaaldelijk hebben gezien, zorgt de ondernemersgeest van de Amerikanen, in combinatie met de afwezigheid van morele beperkingen, voor een ruim aanbod aan charlatans, uitbuiters en would-be demagogen. Trump, een leugenachtige, narcistische sociopaat, zonder enig begrip voor de economie of enige waardering voor de democratie, was de man van het moment.
De onmiddellijke taak is het wegnemen van de dreiging die Trump nog steeds vormt. Het Huis van Afgevaardigden zou hem nu in staat van beschuldiging moeten stellen en de Senaat zou hem enige tijd later moeten berechten, zodat hij nooit weer president kan worden. Het is in het belang van de Republikeinen, niet minder dan in dat van de Democraten, om te laten zien dat niemand, zelfs de president niet, boven de wet staat. Iedereen moet begrijpen dat het noodzakelijk is de verkiezingen te honoreren en een vreedzame machtsoverdracht te waarborgen.
Maar we kunnen niet met een gerust hart gaan slapen totdat de onderliggende problemen zijn opgelost. Bij veel van die problemen gaat het om grote uitdagingen. We moeten de vrijheid van meningsuiting verzoenen met het afleggen van verantwoording voor de enorme schade die de sociale media kunnen veroorzaken en hébben veroorzaakt – van het aanzetten tot geweld en het bevorderen van rassen- en godsdiensthaat tot politieke manipulatie.
De VS en andere landen leggen al langer beperkingen op aan bepaalde vormen van meningsuiting, ter weerspiegeling van bredere maatschappelijke zorgen: je mag niet ʻbrand' roepen in een overvol theater, je bezighouden met kinderporno, of laster en smaad plegen. Het is waar dat sommige autoritaire regimes deze beperkingen misbruiken om de fundamentele vrijheden aan banden te leggen, maar autoritaire regimes zullen altijd een rechtvaardiging vinden om te doen wat ze willen, ongeacht wat democratische regeringen doen.
Wij Amerikanen moeten ons politieke systeem hervormen, ter waarborging van het fundamentele recht om te stemmen en van een democratische vertegenwoordiging. We hebben een nieuwe wet op het stemrecht nodig. De oude, die in 1965 werd aangenomen, was gericht op het Zuiden, waar de rechteloosheid van de Afro-Amerikanen de witte elite in staat had gesteld sinds het einde van de wederopbouw na de burgeroorlog aan de macht te blijven. Maar nu zijn er in het hele land antidemocratische praktijken te vinden.
We moeten ook de invloed van het geld in onze politiek terugdringen: geen enkel systeem van checks and balances kan effectief zijn in een maatschappij met zoveel ongelijkheid als de VS. En elk systeem dat gebaseerd is op ʻéén dollar, één stem' in plaats van op ʻéén persoon, één stem' zal kwetsbaar zijn voor populistische demagogie. Immers, hoe kan zo'n systeem de belangen van het land als geheel dienen?
Tot slot moeten we de meervoudige dimensies van de ongelijkheid aanpakken. Het opvallende verschil tussen de behandeling van de witte opstandelingen die het Capitool binnenvielen en de vreedzame Black Lives Matter-betogers van afgelopen zomer heeft de mensen in de hele wereld weer eens de omvang van Amerika's raciale onrechtvaardigheid laten zien.
Bovendien heeft de COVID-19-pandemie de omvang van de verschillen in het land op het gebied van de economie en de gezondheid onderstreept. Zoals ik herhaaldelijk heb betoogd, zullen kleine aanpassingen van het systeem niet genoeg zijn om de ingesleten ongelijkheden van het land het hoofd te bieden.
Hoe Amerika reageert op de aanval op het Capitool zal veel zeggen over de weg die het land zal inslaan. Als we niet alleen Trump ter verantwoording roepen, maar ook grootschalige economische en politieke hervormingen doorvoeren om de onderliggende problemen aan te pakken die de grondslag vormden voor zijn giftige presidentschap, is er hoop op betere tijden. Gelukkig zal Joe Biden op 20 januari het presidentschap op zich nemen. Maar er zal meer dan één persoon – en meer dan één presidentiële termijn – voor nodig zijn om de langdurige problemen van Amerika te overwinnen.
Vertaling: Menno Grootveld