Quo vadis, Amerika?
NEW YORK – Der Anschlag auf das Kapitol durch Anhänger von US-Präsident Donald Trump, zu dem Trump selbst angestiftet hatte, war das vorhersehbare Resultat seines vier Jahre langen Angriffs auf die demokratischen Institutionen, zu dem so viele in der republikanischen Partei Beihilfe geleistet hatten. Und niemand kann behaupten, Trump habe uns nicht gewarnt: Er hatte sich nicht zu einer friedlichen Machtübergabe bekannt. Viele Profiteure seiner Steuersenkungen für Konzerne und für die Reichen, seines Rollbacks von Umweltschutzbestimmungen und seiner Ernennungen wirtschaftsfreundlicher Richter wussten, dass sie einen Pakt mit dem Teufel eingingen. Entweder glaubten sie, sie könnten die von ihm freigesetzten extremistischen Kräfte kontrollieren, oder es war ihnen egal.
Welchen Weg wird Amerika nun einschlagen? Ist Trump eine Anomalie oder ein Symptom eines tiefersitzenden nationalen Übels? Kann man den USA vertrauen? Werden die Kräfte, die zu Trumps Aufstieg führten, und die Partei, die ihn mit überwältigender Mehrheit unterstützte, in vier Jahren erneut triumphieren? Was lässt sich tun, um so ein Ergebnis zu verhindern?
Trump ist das Produkt mehrere Kräfte. Der republikanischen Partei war seit mindestens einem Vierteljahrhundert bewusst, dass sie die Interessen der Wirtschaftseliten nur vertreten konnte, indem sie demokratiefeindliche Maßnahmen verfolgte (und u. a. die Wahlteilnahme erschwerte und den Wahlkreiszuschnitt manipulierte) und sich demokratiefeindliche Verbündete suchte, darunter religiöse Fundamentalisten, weiße Suprematisten und nationalistische Populisten.
Natürlich implizierte der Populismus eine Politik, die den Interessen der Wirtschaftseliten diametral zuwiderlief. Doch viele Wirtschaftsführer haben ihre Fähigkeit, die Öffentlichkeit zu täuschen, über Jahrzehnte perfektioniert. Die Tabakindustrie gab Unsummen für Anwälte und pseudowissenschaftliche Studien aus, um die negativen gesundheitlichen Folgen ihrer Produkte zu bestreiten. Die Ölindustrie tat dasselbe, um den Beitrag fossiler Brennstoffe zum Klimawandel abzuleugnen. Sie erkannten, dass Trump einer der ihren war.
Zudem schuf der technologische Fortschritt ein Instrument zur schnellen Verbreitung von Fehl- und Falschinformationen, und Amerikas politisches System, wo Geld die bestimmende Rolle spielt, enthob die sich herausbildenden Technologie-Giganten von jeder Rechenschaftspflicht. Und dieses politische System bewirkte noch etwas anderes: Es brachte eine (manchmal als Neoliberalismus bezeichnete) Politik hervor, die zu massiven Einkommens- und Vermögenszuwächsen für die ganz oben, aber weitgehender Stagnation überall sonst führte. Und schon bald war ein wissenschaftlich führendes Land durch einen Rückgang der Lebenserwartung und zunehmende gesundheitliche Unterschiede innerhalb der Bevölkerung gekennzeichnet.
Das neoliberale Versprechen, dass Wohlstands- und Eigentumszuwächse nach unten durchgereicht werden würden, war von Grund auf falsch. Während ein massiver Strukturwandel zur Deindustrialisierung großer Teile des Landes führte, mussten die, die dabei abgehängt wurden, weitgehend selbst sehen, wie sie zurechtkamen. Wie ich in meinen Büchern Der Preis der Ungleichheitund Der Preis des Profitsgewarnt habe, war diese toxische Mischung eine Einladung an Möchtegern-Demagogen.
Subscribe to Project Syndicate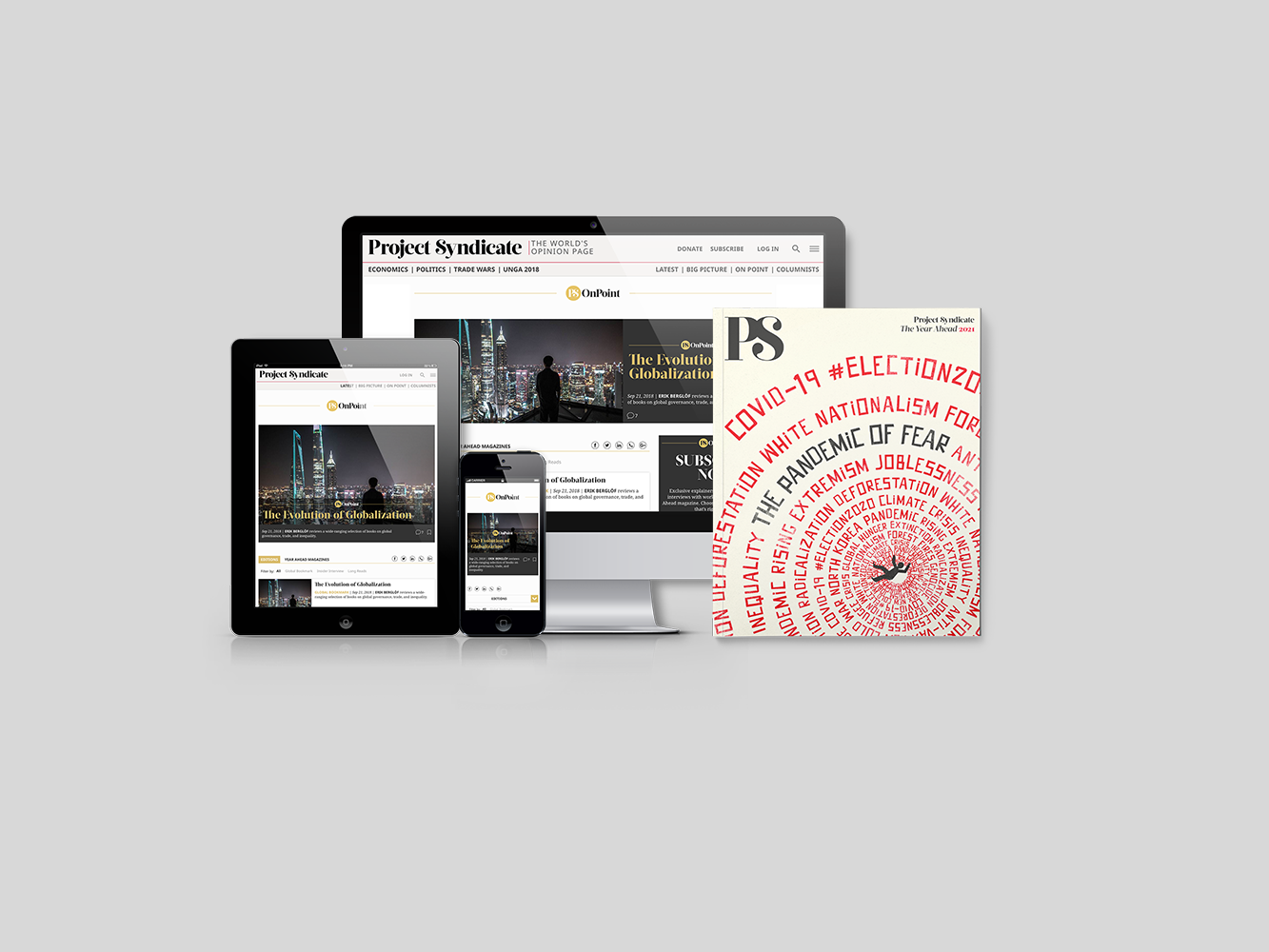 Subscribe to Project Syndicate
Enjoy unlimited access to the ideas and opinions of the world's leading thinkers, including weekly long reads, book reviews, and interviews; The Year Ahead annual print magazine; the complete PS archive; and more – All for less than $9 a month.
Wie wir wiederholt gesehen haben, bringt Amerikas Unternehmergeist, im Verbund mit einem Mangel an moralischen Schranken, jede Menge an Scharlatanen, Ausbeutern und Möchtegern-Demagogen hervor. Trump – ein verlogener, narzisstischer Soziopath ohne jede Einsicht in wirtschaftliche Zusammenhänge oder Demokratieverständnis – war der Mann der Stunde.
Die unmittelbare Aufgabe besteht nun darin, die Gefahr, die noch immer von Trump ausgeht, abzuwenden. Das Repräsentantenhaus sollte jetzt ein Amtsenthebungsverfahren gegen ihn einleiten, und der Senat sollte ihm dann etwas später den Prozess machen, um es ihm unmöglich zu machen, je wieder ein Bundesamt zu bekleiden. Es sollte genauso im Interesse der Republikaner wie der Demokraten sein, zu zeigen, dass niemand – auch nicht der Präsident – über dem Gesetz steht. Jeder muss die Notwendigkeit begreifen, Wahlergebnisse anzuerkennen und den friedlichen Übergang der Macht sicherzustellen.
Doch sollten wir uns nicht unbesorgt schlafen legen, bis die grundlegenden Probleme behoben sind. Viele davon sind mit großen Herausforderungen verbunden. Wir müssen die freie Meinungsäußerung mit der Verantwortung für die enormen Schäden aussöhnen, die die sozialen Medien verursachen können und verursacht haben und die von der Anstiftung zur Gewalt und zu religiösem Hass bis hin zur politischen Manipulation reichen.
Die USA und andere Länder schränken seit Langem bestimmte andere Formen der Meinungsäußerung ein, um breiter angelegten gesellschaftlichen Anliegen Rechnung zu tragen: Niemand darf in einem voll besetzten Theater "Feuer" schreien, Kinderpornographie verbreiten oder üble Nachrede oder Verleumdung begehen. Zwar stimmt es, dass einige autoritäre Regime diese Beschränkungen und gefährden grundlegende Freiheiten missbrauchen. Doch werden autoritäre Regime ihr Handeln immer zu rechtfertigen wissen, ganz gleich, was die demokratischen Regierungen tun.
Wir Amerikaner müssen unser politisches System reformieren, um das Grundrecht auf Wahlteilnahme und demokratische Vertretung sicherzustellen. Wir brauchen ein neues Wahlgesetz. Das alte, 1965 verabschiedete Gesetz war auf den Süden ausgerichtet, wo die Entrechtung der Afroamerikaner es den weißen Eliten seit der auf den Bürgerkrieg folgenden Wiederaufbauphase ermöglicht hatte, sich an der Macht zu halten, Doch inzwischen finden sich demokratiefeindliche Praktiken im ganzen Land.
Wir müssen zudem den Einfluss des Geldes in unserer Politik verringern: Kein System der "Checks & Balances" kann in einer derart ungleichen Gesellschaft wie den USA Wirkung entfalten. Und jedes System, dass statt auf dem Grundsatz "Ein Mensch, eine Stimme" auf dem Grundsatz "Ein Dollar, eine Stimme" basiert, wird anfällig für populistische Demagogie sein. Denn wie soll ein derartiges System den Interessen des ganzen Landes dienen?
Und schließlich müssen wir etwas gegen die vielen Dimensionen der Ungleichheit tun. Die eklatante Ungleichbehandlung der das Kapitol stürmenden weißen Aufrührer und der friedlichen "Black Lives Matter"-Demonstranten im vergangenen Sommer hat den Menschen weltweit einmal mehr die Größenordnung der in Amerika herrschenden Rassenungerechtigkeit vor Augen geführt.
Darüber hinaus hat die COVID-19-Pandemie die Größenordnung der im Lande herrschenden wirtschaftlichen und gesundheitlichen Ungleichheit unterstrichen. Wie ich wiederholt argumentiert habe, werden kleine Anpassungen am System nicht ausreichen, um wirklich etwas gegen die tief verwurzelte Ungleichheit im Lande zu tun.
Wie Amerika auf den Angriff auf das Kapitol reagiert, wird viel darüber aussagen, wohin das Land steuert. Wenn wir nicht nur Trump zur Rechenschaft ziehen, sondern uns auch auf den schweren Weg wirtschaftlicher und politischer Reformen zur Lösung der grundlegenden Probleme begeben, die den Boden für seine toxische Präsidentschaft bereitet haben, besteht Hoffnung auf eine bessere Zukunft. Zum Glück wird am 20. Januar Joe Biden das Präsidentenamt übernehmen. Doch wird es mehr als einer Person – und mehr als einer Amtszeit – bedürfen, um Amerikas seit Langem bestehende Probleme zu überwinden.
Aus dem Englischen von Jan Doolan