Para onde, EUA?
NOVA YORK – O ataque ao Capitólio dos EUA pelos partidários do presidente Donald Trump, incitado pelo próprio Trump, foi o previsível resultado de seu ataque de quatro anos às instituições democráticas, auxiliado e estimulado por muitos no Partido Republicano. E ninguém pode dizer que Trump não nos avisou: ele não estava comprometido com uma transição pacífica de poder. Muitos dos que se beneficiaram enquanto ele reduzia os impostos para as corporações e os ricos, revertia as regulamentações ambientais e nomeava juízes favoráveis ​​aos negócios sabiam que estavam fazendo um pacto com o diabo. Ou acreditaram que poderiam controlar as forças extremistas que ele desencadearia ou não se importaram.
Para onde vão os EUA a partir daqui? Trump é uma aberração ou sintoma de uma doença nacional mais profunda? Os Estados Unidos são confiáveis? Em quatro anos, as forças que deram origem a Trump, e o partido que o apoiou esmagadoramente, triunfarão novamente? O que pode ser feito para se evitar esse resultado?
Trump é o produto de inúmeras forças. Por pelo menos um quarto de século, o Partido Republicano entendeu que poderia representar os interesses das elites empresariais simplesmente ao adotar medidas antidemocráticas (incluindo repressão eleitoral e gerrymandering) e aliados, incluindo fundamentalistas religiosos, supremacistas brancos e populistas nacionalistas .
Certamente, populismo implicava políticas que eram antitéticas para as elites empresariais. Mas muitos líderes empresariais passaram décadas dominando a arte de enganar o público. As empresas globais da indústria do tabaco gastaram muito com advogados e pseudociência para negar os efeitos adversos de seus produtos à saúde. As grandes do petróleo e gás do mundo todo fizeram o mesmo para negar a contribuição dos combustíveis fósseis para a mudança climática. Reconheceram Trump como um deles.
Então, os avanços na tecnologia forneceram uma ferramenta para a rápida disseminação da desinformação, e o sistema político dos EUA, onde o dinheiro reina supremo, permitiu que os emergentes gigantes da tecnologia se eximissem da responsabilidade. Esse sistema político fez outra coisa: gerou um conjunto de políticas (às vezes chamadas de neoliberalismo) que gerou maciços ganhos de renda e riqueza para os que estão no topo, mas quase estagnou em todos os lugares. Em pouco tempo, um país na vanguarda do progresso científico foi marcado pelo declínio da expectativa de vida e pelo aumento das disparidades no sistema de saúde.
A promessa neoliberal de que a riqueza e os ganhos de renda chegariam aos de renda mais baixa foi fundamentalmente espúria. À medida que gigantescas mudanças estruturais desindustrializaram grandes regiões do país, aqueles que ficaram para trás foram largados à própria sorte. Como alertei em meus livros The Price of Inequality e People, Power, and Profits (O preço da desigualdade e Pessoas, Poder e Lucros) essa mistura tóxica forneceu uma convidativa oportunidade para qualquer aspirante a demagogo.
Subscribe to Project Syndicate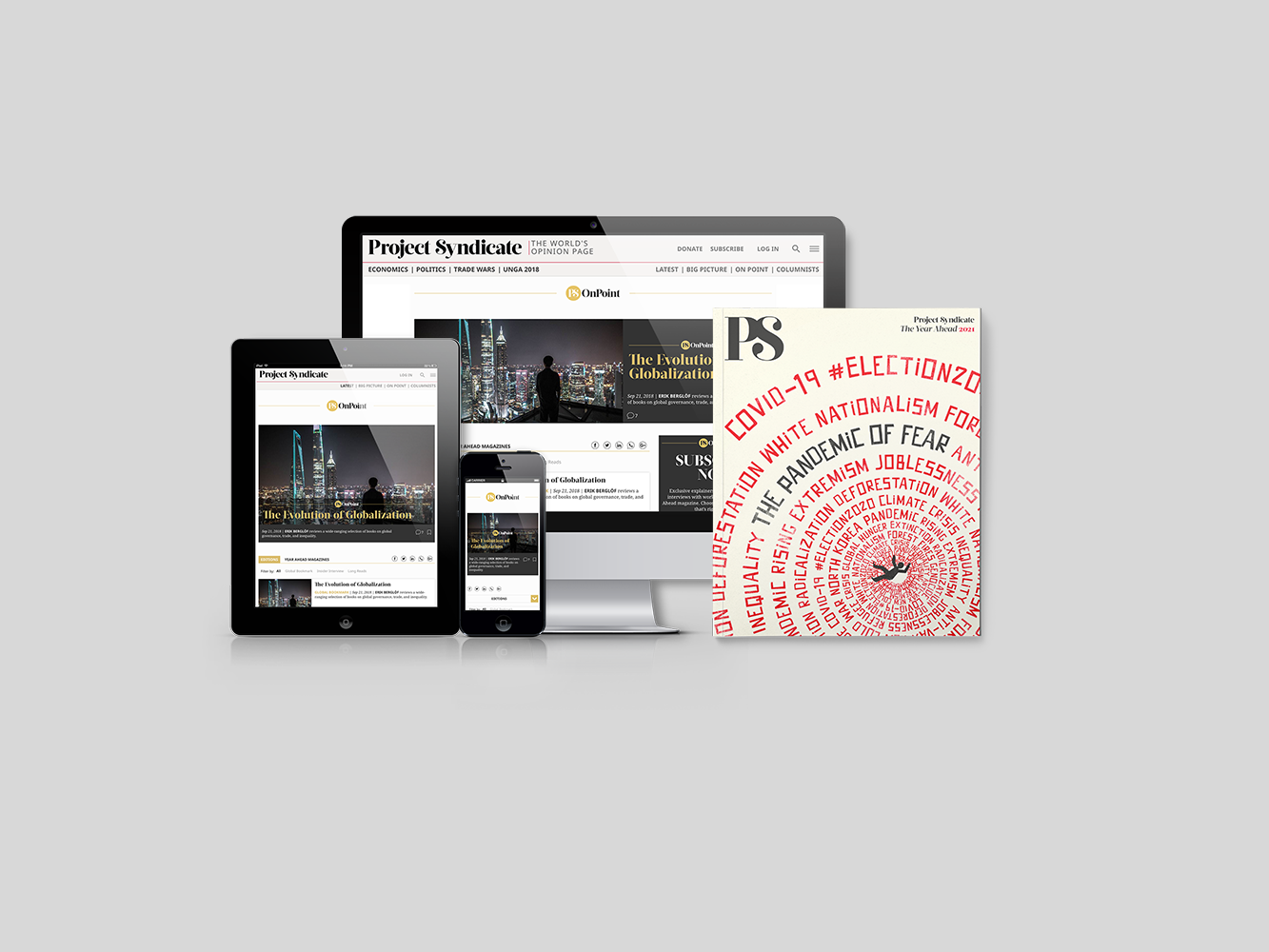 Subscribe to Project Syndicate
Enjoy unlimited access to the ideas and opinions of the world's leading thinkers, including weekly long reads, book reviews, and interviews; The Year Ahead annual print magazine; the complete PS archive; and more – All for less than $9 a month.
Como temos visto repetidamente, o espírito empreendedor dos americanos, combinado com a ausência de restrições morais, fornece um enorme suprimento de charlatões, exploradores e aspirantes a demagogos. Trump, sociopata mentiroso e narcisista, sem nenhum conhecimento de economia ou apreciação pela democracia, era o homem do momento.
A tarefa imediata é remover a ameaça que Trump ainda representa. A Câmara dos Representantes deveria impugná-lo agora, e o Senado deveria julgá-lo em seguida, para impedi-lo de ocupar um cargo político de dimensões nacionais novamente. Deve ser do interesse dos Republicanos, não menos do que dos Democratas, mostrar que ninguém, nem mesmo o presidente, está acima da lei. Todos devem compreender o imperativo de honrar as eleições e garantir a pacífica transição de poder.
Mas não deveríamos dormir tranquilamente até que os problemas de base sejam resolvidos. Muitos deles envolvem grandes desafios. Devemos conciliar a liberdade de expressão com a responsabilidade pelo enorme dano que a mídia social pode e tem causado, desde o incitamento à violência e a promoção do ódio racial e religioso à manipulação política.
Os Estados Unidos e outros países há muito impõem restrições a outras formas de expressão para refletir preocupações sociais mais amplas: não se pode gritar fogo em um teatro lotado, envolver-se em pornografia infantil ou cometer calúnia e difamação. É verdade que alguns regimes autoritários abusam dessas restrições e comprometem as liberdades básicas, mas os regimes autoritários sempre encontrarão justificativas para fazer o que quiserem, independentemente do que os governos democráticos façam.
Nós, americanos, precisamos reformar nosso sistema político, tanto para garantir o direito básico de voto quanto para a representação democrática. Precisamos de uma nova lei de direito de voto. O antigo, adotado em 1965, era voltado para o Sul, onde a privação de direito pelos afro-americanos havia permitido às elites brancas permanecerem no poder desde o fim da Reconstrução após a Guerra Civil. Mas agora essas práticas antidemocráticas podem ser encontradas em todo o país.
Também precisamos diminuir a influência do dinheiro em nossa política: nenhum sistema de freios e contrapesos consegue ser eficaz em uma sociedade com tanta desigualdade como os EUA. E qualquer sistema baseado em "um dólar, um voto" ao invés de "uma pessoa, um voto" estará vulnerável à demagogia populista. Afinal, como esse sistema pode servir aos interesses do país como um todo?
Finalmente, precisamos abordar as múltiplas dimensões da desigualdade. A diferença marcante entre o tratamento dado aos insurrecionistas brancos que invadiram o Capitólio e os pacíficos manifestantes Black Lives Matter no último verão mais uma vez mostrou para aqueles ao redor do mundo a magnitude da injustiça racial dos EUA.
Além disso, a pandemia do COVID-19 ressaltou a magnitude das disparidades econômicas e de saúde do país. Como tenho repetidamente argumentado, pequenos ajustes no sistema não serão suficientes para fazer grandes incursões nas desigualdades arraigadas do país.
A forma como os EUA reagirem ao ataque ao Capitólio dirá muito sobre para onde o país está se dirigindo. Se não apenas responsabilizarmos Trump, mas também embarcarmos no difícil caminho da reforma econômica e política para resolver os problemas básicos que deram origem a sua tóxica presidência, então haverá esperança de dias melhores. Felizmente, Joe Biden assumirá a presidência em 20 de janeiro. Mas será necessário mais de uma pessoa – e mais de um mandato presidencial – para superar os desafios de longa data da América.
Tradução de Anna Maria Dalle Luche, Brazil