Hvor er USA på vei?
NEW YORK – Etter fire års angrep på demokratiske institusjoner — av presidenten og hans medhjelpere i det republikanske partiet — kom stormingen av Kongressen kanskje ikke som noen overraskelse. Ingen kan si at vi ikke ble advart. Trump har ikke villet forplikte seg til en fredelig maktovertakelse. De som ville ha lavere skatter, mindre miljøreguleringer og næringsvennlige dommere, visste at de inngikk en pakt med djevelen. Enten trodde de at de kunne kontrollere de ekstreme kreftene som ble sluppet løs av Trump, eller så brydde de seg ikke.
Hvor går veien videre? Er Trump et unntakstilfelle eller et symptom på et dypere samfunnsonde? Kan man stole på USA? Vil kreftene som ga oss Trump — og partiet som så entusiastisk støttet ham — reise seg igjen om fire år? Hva kan vi gjøre for å hindre at dette skjer?
I minst et kvart århundre har republikanerne forstått at de kun kan fremme de økonomiske elitenes interesser ved å ty til antidemokratiske virkemidler og støtte seg på antidemokratiske samarbeidspartnere, som religiøse fundamentalister, hvite rasister og nasjonale populister.
Mange næringslivsledere har brukt tiår på å mestre evnen til å villede folket. Tobakksindustrien brukte penger på advokathjelp og falsk vitenskap for å «motbevise» at røyking var farlig for helsen. Oljeindustrien gjorde det samme for å benekte næringens bidrag til den globale oppvarmingen. De forsto at Trump var «en av dem».
Teknologiske fremskritt gjorde det mulig å spre des- og feilinformasjon i raskt tempo. I USAs politiske system, der pengene rår, fikk de fremvoksende teknologigigantene gjøre som de ville — uten ansvar. Systemet bar også preg av en økonomisk politikk (noen ganger omtalt som nyliberalisme) som sikret massiv inntektsvekst og økt formue for de rikeste i samfunnet, men tilnærmet stagnasjon for alle andre. USA var et land som lå i front av den vitenskapelige utviklingen, men etter hvert også et land der man var vitne til et fall i forventet levealder og økte forskjeller i folks helse.
Den nyliberale forestillingen om at økt velstand for de rike ville dryppe ned på de fattige var fundamentalt falsk. Strukturelle endringer førte til avindustrialrisering i store deler av landet. Deretter måtte den glemte mann og kvinne for det meste klare seg selv. Som jeg har advart mot i mine egne bøker, The Price of Inequalityog People, Power, and Profits, la denne ødeleggende utviklingen forholdene til rette for en vordende demagog. Mannen som grep denne muligheten var Trump — en løgnaktig, narsissistisk sosiopat, som ikke har noen forståelse for økonomi eller betydningen av demokrati.
Subscribe to Project Syndicate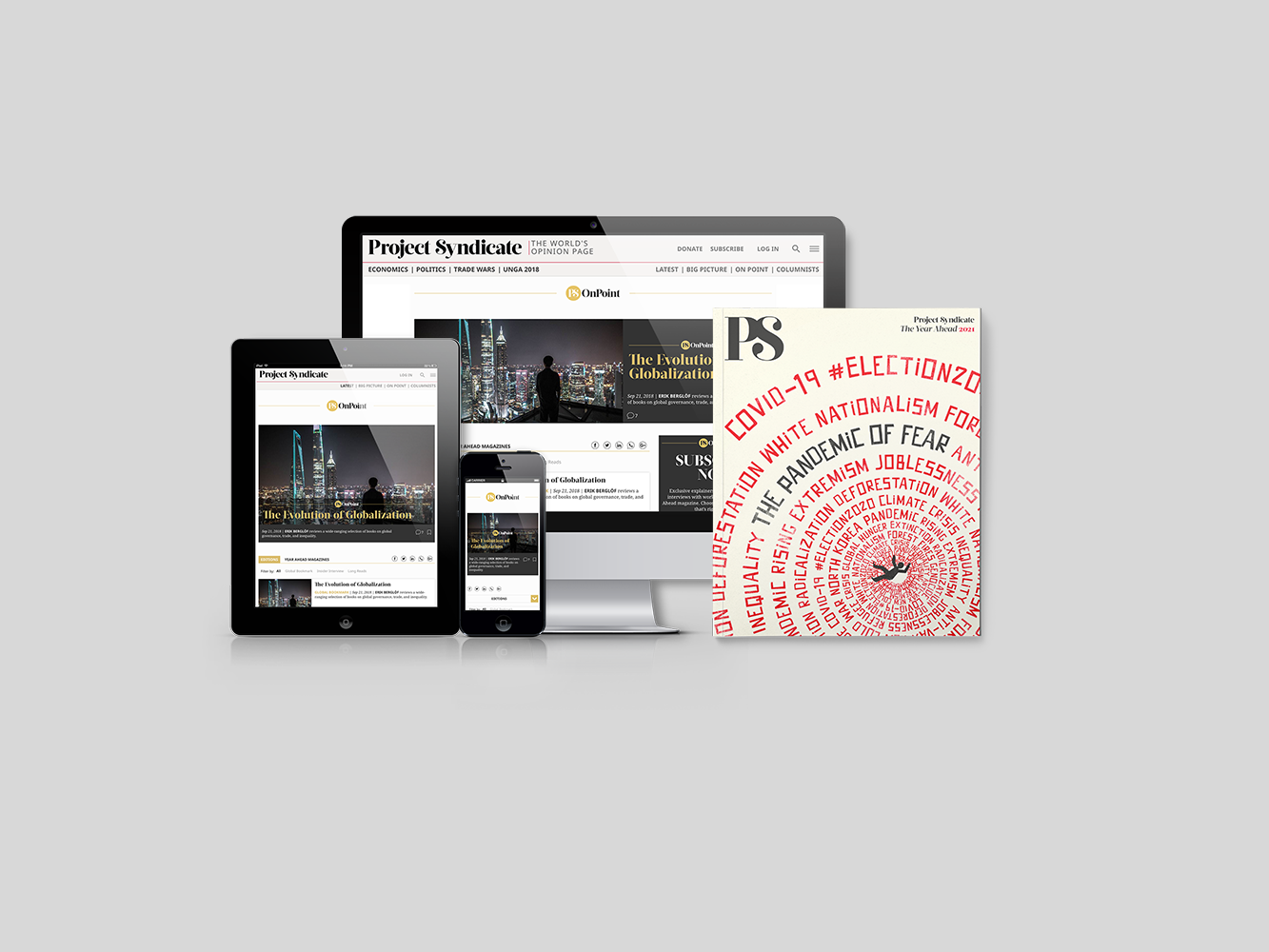 Subscribe to Project Syndicate
Enjoy unlimited access to the ideas and opinions of the world's leading thinkers, including weekly long reads, book reviews, and interviews; The Year Ahead annual print magazine; the complete PS archive; and more – All for less than $9 a month.
Det første vi må gjøre er å fjerne Trump. Han utgjør fortsatt en fare for landet. Representantenes hus bør stille ham for riksrett nå. Senatet bør behandle saken på et senere tidspunkt og hindre ham fra å inneha føderale politiske verv i fremtiden. Det bør være i både republikanernes og demokratenes interesse å vise at ingen, ikke en gang presidenten, står over loven. Alle må forstå hvor viktig det er å respektere demokratiske valg og sørge for en fredelig maktovertakelse.
Men vi bør ikke slå oss til ro før vi har tatt tak i de underliggende problemene. Mange av disse vil by på store utfordringer. Vi må veie ytringsfriheten opp mot den enorme skaden sosiale medier kan gjøre og har gjort — og avklare hvem som sitter med ansvaret. USA (og andre land) begrenser ytringer i det offentlig rom ut fra andre viktige samfunnshensyn: Det er ikke lov å rope «brann» i en full teatersal, sirkulere barnepornografi eller komme med ærekrenkende uttalelser. Det stemmer at noen autoritære regimer bruker disse begrensningene til å sette grunnleggende friheter i fare. Men autoritære regimer vil alltid finne måter de kan rettferdiggjøre sine handlinger på, uavhengig av hva demokratiske regimer gjør.
Vi amerikanere må reformere vårt politiske system, for å sikre stemmeretten og den demokratiske representasjonen. Vi trenger en ny lov. Den gamle loven, som ble vedtatt i 1965, var tiltenkt sørstatene, der afroamerikanere hadde blitt fratatt stemmeretten. Dette gjorde det mulig for de hvite elitene å beholde makten etter rekonstruksjonsperioden i kjølvannet av borgerkrigen. Men i dag blir antidemokratiske metoder tatt i bruk mange steder rundt om i landet.
Vi må også redusere pengenes innflytelse på politikken. Maktfordelingsprinsippet fungerer ikke slik det skal når det er så store forskjeller som i USA. Og et politisk system basert på «en dollar, en stemme» fremfor «en person, en stemme» vil lett bli offer for populistiske demagoger. For hvordan kan et slikt system fremme interessene til hele nasjonen?
Vi må også ta tak i de mange formene for ulikhet. Det er slående hvordan de hvite opprørerne som stormet Kongressen ble behandlet sammenlignet med de fredelige Black Lives Matter-demonstrantene sist sommer. Dette viser, nok en gang, den omfattende forskjellsbehandlingen av svarte og hvite i USA.
Koronapandemien har synliggjort den økonomiske ulikheten og forskjellene i folks helse i enda større grad enn tidligere. Jeg har gjentatte ganger sagt at små systemendringer ikke er nok. Det må krafttak til for å gjøre noe med de store forskjellene.
Hvordan man svarer på angrepet på Kongressen sier mye om hvilken retning landet er på vei i. Det er ikke nok å stille Trump til ansvar for det som har skjedd. Vi må også starte på det vanskelige arbeidet — med økonomiske og politiske reformer — for å ta tak i de underliggende problemene som la forholdene til rette for hans ødeleggende presidentskap. Gjør vi det, er det håp for fremtiden. Heldigvis vil Joe Biden innta Det hvite hus 20. januar. Men det må mer til enn en person — og en presidentperiode — for å overvinne USAs historiske utfordringer.
Oversatt av Marius Gustavson