La nueva geopolítica de la energía
TOKIO – En 2008, cuando el Consejo Nacional de Inteligencia (NIC) de los Estados Unidos publicó el volumen Global Trends 2025, una de las predicciones centrales fue el endurecimiento de la competencia por la energía. La demanda china estaba en alza, y las fuentes extra OPEP, como el Mar del Norte, se estaban agotando. Tras dos decenios de precios bajos y relativamente estables, en 2006 el petróleo había trepado a más de cien dólares por barril. Muchos expertos hablaban de un "pico petrolero" (que la máxima disponibilidad de reservas ya había sido alcanzada) y anticipaban que la producción se concentraría en Medio Oriente (barato pero inestable), donde se creía que incluso Arabia Saudita ya estaba totalmente explorada y que difícilmente se hallaran nuevos megayacimientos.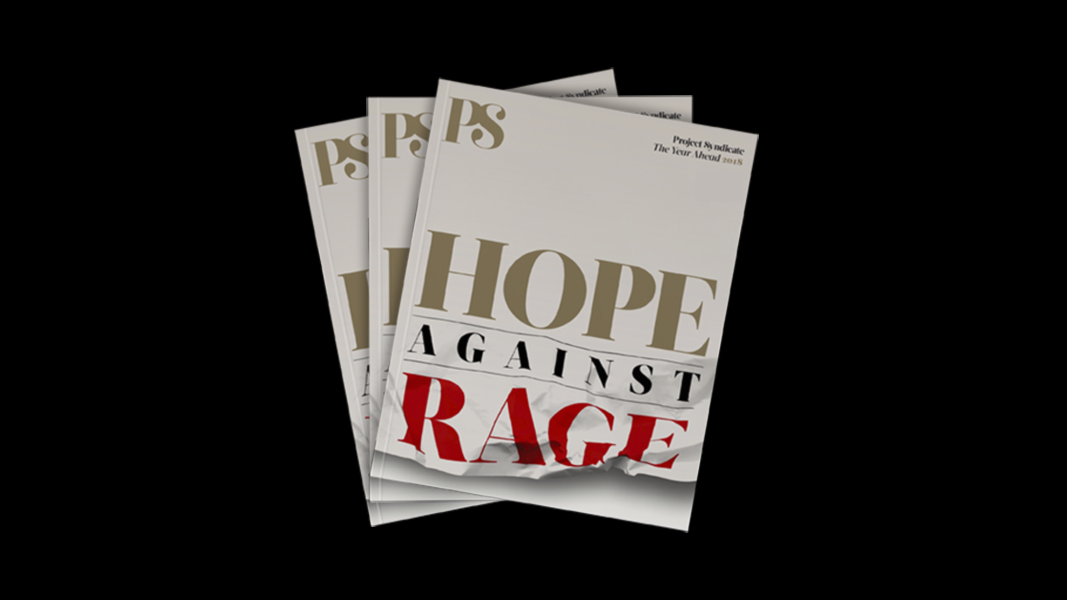 The Year Ahead 2018
The world's leading thinkers and policymakers examine what's come apart in the past year, and anticipate what will define the year ahead.
A Estados Unidos se lo consideraba cada vez más dependiente de las importaciones de energía, y esto, sumado al encarecimiento, se veía como un importante límite a su influencia geopolítica. El poder había pasado a manos de los productores.
Los analistas del NIC tuvieron en cuenta la posibilidad de una sorpresa tecnológica, pero pensaron en la tecnología equivocada. Por sólo concentrarse en el potencial de fuentes renovables como la solar, la eólica y la hídrica, no vieron lo más importante.
La verdadera revolución tecnológica fue la del esquisto (shale). Si bien la perforación horizontal y la fractura hidráulica no son nuevas, sí lo fue su aplicación a la piedra de esquisto. En 2015, más de la mitad de todo el gas natural producido en Estados Unidos procedía de esta fuente.
El auge del esquisto impulsó a Estados Unidos del papel de importador al de exportador de energía. El Departamento de Energía de los Estados Unidos estima que el país cuenta con 25 billones de metros cúbicos de gas de esquisto técnicamente recuperable, que combinados con otras fuentes de gas y petróleo, pueden durar dos siglos. La Agencia Internacional de la Energía prevé que Norteamérica alcance la autosuficiencia en la década de 2020. Instalaciones que se construyeron para recibir gas natural licuado (GNL) importado se han reconvertido para procesar exportaciones.
La transformación alcanzó los mercados mundiales. Antes, la dependencia de gasoductos supeditaba el mercado del gas a la geografía. Con esto Rusia adquirió poder de mercado, que usó para ejercer influencia política y económica sobre sus vecinos europeos. Pero el GNL flexibilizó hasta cierto punto el mercado del gas y redujo la influencia rusa. En 2005, sólo quince países importaban GNL; hoy son el triple.
Además, la menor escala de los pozos de esquisto los hace más flexibles a fluctuaciones de los precios de mercado. Una inversión multimillonaria por varios años en un pozo gaspetrolero tradicional no se puede detener y reiniciar fácilmente; pero los pozos de esquisto son más pequeños, más baratos y más fáciles de activar y desactivar en respuesta a variaciones de precios. Esto implica que Estados Unidos ahora es el "productor bisagra", capaz de equilibrar la oferta y la demanda de los mercados globales de hidrocarburos.
Como muy bien explica Meghan O'Sullivan, de la Universidad de Harvard, en su nuevo libro Windfall, la revolución del esquisto conlleva una serie de consecuencias para la política exterior estadounidense. La autora sostiene que la nueva abundancia de energía aumenta el poder de Estados Unidos: impulsa la economía y crea empleo; mejora la balanza de pagos, al reducir las importaciones, y la situación presupuestaria, gracias a la recaudación impositiva adicional; fortalece la competitividad internacional, particularmente en industrias con alto consumo de energía como la petroquímica, la del aluminio, la del acero y otras.
También hay efectos en la política interna. Uno de ellos es psicológico. Mucha gente, dentro y fuera de los Estados Unidos, creyó en el mito de la decadencia americana, en cuyo sustento suele citarse la creciente dependencia de las importaciones de energía. Pero la revolución del esquisto lo cambió todo y puso de manifiesto la combinación de espíritu emprendedor, protección de la propiedad privada y mercados de capitales que constituye la fortaleza implícita del país. En ese sentido, la revolución del esquisto también reforzó el poder blando estadounidense.
Se ha señalado a modo de crítica que al no depender tanto de la energía importada, Estados Unidos se desentenderá de Medio Oriente. Pero esto supone una interpretación incorrecta de la economía de la energía. Una disrupción importante, por ejemplo una guerra o un ataque terrorista que cortara el flujo de gas y petróleo a través del Estrecho de Ormuz, encarecería sumamente los precios para Estados Unidos y nuestros aliados en Europa y Japón. Además, Estados Unidos tiene muchos otros intereses en la región además del petróleo, que incluyen la no proliferación de armas nucleares, la protección de Israel, los derechos humanos y la lucha contra el terrorismo.
Puede que Estados Unidos siga una política más cautelosa en Medio Oriente, pero esto es por la experiencia de la costosa invasión de Irak y la conmoción generalizada de las revoluciones de la Primavera Árabe, más que por la ilusión de que el esquisto produzca una "independencia energética" en el plano político. La efectividad de las sanciones estadounidenses contra Irán para obligarlo a negociar y poner fin a su programa de armas nucleares dependió no sólo de la voluntad de Arabia Saudita de compensar la pérdida de un millón de barriles diarios de exportaciones de petróleo iraní, sino también de la expectativa general creada por la revolución del esquisto.
Otros beneficios del shale para la política exterior estadounidense incluyen que países como Venezuela ya no puedan usar tanto el petróleo para comprar votos en las Naciones Unidas y en organismos regionales de los pequeños estados del Caribe, y que Rusia ya no pueda coaccionar tan fácilmente a sus vecinos con amenazas de cortarles el suministro de gas. En síntesis, hubo un corrimiento tectónico en la geopolítica de la energía.
Nadie puede aventurar el futuro del precio mundial de la energía, pero es posible que por algún tiempo se mantenga bajo. Por supuesto, puede haber factores tecnológicos o políticos que echen por tierra esta predicción. Los primeros operarían en el sentido de aumentar la oferta y bajar el precio; los segundos, es más probable que sea en el sentido contrario. Pero después de la revolución del esquisto, esas alteraciones difícilmente serán muy marcadas o duraderas; por eso el esquisto es también una revolución geopolítica.
Traducción: Esteban Flamini