¿Europa realmente necesita una unión fiscal y política?
CAMBRIDGE – El ex ministro de Finanzas combativo de Grecia Yanis Varoufakis y su némesis, el ex ministro de Finanzas alemán Wolfgang Schäuble, estuvieron enfrentados por la deuda griega durante todo el tiempo que Varoufakis ocupó el cargo. Pero estaban totalmente de acuerdo en lo que concernía al interrogante central del futuro de la eurozona. La unión monetaria exigía una unión política. Ningún punto intermedio era posible.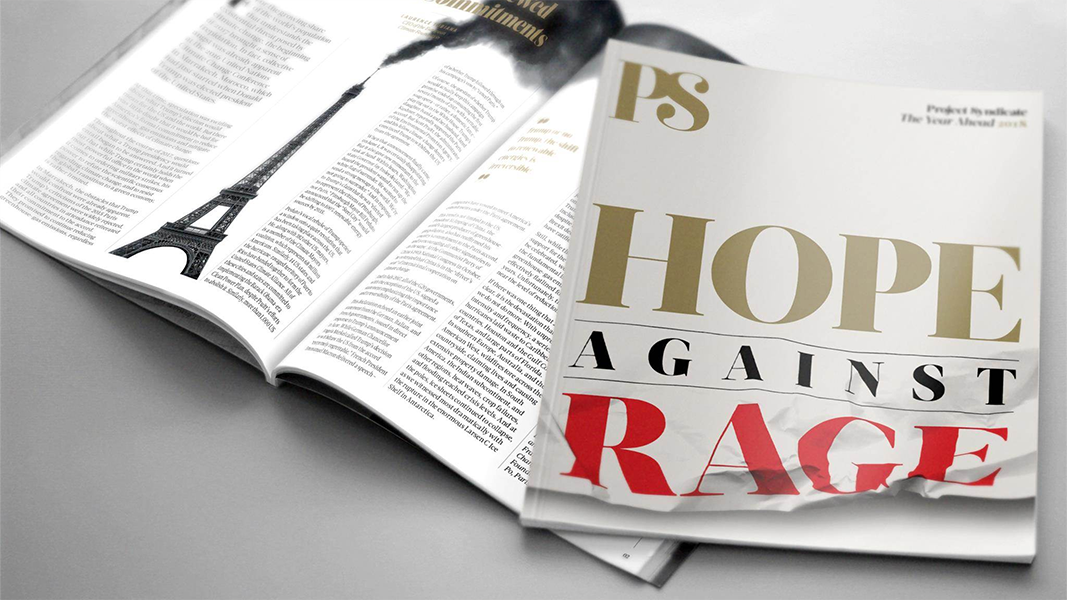 The Year Ahead 2018
The world's leading thinkers and policymakers examine what's come apart in the past year, and anticipate what will define the year ahead.
Esta es una de las interesantes revelaciones del fascinante relato de Varoufakis sobre su mandato como ministro de Finanzas. "Usted probablemente sea el único (en el Eurogrupo) que entiende que la eurozona es insostenible", dice Varoufakis que le dijo Schäuble. "La eurozona está construida de manera equivocada. Deberíamos tener una unión política, de eso no hay ninguna duda".
Por supuesto, Schäuble y Varoufakis tenían ideas diferentes sobre los fines para los que serviría esa unión política. Schäuble veía la unión política como un medio para imponer una fuerte disciplina fiscal a los estados miembro del centro, atándoles las manos e impidiendo políticas económicas "irresponsables". Varoufakis pensaba que la unión política relajaría la opresión de los acreedores sobre su economía y generaría espacio para políticas progresistas en toda Europa.
Sin embargo, es notable que estos dos funcionarios de extremos opuestos del espectro político llegaran a un diagnóstico idéntico sobre el euro. La convergencia es un indicio de la creciente sensación de necesidad de una unión fiscal y, llegado el caso, política si ha de mantenerse el euro sin perjudicar el desempeño económico o los valores democráticos. El presidente francés, Emmanuel Macron, ha propuesto ideas similares. Y, no hace mucho, el líder de los socialdemócratas de Alemania, Martin Schulz, también respaldó firmemente un "Estados Unidos de Europa".
Pero también existe una visión alternativa y mucho menos ambiciosa, según la cual no es necesaria ni una unión fiscal ni una unión política. Lo que hay que hacer, en cambio, es desvincular las finanzas privadas de las finanzas públicas, aislando a cada una de ellas de la negligencia de la otra. 
Con esta separación, las finanzas privadas se pueden integrar plenamente a nivel europeo, mientras que las finanzas públicas son responsabilidad de cada uno de los estados miembro. De esta manera, los países pueden recoger todo el beneficio de la integración financiera mientras que las autoridades políticas nacionales quedan en libertad de administrar sus propias economías. Bruselas ya no sería el ogro que insiste con la austeridad fiscal y genera la ira de los países con un alto desempleo y un bajo crecimiento.
Martin Sandbu del Financial Times ha venido defendiendo firmemente la visión de que una unión monetaria y fiscal viable no requiere de una integración fiscal. Él cree que la reforma crítica es impedir los rescates bancarios por parte de las autoridades públicas. Los dueños y acreedores de los bancos deberían hacerse cargo del costo de los rescates bancarios; deberían existir salvatajes internos en lugar de rescates por parte de terceros.
Sandbu sostiene que esto no sólo aislaría las finanzas públicas de las imprudencias de los bancos; también conduciría a un equilibrio que imita la distribución del riesgo fiscal entre los países que son prestatarios netos y los países que son prestadores netos. Cuando los bancos dentro del primer grupo quiebran, son los acreedores en el segundo grupo los que asumen el costo. "Con una unión bancaria, no hay necesidad de una unión fiscal", sostiene.
En un libro de inminente publicación, el economista Barry Eichengreen de la Universidad de California en Berkeley también se pronuncia a favor de la renacionalización de la política fiscal, algo que considera esencial para frenar la ola de populismo europeo. Eichengreen piensa que devolver la política fiscal a las autoridades nacionales requeriría impedir que los bancos acumulen demasiada deuda gubernamental, para minimizar el riesgo de que la mala gestión fiscal nacional haga caer el sistema bancario. Los gobiernos que quiebran tendrían que restructurar sus deudas en lugar de recibir rescates de otros estados de la UE.
Quienes defienden cortar el nudo gordiano entre las finanzas privadas y públicas reconocen que la estrategia de los gobiernos con los bancos debe cambiar radicalmente para que esta separación funcione. Pero no está claro si los remedios que proponen van a funcionar. Mientras la política económica siga siendo competencia de los gobiernos nacionales, el riesgo soberano probablemente siga distorsionando la operación de las finanzas transfronterizas. Los estados soberanos siempre pueden cambiar las reglas ex post, lo que significa que la integración financiera total es imposible. Y los costos de las sacudidas financieras locales no se pueden diversificar tan fácilmente.
Consideremos lo que sucede cuando un banco grande quiebra en Estados Unidos -una unión económica donde ya se aplican las reglas de Sandbu y Eichengreen-. Los derrames económicos regionales están limitados por el hecho de que otros prestatarios pueden seguir funcionando normalmente: la solvencia está determinada por los elementos fundamentales de un prestatario y no por su estado de residencia. Nadie espera que un gobierno estatal interfiera en los pagos entre estados, reescriba las reglas de quiebra o emita su propia moneda en caso de una crisis extrema.
Los gobiernos estatales en Estados Unidos ejercen poca soberanía en gran parte porque la necesitan menos: sus residentes reciben transferencias del centro y envían a sus representantes a Washington para ayudar a redactar la política federal.
Pero los estados miembro de la UE están en una posición muy diferente frente a las instituciones de la UE en Bruselas. Como retienen la soberanía, no pueden comprometerse de manera igualmente creíble a no interferir con los mercados financieros. De manera que sigue existiendo el riesgo de que una sacudida financiera lo suficientemente fuerte en la UE afecte a todos los otros prestatarios en el mismo país de manera determinante. Pretender que podemos separar las finanzas públicas de las privadas puede exacerbar, más que moderar, los ciclos financieros de expansión y contracción.
En las sociedades contemporáneas, las finanzas deben cumplir un fin público más allá de la lógica de la rentabilidad del mercado financiero. De manera que están irrevocablemente politizadas -por buenas y por malas razones-. Pareciera que los responsables de las políticas, conservadores y progresistas por igual, se están resignando a esta realidad.