L'Europe a-t-elle vraiment besoin d'une union budgétaire et politique ?
CAMBRIDGE – L'ancien ministre des Finances de la Grèce, le très combattif Yanis Varoufakis, et son homologue rival allemand Wolfgang Schäuble, se sont livrés bataille autour de la dette grecque pendant tout le mandat de Varoufakis. Ils étaient toutefois entièrement d'accord s'agissant de la question centrale du futur de la zone. Pour l'un comme pour l'autre, l'union monétaire exigeait une union politique. Aucune voie intermédiaire n'était possible.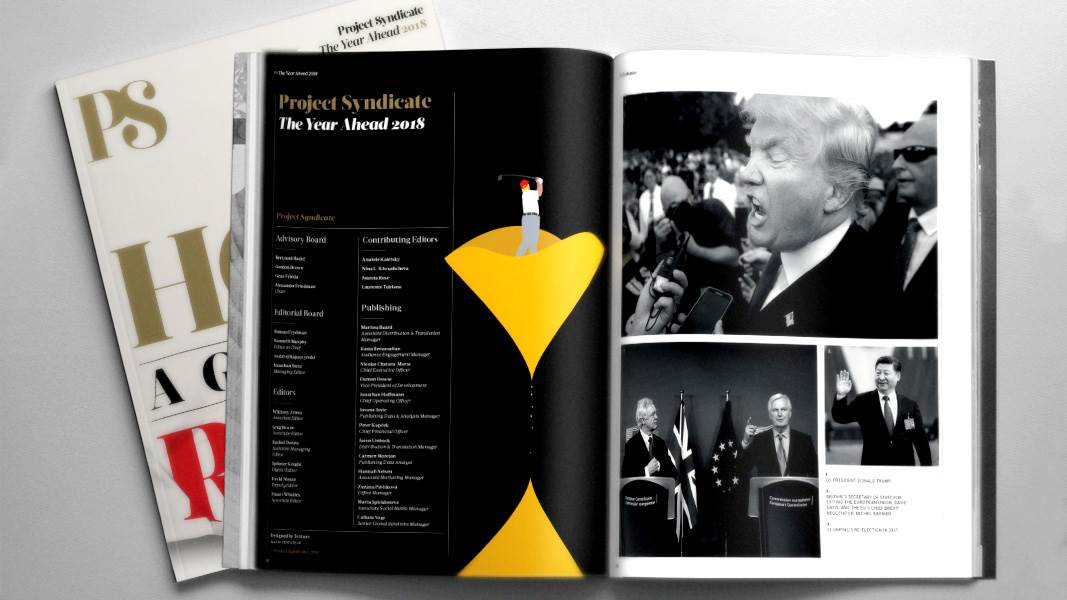 The Year Ahead 2018
The world's leading thinkers and policymakers examine what's come apart in the past year, and anticipate what will define the year ahead.
C'est l'une des révélations intéressantes du livre fascinant de Varoufakis, qui relate son expérience au poste de ministre des Finances. « Vous êtes probablement le seul [au sein de l'Eurogroupe] à avoir compris que la zone euro n'était pas viable, » aurait confié Schäuble à Varoufakis. « La zone euro est mal construite. Il ne fait aucun doute que nous avons besoin d'une union politique. »
Bien entendu, Schäuble et Varoufakis avaient chacun une conception différente des finalités d'une telle union politique. Schäuble voyait l'union politique comme un moyen d'imposer depuis le centre une solide discipline budgétaire aux États membres, de sorte qu'ils aient les mains liées et ne puissent mettre en œuvre des politiques « irresponsables ». De son côté, Varoufakis pensait que l'union politique permettrait d'atténuer l'étranglement de son économie par les créanciers, et de ménager un espace pour des politiques progressistes en Europe.
Il est remarquable que ces deux dirigeants, aux antipodes sur l'échiquier politique, soient parvenus à un même diagnostic concernant l'euro. Cette convergence révèle le sentiment grandissant d'une nécessité d'union budgétaire puis politique, si l'euro entend se maintenir sans mettre à mal la performance économique ou les valeurs démocratiques. Le président français Emmanuel Macron a formulé des idées similaires. Ces derniers jours, le chef du Parti social-démocrate allemand, Martin Schulz, s'est également dit favorable à la création des « États-Unis d'Europe ».
Il existe néanmoins une alternative, une vision beaucoup moins ambitieuse, dans laquelle l'union budgétaire et politique n'est pas nécessaire. Dans cette conception, il s'agirait davantage de dissocier la finance privée de la finance publique, pour isoler l'une de la malfaisance de l'autre.
Grâce à cette séparation, la finance privée pourrait être pleinement intégrée au niveau européen, tandis que la finance publique relèverait des États membres dans leur individualité. Les États pourraient ainsi profiter de tous les bénéfices de l'intégration financière, tandis que les autorités politique nationales resteraient libres dans la gestion de leur propre économie. Bruxelles ne serait plus l'épouvantail auquel beaucoup reprochent d'imposer l'austérité budgétaire, et de causer du tort aux pays présentant un taux de chômage élevé ainsi qu'une faible croissance.
Martin Sandbu, du Financial Times, est un fervent partisan de cette conception dans laquelle une union monétaire et financière opérationnelle n'exigerait pas une intégration budgétaire. Il considère en effet que la réforme la plus essentielle consisterait à empêcher les sauvetages de banques par les autorités publiques. Le coût des faillites bancaires serait alors supporté par les propriétaires des banques et par les créanciers ; les renflouements deviendraient internes plutôt qu'externes.
Pour Sandbu, ceci permettrait non seulement d'isoler la finance publique de la folie des banques, mais produirait également un équilibre équivalent à un partage des risques budgétaires entre les pays emprunteurs nets et les pays prêteurs nets. En cas de faillite des banques chez les emprunteurs, le coût serait supporté par les prêteurs. « Avec l'union bancaire, nul besoin d'une union budgétaire, » affirme ainsi Sandbu.
Dans un ouvrage à paraître, l'économiste Barry Eichengreen, de l'Université de Californie de Berkeley, prône également une renationalisation de la politique budgétaire, qu'il considère essentielle pour endiguer la vague populiste européenne. Eichengreen estime que restituer la politique budgétaire aux autorités nationales exigerait d'empêcher les banques de détenir une dette publique trop importante, afin de minimiser le risque de voir la mauvaise gestion budgétaire bouleverser le système bancaire. Les gouvernements entrant en faillite devraient alors restructurer leur dette, plutôt que de bénéficier d'un sauvetage de la part d'autres États de l'UE.
Ceux qui souhaitent défaire le nœud gordien qui lie la finance privée à la finance publique reconnaissent que l'approche des gouvernements à l'égard des banques devra radicalement changer, si cette séparation entend fonctionner. Nul ne sait néanmoins si les remèdes qu'ils proposent fonctionneront. Tant que la politique économique relèvera de la compétence des gouvernements nationaux, le risque souverain continuera probablement de distendre le fonctionnement de la finance transfrontalière. Les États souverains peuvent toujours modifier les règles a posteriori, ce qui signifie qu'une pleine intégration financière est impossible. En outre, les coûts des chocs financiers locaux ne peuvent être diversifiés aussi facilement.
Songez à ce qu'il arrive lorsqu'une grande banque fait faillite aux États-Unis – union économique dans laquelle les règles de Sandbu et Eichengreen s'appliquent déjà. Les retombées économiques régionales sont limitées par le fait que les autres emprunteurs puissent continuer d'opérer normalement : la solvabilité est déterminée par les fondamentaux d'un emprunteur, pas par son État de résidence. En situation d'extrême difficulté, nul ne s'attend à voir le gouvernement d'un seul État interférer dans les paiements inter-États, réécrire les règles de la faillite, ou émettre sa propre monnaie.
Les gouvernements des États américains n'exercent qu'une souveraineté limitée, principalement parce qu'ils en ont moins besoin : leurs citoyens reçoivent des transferts en provenance du centre, et envoient leurs représentants à Washington pour contribuer à l'élaboration de la politique fédérale.
Les États membres de l'UE sont dans une position très différente vis-à-vis des institutions de l'UE à Bruxelles. Dans la mesure où ils conservent leur souveraineté, ils ne peuvent s'engager de manière aussi crédible à ne pas interférer avec les marchés financiers. Par conséquent, le risque demeure de voir un grave choc financier dans l'UE affecter tous les autres emprunteurs dans le même pays, de manière autoréalisatrice. Prétendre pouvoir séparer la finance publique de la finance privée pourrait ainsi exacerber – plutôt qu'atténuer – les cycles financiers d'expansion et récession.
Dans les sociétés actuelles, la finance doit servir un intérêt public, au-delà de la logique de rentabilité des marchés financiers. Elle est donc nécessairement politisée – pour de bonnes comme de mauvaises raisons. Il semble que les décideurs politiques conservateurs comme progressistes commencent à accepter cette réalité.
Traduit de l'anglais par Martin Morel