Opravdu Evropa potřebuje fiskální a politickou unii?
CAMBRIDGE – Bývalý řecký ministr financí, bojovný Yanis Varufakis, a jeho nezdolný protivník, bývalý německý ministr financí Wolfgang Schäuble, byli po celou dobu Varufakisova působení v úřadu na kordy kvůli řeckému dluhu. Když ale došlo na stěžejní otázku budoucnosti eurozóny, byli zajedno. Měnová unie vyžaduje politickou unii. Střední cesta neexistuje.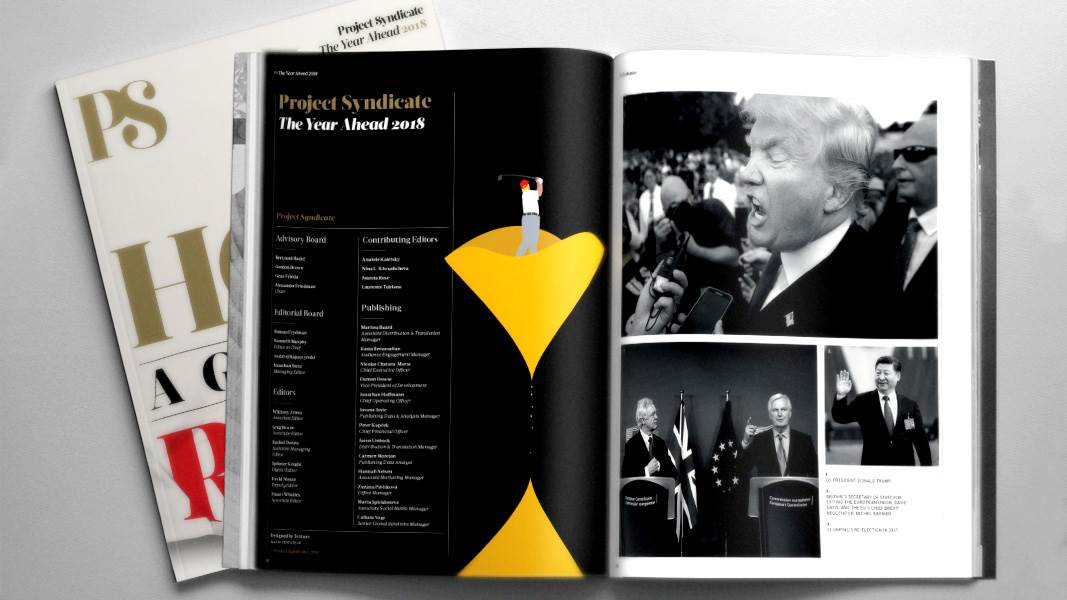 The Year Ahead 2018
The world's leading thinkers and policymakers examine what's come apart in the past year, and anticipate what will define the year ahead.
To je jedno ze zajímavých odhalení ve Varufakisově strhujícím záznamu o působení ve funkci ministra financí. "Jste patrně [v rámci euroskupiny] jediný, kdo chápe, že eurozóna je neudržitelná," cituje Varufakis, co mu údajně řekl Schäuble. "Eurozóna je konstruována chybně. Měli bychom mít politickou unii, o tom není pochyb."
Samozřejmě, Schäuble a Varufakis měli odlišné představy, k jakým účelům by politická unie sloužila. Schäuble na politickou unii hleděl jako na prostředek, jak si z centra vynutit přísnou fiskální kázeň v členských státech, svázat jim ruce a znemožnit "nezodpovědné" hospodářské politiky. Varufakis se domníval, že politická unie by uvolnila věřitelskou smyčku kolem krku jeho ekonomiky a vytvořila napříč Evropou prostor pro pokrokovou politiku.
Je nicméně pozoruhodné, že tito dva přestavitelé z opačných konců politického spektra dospěli k téže diagnóze eura. Tato sbíhavost je příznačná pro sílící pocit nutnosti fiskální a v posledku politické unie, má-li být euro zachováno bez újmy na hospodářské výkonnosti či demokratických hodnotách. Podobné úvahy předložil francouzský prezident Emmanuel Macron. Rovněž lídr německých sociálních demokratů Martin Schulz v posledních dnech přidal svou váhu na stranu "Spojených států evropských".
Existuje ale i alternativní, mnohem méně ambiciózní názor, podle něhož není nutná ani fiskální, ani politická unie. Namísto toho je třeba přetnout vazbu mezi soukromými a veřejnými financemi a vzájemně je izolovat od deliktů toho druhého.
Při takovém oddělení mohou být soukromé finance na evropské úrovni plně integrované, kdežto veřejné finance zůstanou jednotlivým členským státům. Země tak mohou těžit ze všech výhod finanční integrace a přitom národním politickým orgánům zůstane volnost při správě vlastních ekonomik. Brusel by přestal být strašákem, který naléhá na fiskální přísnost a přivolává na sebe hněv zemí s nízkým růstem a vysokou nezaměstnaností.
Pevným zastáncem názoru, že fungující měnová a finanční unie nevyžaduje fiskální integraci, je Martin Sandbu z Financial Times. Je přesvědčen, že zásadní reformou je zabránit sanacím bank ze strany orgánů veřejné moci. Cenu za úpadky bank by měli platit jejich vlastníci a věřitelé; potřebujeme spíš sanace z vnitřních zdrojů než zvnějšku.
Sandbu tvrdí, že by to nejen izolovalo veřejné finance od pošetilostí bank, ale také by to vedlo k rovnováze kopírující fiskální sdílení rizik mezi zeměmi, které jsou na jedné straně čistými vypůjčovateli a na druhé čistými věřiteli. Když selžou banky v první skupině, náklady ponesou věřitelé ve druhé. "S bankovní unií není fiskální unie zapotřebí," tvrdí.
Ekonom z Kalifornské univerzity v Berkeley Barry Eichengreen ve své chystané knize také obhajuje opětovné znárodnění fiskální politiky, které považuje za zásadní pro zastavení vlny evropského populismu. Eichengreen se domnívá, že pro návrat fiskální politiky národním orgánům by bylo nezbytné znemožnit bankám držet příliš mnoho vládního dluhu, aby se minimalizovalo riziko, že nedostatky národního fiskálního řízení rozkymácí bankovní soustavu. Krachující vlády by musely restrukturalizovat své dluhy, ne čerpat výpomoc z ostatních států EU.
Zastánci přetnutí gordického uzlu mezi soukromými a veřejnými financemi si uvědomují, že toto oddělení by fungovalo, jedině kdyby se radikálně změnil přístup vlád k bankám. Není ale jasné, zda by se jimi navrhovaná řešení osvědčila. Dokud bude hospodářská politika v působnosti národních vlád, fungování přeshraničního finančnictví bude pravděpodobně dál pokřivováno suverénním rizikem. Svrchované státy mohou vždy měnit pravidla ex post, což znamená, že úplná finanční integrace není možná. A náklady lokálních finančních šoků nelze tak snadno rozložit do šíře.
Zamysleme se nad tím, co se stane, když zkrachuje velká banka v USA – hospodářské unii, kde už Sandbuho a Eichengreenova pravidla platí. Přelévání regionálních ekonomických vlivů omezuje fakt, že ostatní dlužníci mohou dál normálně fungovat: o úvěruschopnosti nerozhoduje, v jakém státě dlužník sídlí, nýbrž jeho fundamenty. Nikdo neočekává, že by vláda státu zasahovala do mezistátních plateb, přepisovala úpadková pravidla nebo v případě krajní nouze vydala vlastní měnu.
Vlády států v USA disponují nevelkou svrchovaností z velké části proto, že ji mají méně zapotřebí: jejich obyvatelé dostávají transfery z centra a vysílají své zástupce do Washingtonu, aby tam přispívali k vytváření federální politiky.
Členské státy EU jsou však vůči bruselským institucím EU v diametrálně odlišném postavení. Zachovávají si suverenitu, a tak nemohou učinit obdobně věrohodné závazky, že nebudou zasahovat do finančních trhů. Přetrvává tedy riziko, že dostatečně závažný finanční šok v EU sebenaplňujícím způsobem ovlivní všechny ostatní dlužníky v téže zemi. Předstírání, že dokážeme soukromé finance oddělit od veřejných, může cyklus finančních vzestupů a propadů spíš zhoršit než zmírnit.
V současných společnostech musí finance sloužit veřejnému účelu mimo logiku ziskovosti finančního trhu. Proto jsou nezvratně zpolitizované – z dobrých i zlých důvodů. S touto skutečnosti se, zdá se, smiřují konzervativní i progresivní tvůrci politik.
Z angličtiny přeložil David Daduč