La revolución desde arriba de Arabia Saudita
BERLÍN – Siete años después de que la Primavera Árabe desató una ola de fervor revolucionario en gran parte de Oriente Medio y el norte de África, Arabia Saudita finalmente está poniéndose al día, claro que a su manera peculiar. Una generación más joven está exigiendo que el reino archiconservador se modernice, y no está siendo liderada por revolucionarios en las calles, sino por Mohammed bin Salman (MBS), el príncipe de la corona y aparente heredero del país, de 32 años.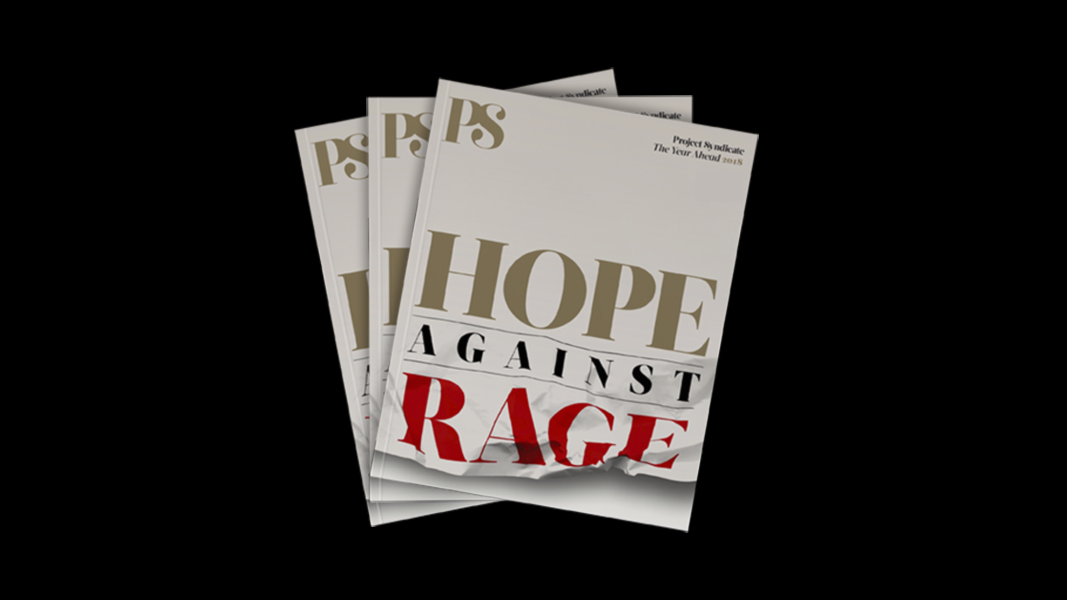 The Year Ahead 2018
The world's leading thinkers and policymakers examine what's come apart in the past year, and anticipate what will define the year ahead.
En términos de población y geografía, Arabia Saudita es uno de los países árabes más grandes, y su impactante riqueza petrolera lo ha convertido en un socio estratégico indispensable para Occidente, y particularmente para Estados Unidos. Pero, por tratarse de un país atrapado entre la Edad Media islámica y la modernidad occidental, siempre ha soportado contradicciones extremas. Infraestructura de última generación y centros comerciales al estilo norteamericano han llegado a La Meca y a Medina, hogar de los sitios sagrados más importantes del Islam.
Sin embargo, inclusive hoy, Arabia Saudita alberga a una sociedad tribal antioccidental, gobernada por una familia, la Casa de Saúd, como una monarquía obsoleta desde la fundación del país en 1932. Sus códigos morales y legales parecen medievales vistos desde afuera. Y adhiere a la versión reaccionaria extrema del Islam conocida como wahabismo, una doctrina salafista en la que abrevan muchos de los grupos islamistas más radicales de hoy.
Debido a la caída de largo plazo de los precios del petróleo y la necesidad de ofrecer educación y empleo a una población joven en rápido crecimiento -que de otra manera podría inclinarse por el extremismo- el rey Salman y MBS aparentemente han llegado a la conclusión de que el país necesita modernizarse. Para evitar una caída lenta, o inclusive una eventual desintegración, están tomando medidas para abrir el país, no sólo económicamente sino también social y culturalmente.
Este mes, MBS -que parece haber estudiado la propia consolidación del poder del presidente chino, Xi Junping- ordenó lo que el gobierno saudí describió como una purga anticorrupción. Decenas de príncipes de alto nivel, ministros de Relaciones Exteriores y empresarios adinerados e influyentes ya han sido arrestados y sus cuentas han sido congeladas. La purga se produjo no mucho después de un anuncio de que a las mujeres sauditas ya no se les podrá prohibir conducir vehículos o asistir a eventos deportivos públicos. Claramente, el nuevo liderazgo en Arabia Saudita pretende orquestar una verdadera revolución desde arriba.
Pero, no olvidemos, el último gobernante autocrático en Oriente Medio que intentó puentear al clérigo islámico de su país y llevar adelante una revolución de arriba hacia abajo fue el Sha de Persia, Mohammad Reza Pahlevi. Él y su "Revolución Blanca" terminaron siendo arrasadas por la Revolución Islámica de Irán en 1979.
Es de esperar que a la revolución de MBS le vaya mejor. Si fracasa, los salafistas radicales que asumirán el poder en Riad harán que los mullás iraníes parezcan liberales. Si logra modernizar el principal bastión del Islam reaccionario, estarán sentadas las bases para que otros países del mundo islámico hagan lo mismo.
Como parte de su agenda, MBS también ha lanzado una nueva política exterior agresiva, particularmente hacia Irán. Los modernizadores que rodean a MBS saben que el éxito de la revolución exigirá quebrar el poder del wahabismo reemplazándolo con un nacionalismo saudita. Y, para lograrlo, necesitan un enemigo convincente. El Irán chiita, con el cual el reino compite por la hegemonía regional, es el complemento ideal.
Estas consideraciones domésticas ayudan a explicar por qué Arabia Saudita lanzó el guante y escaló las tensiones con Irán en los últimos meses. Por supuesto, desde la perspectiva de los sauditas, no están más que recogiendo el guante que Irán ya les lanzó al interferir en Irak, Siria, Líbano, Baréin, Qatar, Yemen y otros países.
Hasta ahora, la batalla por la hegemonía regional entre Arabia Saudita e Irán se ha limitado a guerras indirectas en Siria y Yemen, con consecuencias humanitarias desastrosas. Ningún bando, al parecer, quiere un conflicto militar directo. Y, sin embargo, ese resultado prácticamente no se puede descartar, dados los acontecimientos recientes. En Oriente Medio, una guerra fría puede calentarse rápidamente.
En el largo plazo, la rivalidad saudita-iraní forjará a Oriente Medio de la misma manera que alguna vez lo hizo el conflicto palestino-israelí. Consideremos, por ejemplo, un episodio que ocurrió apenas horas antes de que MBS lanzara su purga anticorrupción: el primer ministro libanés, Saad Hariri, durante una visita a Arabia Saudita, anunció su renuncia al cargo. Según Hariri, Hezbollah, el grupo militante y partido político chiita alineado con Irán, con el cual su gobierno tenía una relación de reparto de poder, había hecho imposible gobernar el Líbano, y era probable que hubiera estado planeado su asesinato.
Pero Hariri, cuyo padre, el ex primer ministro libanés Rafic Hariri, fue asesinado en 2005, planteó más preguntas que respuestas. ¿Por qué irse del gobierno ahora? ¿Estaba actuando bajo presión saudita y, de ser así, con qué objetivo?
Poco después del anuncio de Hariri, Arabia Saudita interceptó un misil que los rebeldes hutíes en Yemen habían disparado contra Riad. Según Arabia Saudita, como los hutíes están respaldados por Irán, su intento de ataque con un misil fue equivalente a un "acto de guerra" iraní.
Esta oleada de acontecimientos inusuales en tan poco tiempo no puede ser una coincidencia. El interrogante ahora es si la guerra civil regresará al Líbano, y si Arabia Saudita intentará involucrar a Israel y a Estados Unidos en una confrontación con Hezbollah para hacer presión contra Irán.  
Por ahora, los sauditas carecen del poder para hacerlo por su cuenta. En los últimos años, Arabia Saudita ha sufrido derrotas importantes en la lucha regional por la hegemonía. La minoría sunita fue derrocada del poder en Irak; y el régimen de Bashar al-Assad respaldado por Irán ha logrado mantenerse en el poder en Siria. MBS puede estar buscando maneras de compensar estas derrotas, en el Líbano o en otra parte.
La revolución desde arriba de Arabia Saudita es una empresa de alto riesgo que los observadores neutrales deben analizar con ambivalencia. Si bien no puede permitirse que fracase, dadas las consecuencias que traería aparejadas, es probable que su éxito esté acompañado de un incremento dramático de las tensiones regionales y la posibilidad de una guerra.