Een Saudische revolutie van bovenaf
BERLIJN – Zeven jaar nadat de Arabische lente een golf van revolutionair elan tot gevolg had in het grootste gedeelte van het Midden-Oosten en Noord-Afrika komt Saudi-Arabië eindelijk langszij, alhoewel op zijn eigen unieke manier. Een jongere generatie eist dat het aartsconservatieve koninkrijk moderniseert, en deze wordt niet aangevoerd door revolutionairen op straat, maar door Mohammed bin Salman (MBS), de 32-jarige kroonprins en troonopvolger van het land.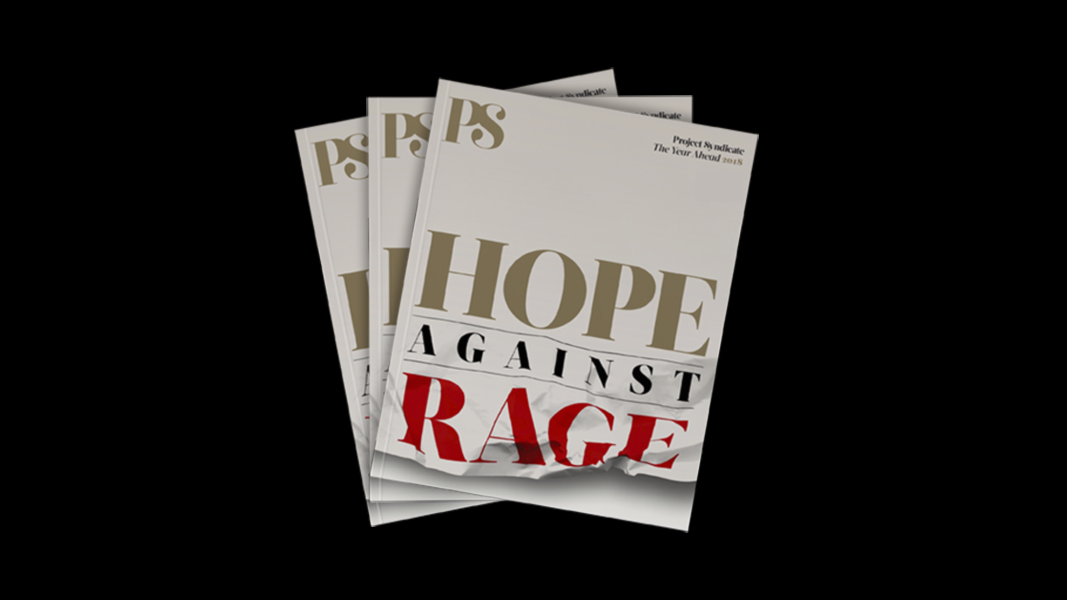 The Year Ahead 2018
The world's leading thinkers and policymakers examine what's come apart in the past year, and anticipate what will define the year ahead.
Qua bevolking en geografie is Saudi-Arabië één van de grootste Arabische landen, en zijn gigantische olierijkdom heeft het tot een onmisbare strategische partner van het Westen gemaakt, en in het bijzonder van de VS. Maar als land dat klem zit tussen de Islamitische middeleeuwen en de Westerse moderniteit heeft het altijd extreme tegenstellingen geaccepteerd. De modernste infrastructuur en op Amerikaanse leest geschoeide winkelcentra hebben inmiddels Mekka en Medina, de belangrijkste heilige plaatsen van de Islam, bereikt.
Maar Saudi-Arabië is tot op de dag van vandaag een antiwesterse stammenmaatschappij, die sinds de stichting van het land in 1932 geregeerd wordt als absolute monarchie door één  familie, het huis van Saud. De moraal en wetten lijken voor de meeste buitenstaanders middeleeuws. En het land hangt de extreem reactionaire versie van de islam aan die bekend staat als Wahabisme, een salafistische doctrine die de meeste van de hedendaagse radicale islamistische groeperingen beïnvloedt.
Door de lange termijn daling van de olieprijzen en de noodzaak om onderwijs en werkgelegenheid te bieden aan een snelgroeiende jonge bevolking – die zich anders wellicht tot extremisme zal wenden – hebben Koning Salman en MBS schijnbaar geconcludeerd dat het land moet moderniseren. Om een langzaam verval of zelfs een uiteindelijke desintegratie te voorkomen nemen ze maatregelen om het land open te breken, niet alleen economisch maar ook sociaal en cultureel.
Eerder deze maand beval MBS – die de machtsconsolidatie van de Chinese president Xi Jinping lijkt te hebben bestudeerd – een wat de Saudische regering heeft omschreven als een tegen corruptie gerichte zuivering. Er zijn reeds tientallen hoge prinsen, voormalige ministers, en rijke en invloedrijke zakenlui gearresteerd, en hun bankrekeningen zijn bevroren. Deze zuivering kwam kort na een aankondiging dat het Saudische vrouwen niet langer verboden is om auto te rijden of openbare sportevenementen te bezoeken. Het is helder dat Saudi-Arabië een waarachtige revolutie van bovenaf wil orkestreren.
Maar laten we niet vergeten dat de laatste autocratische heerser in het Midden-Oosten die probeerde om de islamitische geestelijkheid van zijn land te passeren en een revolutie van bovenaf uit te voeren de Sjah van Perzië was, Mohammed Reza Pahlavi. Hij en zijn 'Witte Revolutie' werden uiteindelijk weggevaagd door de Iraanse Islamitische revolutie van 1979.
Je mag alleen maar hopen dat de revolutie van MBS een beter lot beschoren is. Wanneer deze faalt zullen de radicale salafisten die dan de macht gaan grijpen in Riyad de Iraanse moellahs liberaal laten lijken. Wanneer deze er wel in slaagt om het leidende bastion in de reactionaire islam te moderniseren wordt er een speelveld gecreëerd voor andere landen door de hele islamitische wereld om dit ook te doen.
Als onderdeel van zijn agenda heeft MBS ook een agressief nieuw buitenlands beleid gelanceerd, vooral naar Iran. De vernieuwers rond MBS weten dat een succesvolle revolutie zal vergen de macht van het Wahabisme te breken door het te vervangen met Saudisch nationalisme. Om dat te doen hebben ze een overtuigende vijand nodig. Het sjiitische Iran, waarmee het Koninkrijk om regionale hegemonie strijdt, is het ideale doelwit.
Deze binnenlandse overwegingen helpen te verklaren waarom Saudi-Arabië de knuppel in het hoenderhok heeft gegooid en de spanningen met Iran afgelopen maanden heeft laten escaleren. Vanuit het Saudische perspectief echter pakken ze natuurlijk slechts de handschoen op die Iran al eerder wierp door zich te bemoeien met Irak, Syrië, Libanon, Bahrein, Qatar, Jemen, en andere landen.
Tot nu toe is de strijd om regionale hegemonie tussen Saudi-Arabië en Iran beperkt gebleven tot oorlogen bij volmacht in Syrië en Jemen, met desastreuze humanitaire gevolgen. Het lijkt erop dat geen van beide kanten een direct militair conflict wil. En toch kan die uitkomst gegeven de huidige ontwikkelingen bepaald niet uitgesloten worden. In het Midden-Oosten kan een koude oorlog vrij snel heet worden.
Op de lange termijn zal de Saudisch-Iraanse rivaliteit het Midden-Oosten op ongeveer de zelfde manier vorm gaan geven als het Israëlisch-Palestijnse conflict dat ooit deed. Neem bijvoorbeeld een episode die zich voltrok slechts uren voordat MBS zijn anti-corruptie zuivering lanceerde: de Libanese premier Saad Hariri kondigde terwijl hij Saudi-Arabië bezocht zijn aftreden aan. Volgens Hariri had de aan Iran gelieerde sjiitische militante groepering en politieke partij Hezbollah, waarmee zijn regering de macht deelt, het besturen van Libanon onmogelijk gemaakt, en plotte hem te vermoorden.
Maar Hariri, wiens vader de voormalig premier van Libanon Rafik Hariri in 2005 werd vermoord, wierp meer vragen op dan dat hij antwoorden bood. Waarom nu aftreden? Opereerde hij onder Saudische druk? En zo ja, tot welk doel?
Kort na de aankondiging van Hariri onderschepte Saudi-Arabië een raket die Huti-rebellen in Jemen op Riyad hadden afgevuurd. Volgens Saudi-Arabië stond hun poging tot een raketaanval omdat de Huti worden gesteund door Irak gelijk aan een Iraanse 'oorlogsdaad.'
Deze storm van ongebruikelijke ontwikkelingen in korte tijd kan nauwelijks toeval zijn. De vraag is nu of er weer een burgeroorlog zal ontstaan in Libanon, en of Saudi-Arabië zal proberen Israël en de VS te betrekken in een confrontatie met Hezbollah om Iran terug te drijven.
Op dit moment hebben de Saudi's niet genoeg macht om dit alleen te doen. De afgelopen jaren heeft Saudi-Arabië grote nederlagen geleden in de regionale strijd om hegemonie. De Soennitische minderheid is in Irak de mcht ontnomen, en Bashar al-Assad's door Iran gesteunde regime heeft het voor elkaar gekregen om in Syrië aan de macht te blijven. MBS zoekt waarschijnlijk naar manieren om deze nederlagen te compenseren, in Libanon of elders.
De Saudische revolutie van bovenaf is een hoogst riskante onderneming die neutrale observators met ambivalentie beschouwen moeten. Alhoewel deze gegeven de consequenties  hiervan niet mag mislukken zal het succes ervan waarschijnlijk vergezeld worden van een dramatische vergroting van de regionale spanningen en kans op oorlog.
Vertaling Melle Trap