La révolution d'en haut en Arabie saoudite
BERLIN – Sept ans après que le Printemps arabe a déclenché une vague de ferveur révolutionnaire dans la plupart de la région du Moyen-Orient et de l'Afrique du Nord, l'Arabie saoudite rattrape enfin son retard, tout en gardant sa propre façon de faire. La jeune génération exige que le Royaume archi-conservateur se modernise et qu'il soit dirigé non pas par des révolutionnaires dans les rues, mais par Mohammed ben Salman (MBS), le prince et héritier présomptif, âgé de 32 ans.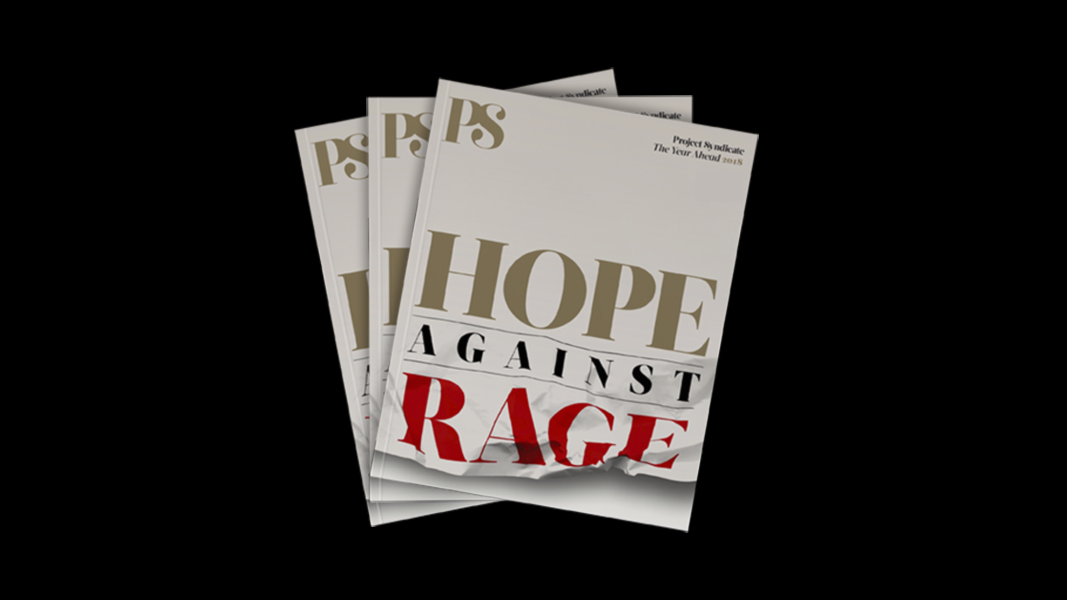 The Year Ahead 2018
The world's leading thinkers and policymakers examine what's come apart in the past year, and anticipate what will define the year ahead.
En termes de population et de géographie, l'Arabie saoudite est l'un des plus grands pays arabes et ses incroyables richesses en pétrole en font un partenaire stratégique indispensable pour l'Occident, en particulier pour les États-Unis. Mais comme ce pays est tiraillé entre un Moyen-Âge islamique et la modernité occidentale, il est traversé depuis toujours par des contradictions extrêmes. Une infrastructure de pointe et des centres commerciaux de style américain se sont implantés à La Mecque et à Médine, qui abritent les plus importants lieux saints de l'Islam.
Mais même à ce jour, l'Arabie saoudite est habitée par une société tribale anti-occidentale, dirigée par une famille, la Maison des Saoud, qui dirige une monarchie absolue depuis la fondation de ce pays en 1932. Ses codes moraux et juridiques ont un aspect médiéval pour la plupart des étrangers. Et elle adhère à la version extrême de l'Islam réactionnaire connue sous le nom de wahhabisme, une doctrine salafiste qui influence la plupart des groupes islamistes radicaux.
En raison de la diminution à long terme des prix du pétrole et de la nécessité de fournir une éducation et des emplois à une population jeune en croissance rapide - qui, autrement, risquerait de se tourner vers l'extrémisme - le Roi Salman et MBS en ont apparemment conclu que le pays avait besoin de se moderniser. Pour éviter un lent déclin, ou même une éventuelle désintégration, ils prennent des mesures visant à ouvrir le pays non seulement sur le plan économique, mais également social et culturel.
Ce mois-ci, MBS - qui semble avoir étudié la consolidation du pouvoir du président chinois Xi Jinping, - a ordonné des actes que le gouvernement saoudien a décrits comme étant une purge anti-corruption. Dès à présent, des dizaines de dirigeants de haut niveau, d'anciens ministres et des hommes d'affaires riches et influents ont été arrêtés et ont eu leurs avoirs gelés. La purge est survenue peu de temps après l'annonce que les femmes saoudiennes seraient autorisées à conduire des automobiles ou à assister à des événements sportifs. De toute évidence, le nouveau pouvoir de l'Arabie saoudite a l'intention d'orchestrer une véritable révolution d'en haut.
Mais ne l'oublions pas, le dernier dirigeant autocratique du Moyen-Orient qui a tenté de contourner le clergé islamique de son pays et d'effectuer une révolution était le Shah d'Iran, Mohammad Reza Pahlavi. Lui et sa « Révolution blanche » ont fini par être balayés par la Révolution islamique d'Iran en 1979.
On ne peut qu'espérer que la révolution de MBS connaisse un meilleur sort. Si elle échoue, les salafistes radicaux qui vont prendre le pouvoir à Riyadh feront ressembler les mollahs iraniens à des libéraux. S'il réussit à moderniser le bastion de l'Islam réactionnaire, il va ouvrir la voie à d'autres pays du monde islamique.
Dans le cadre de son ordre du jour, MBS a également lancé une nouvelle politique étrangère agressive, en particulier à l'égard de l'Iran. Les modernisateurs de l'entourage de MBS savent que le succès de la révolution va impliquer de briser le pouvoir du wahhabisme en le remplaçant par un nationalisme saoudien. Et pour ce faire, ils ont besoin d'un ennemi. L'Iran chiite, avec lequel le Royaume est en concurrence pour l'hégémonie régionale, est le faire-valoir idéal.
Ces considérations nationales aident à expliquer pourquoi l'Arabie saoudite a lancé le défi et intensifié ses tensions avec l'Iran au cours des derniers mois. Bien sûr, selon la version des Saoudiens, ils ont simplement relevé le gant que l'Iran leur a lancé par leur interférence en Irak, en Syrie, au Liban, à Bahreïn, au Qatar, au Yémen et dans d'autres pays.
Jusqu'à présent, la bataille pour l'hégémonie régionale entre l'Arabie saoudite et l'Iran s'est limitée à des guerres par procuration en Syrie et au Yémen, aux conséquences humanitaires désastreuses. Aucun des deux camps ne semble vouloir un conflit militaire direct. Et pourtant ce résultat peut difficilement être écarté, compte tenu de son évolution récente. Au Moyen-Orient, une guerre froide peut rapidement tourner au conflit ouvert.
À long terme, la rivalité entre les Saoudiens et l'Iran va façonner le Moyen-Orient à peu près de la même manière que le conflit israélo-palestinien. Considérons par exemple, un épisode qui a eu lieu quelques heures avant que MBS ne lance sa lance purge anti-corruption : le Premier ministre libanais Saad Hariri, durant sa visite en Arabie saoudite, a annoncé sa démission de ses fonctions. Selon Hariri, le groupe militant chiite et le parti politique du Hezbollah aligné sur l'Iran, avec lequel son gouvernement a une relation de partage du pouvoir, l'empêche de gouverner le Liban et a peut-être organisé des tentatives de meurtre à son encontre.
Mais Hariri, dont le père, l'ancien Premier ministre libanais Rafic Hariri a été assassiné en 2005, a suscité plus de questions qu'il n'a fourni de réponses. Pourquoi quitter le pouvoir maintenant ? A-t-il agi sous la pression saoudienne ? Et si oui, à quelle fin ?
Peu après l'annonce de M. Hariri, l'Arabie saoudite a intercepté un missile que les rebelles Houthi du Yémen avaient lancé sur Riyadh. Selon l'Arabie saoudite, parce que les Houthis sont soutenus par l'Iran, leur tentative de tir de missile était l'équivalent d'un « acte de guerre. »
Cette vague de développements inhabituels en un laps de temps aussi court n'est sûrement pas une coïncidence. La question est maintenant de savoir si la guerre civile sera de retour au Liban et si l'Arabie saoudite va essayer d'impliquer Israël et les États-Unis dans une confrontation avec le Hezbollah pour repousser l'Iran.
Pour l'instant, les Saoudiens n'ont pas le pouvoir d'entreprendre tout cela à eux seuls. Ces dernières années, l'Arabie saoudite a subi de graves défaites dans sa lutte pour l'hégémonie régionale. La minorité sunnite a été évincée du pouvoir en Irak et le régime de Bachar el-Assad soutenu par l'Iran a réussi à se maintenir au pouvoir en Syrie. MBS recherche peut-être des moyens de compenser ces défaites, au Liban ou ailleurs.
La révolution d'en haut en Arabie saoudite est une entreprise à hauts risques que des observateurs neutres doivent considérer dans toute son ambivalence. Bien que l'échec en cette matière ne soit pas une option étant donné ses implications éventuelles, un succès risque d'entraîner une augmentation spectaculaire des tensions régionales et la possibilité d'une guerre.