Saudi-Arabien und die Revolution von oben
BERLIN – Nun also doch! Sieben Jahre nach dem Arabischen Frühling hat es auch Saudi-Arabien erwischt. Wenn auch auf eine etwas andere, dem Königreich angemessene Weise. Auch in diesem erzkonservativen arabischen Königreich ist es eine junge Generation, nur diesmal nicht gegen die Institutionen und die etablierte Macht gerichtet, sondern innerhalb des Staates und an der Spitze seiner Macht, die auf eine fundamentale Modernisierung des Landes setzt, angeführt von dem jungen Kronprinzen, Mohammed bin Salman (auch in Kurzform MBS genannt).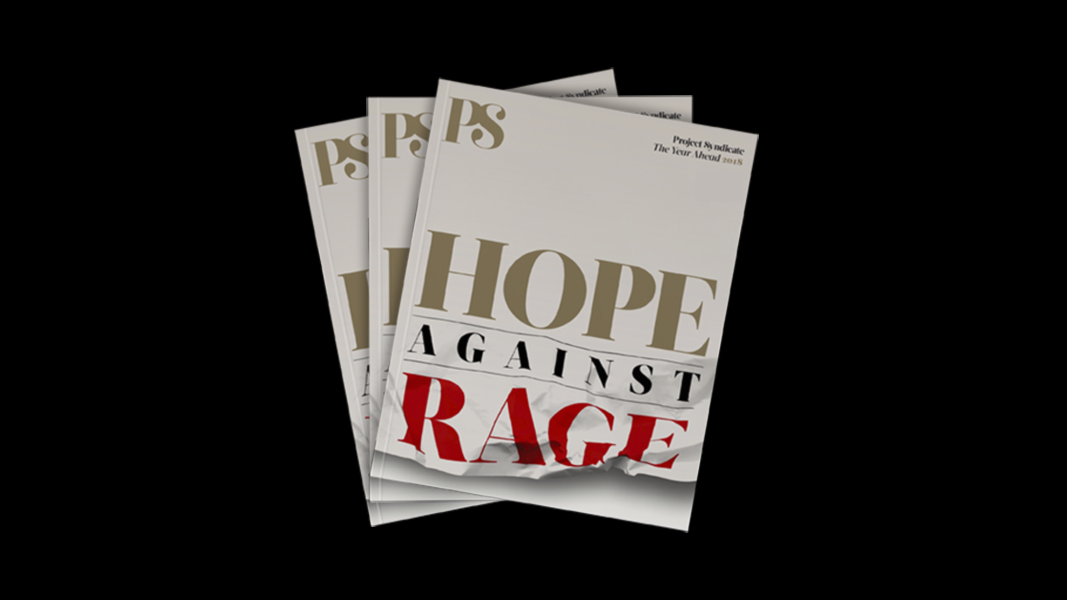 The Year Ahead 2018
The world's leading thinkers and policymakers examine what's come apart in the past year, and anticipate what will define the year ahead.
Saudi-Arabien war schon immer ein extrem widersprüchliches Land, im Spagat zwischen islamischem Mittelalter und westlicher Moderne. Gründend auf einem sagenhaften Reichtum, den es seinen gewaltigen Rohölreserven verdankt, war es für den Westen und vor allem für die USA ein unverzichtbarer strategischer Partner im Nahen Osten.
Zugleich gehört das Land zu den bevölkerungsreichsten und flächenmäßig größten arabischen Ländern. Mit Mekka und Medina befinden sich zudem zwei der wichtigsten heiligen Stätten des Islams auf saudischem Boden. Einerseits verfügt es über moderne Großstädte mit moderner Infrastruktur und Shopping Malls nach US-amerikanischem Vorbild, andererseits ist es auch heute noch eine Stammesgesellschaft und antiwestlich. Zudem eine absolute Monarchie, die von einer Familie – den Saud – seit der Staatsgründung 1932 kontrolliert und geführt wird, und folgt einem fast mittelalterlich anmutenden Moral- und Rechtskodex und wird von einer extrem reaktionären und radikalen Variante des Islam dominiert, dem Wahabismus, der die religiöse Grundlage und Weltsicht für die verschiedensten Arten des Salafismus und damit der meisten radikalen islamistischen Gruppen in der Gegenwart liefert.
König Salman und der Kronprinz sind angesichts des langfristigen Ölpreisverfalls, dem absehbaren Ende des Ölzeitalters und der schnell wachsenden, jungen Bevölkerung die Ausbildung, Jobs und eine Zukunftsperspektive braucht, soll sie sich nicht zunehmend radikalisieren, offensichtlich zu der Überzeugung gelangt, dass das Land tiefgreifend modernisiert und gegenüber der Moderne auch sozial und kulturell geöffnet werden muss, wenn es nicht langsam absteigen, immer schwächer werden und am Ende gar vom Zerfall bedroht werden soll.
Spätestens die jüngste Verhaftungswelle unter dem Vorwand der Korruptionsbekämpfung (man könnte geradezu meinen, MBS habe direkt von Xi Jinping und dessen Antikorruptionskampagne in China gelernt!) von Prinzen, ehemaligen Ministern und sehr reichen und einflussreichen Geschäftsleuten, in Verbindung mit der Ankündigung, das Verbot für Frauen, Auto zu fahren und öffentliche Sportveranstaltungen zu besuchen, aufzuheben, hat sichtbar gemacht, dass unter der neuen Führung in Saudi-Arabien nichts Geringeres geplant ist als eine veritable Revolution von oben.
Allerdings sei hier ein Menetekel nicht vergessen: Das letzte Mal, dass ein nahöstlicher autokratischer Herrscher eine solche Revolution von oben in direkter Konfrontation mit dem islamischen Klerus und den islamischen Traditionen seines Landes versucht hatte, war der Schah von Persien mit seiner "weißen Revolution" gewesen, und wir wissen, wie das 1979 endete.
Man kann deshalb nur hoffen, dass die saudische Revolution von oben diesmal gelingen wird, denn sollte sie scheitern, dann würden in Riad sehr viel radikalere, salafistische Kräfte die Macht übernehmen, gegenüber denen die iranischen Mullahs wie Liberale wirken würden.
Angesichts der Bedeutung des Landes für den Nahen Osten wird der Ausgang dieser saudischen Revolution von oben maßgeblich die Zukunft der gesamten Region beeinflussen. Denn sollte die Modernisierung dieses Bollwerks der islamischen Reaktion gelingen, wird das einen großen Modernisierungsimpuls nicht nur für den Nahen Osten, sondern für die ganze islamische Welt bedeuten.
Verbunden damit ist eine neue, militärisch gestützte, aggressive Außenpolitik vor allem gegenüber dem Iran. Was steckt hinter dieser aggressiven neuen Außenpolitik? Die Antwort lautet: Innenpolitik. 
Die Modernisierer um MBS wissen, dass sie die innenpolitische Macht des Wahabismus und der wahabitischen Religionsgelehrten brechen müssen, wenn die Revolution von oben nicht scheitern soll. Sie wollen diesen extrem rückwärtsgewandten Islam durch ein saudi-arabisches Nationalbewusstsein und Nationalismus ersetzen. Dazu bedarf es aber eines Feindes und einer Mission: Der Feind ist der schiitische Iran, die Mission der Kampf gegen den Iran um die Hegemonie in der Region.
Aus diesem Grund hat Saudi-Arabien Teheran faktisch den Fehdehandschuh im Kampf um die regionale Hegemonie hingeworfen. Aus ihrer Sicht haben die Saudis diesen jedoch lediglich aufgenommen, der Iran hat aus ihrer Sicht im Irak, Syrien, Libanon, Bahrain, Katar und schließlich auch im Jemen diesen Kampf begonnen. Bisher beschränkt sich dieser Hegemonialkonflikt noch auf Stellvertreterkriege, wie in Syrien und im Jemen mit katastrophalen humanitären Folgen. Einen direkten militärischen Zusammenstoß der sunnitischen Regionalmacht Saudi-Arabien und der schiitischen Regionalmacht Iran scheint im Augenblick keiner der Akteure zu wollen, er ist aber angesichts der jüngsten Entwicklungen auch nicht auszuschließen. Im Nahen Osten kann aus einem kalten schnell ein heißer Krieg werden.
Dieser Hegemonialkonflikt zwischen Saudi-Arabien und Iran wird den neuen Nahen Osten in den kommenden Jahren prägen, so wie der israelisch-palästinensische Konflikt es im alten Nahen Osten getan hat. Der israelisch-palästinensische Konflikt ist aber mitnichten vorüber oder gar verschwunden, im Gegenteil. Er hat nur seine Bedeutung für die Region, seine strukturierende Kraft verloren.
Wenige Stunden vor der jüngsten Verhaftungswelle im Königreich überschlugen sich die Ereignisse. Der libanesische Ministerpräsident, Saad Hariri, der sich im Königreich aufhielt, war von seinem Amt mit der Begründung zurückgetreten, dass die schiitische Hisbollah in Verbindung mit dem Iran ein Regieren im Libanon unmöglich machen würde und er, wie sein Vater, ermordet werden sollte. Nun, dies ist alles andere als neu, und so stellen sich in Verbindung mit diesem Rücktritt viele Fragen: Warum jetzt? Handelte Hariri gar unter saudischem Druck? Wenn ja, was bezweckt Riad mit diesem Schritt? Zudem wurde Riad aus dem Jemen heraus von den vom Iran unterstützten Huthi-Rebellen mit einer Rakete beschossen. Saudi-Arabien sah dies als eine Kriegserklärung des Irans an. Es war dies eine kaum zufällige Häufung von Merkwürdigkeiten.
Kehrt der Bürgerkrieg nach dem Libanon zurück? Will Saudi-Arabien die Konfrontation mit der Hisbollah unter Einbeziehung Israels und der USA, um so ein Exempel für das Rollback des Irans zu setzen, zu dem es allein und aus eigener Kraft nicht in der Lage ist? Für Saudi-Arabien waren sowohl der Verlust der Macht durch die sunnitische Minderheit im Irak als auch der syrische Bürgerkrieg schwere Niederlagen in der hegemonialen Auseinandersetzung um die Vorherrschaft in der Region. Sucht der Kronprinz jetzt einen Ausgleich dafür im Libanon unter mehr oder weniger freiwilliger Mithilfe Israels und der USA?
Die Revolution von oben in Saudi-Arabien ist ganz offensichtlich ein Hochrisikounternehmen und hinterlässt bei einem neutralen Beobachter ein zwiespältiges Gefühl, denn einerseits darf sie nicht scheitern, da die Konsequenzen eines solchen Scheiterns bekannt sind, andererseits erhöht sie auf dramatische Weise die Spannungen, ja die Kriegsgefahr in der Region. Der Nahe Osten sortiert sich neu.