Wie die Russen Trump sehen
NEW YORK – Ich bin Amerikanerin, geboren in Moskau. Und deswegen hat mein Amerkanischsein einmal so etwas wie eine nationale Debatte in Russland ausgelöst, ganz anders als bei Augie March, einer Figur von Saul Bellow. In einigen Schulbüchern stand die Frage, ob es richtig oder falsch wäre, dass Nina Chruschtschowa amerikanische Bürgerin geworden ist. Ich überlasse es Ihnen zu raten, welchen Standpunkt die meisten Menschen einnahmen, besonders die Sowjet-Generation.
Man kann zwar eine Russin aus Russland herauslösen, aber es ist doch nicht möglich, Russland aus der Russin herauszubekommen. Zu einer Zeit also, in der die US-Politik eine so bizarre Wende genommen hat, kann meine russisch gefärbte Brille meinen Mitbürgern in Amerika vielleicht helfen, die Situation etwas zu verstehen.
Aus meiner Sicht sieht es ganz danach aus, als seien einige der unangenehmsten und perversesten Merkmale der russischen Politik auch in den USA vorhanden. Die große Lüge - erfunden in Nazi-Deutschland, perfektioniert in der Sowjetunion und meisterhaft ausgeübt durch den russischen Präsidenten Wladimir Putin - ist heute ein wichtiger Bestandteil der Präsidentschaftskampagne von Donald Trump.
Bisher ist Trump mit seinen Lügen davongekommen. Die Medien waren hauptsächlich was Lenin "nützliche Idioten" nannte: so darauf erpicht, mit Trump ihre eigenen Quoten zu verbessern, dass sie nicht bemerkten oder es ihnen egal war, dass sie damit auch seine Quoten verbesserten. Es ist daher kein Wunder, dass ein ermutigter Trump jetzt immer frecher lügt.
Nachdem er beispielsweise Jahre damit verbrachte, die so genannte Birther-Bewegung anzuführen, die behauptete, Präsident Obama sei nicht in den USA geboren und könne daher das Amt des Präsidenten nicht ausüben, erklärte er, es sei tatsächlich seine Gegnerin Hillary Clinton gewesen, die die Kontroverse 2008 initiiert habe. Es oblag angeblich ihm, Trump, dieses Gerücht aus der Welt zu schaffen. "Präsident Barack Obama", erklärte er triumphierend (als hätte es darüber jemals irgendwelche Zweifel gegeben), "wurde in den USA geboren. Punkt."
Es wird behauptet, die Medien würden sich nun angesichts dieser dreisten Verlogenheit gegen Trump wenden. Seine Behauptung, Clinton habe das Gerücht in die Welt gesetzt, war wohl tatsächlich zu lächerlich, um sie zu ignorieren. Und dennoch hat er noch immer gute Umfragewerte, was darauf schließen lässt, dass viele seiner Unterstützer bereit sind, seine offenkundigen Lügen zu glauben - oder sie zumindest zu übersehen.
Subscribe to Project Syndicate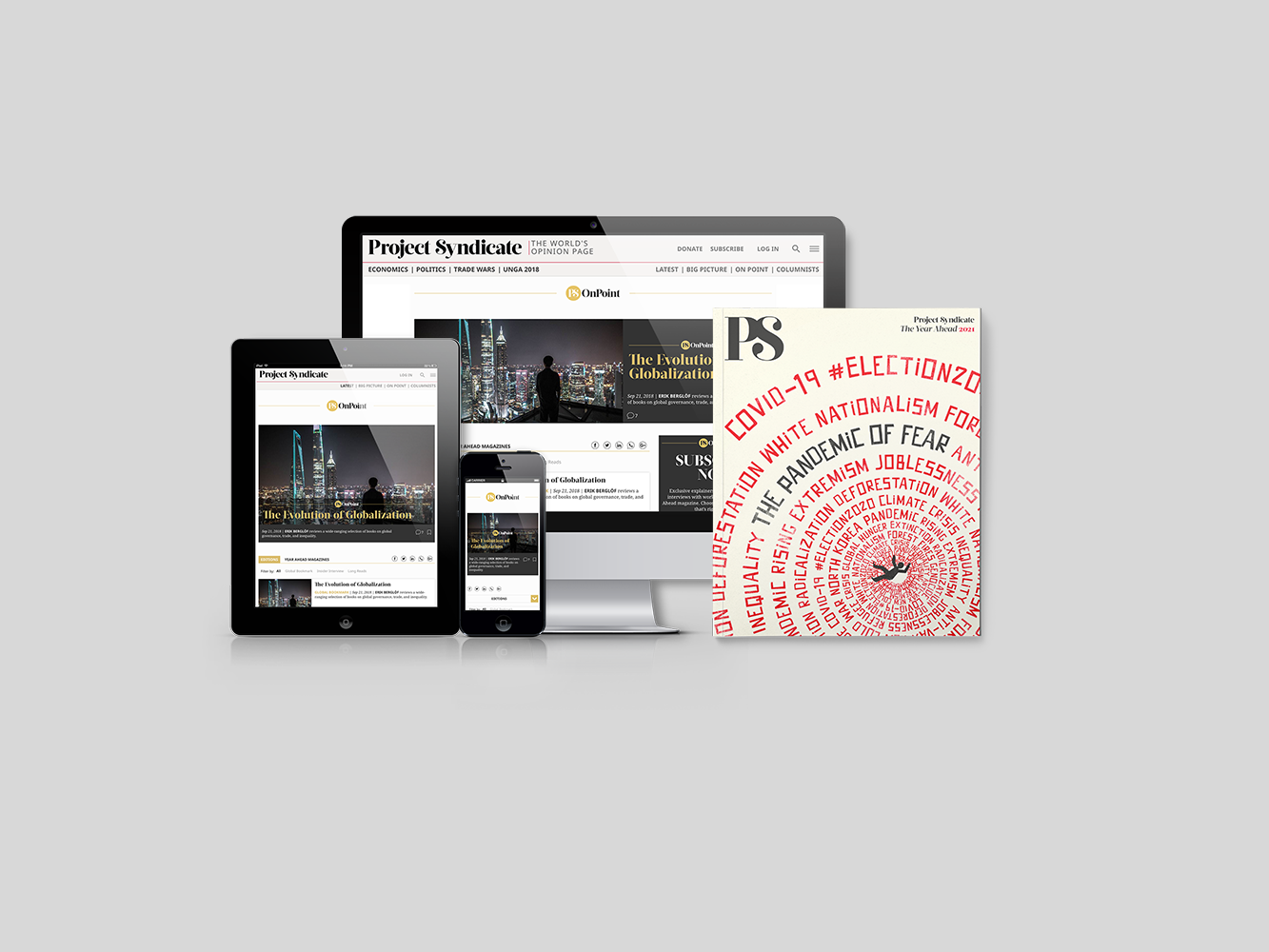 Subscribe to Project Syndicate
Enjoy unlimited access to the ideas and opinions of the world's leading thinkers, including weekly long reads, book reviews, topical collections, and interviews; The Year Ahead annual print magazine; the complete PS archive; and more – for less than $9 a month.
Das spiegelt teilweise vielleicht ein weiteres "russisches" Merkmal des aktuellen US-Wahlkampfes: die Macht der Oligarchen. Der erste post-sowjetische Präsident Russlands, Boris Jeltsin, hatte eine Abmachung mit den wohlhabendsten Bürgern des Landes: sie würden seine Wiederwahlkampagne finanzieren, dafür hätten sie privilegierten Zugang zu den Kronjuwelen der russischen Industrie, wenn diese privatisiert würden.
Ähnlich hässliche Geschäfte werden heute in den USA gemacht, dank einer anderen Gruppe nützlicher Idioten: Den konservativen Richtern des Obersten Gerichtshofes der USA, die Amerika 2010 die berüchtigte "Citizens United"-Entscheidung beschert haben. Diese Entscheidung erweiterte den verfassungsmäßigen Schutz der freien Rede auf Spenden für politische Wahlkämpfe und beseitigte damit alle Beschränkungen der Macht des Geldes über die Politik. In Russland müssen sich die Oligarchen Putin gegenüber verantworten. In den USA hingegen sieht es so aus, als seien die Politiker den Oligarchen gegenüber rechenschaftspflichtig, die deren Geld verwenden, um normale Bürger zu manipulieren.
Beweisstück A ist Rupert Murdoch, Vorsitzender und ehemaliger CEO von News Corporation und 21st Century Fox. Über die Jahre haben die Zeitungen von Murdoch eine führende Rolle dabei gespielt, die EU zu verunglimpfen und damit auch zum Brexit beigetragen. Jetzt, da Murdoch als CEO von Fox News Roger Ailes abgelöst hat, nachdem dieser inmitten eines Wirbels an Vorwürfen der sexuellen Belästigungen zurückgetreten war, scheint er es als seine Mission anzusehen, US-Wähler dazu zu drängen, eine schreckliche Wahl zu treffen. Seitdem Murdoch im Juli übernommen hat, geht es bei Fox News nur noch um Donald Trump, nicht mehr um Nachrichten. Moderatoren, die Trump einst kritisch sahen, bieten jetzt nur noch Banalitäten. Und Ailes berät offen Trumps Kampagne.
Die vielleicht enttäuschendste Parallele zwischen Russlands Vergangenheit und Amerikas Gegenwart ist etwas, was ich das Schweigen der Böcke nenne: die Weigerung derjenigen, die Einfluss haben, aufzustehen und dem Irrsinn ein Ende zu setzen. Die Oktoberrevolution in Russland war 1917 hauptsächlich deswegen erfolgreich, weil die Gegner der Bolschewiken so beschäftigt waren, ihre eigenen Positionen und ihr Prestige zu schützen, dass sie sich nicht gegen sie vereinten.
Heute gehen einflussreiche Republikaner mehr oder weniger denselben Weg. Natürlich sind einige führende Republikaner gegen Trump. Der ehemalige Gouverneur von Massachusetts, Mitt Romney, hat in den vergangenen Monaten hart gearbeitet, um Trump als den gefährlichen Betrüger zu entlarven, der er ist.
Zudem haben 50 hochrangige republikanische Sicherheitsbeamte einen Brief unterzeichnet, in dem sie warnen, "Trump sei eine Bedrohung für die Sicherheit und den Wohlstand des Landes." Die Senatoren Lindsay Graham und Ben Sasse haben Trump auch als eine Bedrohung für die amerikanische Freiheit und den Weltfrieden bezeichnet. Und der ehemalige Präsident George H. W. Bush hat bereits verlauten lassen, dass er Clinton wählen wird. Diese Republikaner beweisen wahren Patriotismus, indem sie das Land vor die Partei stellen.
Aber wie sieht es aus mit Paul Ryan, dem aktuellen Sprecher des Repräsentantenhauses? Wenn Ryan wirklich der erwachsene katholische Messdiener ist, als den er sich gerne bezeichnet, warum kritisiert er nicht Trumps rassistische Erklärungen, die ihn immer mehr der Ultra-Rechten annähern, seine unehrlichen Geschäftspraktiken und erratischen außenpolitischen Positionen? Stattdessen tut er so, als sei Trump der amerikanischen Präsidentschaft würdig und riskiert, sein Land zu verlieren (wenn nicht seine Seele), nur weil Trump vielleicht irgendwann einmal irgendeine Politik umsetzt, die Ryan unterstützt.
Und schließlich, wo sind all die vielen alten republikanischen Löwen? Wenn sie verhindern wollen, dass Trump den guten Ruf ihrer Partei - und die Zukunft des Landes - zerstört, dann sollten sie bald mal mit dem Brüllen beginnen. Und doch hält sich der ehemalige Präsident George W. Bush zurück, scheinbar erbitterter darüber, dass Trump seinen Bruder Jeb in den Primaries geschlagen hat, als getrieben von der Bedrohung, die Trump darstellt. James Baker, der sowohl unter Ronald Reagan als auch unter George H. W. Bush gedient hat, hat öffentlich noch kein Wort gesagt, genauso wenig George Shultz, Henry Kissinger, Condoleezza Rice oder Dick Cheney. Wir wissen, dass Colin Powell Trump verabscheut, aber nur, weil seine E-Mails geleakt wurden.
Als Jeltsin zurücktrat, hat er Russland der Gnade seines von ihm selbst ausgewählten Nachfolgers Putin überlassen. Für ihre Partei, ihre eigene Ehre und ihren eigenen Ruf sollten sich die alten Löwen jetzt öffentlich von Trump distanzieren, damit ein ähnlicher Schaden von ihrem - und meinem - Land abgewehrt werden kann.
Aus dem Englischen von Eva Göllner.