Трамп Русскими глазами
НЬЮ-ЙОРК – Я американка, родилась в Москве. И благодаря этому, мое американство, в отличие от Оджи Марч Сола Беллоу, однажды вызвало в России своего рода национальную дискуссию. В некоторых случаях, школьные учебники задавались вопросом, было ли правильным или неправильным для Нины Хрущевой, стать гражданкой Америки. Я оставлю вас догадаться, какой позиции придерживалось большинство людей, особенно то, Советское поколение.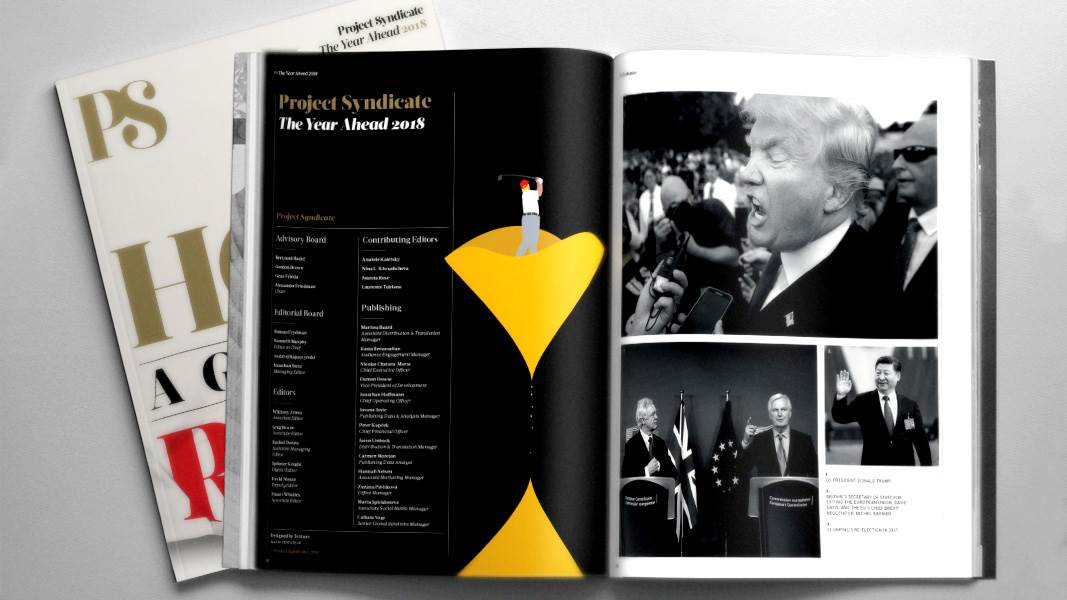 The Year Ahead 2018
The world's leading thinkers and policymakers examine what's come apart in the past year, and anticipate what will define the year ahead.
 В конце концов, если вы можете вывезти Русскую с её родины, вы не можете вывезти Россию из неё. Поэтому, в условиях, когда политика США приняла такой ​​странный поворот, возможно, моя Русская точка зрения может помочь моим Американским согражданам ее понять.
В действительности, с моей точки зрения, многие из скверных и самых порочных особенностей Российской политики кажется, сегодня, также присутствуют в Соединенных Штатах. Большая Ложь – изобретенная в Нацистской Германии, усовершенствованная в Советском Союзе, и мастерски освоенная Президентом России Владимиром Путиным – сегодня является основным компонентом президентской кампании Дональда Трампа.
До сих пор, Трампу, с его ложью позволялось выйти сухим из воды. Средства массовой информации, будучи теми, кого Ленин называл "полезными идиотами", настолько стремились использовать Трампа, для повышения своих рейтингов, что не заметили или их не волновало, что они также его продвигают. Тогда не удивительно, что в настоящее время, ложь, преподносимая осмелевшим Трампом, зависит лишь от все более захватывающего дух безрассудства.
Например, после долгих лет управления так называемым движением "заговора о рождении" – которое утверждало, что Президент Барак Обама не родился в США, и поэтому ему конституционно запрещено занимать свою должность – Трамп заявил, что на самом деле, эту полемику выдумала его противник, Хиллари Клинтон, еще в 2008 году. По-видимому, именно Трамп, ее "завершил". "Президент США Барак Обама", триумфально заявил он (как будто действительно никогда не было никаких сомнений), "родился в США. Точка".
Некоторые говорят, что в результате такой лживой бравурности, средства массовой информации, в настоящее время отворачиваются от Трампа. Действительно, его утверждение "рожденца" о Клинтон, кажется, было настолько нелепым, что его невозможно было не заметить. Тем не менее, его рейтинги национального общественного мнения остаются высокими, это говорит о том, что многие его сторонники готовы верить – или, по крайней мере, не обращать внимания - его откровенной лжи.
Это отчасти может отражать другую "русскую" особенность нынешней избирательной кампании в США: власть олигархов. Первый в России пост-советский президент Борис Ельцин, заключал сделки с самыми богатыми гражданами страны: они должны были финансировать его кампанию по переизбранию, в обмен на привилегированный доступ к наибольшим ценностям Российской промышленности, так как они были приватизированы.
В настоящее время, подобные грязные сделки совершаются и в США, благодаря другой группе полезных идиотов: консервативным судьям Верховного суда США, которые дали Америке пресловутое решение 2010 года относительно Citizens United. Расширив конституционную защиту свободы слова для пожертвований на политические кампании, это решение отменило все ограничения власти денег над Американской политикой. В России олигархи ответственны перед Путиным. В США, напротив, кажется, что политики несут ответственность перед олигархами, которые используют свои деньги, чтобы манипулировать обычными гражданами.
Экспонатом А является Руперт Мердок, Председатель и бывший Генеральный директор News Corporation и 21st Century Fox. На протяжении многих лет, газеты Мердока играли ведущую роль в очернении Европейского Союза, тем самым содействуя осуществлению июньского голосования Brexit. Теперь, когда Мердок занял должность Роджера Эйлса, в качестве Генерального директора Fox News – после того, как Эйлс подал в отставку на фоне не утихающих обвинений в правонарушениях сексуального характера – он, кажется, сделал своей миссией, заставить американских избирателей, сделать столь же катастрофический выбор.Действительно, с приходом Мердока в июле, Fox News все свое внимание уделяет Трампу, а не новостям. Ведущие, которые когда-то высказывали свое беспокойство по поводу Трампа, теперь предлагают банальности. Что касается Эйлса, он открыто консультирует кампанию Трампа.
Пожалуй, самая разочаровывающая параллель между прошлым России и настоящим Америки состоит в том, что я называю молчание баранов: отказ от тех, кто в состоянии встать и остановить безумие. В России в 1917 году, Октябрьская революция удалась в значительной степени потому, что противники большевиков, чаще были слишком озабочены защитой своих собственных позиций и престижа, и им не удалось объединиться против большевиков.
Сегодня в США, влиятельные Республиканцы следуют тем же маршрутом. Безусловно, некоторые ведущие Республиканцы открыто выступают против Трампа. Бывший губернатор штата Массачусетс Митт Ромни, в последние несколько месяцев упорно трудился над тем, чтобы выставить Трампа опасным мошенником, кем он и является.
Более того, 50 самых высокопоставленных Республиканцев, представителей органов национальной безопасности Америки подписали письмо, предупреждая, что Трамп "поставил бы под угрозу национальную безопасность и благополучие нашей страны". Сенаторы Линдси Грэм и Бен Сасс также осудили Трампа, как угрозу американской свободе и международному миру. Бывший Президент Джордж Г.У. Буш, согласно сообщениям, будет голосовать за Клинтон. Эти республиканцы демонстрируют истинный патриотизм, поставив страну выше партии.
Но, что насчет Пола Райана, нынешнего Спикера Палаты представителей? Если Райан, действительно взрослый Католический послушник, кем он любит себя изображать, почему он не осуждает ксенофобские высказывания Трампа, углубляющиеся заигрывания с расистскими "альт-правыми", недобросовестные методы ведения бизнеса, и нестабильные позиции внешней политики? Вместо этого, он действует, как будто Трамп достоин Американского президентства, и рискует потерять свою страну (если не свою душу), потому что Трамп просто может проводить некоторую политику, которую поддерживает Райан.
И, наконец, где многие старые Республиканские львы? Если они не хотят допустить, чтобы Трамп обрек репутацию своей партии – и будущее своей страны – на верную смерть, им лучше зарычать в ближайшее время. И все же, бывший Президент Джордж Буш-младший остается в стороне, по-видимому, он более раздражен тем, что Трамп одержал победу над его братом Джебом на первичных выборах, чем оживлен угрозами, исходящими от Трампа. Джеймс Бейкер, который служил у Рональда Рейгана и Джорджа Г. У. Буша, публично не сказал ни слова; также этого не сделали Джордж Шульц, Генри Киссинджер, Кондолиза Райс, или Дик Чейни. Мы знаем, что Колин Пауэлл презирает Трампа, но только за то, что были преданы огласке его электронные письма.
Когда Ельцин ушел в отставку, он оставил Россию на милость избранного им преемника, Путина. В интересах своей партии и своей собственной чести и репутации, эти старые львы должны теперь открыто отречься от Трампа, чтобы подобный вред не был нанесен их – и моей – стране.