ترامب بعيون روسية
نيويورك - أنا أميركية، من مواليد موسكو. وبسبب ذلك، أثار أصلي الأمريكي، على عكس رواية سول بيلو "أوجي مارس"، مرة شيئا من النقاش الوطني في روسيا. في بعض الأماكن، سألت الكتب المدرسية الطلاب هل صحيح أم خطأ أن تصبح نينا خروشيفا مواطنة أمريكية. وأدعوكم لتتخيلوا أي موقف سَيُدَعم مُعظمُهم، ولاسيما الجيل السوفياتي.
بينما يمكنك أن تُخرج روسية من وطنها، لكن لا يمكنك أن تُخرج روسيا منها. لذلك، في الوقت الذي أخذت فيه السياسة الأمريكية منعطفا فريدا من نوعه، ربما تستطيع عدساتي الروسية الملونة أن تساعد زملائي الأميركيين على فهم مجرى الأمور.
في الواقع، من وجهة نظري، فإن العديد من ملامح السياسة الروسية الأكثر شرا وفسادا تبدو الآن موجودة في الولايات المتحدة أيضا. إن الكذبة الكبرى - اختُرعت في ألمانيا النازية، أتقنت في الاٍتحاد السوفيتي، واستُخدمت بخبرة من قبل الرئيس الروسي فلاديمير بوتين - هي اليوم العنصر الأساسي في حملة الاٍنتخابات الرئاسية لدونالد ترامب.
حتى الآن، قد سُمح لترامب أن ينجُو بأكاذيبه. وأصبحت وسائل الإعلام إلى حد كبير عبارة عن ما سماه لينين "بالأغبياء المفيدين". فوسائل الإعلام متحمسة جدا لاستخدام ترامب لرفع تصنيفاتهما الخاصة لكنها لم تلاحظ أنها تساعده على رفع تصنيفاته أيضا. ليس من المستغرب، إذن، أن يتلفظ ترامب الآن بأكاذيب أكثر اٍثارة من أي وقت مضى.
على سبيل المثال، بعد أن أمضى سنوات في قيادة ما يسمى بحركة "برثر" - التي تزعم أن الرئيس باراك أوباما لم يولد في الولايات المتحدة، وبالتالي كان ينبغي منعه دستوريا من تولي منصب الرئيس - أعلن ترامب أن خصمه هيلاري كلينتون، هي التي افتعلت هذا الجدل في عام 2008. وكان على ترامب "إنهاءه". وقد صرح مُبتهجا: "أكيد لقد وُلد الرئيس باراك أوباما في الولايات المتحدة." (كما لو كان هناك أي شك في ذلك من قبل).
يقول البعض إنه في أعقاب مثل هذا الكذب المتقن، بدأت وسائل الإعلام بمهاجمة ترامب. في الواقع، يبدو ادعاؤه الكاذب حول كلينتون سخيفا جدا لذلك لم يُؤخذ بعين الاٍعتبار. رغم ذلك لا تزال معدلات استطلاعات الرأي الوطني لصالحه قوية، مما يشير إلى أن العديد من أنصاره على استعداد لتصديقه - أو على الأقل التغاضي عن أكاذيبه الفظيعة.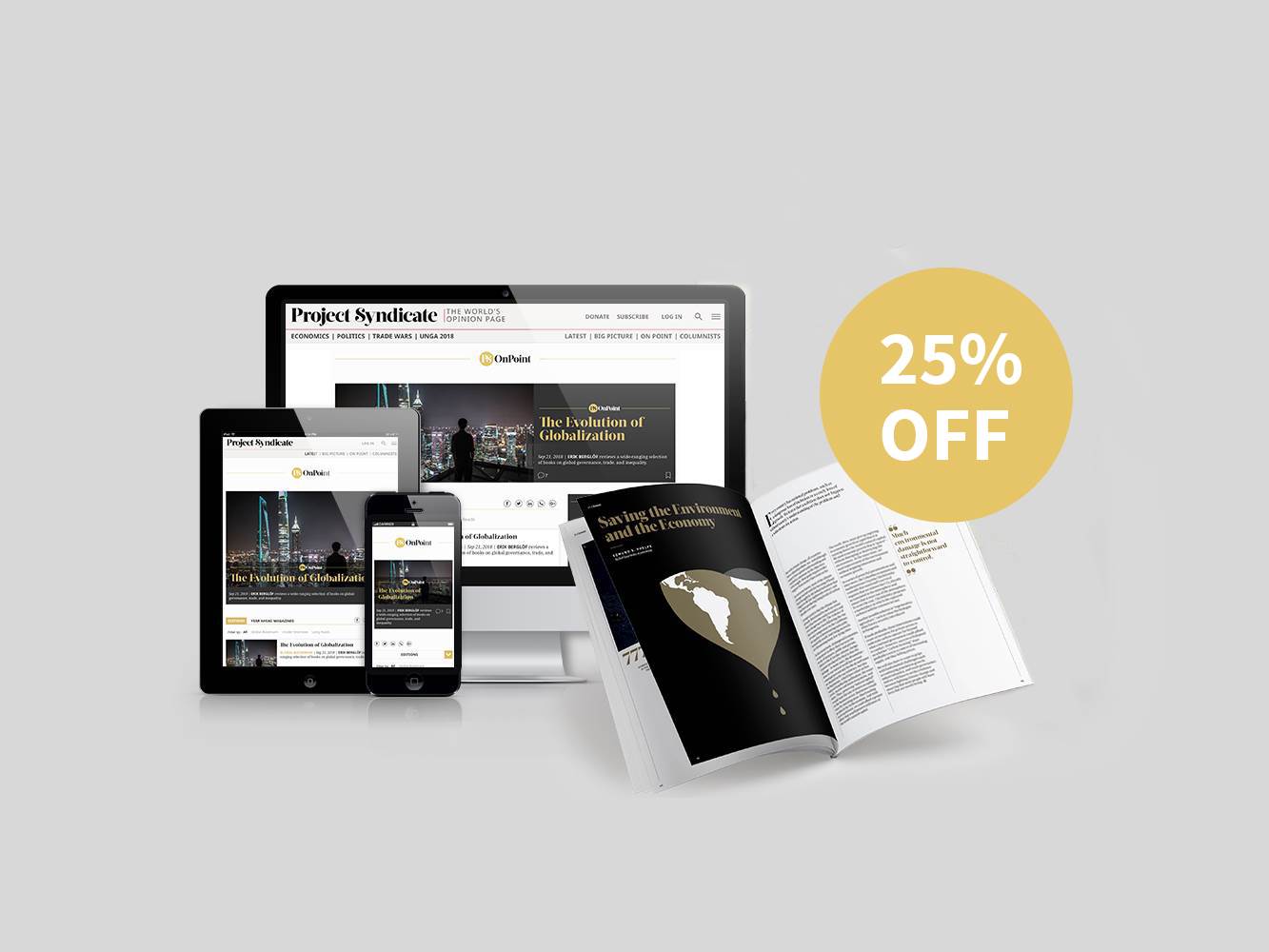 Subscribe now
For a limited time only, get unlimited access to On Point, The Big Picture, and the PS Archive, plus our annual magazine and a tote bag, for just $75.
قد يعكس هذا جزئيا ميزة "روسية" أخرى للحملة الاٍنتخابية الحالية للولايات المتحدة: قوة الأقلية. قام أول رئيس لروسيا بعد الاٍتحاد السوفيتي، بوريس يلتسين، بتفعيل اتفاقياته مع أغنى مواطني البلد: كانوا سيمولون حملته لإعادة انتخابه في مقابل الحصول على امتيازات في الصناعة الروسية لما تمت خصخصتها.
ويتم إبرام بصفقات سيئة مماثلة في الولايات المتحدة في الوقت الحاضر، وذلك بفضل مجموعة أخرى من الأغبياء المفيدين: القضاة المحافظون في المحكمة العليا في الولايات المتحدة الذين منحوا أمريكا عام 2010  قانون "سيتيزن يونايتد" الذي يسمح بالتبرعات المالية  لرجال الأعمال في الحملات السياسية. من خلال توسيع حماية حرية التعبير الدستورية لمانحي التبرعات في الحملة الانتخابية، أزال هذا القانون جميع القيود المفروضة على استعمال سلطة المال في السياسة الأمريكية. في روسيا، الأقلية القوية مسؤولة أمام بوتين. في الولايات المتحدة، على النقيض من ذلك، يبدو أن الساسة مسؤولون أمام الأقلية السائدة، التي تستخدم الأموال للمناورة والكذب على المواطنين العاديين.
البيان الأول هو روبرت مردوخ، الرئيس والمدير التنفيذي السابق لشبكة فوكس نيوز للقرن 21. على مر السنين، لعبت صحف مردوخ دورا قياديا في تشويه سمعة الاٍتحاد الأوروبي، مما ساعد على إحداث البريكست في يونيو الماضي. والآن بعد أن تسلم مردوخ منصب الرئيس التنفيذي لشبكة فوكس نيوز، من روجر اٍيلز - بعد أن استقال أيلز وسط ادعاءات سوء السلوك الجنسي - يبدو أنه مُصر على إجبار الناخبين في الولايات المتحدة على اتخاذ خيار كارثي مماثل. في الواقع، منذ تنصيب مردوخ في يوليو، أصبحت فوكس نيوز تركز فقط على ترامب، وليس على الأخبار. المضيفون الذين عبروا في السابق عن مخاوف بشأن ترامب يقدمون الآن برامج تافهة. أما بالنسبة لأيلز، فهو يساند حملة ترامب علنا.
ربما المقارنة الأكثر مخيبة للآمال بين ماضي روسيا وحاضر أميركا هو ما أسميه بصمت الأكباش: أي رفض أصحاب النفوذ الوقوف ضد مواقف معتوهة. في روسيا في عام 1917، نجحت ثورة أكتوبر إلى حد كبير لأن المعارضين البلاشفة، كانوا في كثير من الأحيان مهتمين أكثر بحماية مواقعهم وهيبتهم الخاصة، وفشلوا في الاتحاد والتضامن.
في الولايات المتحدة اليوم، يتبع الجمهوريون المؤثرون نفس النهج. ومن المؤكد أن بعض الجمهوريين الرائدين يعارضون ترامب علنا. عَمِل حاكم ماساتشوستس السابق ميت رومني جاهدا في الأشهر الأخيرة على فضح ترامب باعتباره محتالا خطيرا.
والأكثر من ذلك، فقد وقع 50 من كبار مسؤولي الأمن الوطني الجمهوري في أميركا رسالة تحذير تقول إن ترامب "من شأنه أن يضع في خطر الأمن القومي وسلامة بلادنا." وندد أعضاء مجلس الشيوخ ليندسي غراهام وبن ساس أيضا بترامب باعتباره تهديدا للحرية الأمريكية و للسلام العالمي. وقيل إن الرئيس السابق جورج  بوش سوف يصوت لكلينتون. و يُبدي هؤلاء ملامح الوطنية الحقيقية، واضعين مصلحة البلاد قبل الحزب.
ولكن ماذا عن بول ريان، الرئيس الحالي لمجلس النواب؟ إذا كان ريان هو حقا صبي كبر في المناخ الكاثوليكي كما يحب أن يصور نفسه، لماذا لا يستنكر تصريحات  ترامب المعادية للأجانب، ولماذا يغازل هذا العنصري " اليميني المتطرف"، ذو الممارسات التجارية غير الشريفة، وصاحب المواقف غير المنتظمة من السياسة الخارجية ؟ بدلا من ذلك، يتصرف كما لو كان ترامب يستحق الرئاسة الأمريكية، ويخاطر بفقدان بلاده (إن لم تكن روحه) لأن ترامب ربما قد يسن بعض السياسات التي تدعم ريان.
وأخيرا، أين أسود الحزب الجمهوري القُدامى؟ إذا كانوا يريدون منع ترامب من تدنيس سمعة حزبهم – وأخذ مستقبل بلدهم - إلى المجزرة، عليهم اٍثارة ضجة في أقرب وقت. ويبقى الرئيس السابق جورج دبليو بوش على الهامش، وعلى ما يبدو لا يزال يشعر بمرارة لأن ترامب هزم شقيقه جيب في الاٍنتخابات التمهيدية بعد تعرضه للتهديد من قبل ترامب. جيمس بيكر، الذي خدم كل من رونالد ريغان وجورج بوش، لم يقل أية كلمة علنا. ولا حتى جورج شولتز، وهنري كيسنجر، وكوندوليزا رايس، أو ديك تشيني. نحن نعلم أن كولن باول يحتقر ترامب، ولكن فقط لأنه تم تسريب رسائله الإلكترونية.
عندما تنحى الرئيس يلتسين، غادر روسيا تحت رحمة خلفه المختار بعناية، بوتين. من أجل مصلحة حزبهم وشرفهم وسمعتهم الخاصة، على أقطاب الحزب الجمهوري الآن التنصل من ترامب علنا، لئلا يلحق ضررا مماثلا ببلادهم  وبلدي.