¿Puede la política de los movimientos renovar la democracia europea?
PRINCETON – Mucha gente esperaba que la gran historia política de 2017 fuera sobre el triunfo del populismo en Europa. Pero las cosas no resultaron de esa manera. Por el contrario, la mayor historia fue la de los autoproclamados "movimientos" que hicieron caer o sustituyeron a los partidos políticos tradicionales.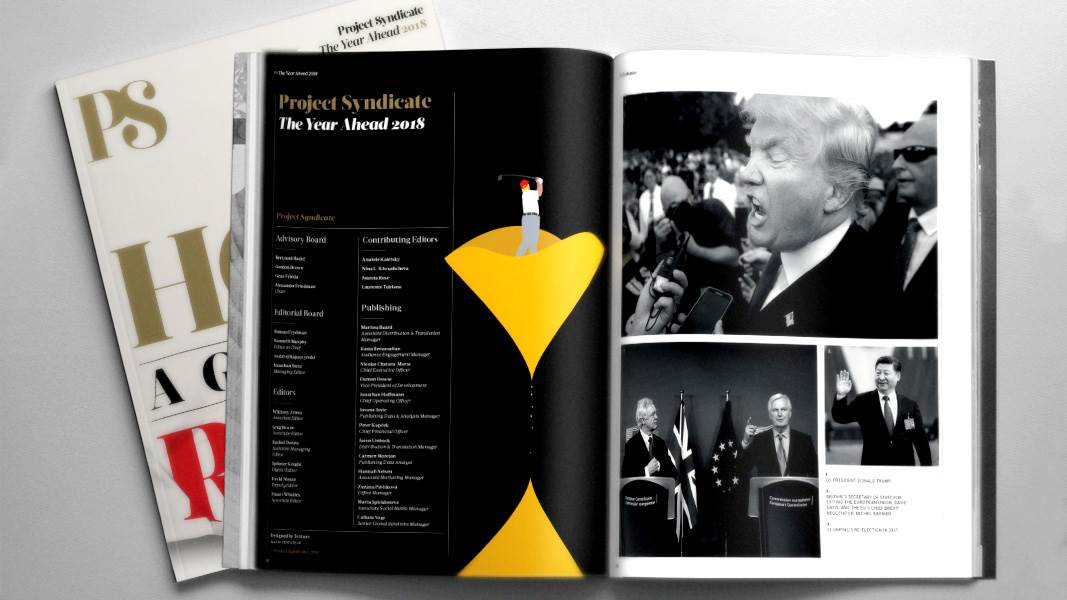 The Year Ahead 2018
The world's leading thinkers and policymakers examine what's come apart in the past year, and anticipate what will define the year ahead.
Consideremos el caso de La République En Marche! del presidente francés, Emmanuel Macron, que arrasó en las elecciones presidenciales y parlamentarias francesas la primavera pasada. O pensemos cómo, a fin de año, Sebastian Kurz, de 31 años, se convirtió en canciller de Austria después de reformular al conservador Partido Popular Austríaco (ÖVP por su sigla en alemán) y transformarlo en un movimiento llamado "Lista Sebastian Kurz - El Nuevo Partido Popular".
En todo el continente europeo, más votantes han llegado a ver a los partidos políticos tradicionales como egoístas y hambrientos de poder. También en el mundo en desarrollo, a los partidos con linaje bien establecidos, como el Congreso Nacional Africano (CNA) en Sudáfrica, hoy generalmente se los considera corruptos. En muchos casos, los partidos tradicionales se han convertido en lo que los politólogos llaman "carteles": utilizan los recursos del Estado para mantenerse en el poder y, más allá de sus diferencias políticas, suelen aunar esfuerzos para mantener alejados a los contrincantes.
Los votantes jóvenes, en particular, parecen tener menos interés en trabajar para los partidos tradicionales, a los que consideran excesivamente burocráticos y, por ende, aburridos. Esto nos recuerda la famosa broma de Oscar Wilde sobre el problema del socialismo: requiere demasiadas tardes. No sorprende, entonces, que los experimentos políticos más innovadores de Europa en los últimos años hayan surgido de manifestaciones callejeras y asambleas multitudinarias que rechazaron las formas jerárquicas de organización.
Por ejemplo, el izquierdista Podemos de España se constituyó después de las manifestaciones masivas de los indignados en 2011. En Italia el populista Movimiento 5 Estrellas (M5S por su sigla en italiano), que salió primero en las elecciones parlamentarias de Italia de 2013 y, según se predice, tendrá un buen desempeño en 2018, surgió de las grandes concentraciones organizadas por el comediante Beppe Grillo contra "la casta" -el término despectivo que utiliza para lo que considera la casta de políticos y periodistas profesionales que gobiernan el país.
Sin embargo, algo raro tuvo lugar entre los orígenes de estos movimientos como protestas callejeras espontáneas e inclusivas y su éxito posterior en las urnas. Irónicamente, a pesar de que han seguido promoviendo las formas horizontales de organización y la democracia participativa, sus líderes carismáticos han concentrado cada vez más poder en sus propias manos.
Por ejemplo, el secretario general de Podemos, Pablo Iglesias, se ha ganado críticas de activistas idealistas en el movimiento por su "híper-liderazgo" y su "leninismo online". En respuesta, Iglesias ha declarado que "el cielo no se toma por consenso".
Grillo no tiene un cargo oficial en M5S, que se define a sí mismo como una "no asociación", pero es el dueño del blog que ha sido clave para el éxito del movimiento, así como del copyright de su símbolo oficial. Grillo ha revocado el derecho de los miembros de M5S a utilizar ese símbolo, supuestamente, por romper las "reglas" -o lo que oficialmente se conoce como el "no estatuto"- de su "anti-partido". Y quienes se postulan para un cargo público bajo la pancarta de M5S deben firmar un contrato en el que prometen pagar multas si violan los principios del partido.
Por supuesto, los movimientos políticos no necesariamente son populistas por naturaleza. Como han demostrado los movimientos Verde y feminista, un movimiento puede refutar las formas tradicionales de la política sin por ello decir que representa al "verdadero pueblo" o a la "mayoría silenciosa".
Sin embargo, los movimientos políticos de hoy también tienden a ser menos pluralistas que los grandes partidos que han dominado la política europea de posguerra. Esto tiene sentido, dado que "movimiento" implica no sólo dinamismo sino también la presunción de que todos los miembros están en total acuerdo con el camino a seguir.
El problema es que cuando todos supuestamente están de acuerdo sobre hacia dónde están yendo, parece no existir necesidad alguna de una amplia deliberación democrática. En consecuencia, los movimientos que han surgido en Europa en los últimos años -tanto en la izquierda como en la derecha- se han centrado en fortalecer a sus respectivos líderes individuales en lugar de empoderar a sus bases, aun cuando defienden la democracia participativa.
En el caso de Macron y Kurz, cada líder ha sacado partido de la sensación de dinamismo y determinación que suele ser una característica esencial de la política de movimientos monotemática. Kurz, por su parte, ha doblegado a todo el ÖVP a su voluntad. Además de darle un nuevo nombre, ha reorganizado sus estructuras internas y ha cambiado su color oficial de negro a turquesa. Aun así, la plataforma conservadora del partido prácticamente no ha cambiado, lo que sugiere que las medidas de Kurz tienen que ver con el marketing y con afirmar su autoridad personal más que cualquier otra cosa. 
Al final Podemos, La République En Marche! y  Momentum, el movimiento joven que ayudó a Jeremy Corbyn a reformular la plataforma del Partido Laborista británico, no son importantes porque son movimientos per se. Son importantes, en verdad, porque ofrecen más opciones políticas a los ciudadanos, especialmente aquellos que están frustrados con los duopolios predominantes -sistemas políticos dominados por dos partidos arraigados que ofrecen recetas políticas prácticamente idénticas. 
En el caso de Corbyn, la política de movimientos podría reestablecer las credenciales progresistas del Partido Laborista y revertir lo que muchos consideraron la adopción de políticas neoliberales del ex primer ministro Tony Blair. Pero sería ingenuo pensar que los movimientos por sí solos harán que la política europea sea más democrática. En todo caso, podrían operar de manera aún menos democrática que los partidos tradicionales, debido a sus fuertes formas plebiscitarias de liderazgo.