Могут ли политические движения возобновить европейскую демократию?
ПРИНСТОН – Многие люди ожидали, что большая политическая история 2017 года будет о триумфе популизма в Европе. Но этого не случилось. Вместо этого, самая большая история была о так называемых «движениях», которые расширяли или заменяли традиционные политические партии.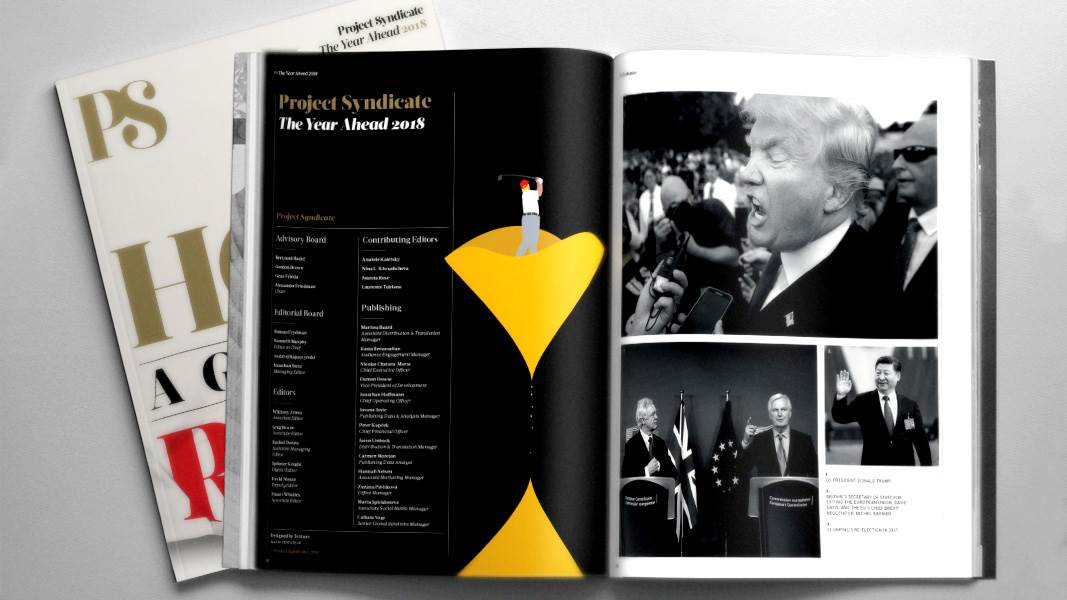 The Year Ahead 2018
The world's leading thinkers and policymakers examine what's come apart in the past year, and anticipate what will define the year ahead.
Рассмотрим партию Вперед, Республика! Президента Франции Эммануэля Макрона, которая охватила весенние президентские и парламентские выборы в Франции. Или подумаем, каким образом в конце года, 31-летний Себастьян Курц стал Канцлером Австрии после преобразования Консервативной австрийской народной партии (АНП) в движение под названием "Список Себастьяна Курца – Новая народная партия".
На европейском континенте, все больше избирателей стали рассматривать традиционные политические партии как корыстные и властолюбивые. В развивающемся мире, также, партии с устоявшейся репутацией, такие как Африканский национальный конгресс (АНК) в Южной Африке, в настоящее время считаются коррумпированными. Во многих случаях, традиционные партии стали тем, что политологи называют "картелями": они используют государственные ресурсы для того, чтобы оставаться у власти, и, независимо от своих политических различий, они часто работают вместе, чтобы держать подальше конкурентов.
В частности, молодые избиратели проявляют меньший интерес к работе на традиционные партии, которые они считают чрезмерно бюрократическими и, следовательно, скучными. Тут мне припоминается известное язвительное замечание Оскара Уайльда о проблеме с социализмом: он занимает слишком много вечеров. Неудивительно, что самые инновационные политические эксперименты в Европе в последние годы возникли из уличных протестов и массовых собраний, которые избегали иерархических форм организации.
Например, Испанская левая политическая партия Подемос была сформирована после массовых демонстраций индигнадос в 2011 году. Итальянское популистское Движение пяти звезд (M5S), которое вышло на первое место на парламентских выборах в Италии в 2013 году и, как ожидается, снова преуспеет в 2018 году, возникло из крупных митингов, организованных комиком Беппе Грилло против "ла-касты" – его уничижительный термин для тех, кого он считает кастой профессиональных политиков и журналистов, что правят страной.
Вместе с тем, есть что-то забавное между истоками этих движений - спонтанность, относящаяся как к уличным протестам, так и к их последующему успеху на выборах. По иронии судьбы, даже когда они продолжали пропагандировать горизонтальные формы организации и партиципаторную демократию, их харизматичные лидеры сконцентрировали в своих руках еще большую власть.
Например, Генеральный секретарь Подемоса Пабло Иглесиас, подвергся критике со стороны идеалистических активистов движения за свое "гипер-лидерство" и "онлайн-ленинизм". В ответ, Иглесиас заявил, что "нельзя развернуть небеса на основе консенсуса".
Грилло не занимает официального поста в M5S, которое заявляет о себе как о "не-ассоциации", и тем не менее он владеет блогом, который стал ключевым для успеха движения, а также авторским правом на его официальный символ. Он отменил право членов M5S на использование этого символа из-за якобы нарушения "правил" – или того, что официально называется "не уставом" – его "анти-партии". И те, кто получают выборную должность под баннером M5S, должны подписывать контракт, с обещанием выплаты штрафов, если они нарушат партийные принципы.
Безусловно, политические движения не обязательно являются популистскими по своей природе. Как показали Зеленые и феминистские движения, движение может оспаривать традиционные формы политики, без претензии на то, чтобы представлять "реальных людей" или "молчаливое большинство".
Но сегодняшние политические движения, также имеют тенденцию быть менее плюралистическими, чем крупные партии, которые доминировали в послевоенной европейской политике. Это имеет смысл, учитывая, что "движение" подразумевает не просто динамизм, но и презумпцию того, что все участники полностью согласны с путем продвижения вперед.
Проблема состоит в том, что, когда все якобы уже согласны с тем куда они движутся, кажется, уже нет необходимости в широких демократических обсуждениях. Таким образом, движение, появившееся в Европе в последние годы – как левое, так и правое – сосредоточилось на укреплении своих отдельных лидеров, чем на расширении прав и возможностей своих рядовых членов, даже когда они делают акцент на партиципаторной демократии.
В случае Макрона и Курца, каждый лидер давил на чувство динамизма и цель, которые обычно являются ключевой особенностью политического движения одной задачи. Курц, со своей стороны, покорил своей воле всю АНП. Помимо того, что он ее переименовал, он реорганизовал ее внутренние структуры и изменил ее официальный цвет с черного на бирюзовый. Тем не менее, консервативная платформа партии практически не изменилась, указывая на то, что шаги Курца больше всего направлены на маркетинг и утверждение его личного авторитета.
В конце концов, Подемос, Вперед, Республика! и Momentum, молодежное движение, которое помогло Джереми Корбину изменить платформу британской Лейбористской партии, не важны, так как являются движениями сами по себе. Скорее, они важны из-за того, что они обеспечивают больший политический выбор для граждан, особенно тех, кто разочарован существующими дуополиями – политические системы, в которых доминируют две давно существующие партии, предлагающие практически идентичные политические рекомендации.
В случае Корбина, политические движения могли бы восстановить прогрессивные полномочия лейбористов и обратить вспять то, что при бывшем Премьер-министре Тони Блэре многие рассматривали как объятия неолиберальной политики. Но было бы наивно думать, что движения сами по себе сделают европейскую политику более демократичной. Во всяком случае, они могли действовать менее демократично, чем традиционные партии, благодаря своим сильным плебисцитарным формам лидерства.