Das palästinensische Dilemma
LONDON – Auf die eine oder andere Weise bin ich seit 12 Jahren in den Nahost-Friedensprozess involviert. Ich schreibe selten darüber, weil alles, das dazu in der Öffentlichkeit gesagt wird, üblicherweise irgendjemandes Ärger erregt. Die Veröffentlichung des lang erwarteten amerikanischen Friedensplans bietet jedoch eine Gelegenheit, Bilanz zu ziehen.
Ich bin einer der wenigen Menschen, die immer noch glauben, dass die Gründung eines Staates Palästina wünschenswert und machbar ist. Die meisten Kommentatoren quittieren diese Idee mit einem müden Lächeln. Viele Israelis und Palästinenser haben sie überhaupt aufgegeben.
Ich allerdings nicht, denn es ist meine – vielleicht irrationale – Überzeugung, dass die Vernunft letztlich die Oberhand behalten wird. Die Israelis sollten die Palästinenser nicht auf ewig regieren wollen. Die Palästinenser brauchen  Besatzungsfreiheit und die Würde der Eigenstaatlichkeit.  Ein binationaler Staat löst kein einziges Problem. Er würde die Zustimmung Israels erfordern, und die wird es niemals geben. Die einzige vernünftige Möglichkeit, den Konflikt zu beenden ist daher ein unabhängiger und souveräner palästinensischer Staat.
Mir fallen tausend Dinge ein, die Israel tun sollte, um einen palästinensischen Staat wahrscheinlicher werden zu lassen. In Wahrheit jedoch wird ein derartiger Staat erst dann entstehen, wenn sich die palästinensische Strategie grundlegend ändert.
Viele in der internationalen Gemeinschaft empfinden es schon als beleidigend und unfair gegenüber den Palästinensern, das Thema auch nur in dieser Art zu formulieren. Sie zeigen sich der palästinensischen Sache gegenüber zutiefst mitfühlend und verweisen auf die enormen Wohlstandsunterschiede zwischen Israelis und Palästinensern, die entsetzlichen Lebensbedingungen in Gaza, die Einschränkungen im alltäglichen Leben der Palästinenser im Westjordanland sowie auf das Regierungssystem Jerusalems.
Die Palästinenser brauchen aber keine Strategie des Mitgefühls, sondern eine der Eigenstaatlichkeit und ihr gegenwärtiger Kurs wird sie nicht dorthin führen. Ihre stärksten internationalen Unterstützer haben die Entwicklung einer ernsthaften Strategie auch behindert, weil sie die palästinensische Führung ermutigen, sich ausschließlich auf die historische Gerechtigkeit ihres Anliegens zu konzentrieren, anstatt auf die Realität eines politischen Umfeldes, in dem diese Gerechtigkeit geschaffen werden muss.  Die zahllosen Resolutionen, Gesten der Unterstützung und Solidaritätsbekundungen für die Palästinenser sind die billigste Währung der internationalen Diplomatie, aber in der realen Welt ist damit so gut wie nichts zu holen.
Subscribe now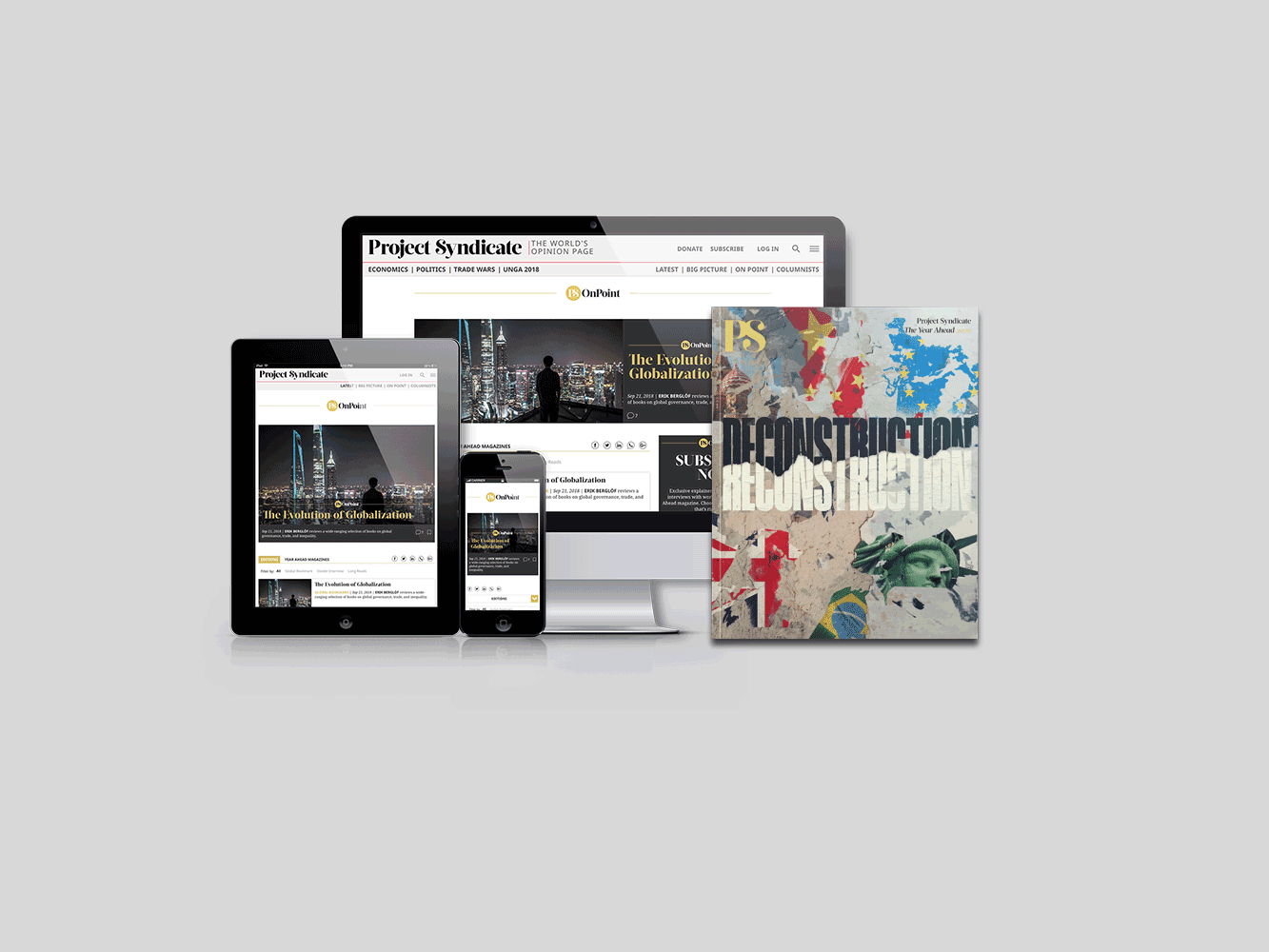 Subscribe now
Subscribe today and get unlimited access to OnPoint, the Big Picture, the PS archive of more than 14,000 commentaries, and our annual magazine, for less than $2 a week.
Ein politisches Ziel zu erreichen, erfordert zunächst eine sachliche Analyse der Realität einer Situation. Um eine Lösung zu erreichen, die es ermöglicht, dass zwei Staaten Seite an Seite in Frieden leben – wobei der eine Staat bereits besteht und sehr viel mächtiger ist als der zu etablierende Staat – muss sich der bestehende Staat hinsichtlich der Schaffung des neuen Staates sicher fühlen, ebenso wie der neu zu schaffende Staat mit dem notwendigen diplomatischen und politischen Rückhalt auszustatten ist. Das Sicherheitsbedürfnis ist umso entscheidender, wenn die beiden Staaten auf kleinem Gebiet nebeneinander existieren sollen, wo sich die Bevölkerungen nicht so einfach aus dem Weg gehen können.
Wenden wir uns nun der palästinensischen Situation zu. Lassen wir außer Acht, wer Israels Ministerpräsident ist und nehmen wir an, die Vereinigten Staaten hätten den am stärksten propalästinensischen Präsidenten ihrer Geschichte. Gehen wir überdies davon aus, dass die internationale Gemeinschaft weiterhin am Friedensprozess interessiert ist und im Nahen Osten im Übrigen Ruhe herrscht. Selbst in diesem idealen Umfeld stellt sich die Frage, wie Verhandlungen angesichts des Durcheinanders in der palästinensischen Politik überhaupt zum Erfolg führen können.  
Ein palästinensischer Staat würde Gaza und das Westjordanland umfassen. Gaza befindet sich unter Kontrolle der Hamas, einer Organisation die sich formell immer noch zur Zerstörung Israels bekennt. Das Westjordanland wird von der Fatah kontrolliert, die selbst tief gespalten ist. Hamas und Fatah lehnen einander mit aller Vehemenz ab; ihre Versöhnungsgespräche sind ein Mahnmal wechselseitiger Unaufrichtigkeit. Und es hat seit 14 Jahren keine demokratischen Wahlen mehr gegeben, so dass keine zuverlässige Möglichkeit besteht, die Legitimation der Regierung in Ramallah zu beurteilen.
Es ist unvorstellbar, dass eine derart zersplitterte Politik zu einer glaubwürdigen Einigung hinsichtlich eines Staates führen könnte. Es wäre daher für jeden israelischen Ministerpräsidenten schwierig, diesen zu akzeptieren und für jeden US-Präsidenten diffizil, die Gründung dieses Staates zu erzwingen. Eine mit dem friedlichen Zusammenleben mit Israel vereinbare politische Geschlossenheit der Palästinenser ist kein interessantes Nebenthema, sondern eine Voraussetzung für den Erfolg.
Die palästinensische Führung spricht sich vehement gegen den jüngsten Plan der USA aus, insbesondere gegen die Übertragung der Souveränität über das Jordantal auf Israel sowie dagegen, dass wesentliche Teile Ostjerusalems nicht in den künftigen palästinensischen Staat einbezogen werden. In den letzten Tagen hat Präsident Donald Trumps Chefberater Jared Kushner keine Mühen gescheut, klar zu machen, dass über den von ihm verfassten Plan weiter verhandelt werden kann. Doch bislang haben sich die Palästinenser geweigert, den Plan zu diskutieren oder auch nur einen Anruf Trumps entgegenzunehmen.
So kann das nicht funktionieren. Setzen Sie sich mit dem Plan auseinander. Sagen Sie, warum er nicht akzeptabel ist. Weisen Sie auf Punkte hin, die geändert werden müssen. Fordern Sie Besprechungen ein. Vertreten Sie Ihre Sache. Vertiefen Sie sich in die Einzelheiten. 
Es gibt drei Gruppen, die in der Praxis dabei helfen können, die Eigenstaatlichkeit zu erreichen: die Israelis, die Amerikaner und die Araber. Wie kann es eine tragfähige Erfolgsstrategie ein, die erste Gruppe anzuprangern, die zweite zu entfremden und die dritte zu irritieren?
Die Palästinenser antworten freilich, dass Israelis und Amerikaner voreingenommen und die Araber gleichgültig sind. Doch die Palästinenser können sich keinen leeren Stuhl bei Verhandlungen leisten.
Außerdem sind die Araber nicht gleichgültig. Die  Palästinenser liegen ihnen sehr wohl am Herzen und sie interessieren sich leidenschaftlich für Jerusalem. Allerdings sind sie ausgelaugt aufgrund der Zwickmühle zwischen den Herausforderungen regionaler Stabilisierung und Modernisierung, die ein enges Bündnis mit Amerika und eine aufkeimende Beziehung mit Israel erfordern und einem Anliegen, das sie zwar unterstützen sollen, aber nicht gestalten dürfen.
Anstatt darauf zu beharren, dass die Araber nichts mit Israel zu tun haben, bis die Palästinenser einen Frieden ausgehandelt haben, bestünde der kluge Ansatz darin, gute israelisch-arabische Beziehungen zu fördern, die Araber in die Verhandlungen einzubinden und sich dann ihrer zu bedienen, um die Israelis zu günstigeren Positionen zu drängen. Ziel sollte ein arabisch-israelisches Rahmenwerk für die Region sein und die Lösung der palästinensischen Frage ein Teil davon. Dadurch würde man Israel das Vertrauen geben, dass der Frieden mit den Palästinensern regional wirklich akzeptiert wird – und keine Belohnung für erzwungene Zugeständnisse, sondern natürliche Folge eines neuen Geists der Freundschaft ist.  
Der amerikanische Plan wurde je nach politischer Zugehörigkeit gelobt oder verdammt. Es ist jedoch das einzige Mal, dass die US-Administration ein Konzept erstellt hat, das Themen auf den Tisch bringt, die lange Zeit unter den Teppich gekehrt wurden.  Im Moment bildet der Plan ab, wozu sich die israelische Politik imstande sieht, auch wenn das für die palästinensische Politik nicht verkraftbar ist.
Aber unabhängig davon, welcher Plan vorgebracht wird, müssen die Palästinenser ihre Strategie ändern. Andernfalls wird sich das Muster der letzten Jahrzehnte fortsetzen, im Rahmen dessen jedes neue Angebot schlechter war als das vorangegangene. Nur durch eigene Taten werden die Palästinenser ihre Zukunft anders gestalten können.
Aus dem Englischen von Helga Klinger-Groier