Le dilemme palestinien
LONDRES – Je suis impliqué, d'une manière ou d'une autre, dans le processus de paix au Moyen-Orient depuis 12 ans. J'écris rarement à ce sujet parce que toute opinion exprimée publiquement offense en général quelqu'un. Mais la publication du plan de paix américain tant attendu est l'occasion de faire le point.
Je suis l'une des rares personnes à croire encore que la création d'un État palestinien est à la fois souhaitable et possible. La plupart des commentateurs accueillent aujourd'hui cette idée avec un rire forcé. De nombreux Israéliens et Palestiniens ont fait le deuil de cette perspective.
Pour ma part, je n'y ai pas renoncé parce que je suis convaincu – de manière peut-être irrationnelle – que la raison finit toujours par l'emporter. Les Israéliens ne devraient pas avoir de raisons de vouloir gouverner les Palestiniens à perpétuité. Les Palestiniens ont de leur côté besoin de la dignité d'un État et d'être libérés de l'occupation israélienne. Et la solution à deux États est une solution qui ne résout rien. Il faudrait pour la réaliser que l'État hébreu y consente, ce qu'il ne fera jamais. Ainsi, un État palestinien indépendant et souverain reste la seule issue raisonnable au conflit.
Il me vient à l'esprit de nombreuses initiatives que le gouvernement israélien pourrait  proposer pour rendre plus probable la création d'un État palestinien. Mais la vérité est qu'un tel État ne verra le jour qu'à condition d'un changement fondamental de la stratégie palestinienne.
Pour plusieurs membres de la communauté internationale, le simple fait de formuler la question en ces termes est à la fois insultant et injuste pour les Palestiniens. Ils compatissent profondément à la cause palestinienne, soulignant l'extrême disparité dans la répartition des richesses entre les Israéliens et les Palestiniens, les conditions de vie inhumaines dans la bande de Gaza, les restrictions imposées à la vie quotidienne des Palestiniens de Cisjordanie et la gouvernance de Jérusalem.
Toujours est-il que les Palestiniens n'ont pas besoin d'une stratégie qui leur gagne la sympathie d'autrui. Ils ont besoin d'une stratégie qui leur permette d'acquérir le statut d'État et la voie suivie actuellement ne va pas dans ce sens. Au plan international, leurs plus fervents supporters ont également entravé l'élaboration d'une stratégie constructive, en encourageant les dirigeants palestiniens à mettre exclusivement l'accent sur le bien-fondé historique de leur cause au détriment de la réalité de l'environnement politique dans lequel justice doit être rendue. Les résolutions de l'ONU, les marques d'encouragement et les figures rhétoriques de solidarité envers les Palestiniens sont la menue monnaie de la diplomatie internationale. Dans le monde réel, son pouvoir d'achat est quasi nul.
Subscribe now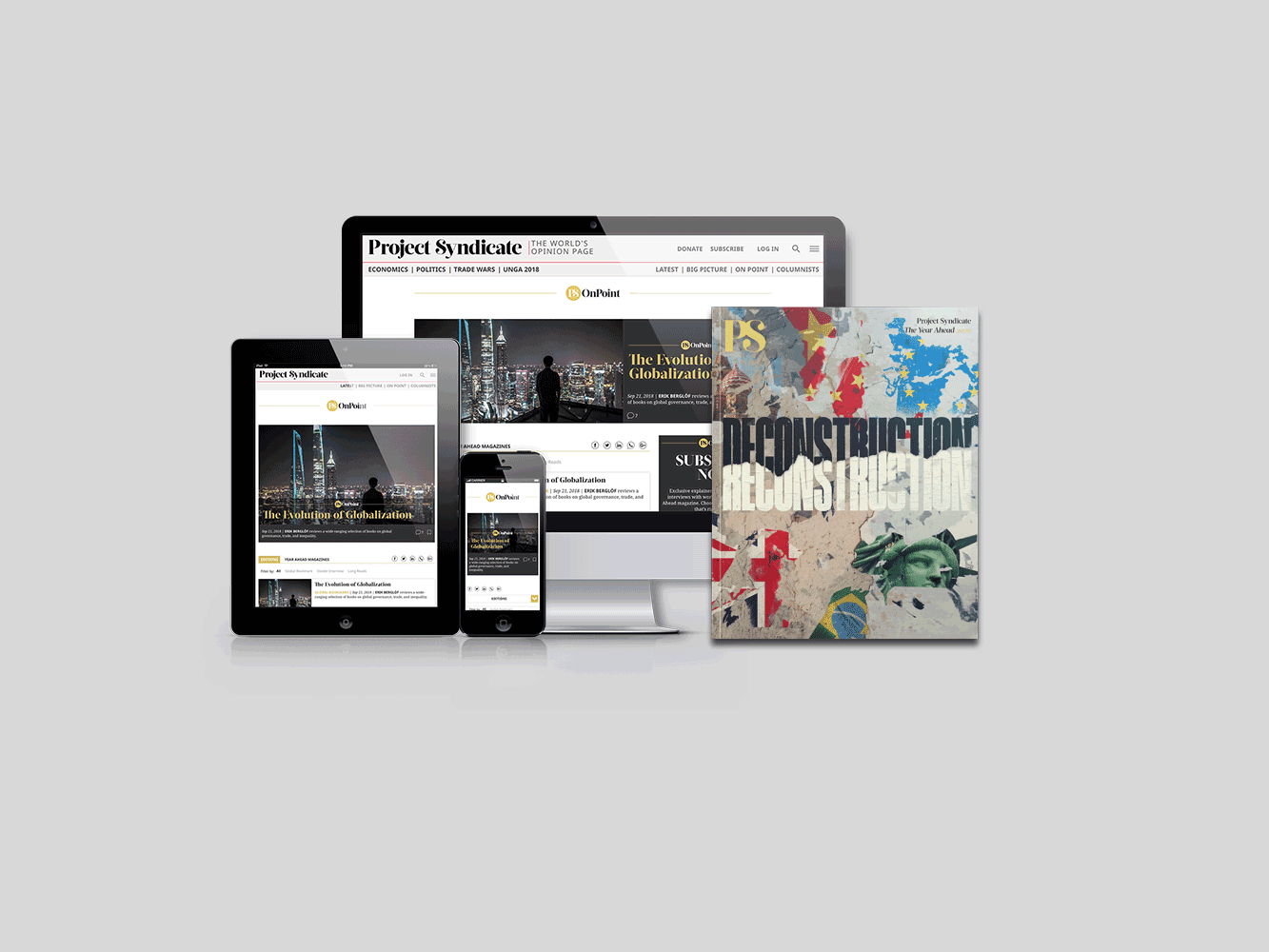 Subscribe now
Subscribe today and get unlimited access to OnPoint, the Big Picture, the PS archive of more than 14,000 commentaries, and our annual magazine, for less than $2 a week.
Atteindre un objectif politique implique de commencer par une analyse de sang-froid de la conjoncture dans laquelle on se trouve. Pour que deux États vivent côte à côte en paix, dans des circonstances où l'un des États existe déjà et est bien plus puissant que l'État envisagé, il faut que le premier se sente en sécurité par rapport à la création du second, tout comme celui-ci doit bénéficier du soutien diplomatique et politique nécessaire. La sécurité revêt une importance plus cruciale encore lorsque les deux États coexisteront dans un espace territorial réduit où les populations ne peuvent pas aisément être dissociées les unes des autres.
Examinons maintenant la situation palestinienne. Laissons de côté qui est le Premier ministre d'Israël et supposons que les États-Unis ont leur président le plus pro-palestinien de tous les temps. Supposons, en outre, que la communauté internationale a toujours les yeux rivés sur le processus de paix israélo-palestinien et que la situation est calme au Moyen-Orient. Mais même dans ces conditions idéales, comment des négociations pourraient-elles aboutir compte tenu des dissensions intestines de la politique palestinienne ?
Un État palestinien comprendrait la bande de Gaza et la Cisjordanie. La première est sous le contrôle du Hamas, une organisation qui prône toujours formellement la destruction de l' État d'Israël. La seconde est contrôlée par le Fatah, un mouvement lui-même profondément divisé. Le Hamas et le Fatah sont engagés dans une guerre fratricide et leurs pourparlers de réconciliation sont un monument d'insincérité mutuelle. Et étant donné qu'aucun scrutin national n'a été organisé dans les territoires palestiniens depuis 13 ans, il n'y a aucun moyen fiable de mesurer l'autorité dont dispose le gouvernement de Ramallah auprès de la population.
Il est inconcevable qu'une politique aussi factieuse puisse produire un accord crédible en vue de l'établissement d'un État. Il serait donc difficile pour tout Premier ministre israélien d'accepter une proposition d'accord et pour tout président américain d'exiger la création d'un tel État. L'unité politique des Palestiniens, sous une forme compatible avec une coexistence pacifique avec Israël, n'est pas une question subsidiaire intéressante, mais une condition préalable au succès.
Les dirigeants palestiniens ont unanimement rejeté le récent plan de paix américain et critiqué en particulier le transfert de la souveraineté de la vallée du Jourdain à Israël et la non inclusion de parties importantes de Jérusalem-Est dans le futur État palestinien. Ces derniers temps, Jared Kushner, le conseiller principal du président Donald Trump, s'est évertué à dire que ce plan de paix, dont il est l'auteur, est ouvert à la négociation. Mais jusqu'à présent, les Palestiniens ont refusé d'en discuter et le président palestinien, Mahmoud Abbas, a même rejeté une demande d'entretien par téléphone du président américain Donald Trump.
Ce n'est pas une attitude constructive. Impliquez-vous. Dites pourquoi le plan est inacceptable. Indiquez ce qui doit être changé. Exigez des réunions. Plaidez. Plongez dans les détails.
En pratique, trois groupes peuvent contribuer à l'établissement d'un État palestinien : les Israéliens, les Américains et les Arabes. En quoi dénoncer les premiers, aliéner les seconds et irriter les troisièmes peut-elle être une stratégie viable pour réussir ?
Les Palestiniens répondront bien sûr que les deux premiers sont partiaux et les troisièmes indifférents. Mais les Palestiniens ne peuvent pas se permettre une politique de la chaise vide.
En tout état de cause, les Arabes ne sont pas indifférents. Ils se soucient des Palestiniens, et ils se soucient passionnément de Jérusalem. Mais ils sont épuisés d'être pris en étau entre les défis de la stabilisation et de la modernisation régionales – qui impliquent une alliance étroite avec les États-Unis et le début d'une normalisation des relations avec Israël – et une cause qu'ils sont censés soutenir, tout en étant exclus de sa gouverne.
Au lieu d'exiger que les pays arabes n'aient aucun rapport avec Israël tant que les Palestiniens n'auront pas négocié la paix, l'approche judicieuse serait d'encourager de bonnes relations israélo-arabes, d'impliquer les Arabes dans les négociations, puis de les utiliser pour faire en sorte que les Israéliens adoptent des positions plus favorables.
L'objectif devrait être un cadre conjoint israélo-arabe pour la région, comprenant un volet sur la résolution de la question palestinienne. Israël aurait ainsi la certitude que la paix avec les Palestiniens fait partie d'une véritable acceptation régionale – qu'elle n'est pas une récompense pour des concessions arrachées, mais une conséquence naturelle d'un nouvel esprit d'amitié.
Le plan de paix américain a été tour à tour loué et condamné en fonction de l'appartenance politique. Mais c'est la seule fois qu'une administration américaine a produit une feuille de route qui met sur la table des questions trop longtemps passées sous silence. À l'heure actuelle, ce plan représente ce que la sphère politique israélienne peut accepter, même si les factions politiques palestiniennes ne le peuvent pas.
Mais quel que soit le plan proposé, les Palestiniens doivent repenser leur stratégie. Faute de quoi, le schéma des dernières décennies, dans lequel chaque nouvelle initiative est pire que la précédente, se répétera. Ce n'est qu'en prenant en main leur destin que les Palestiniens bénéficieront d'un avenir meilleur.
Tony Blair, Premier ministre du Royaume-Uni de 1997 à 2007, est président de l'Institute for Global Change.