El regreso del periódico
BANGKOK – Si bien las redes sociales ya no son algo nuevo, parecía que en 2016 plataformas como Twitter y Facebook estaban listas para empujar a los periódicos tradicionales hacia la obsolescencia. Tras la victoria del presidente Donald Trump en Estados Unidos, parecía que los medios de comunicación convencionales no solo habían perdido el rumbo, sino que también habían dejado de ser relevantes.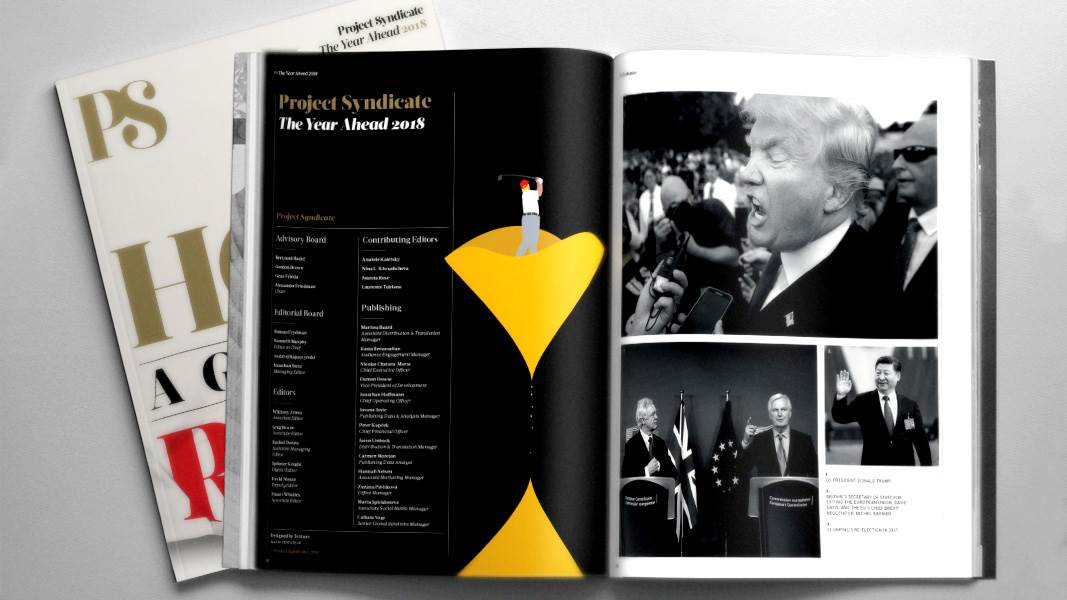 The Year Ahead 2018
The world's leading thinkers and policymakers examine what's come apart in the past year, and anticipate what will define the year ahead.
Trump dirigió un ataque de varios frentes contra los medios informativos tradicionales y los periódicos en particular. Sin embargo, muchos miembros de la prensa también manifestaron rápidamente que se había alcanzado su propio límite de caracteres. Las reacciones de los periódicos, acusados de ser elitistas y de estar desconectados de sus lectores, variaron desde la autoflagelación hasta el lamento por el resultado electoral. Los expertos que no fueron capaces de acertar la elección de Trump, desconcertados por la lucha entre las partes y considerando la disminución de las ventas, el declive de los lectores y la menor credibilidad, vaticinaron la desaparición del periódico tal como lo hemos conocido hasta ahora.
No obstante, transcurrido más de un año resulta evidente que la victoria de Trump no implicó nada de eso. Por el contrario, su influencia ha hecho que el negocio de los periódicos sea más relevante que nunca. Tal vez la noticia sobre los medios más destacable de 2017 fue cómo sin quererlo Trump volvió a hacer a los periódicos great again (grandes nuevamente).
Los periódicos consiguieron este notable giro por medio de hacer lo que mejor hacen: el periodismo de investigación y las últimas noticias. Desde noviembre de 2016, y en especial desde la toma de posesión de Trump en enero del año pasado, los periódicos han liderado noticias que van desde conflictos de interés que involucran al yerno de Trump, Jared Kushner, hasta evidencias de que el exasesor de seguridad nacional del presidente, Michael Flynn, se reunió con el exembajador ruso Sergey Kislyak.
Estas historias de intriga política compitieron por la atención con las espeluznantes acusaciones de conducta sexual impropia contra el productor de Hollywood Harvey Weinstein, el candidato al Senado estadounidense Roy Moore y otros poderosos. Y el azote a Trump con casos incómodos no se ha limitado a la intromisión de Rusia en las elecciones.
Es importante recordar que las inversiones de los periódicos en equipos de investigación de reacción rápida, artículos detallados y periodismo basado en datos solo son posibles porque más personas pagan por sus noticias, especialmente a través de suscripciones digitales. Consternados por el aumento de las "noticias falsas", los millennials de Occidente están ayudando a revertir las decrecientes tiradas en los principales mercados. Las tendencias de crecimiento son aún más pronunciadas en la región de Asia Pacífico, donde los lectores en China e India lideran el regreso a los periódicos tradicionales.
Evidentemente, el repunte postelectoral de los periódicos no se debió solo a ellos; también se vio favorecido por el fracaso de las redes sociales en consolidar sus avances. Los expertos en estas redes, engañados por la ilusión de haber arrebatado la influencia que los periódicos lideraron, fallaron en sus intentos de destronar al medio más antiguo. En lugar de últimas noticias redactaron manifiestos, como la jeremiada de 5.700 palabras sobre nada en particular del fundador de Facebook, Mark Zuckerberg. Y, si bien hubo un momento en que 140 caracteres pudieron haber resultado más atractivos que los artículos de opinión de 700 palabras, la brevedad ya no es suficiente. (En este sentido, tampoco lo es la interminable incoherencia).
Habiendo secuestrado la verdad, las redes sociales no supieron qué hacer con ella. No innovaron, por ejemplo siguiendo el ejemplo de BuzzFeed, que una vez fue una conocida fábrica de "ciberanzuelos" (clickbait) que pronto se expandió hacia reportajes serios y periodismo de formato extenso.
Tras las elecciones de Estados Unidos, BuzzFeed revolucionó la industria de los medios al publicar el dossier Steele, una recopilación de inteligencia privada sobre Trump recogida por un exoficial británico del MI6. Unos meses más tarde, elaboró una denuncia de 8.500 palabras sobre Milo Yiannopoulos, un excomentarista estrella de Breitbart News. El Columbia Journalism Review calificó el artículo de "pionero", aunque las recientes disputas con CNN evidencian una cierta renuencia a aceptar a BuzzFeed como una agencia de noticias legítima y, potencialmente, incluso el surgimiento de una nueva guerra mediática.
Entre tanto, la mayoría de las principales plataformas de redes sociales continuaron ofreciendo cualquier absurdo presidencial que interesara o entretuviera a sus usuarios, como el análisis de "covfefe". Esto ha llevado a muchos a asumir que el propio Trump dirige la agenda de las redes sociales. Tal vez lo haga. Pero sus incansables tweets sobre periódicos en quiebra y noticias falsas también han impulsado a los consumidores más razonables a abrazar los periódicos como un bastión del anti-Trumpismo. En otras palabras, el resurgimiento de los periódicos constituye una respuesta visceral, aunque partidista, a las redes sociales en la era Trump.
Trump, el advenedizo, lidera la batalla contra los brahmanes de los medios alentado por un colega perturbador: las redes sociales. Pero su lucha no prosperará. Los periódicos han ganado aliados incluso en Capitol Hill. Cuando el Congreso cuestiona a los ejecutivos de Facebook, Twitter y Google, los titulares de las noticias rezuman alegría.
Para colmo de las redes sociales, en las declaraciones ante el Congreso se citan sin cesar artículos de los periódicos. Por ejemplo, el memorando del anterior director del FBI James Comey sobre sus vinculaciones con Trump, que llevó a la contratación de un fiscal especial para investigar las conexiones de la campaña de Trump con Rusia, se filtró a TheNew York Times.
A medida que aumentan los llamamientos para controlar las redes sociales, son los periódicos del mundo –hasta hace muy poco considerados contra las cuerdas–quienes han proporcionado la información necesaria para convencer a los responsables políticos de actuar. Debido a que las compañías de redes sociales, pese a su poder y potencial, nunca desarrollaron las capacidades periodísticas necesarias para desplazar a los medios informativos tradicionales, el péndulo ha cambiado de dirección.