O Regresso do Jornal em Papel
BANGUECOQUE – As redes sociais já não são novidade, contudo, em 2016, plataformas como o Twitter e o Facebook pareciam prestes a suplantar definitivamente os jornais tradicionais. Após a vitória do Presidente Donald Trump nos EUA, a imprensa generalista parecia não só ter perdido o norte, mas igualmente a sua relevância.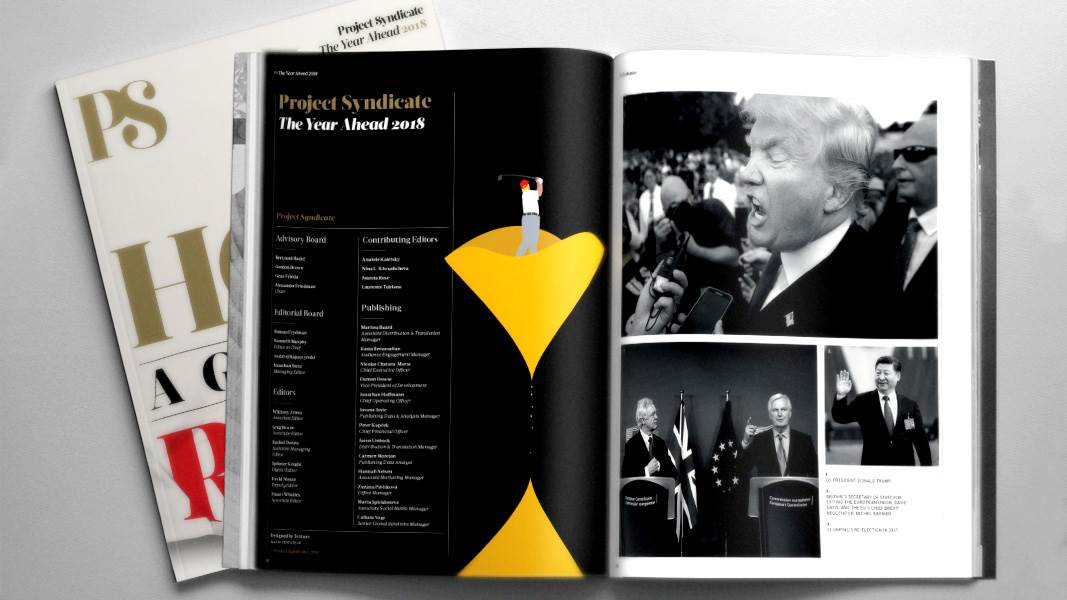 The Year Ahead 2018
The world's leading thinkers and policymakers examine what's come apart in the past year, and anticipate what will define the year ahead.
Trump liderou o ataque em várias frentes contra os meios de comunicação social tradicionais e os jornais em particular. Contudo, muitos jornalistas também foram céleres a declarar que tinham chegado ao seu limite de caracteres. Os jornais foram acusados de elitismo e de falta de sintonia com os leitores, e as suas reacções ao resultado das eleições variaram entre a auto-flagelação e o arrependimento. Desconcertados pelos ataques vindos de todas as partes, os especialistas que não conseguiram fazer um bom prognóstico da eleição de Trump, previram que a queda das vendas, a redução do número de leitores e a perda de credibilidade anunciavam o desaparecimento do jornal tal como o conhecíamos.
No entanto, um ano e pouco mais tarde, tornou-se claro que a vitória do Trump não confirmou este cenário. Pelo contrário, a sua chegada ao poder tornou os meios de comunicação social tradicionais mais relevantes do que nunca. A história mediática mais notável de 2017 poderá ter sido o facto de Trump ter inadvertidamente devolvido a grandeza aos jornais.
Os jornais alcançaram esta reviravolta notável ao fazerem o que sabem fazer melhor: jornalismo de investigação e notícias de última hora. Desde Novembro de 2016, e particularmente desde a tomada de posse de Trump em Janeiro do ano passado, os jornais assumiram a liderança com a publicação de artigos que vão desde os conflitos de interesses que envolvem o genro de Trump, Jared Kushner, até às provas de que Michael Flynn, antigo conselheiro de segurança nacional do Presidente, se reuniu com o antigo embaixador russo Sergey Kislyak.
Estas histórias de intrigas políticas competiram pela atenção com alegações sensacionalistas de comportamento sexual repreensível por parte do produtor de Hollywood Harvey Weinstein, do candidato ao Senado dos EUA Roy Moore e de outros homens poderosos. Além disso, a avalanche de revelações embaraçosas relativamente a Trump não se limitou à interferência da Rússia nas eleições.
É importante recordar que os investimentos dos jornais na mobilização rápida de equipas de investigação, nas grandes reportagens e no jornalismo baseado em dados apenas são possíveis porque o número de leitores que paga pelas suas notícias aumentou, especialmente através de subscrições digitais. A Geração Y do Ocidente, desanimada pelo aumento das "notícias falsas", está a contribuir para aumentar as tiragens nos principais mercados. As tendências de crescimento são ainda mais pronunciadas na região do Pacífico Asiático, onde os leitores na China e na India estão a favorecer o regresso aos jornais tradicionais.
É evidente que a recuperação dos jornais não foi inteiramente da sua responsabilidade: foi facilitada pela incapacidade das redes sociais para conseguirem consolidar os seus lucros. Cegos pela ilusão de terem arrebatado a influência anteriormente exercida pelos jornais, os grandes nomes das redes sociais arruinaram as suas tentativas para destronar os meios de comunicação mais antigos. Em vez de publicarem notícias de última hora, lançaram-se na publicação de manifestos, como o manifesto lamuriento de 5700 palavras do fundador do Facebook Mark Zuckerberg, qe não descreve nada em concreto. Além disso, embora tenha havido uma época em que 140 caracteres pareciam ser mais apelativos do que artigos de opinião de 700 palavras, a concisão já é não suficiente (nem tão pouco a incoerência prolixa).
Tendo subtraído a verdade, as redes sociais não souberam o que fazer com ela. Não inovaram, por exemplo, seguindo a trajectória do BuzzFeed, um site "caça-cliques" outrora famoso, que rapidamente se expandiu para o jornalismo sério e de reportagem.
Após a eleição de Trump, o BuzzFeed agitou a indústria dos meios de comunicação social ao publicar o dossier Steele, uma compilação de informações comprometedoras sobre Trump recolhidas por um antigo responsável do MI6, os serviços secretos britânicos. Alguns meses mais tarde, o site publicou uma exposição de 8500 palavrassobre Milo Yiannopoulos, um antigo comentador do site Breitbart News. A revista Columbia Journalism Review classificou o artigo como "pioneiro", embora as recentes escaramuças com a CNN revelem uma certa relutância em aceitar o site informativo BuzzFeed como um órgão de comunicação social legitimo e, eventualmente, o surgimento de uma nova guerra mediática.
Entretanto, a maioria das principais plataformas de redes sociais continuou a apresentar todos os absurdos presidenciais susceptíveis de interessar ou divertir os seus utilizadores, como a análise do termo "covfefe". Isto levou a que muitas pessoas considerassem que Trump conduz a agenda de trabalhos dos meios de comunicação social. Talvez seja esse o caso. Mas os seus tweets ad nauseam sobre o fracasso dos jornais e as notícias falsas também incitaram os leitores mais sensatos a considerarem os jornais como um bastião do "anti-Trumpismo". Por outras palavras, o renascimento dos jornais é uma reacção visceral, e partidarista, às redes sociais na era de Trump.
Trump, o arrivista, está a conduzir a batalha contra os brâmanes dos meios de comunicação social, impelido por um companheiro perturbador, as redes sociais. Não obstante, a campanha de Trump está condenada ao fracasso. Os jornais encontraram aliados até mesmo no Congresso norte-americano. Quando o Congresso interroga incessantemente os representantes do Facebook, do Twitter e do Google, o contentamento é evidente nas manchetes das notícias.
Para agravar ainda mais a situação das redes sociais, são os artigos de jornal que são citados constantemente nos depoimentos do Congresso. Por exemplo, o testemunho do antigo director do FBI, James Comey, sobre as suas interacções com Trump, que levou à contratação de um procurador especial para investigar as ligações da campanha Trump à Rússia, foi objecto de fuga de informação para o The New York Times.
À medida que se multiplicam os apelos a favor do reforço da regulamentação das redes sociais, são os jornais mundiais — que até recentemente se supunha estarem moribundos — que fornecem as reportagens necessárias para convencer os decisores políticos a agir. Como as empresas das redes sociais, com todo o seu poder e potencial, nunca desenvolveram as capacidades jornalísticas necessárias para substituir os meios de comunicação social tradicionais, o pêndulo mudou de direcção.