Die Rückkehr der Zeitung
BANGKOK – Die sozialen Medien sind nichts Neues mehr, aber 2016 sah es so aus als seien Plattformen wie Twitter und Facebook kurz davor, traditionelle Zeitungen überflüssig zu machen. Nach dem Sieg von Donald Trump in den Vereinigten Staaten schien es, den traditionellen Medien war nicht nur das Narrativ verloren gegangen, sondern sie hatten auch ihre Relevanz verloren.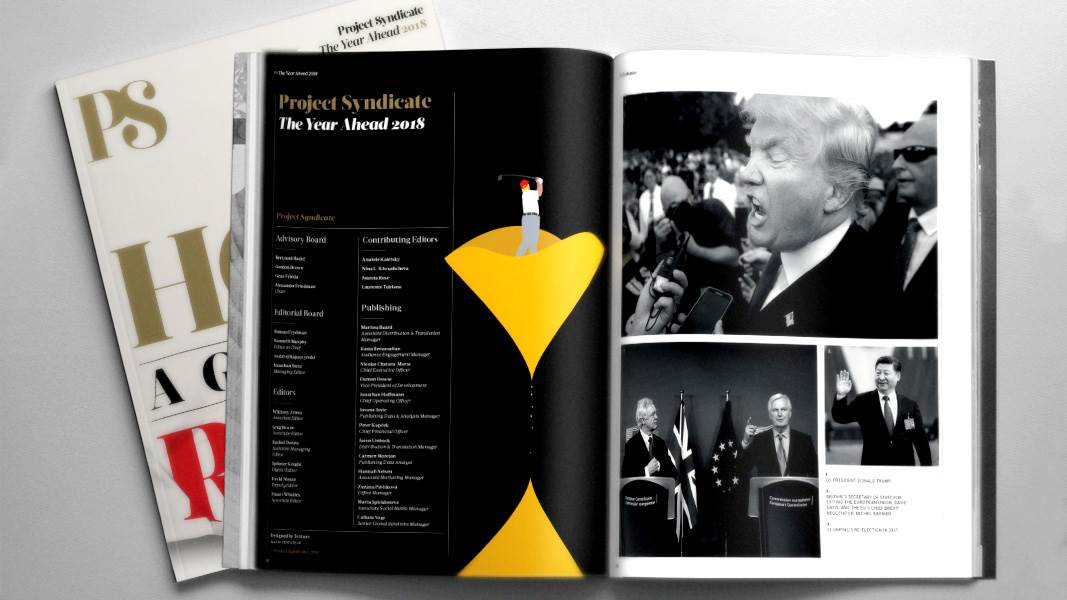 The Year Ahead 2018
The world's leading thinkers and policymakers examine what's come apart in the past year, and anticipate what will define the year ahead.
Trump hat den breit angelegten Angriff auf die traditionellen Medien und besonders auf die Zeitungen angeführt. Aber auch viele Vertreter der Presse erklärten schnell, ihre eigenen Grenzen seien erreicht. Man warf ihnen vor, elitär zu sein und keinen Kontakt mehr mit den Lesern zu haben. Nach der Wahl schwankte die Reaktion der Zeitungen von Selbstgeißelung bis hin zu Reue. Perplex angesichts der Beschuldigungen von allen Seiten haben Experten, die unfähig gewesen waren, die Wahlergebnisse adäquat zu prognostizieren, prophezeit, dass Verkaufsrückgänge, schwache Führung und fehlende Glaubwürdigkeit die Vorboten des Untergangs der Zeitungen seien, wie wir sie kennen.
Aber mehr als ein Jahr später ist klar, dass Trumps Sieg nichts davon bedeutete. Im Gegenteil, sein Aufstieg hat das Zeitungsgeschäft wichtiger gemacht denn je. Die wichtigste Geschichte von 2017 war vielleicht, dass Donald Trump Zeitungen wieder großgemacht hat.
Die Zeitungen haben diesen bemerkenswerten Umschwung erreicht, indem sie sich auf das konzentrierten, was sie im besten können: investigativen Journalismus und aktuelle Nachrichten. Seit November 2016 und besonders seit Trumps Amtseinführung im Januar vergangenen Jahres haben Zeitungen die verschiedensten Geschichten gebracht, von Interessenskonflikten im Umfeld von Trumps Schwiegersohn Jared Kushner bis hin zu Beweisen, dass der ehemalige nationale Sicherheitsberater Michael Flynn sich mit dem ehemaligen russischen Botschafter Sergei Kisljak getroffen hat.
Diese Geschichten von politischer Intrige mussten sich gegen reißerische Vorwürfe der sexuellen Belästigung gegen den Hollywoods-Produzenten Harvey Weinstein, US-Senatskandidat Roy Moore und andere mächtige Männer behaupten. Und der ständige Strom unbequemer Tatsachen, mit der Trump bombardiert wurde, war nicht auf die Einmischung Russlands in die Wahlen beschränkt.
Wir dürfen nicht vergessen, dass die Investition der Zeitungen in agile Investigativ-Teams, lange Reportagen und datengetriebenen Journalismus nur möglich ist, weil mehr Menschen für ihre Nachrichten bezahlen, ganz besonders über digitale Abonnements. Entsetzt über die Flut der Fake News haben Millennials im Westen den rückwärtigen Auflagentrend in großen Märkten mit herumgedreht. Die Wachstumsaussichten sind in der Region Asien-Pazifik sogar noch besser, wo Leser in China und Indien eine Rückkehr zu den traditionellen Zeitungen herbeiführen.
Natürlich war die Erholung der Zeitungen nach den Wahlen nicht deren alleiniges Verdienst, sie wurde auch durch das Versagen der sozialen Medien begünstigt, ihre Gewinne zu konsolidieren. Geblendet durch die Illusion, den Einfluss der Zeitungen für sich in Anspruch zu nehmen, haben die Experten der sozialen Medien ihre Versuche, das ältere Medium von Thron zu stoßen, vermasselt. Anstatt neueste Nachrichten zu bringen, haben sie Manifeste entworfen, wie der Facebook-Gründer Mark Zuckerberg mit seiner 5700 Wörter langen Klage über nichts Konkretes. Und obwohl es mal eine Zeit gegeben hat, in der 140 Zeichen attraktiver schienen als 700 Wörter lange Leitartikel, ist Kürze nicht mehr genug. (Natürlich auch nicht langatmige Inkohärenz.)
Nachdem sie die Wahrheit entführt hatten, wussten die sozialen Medien nichts damit anzufangen. Sie haben beispielsweise keine Innovation betrieben, wie BuzzFeed, einst eine berüchtigte Clickbait-Fabrik, die schnell expandierte und ernsthafte Reportagen und lange Artikel anbot.
Nach der US-Wahl hat BuzzFeed die Medienwelt aufgerüttelt, indem es das Steele-Dossier veröffentlichte, eine Reihe privater Informationen über Trump, die von einem ehemaligen Offizier von MI6 zusammengetragen worden war. Einige Monate später folgte ein 8500 Wörter langes Exposé über Milo Yiannopolous, einen ehemaligen Star von Breitbart News. Das Columbia Journalism Review nannte den Artikel "bahnbrechend". Neuere Streitigkeiten mit CNN lassen jedoch vermuten, dass es eine gewisse Zurückhaltung gibt, BuzzFeed als eine legitime Nachrichtenorganisation zu akzeptieren; potenziell ist sogar ein neuer Medienkrieg denkbar.
In der Zwischenzeit haben die meisten großen Plattformen der sozialen Medien weiterhin jeden präsidialen Unsinn gebracht, der ihre Nutzer interessierte oder amüsierte, wie zum Beispiel die Analyse von "covfefe". Das hat dazu geführt, dass viele glauben, Trump selbst bestimme die Agenda der sozialen Medien. Vielleicht tut er das. Aber Trump ununterbrochene Tweets über das Versagen der Zeitungen und Fake News hat die vernünftigeren Verbraucher auch dazu gebracht, Zeitungen als eine Bastion des Anti-Trumpismus zu sehen. In anderen Worten, die Wiederauferstehung der Zeitungen ist eine impulsive, ja sogar parteiische Reaktion auf die sozialen Medien in der Ära Trump.
Trump, der Neureiche, führt den Kampf gegen die herrschende Klasse der Medien, angefeuert durch einen anderen Störenfried, die sozialen Medien. Aber Trumps Kampagne ist auf der Verliererspur. Zeitungen haben sogar auf Capitol Hill Verbündete gefunden. Wenn der Kongress Manager von Facebook, Twitter und Google grillt, wird in den Schlagzeilen ganz offen gefeixt.
Zum Schaden der sozialen Medien kommt noch die Beleidigung hinzu. Es sind Zeitungsartikel, die in den Kongressanhörungen unerbittlich zitiert werden. Das Memo des ehemaligen FBI-Direktor James Comey, beispielsweise, über seine Treffen mit Trump, das zu der Ernennung eines Sonderermittlers für die Verbindungen des Wahlkampfteams mit Russland führte, wurde der The New York Times zugespielt.
Mit den zunehmenden Rufen nach einer Zügelung der sozialen Medien sind es die Zeitungen der Welt – von denen man bis vor kurzem glaubte, sie säßen auf dem absteigenden Ast –, die die Reportagen gemacht haben, die die Entscheidungsträger von der Notwendigkeit des Handelns überzeugt haben. Weil die Unternehmen der sozialen Medien, trotz ihrer Macht und ihres Potenzials, nie die journalistischen Fähigkeiten entwickelt haben, die notwendig sind, um traditionelle Medien zu ersetzen, ist das Pendel zurückgeschwungen.
Aus dem Englischen von Eva Göllner.