Een nieuwe rol voor institutionele beleggers in de strijd tegen de klimaatverandering
BEIJING – Een recent rapport van het Intergovernmental Panel on Climate Change van de VN waarschuwt dat, om de ergste gevolgen van de opwarming van de aarde te vermijden, samenlevingen sociale en economische veranderingen zullen moeten doorvoeren op een schaal "zonder historisch precedent." Zoals we al eerder hebben opgemerkt hebben alleen institutionele beleggers – zoals pensioenfondsen, staatsfondsen en verzekeringsmaatschappijen – genoeg financiële vuurkracht om de klimaatverandering aan te pakken.
Maar om de risico's zo klein mogelijk te houden besteden institutionele beleggers hun kapitaal over het algemeen liever aan operationele infrastructuur die al stabiele inkomsten oplevert dan aan nieuwe projecten. Om diezelfde reden gaan de meeste van hun beleggingen naar de geavanceerde economieën, die de afgelopen decennia ruim 70% van de particuliere investeringen in infrastructuur hebben ontvangen. De klimaatverandering vereist dat institutionele beleggers zich buiten deze grenzen begeven. Maar zij hebben hulp nodig om de daarmee gepaard gaande risico's te verzachten, wat de reden is dat wij denken dat de wereld behoefte heeft aan een nieuwe mondiale klimaatfinancieringsfaciliteit (GCFF), exclusief gericht op het mobiliseren van het kapitaal van institutionele beleggers, en bedoeld om de tekortkomingen van de huidige multilaterale initiatieven aan te pakken.
Afgezien van diverse veelbelovende projectenhebben overheden en multilaterale financiële instellingen (MFIs) moeite om particulier kapitaal te mobiliseren op een schaal die relevant is voor de strijd tegen de klimaatverandering. Het is cruciaal dat institutionele beleggers zich om diverse redenen grotendeels afzijdig hebben gehouden van dergelijke initiatieven. In de eerste plaats hebben MFIs en institutionele beleggers verschillende prioriteiten. De activiteiten van MFIs zijn gebaseerd op de beleidsdoelstellingen van de lidstaten en de behoeften van de cliëntstaten, en weerspiegelen niet altijd de beleggersvraag. Daarentegen zullen institutionele beleggers, als commerciële spelers ten behoeve van gepensioneerden en andere stakeholders, niet investeren in projecten die als te riskant worden gezien of naar alle waarschijnlijkheid onvoldoende financieel rendement zullen opleveren. Om hun aandacht te trekken moeten de MFIs kunnen wedijveren met de voorwaarden van de particuliere assetmanagers die door institutionele beleggers worden ingezet. Bovendien zijn veel institutionele beleggers onbekend met infrastructurele investeringen in het algemeen, laat staan in de opkomende markten. Als gevolg daarvan moeten MFIs ook in staat worden gesteld tegemoet te komen aan de zorgen van deze beleggers over het beleggen in onbekende sectoren en regio's.
In de tweede plaats is er sprake van een kloof tussen het propageren van particuliere investeringen in fragiele lageinkomenslanden, en het mobiliseren van particulier kapitaal voor klimaatactie in de middeninkomenslanden, waar de CO2-emissies veel hoger zijn. Terwijl groene investeringen in de eerste groep landen wellicht louter appelleren aan een kleine groep gespecialiseerde particuliere beleggers en "impact investors," kunnen in de tweede groep grotere sommen particulier geld, ook van institutionele beleggers, worden vrijgemaakt. Op dit moment maakt het MFI-beleid echter niet genoeg onderscheid tussen deze twee contexten, die heel verschillende strategieën, hulpmiddelen en institutionele structuren vergen.
In de derde plaats moeten MFIs hun aanwezigheid op de collaboratieve platforms van institutionele beleggers uitbreiden, meer risico's op zich nemen, de partnerschappen met lokale strategische beleggingsfondsen versterken en hun bestuursstructuren aanpassen om te voldoen aan de corporate governance-normen waar particuliere beleggers aan gewend zijn. Volgens een recent rapport van de G20 moeten MFIs ook hun vermogen uitbreiden om beleggingen in aandelen te mobiliseren.
Tenslotte mobiliseren bestaande multilaterale initiatieven, op een paar uitzonderingen na, zoals het Green Climate Fund en het Clean Technology Fund, particulier kapitaal op projectniveau en niet op portefeuilleniveau. Maar omdat de meeste institutionele beleggers grote hoeveelheden kapitaal beheren met kleine beleggingsteams, zijn ze doorgaans niet in staat rechtstreeks in individuele projecten te beleggen; ze hebben een vehikel of fonds nodig om hun beleggingen te kunnen kanaliseren.
Subscribe to PS Digital Now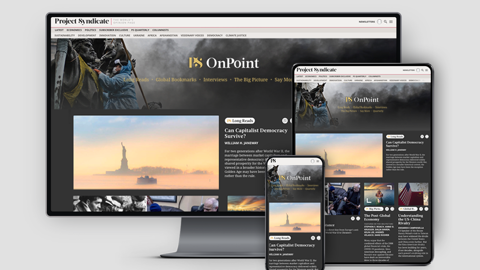 Subscribe to PS Digital Now
Access every new PS commentary, our entire On Point suite of subscriber-exclusive content – including Longer Reads, Insider Interviews, Big Picture/Big Question, and Say More – and the full PS archive.
In het licht van deze uitdagingen is beleggerscontrole de sleutel tot het mobiliseren van particulier kapitaal voor groene infrastructuur. Particuliere beleggers zijn zeer terughoudend in het afstaan van de controle aan publieke lichamen, uit angst dat die door politieke overwegingen kunnen worden beïnvloed en wellicht niet op commerciële voorwaarden zullen beleggen. Om deze zorgen weg te nemen, moeten MFIs de onafhankelijkheid van het beleggingsallocatieproces benadrukken. Een interessant model is India's National Investment and Infrastructure Fund (NIIF), een met $6 mrd gevuld, door de overheid gesponsord beleggingsfonds dat zeer succesvol is geweest in het mobiliseren van het kapitaal van institutionele beleggers.
De Indiase overheid heeft een vast minderheidsbelang van 49% in het NIIF zelf, en in het bedrijf dat het NIIF beheert, terwijl particuliere en institutionele beleggers het meerderheidsbelang in handen hebben. Het NIIF opereert als een doorsnee-beleggingsfonds, en de regering heeft slechts twee vertegenwoordigers in het uit zes leden bestaande bestuur. Het beleggingscomité van het fonds, dat alle besluiten over beleggingen neemt, bestaat geheel uit beleggingsprofessionals die (net als de staf van het NIIF) vooral uit de particuliere sector worden gerecruteerd. Deze beperkingen op de controle door de publieke sector zijn bedoeld om het NIIF te vrijwaren van mogelijke politieke invloed, zodat beleggers worden gerustgesteld dat het fonds op volledig commerciële voorwaarden opereert, binnen zijn door het beleid bepaalde mandaat.
Volgens een recente paper van onderzoekers van de Stanford Universiteit en de Universiteit van Maastricht moeten MFIs, om het kapitaal van institutionele beleggers te mobiliseren voor de financiering van de strijd tegen de klimaatverandering, op soortgelijke wijze gaan functioneren. Maar grote instellingen veranderen slechts langzaam, en de urgentie van de klimaatactie vergt ontwrichtende veranderingen in plaats van geleidelijke hervormingen. Dat is de reden dat een nieuw GCFF, gericht op het mobiliseren van kapitaal van institutionele beleggers en gemodelleerd op de NIIF-structuur, een belangrijk deel van het antwoord kan zijn.
De eerlijkheid gebiedt te zeggen dat MFIs, hoewel zij slechts een minderheidsbelang zouden hebben in het voorgestelde GCFF, nog steeds een sleutelrol zouden spelen bij het helpen van particuliere beleggers om de risico's in nieuwe contexten in te schatten. MFIs zouden die risico's ook moeten gaan delen en technische steun moeten bieden, gebaseerd op hun expertise in een breed scala van sectoren en regio's. Om de MFIs gerust te stellen dat hun AAA-kredietstatus niet zal worden bedreigd, is het cruciaal dat het budget van het GCFF moet worden afgeschermd van andere financieringsinitiatieven. Maar deze uitdagingen kunnen in goede banen worden geleid.
In het algemeen behoren de MFIs tot een andere wereld dan de institutionele beleggers wier kapitaal zij proberen te mobiliseren. Om genoeg particulier kapitaal aan te trekken om oplossingen voor de klimaatverandering naar voren te kunnen brengen, moeten de MFIs grote institutionele beleggers net zo gaan behandelen als hun 'normale' partners en cliënten. Een nieuw GCFF, met de juiste hulpmiddelen en steun op hoog niveau, zou de vereiste veranderingen helpen bewerkstelligen.
Vertaling: Menno Grootveld