Trump beflügelt Extremisten im Iran
STANFORD – Die Vereinigten Staaten und Iran waren selten einer Meinung über das weitere Vorgehen in Bezug auf die Atomgespräche oder andere Elemente ihrer bilateralen Beziehungen. Es gibt jedoch zwei Fraktionen – iranische Hardliner und die Falken in der amtierenden US-Regierung – deren Synergien und Gemeinsamkeiten mindestens so umfassend wie gegen den gesunden Menschenverstand sind. Für Extremisten in Teheran ist die neue Iran-Strategie des US-Präsidenten ein Grund zum Feiern, denn sie haben in Donald Trump einen ahnungslosen Verbündeten in ihrem Streben nach politischer Vorherrschaft gefunden.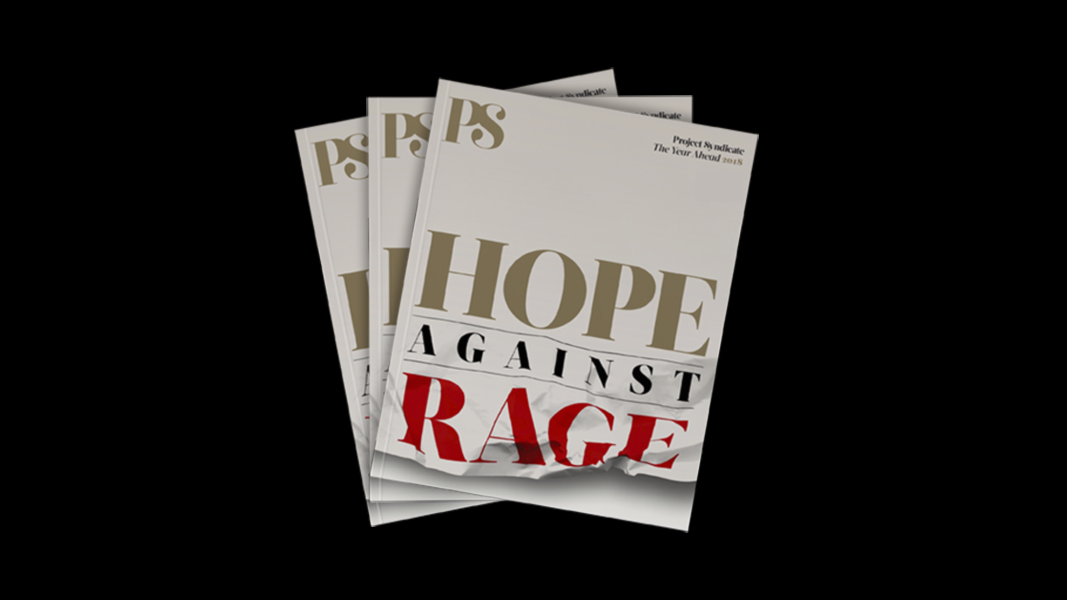 The Year Ahead 2018
The world's leading thinkers and policymakers examine what's come apart in the past year, and anticipate what will define the year ahead.
Irans "konservative Extremisten" – ein Begriff, der eine streng konservative Haltung in Bezug auf Religion und Philosophie mit einer radikalen Einstellung in Bezug auf Gewalt kombiniert – behaupten seit Jahren, dass es töricht und sinnlos sei, gegenüber den USA auf Verhandlungen und Annäherung zu setzen. Diese Hardliner sind überzeugt davon, dass es den USA ausschließlich um einen Regimewechsel und eine Bekämpfung des Islam in der Region geht.
Diese Sichtweise hat dazu geführt, dass sich Iran enger an Russland und China orientiert hat. Als die iranische Wirtschaft infolge der Sanktionen zusammenzubrechen drohte, die wegen seines Atomprogramms verhängt worden waren, sahen sich Irans Konservative gezwungen, auf Treu und Glauben in Verhandlungen mit der internationalen Gemeinschaft einzutreten.
Die iranische Wirtschaft wäre auch ohne Sanktionen massiv unter Druck gewesen. Korruption und Misswirtschaft sowie strukturelle und externe Herausforderungen – wie etwa sinkende Erdölpreise, Wasserknappheit und eine wachsende Zahl erwerbsloser, alter Menschen – hatten das Wirtschaftswachstum bereits geschwächt. Die Position der Extremisten war durch die Tatsache, dass China und Russland an der letzten Sanktionsrunde beteiligt waren, kaum noch haltbar.
Doch der Missmut, für den die früheren Verhandlungen unter iranischen Hardlinern gesorgt haben mögen, ist seit gestern verflogen. Trumps erneute Infragestellung des Atomabkommens von 2015 – offiziell als Joint Comprehensive Plan of Action (kurz: JCPOA oder Wiener Vereinbarung) bekannt – hat ihnen einen unerwarteten Triumph beschert. Während die wirksamsten Sanktionen bereits aufgehoben worden sind und nicht erneut verhängt werden dürften, haben die Argumente der Konservativen im Iran an Schlagkraft gewonnen, die sie gegen ihre politischen Gegner im eigenen Land einsetzen können.
Im Iran gibt es eine machtvolle Koalition aus gemäßigten Kräften – zusammengesetzt aus Reformern, Dissidenten und zivilgesellschaftlichen Akteuren –, die sich seit langem für eine engagierte Außenpolitik einsetzt. Aus Argwohn gegenüber dem Einfluss Russlands und Unsicherheit über die Absichten Chinas unterstützen diese Kräfte eine prowestliche Orientierung der wirtschaftlichen und politischen Beziehungen. Die Gemäßigten sind Fürsprecher einer verantwortungsvolleren Außenpolitik und treten für Zurückhaltung in Bezug auf das Atomprogramm des Landes ein. Und sie haben versucht die Bande zur iranischen Diaspora zu vertiefen, in der Hoffnung, dass engere Beziehungen dazu beitragen könnten, einige der größten wirtschaftlichen Probleme des Iran zu lösen.
Die gemäßigten Kräfte im Iran waren sich darüber im Klaren, dass das Atomabkommen mit der internationalen Gemeinschaft Schwächen hat. In der Hoffnung es wirksam zugunsten von mehr Freiheit im eignen Land einsetzen zu können, haben sie es trotzdem unterstützt. Präsident Hassan Rohani hat bekanntermaßen eine inneriranische Einigung versprochen, um die politischen Wunden im Iran zu heilen und weiter an der Bewältigung der Wirtschaftsprobleme des Landes zu arbeiten. In diesem Versprechen spiegelte sich Rohanis grundlegendes Bestreben, die Macht der iranischen Revolutionsgarden anzufechten und einzuschränken, die weite Teile der iranischen Wirtschaft kontrollieren. Das Vorgehen von Donald Trump gefährdet Rohanis Agenda und die Ziele der gesamten Koalition der gemäßigten Kräfte.
Auch in den USA waren sich die meisten Unterstützer des Atomabkommens über seine Schwächen im Klaren. Aber sie haben die Einigung als Chance für die politische Beteiligung von Iranern gesehen, die die konservativen Extremisten ablehnen. Die amerikanischen Befürworter waren überzeugt, dass die Lebendigkeit der iranischen Zivilgesellschaft und die sozialen Medien Gutes für Iran verheißen und hatten die Hoffnung, dass ein Land, das sich dem Weltmarkt öffnet, politisch liberaler werden würde.
Kritiker des Abkommens wenden ein, dass der Iran auch nach dem Abschluss der Wiener Vereinbarung unvermindert ballistische Raketen getestet hat. Trotzdem ist es töricht zu glauben, dass die USA Irans nukleare und regionale Aktivitäten eindämmen könnten, indem sie sich im Alleingang abwenden. Tatsächlich scheint das oberste Ziel des Atomabkommens – eine Beschränkung der Urananreicherung und die Einstellung nuklearer Experimente – erreicht zu sein. Ungeachtet des Problems, das Trump mit der Vereinbarung haben mag, ist festzuhalten, dass kein Land eine Aufgabe lösen kann, die sie von sich gewiesen hat. Und wenn er dem Atomabkommen eine Absage erteilt, würde das iranische Regime lediglich ermutigt genau die Aktivitäten wieder aufzunehmen, die die Vereinbarung kontrollieren oder einschränken sollte.
Trumps ungeheuerliche Infragestellung des Atomabkommens wird höchstwahrscheinlich andere Ungeheuerlichkeiten provozieren. Ein Grund für die regionalen Machenschaften der Extremisten – wie etwa die Unterstützung von Milizen im Jemen, in Palästina und in Libanon – ist die Überzeugung, dass eine Konfrontation mit den USA oder mit Israel unausweichlich ist. Aus dieser Perspektive sind Stellvertreter wie die Hisbollah ein Instrument, mit dem Aggressionen durch Abschreckung verhindert werden können oder das eingesetzt wird, wenn der Konflikt ausbricht.  
Das Atomabkommen ist tatsächlich nicht der Grund, warum Irans Stellvertreter Waffen tragen. Fest steht jedoch, dass die Spannungen mit den USA nachgelassen haben. Nach Trumps Kehrtwende ist die Möglichkeit einer Konfrontation zwischen Iran und den USA nun wieder auf dem Tisch, und das wird die Entschlossenheit der iranischen Stellvertreterkräfte nur noch bekräftigen.
Kurz gesagt ist eine unilaterale Aufkündigung des Atomabkommens durch die USA die schlechteste aller politischen Optionen. Und wenn sich Trump auf den Kopf stellt: Viele Menschen in Iran, und in den USA, teilen diese Auffassung.
Aus dem Englischen von Sandra Pontow.