Trump renforce les radicaux iraniens
STANFORD – Les États-Unis et l'Iran ont rarement été d'accord sur la façon de procéder à des négociations sur le nucléaire ou sur d'autres éléments de leurs relations bilatérales. Mais les synergies et les similitudes entre les deux factions (les extrémistes iraniens et les va-t-en-guerre de l'administration américaine actuelle), sont aussi contre-intuitives que profondes. En effet, la nouvelle stratégie iranienne de Donald Trump a donné aux radicaux de Téhéran une raison de se réjouir, du fait qu'ils ont trouvé dans le président américain un allié involontaire dans leur quête de domination politique.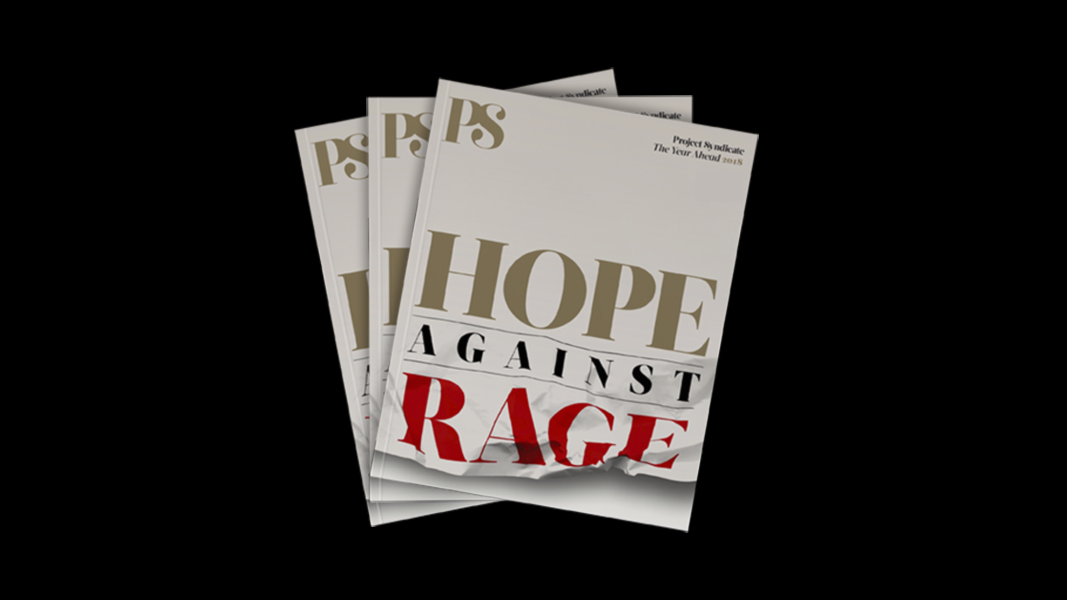 The Year Ahead 2018
The world's leading thinkers and policymakers examine what's come apart in the past year, and anticipate what will define the year ahead.
Pendant des années, les « radicaux conservateurs » iraniens (un terme qui combine un conservatisme extrême en matière de foi et de philosophie avec des opinions sur la violence), ont fait valoir que la négociation et le rapprochement avec les États-Unis sont stupides et inutiles. Les États-Unis, comme le croient ces partisans de la ligne dure, ne s'intéressent qu'au changement de régime et à la lutte contre l'Islam dans la région.
Ce point de vue a conduit l'Iran à s'aligner plus étroitement sur la Russie et sur la Chine. Mais comme des sanctions ruineuses liées au nucléaire au cours des dernières années ont placé l'économie iranienne au bord de l'effondrement, les conservateurs de l'Iran ont été forcés de négocier de bonne foi avec la communauté internationale.
Même en l'absence de sanctions, l'économie iranienne aurait été mise à rude épreuve. La corruption et la mauvaise gestion, ainsi que des défis externes et structurels (tels que la chute des prix du pétrole, les pénuries d'eau et le vieillissement de la population au chômage), avaient déjà affaibli la croissance économique. Le fait que la Chine et la Russie se soient joints à la dernière série de sanctions a rendu moins défendable la position des radicaux.
Mais si les partisans de la ligne dure iraniens ont été frustrés par les négociations précédentes, leur déception a pris fin hier. La décision de Trump de contester l'accord nucléaire de 2015, officiellement connu sous le nom de Plan d'action global conjoint, ou JCPOA, leur a donné une victoire inattendue. Alors que les sanctions les plus efficaces ont déjà été levées et qu'elles ont peu de chances d'être remises en vigueur, les conservateurs de l'Iran ont remporté des points sur le plan politique qu'ils peuvent utiliser contre leurs adversaires nationaux.
Au sein de l'Iran, une puissante coalition des forces modérées, allant des réformistes et des dissidents aux acteurs de la société civile, a longtemps plaidé en faveur d'une politique étrangère plus engagée. Méfiantes quant à l'influence de la Russie et incertaines quant aux intentions de la Chine, ces forces ont soutenu la poursuite de l'orientation de l'Occident dans les liens économiques et politiques. Les modérés ont plaidé en faveur d'une politique étrangère plus responsable et plus prudente sur le programme nucléaire du pays. Ils ont cherché en outre à approfondir les relations de la diaspora iranienne, dans l'espoir que des relations plus étroites pourraient aider à résoudre certains des défis économiques les plus redoutables de l'Iran.
Les modérés iraniens ont compris que l'accord conclu avec la communauté internationale présentait des défauts. Mais ils l'ont tout de même soutenu, dans l'espoir d'en tirer parti pour une plus grande liberté sur le plan national. Le Président Hassan Rouhani a promis une version nationale de l'accord pour guérir les plaies politiques de l'Iran et pour mieux répondre à ses problèmes économiques. Cet engagement reflète l'engagement plus large de Rouhani visant à contester et à limiter le pouvoir du Corps des Gardiens de la Révolution Islamique, qui s'enracine dans le contrôle de grands pans de l'économie iranienne par cette entité du CGRI. À présent, suite à la décision de Trump, l'ordre du jour de Rouhani ainsi que celui de l'ensemble de la coalition modérée est en péril.
La plupart de ceux aux États-Unis qui ont soutenu l'accord nucléaire étaient également conscients de ses défauts. Mais ils ont vu l'accord comme une occasion d'intéresser les Iraniens qui s'opposaient aux radicaux conservateurs. Les partisans américains ont cru que le dynamisme de la société civile iranienne et les médias sociaux étaient de bon augure pour le pays et ont espéré qu'un Iran ouvert aux marchés mondiaux deviendrait plus libéral sur le plan politique.
Les critiques de l'accord ont objecté que les tests de missiles balistiques par l'Iran se poursuivraient avec la même intensité une fois le JCPOA promulgué. Mais il est ridicule de croire que les États-Unis peuvent freiner l'Iran dans le domaine du nucléaire et dans celui des activités régionales en quittant l'accord de manière unilatérale. En fait, le but ultime de l'accord (ralentir l'enrichissement de l'uranium et les essais nucléaires), semble avoir fonctionné. Quel que soit le problème de Trump avec cet accord, il est bon de rappeler qu'aucun pays ne peut corriger ce qu'il a rejeté. Et rejeter le JCPOA ne fait qu'encourager le régime iranien à reprendre les activités que l'accord était destiné à contenir ou à réduire.
Le défi de Trump contre le JCPOA aura davantage de chances d'encourager d'autres comportements tout aussi choquants. L'une des raisons des manigances régionales des radicaux (comme le soutien en faveur de milices au Yémen, en Palestine et au Liban), est la conviction que l'affrontement avec les États-Unis ou avec Israël est inévitable. Les forces armées mandatées comme le Hezbollah sont de ce point de vue un outil pour décourager l'agression ou le déploiement lorsque le combat commence.
Il est vrai que les forces armées mandatées par l'Iran n'ont pas rengainé leurs armes suite à l'accord nucléaire. Mais les tensions avec les États-Unis ont bel et bien diminué. À présent, après la volte-face de Trump, la possibilité d'affrontement entre l'Iran et les États-Unis est de retour, ce qui ne fera que conforter la volonté des forces armées mandatées par l'Iran.
Bref, l'abrogation unilatérale du JCPOA par les États-Unis est la pire de toutes les options politiques. Peu importe ce que dit Trump, de nombreuses personnes en Iran et aux États-Unis partagent ce point de vue.