¿Se ha convertido la Interpol en una herramienta de opresión?
,
LONDRES – Los arrestos de periodistas en España y Ucrania basados en avisos de la Interpol han ocasionado serios cuestionamientos acerca de los métodos de esta agencia policial internacional. En particular, son tendencias que están afectando seriamente a los profesionales de los medios de comunicación.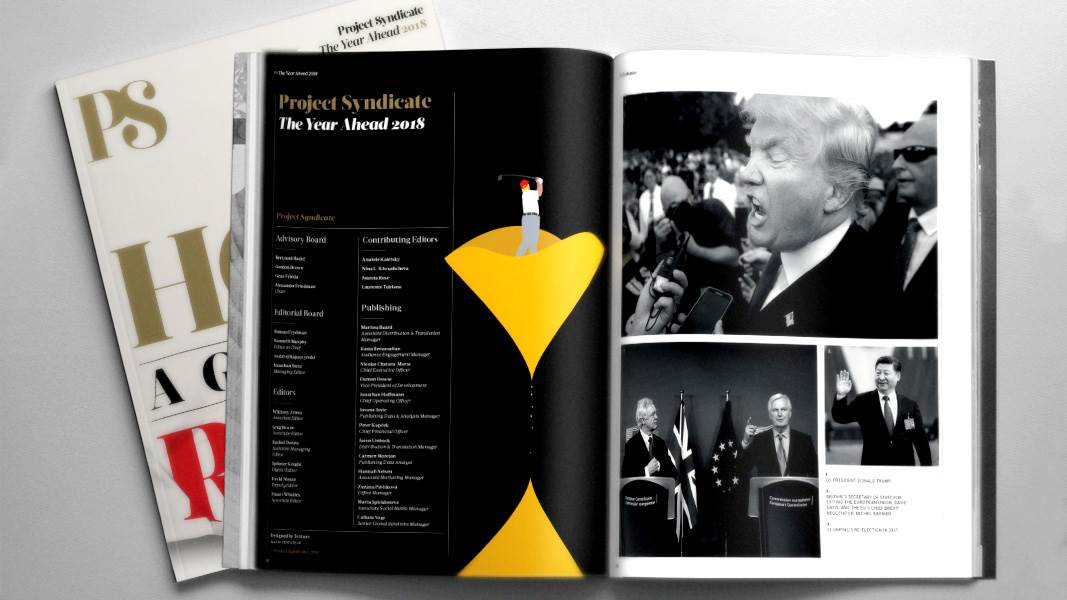 The Year Ahead 2018
The world's leading thinkers and policymakers examine what's come apart in the past year, and anticipate what will define the year ahead.
Los de España y Ucrania no son incidentes aislados. Los países que se oponen a una prensa libre están usando cada vez más las alertas de "persona buscada" de la Interpol para apuntar y silenciar a periodistas que han huido. Las organizaciones Fair Trials y Reporteros Sin Fronteras (RSF) han respondido a una serie de casos en los que se ha arrestado y detenido a reporteros en base a información de la Interpol. Entre los países que hacen circular estas órdenes se encuentran Azerbaiyán, Turquía, Uzbekistán y Kazajistán.
La circulación de alertas sobre personas buscadas, que incluyen "avisos" y "difusiones" es una de las funciones clave de la Interpol. Se transmiten a bases de datos policiales en todo el mundo, identificando a la persona como un criminal en búsqueda y tienen consecuencias de largo alcance, pues se puede abusar de ellas. Por ejemplo, en los últimos meses la Interpol ha puesto alertas a Hamza Yalçin, Fikret Huseynli, Narzullo Akhunzhonov y Can Dündar, periodistas perseguidos por sus gobiernos simplemente por hacer sus trabajos.
Si se usa adecuadamente, una alerta de Interpol es esencial para luchar contra el crimen global. Los afectados pueden enfrentar largos periodos de detención en el proceso de extradición. Puede ser difícil limpiar sus nombres. Incluso si la alerta se elimina de las bases de datos de Interpol, pueden seguir enfrentando la amenaza de arrestos al viajar, o que se les rechace las visas en un interminable ciclo de persecución.
Las alertas de personas buscadas no son los únicos mecanismos de Interpol de los que se abusa. Las autoridades fronterizas británicas del Aeropuerto Heathrow de Londres confiscaron el pasaporte de la periodista siria Zaina Erhaim tras el falso aviso en el sistema de la Interpol de que había sido robado. En otros lugares se han informado movimientos similares para restringir los desplazamientos de periodistas poco amigables.
La Interpol se creó en 1923 para ayudar a los países a coordinar la lucha contra el terrorismo y el crimen internacional. Su misión es sencilla: "convertir el planeta en un lugar más seguro". Pero si bien la meta es noble, no todos sus 192 países miembros se atienen a las reglas. Algunos tienen los gobiernos más opresivos del mundo, con autoridades que suelen abusar de sus propios sistemas de justicia penal para silenciar la libertad de expresión y la oposición política. A estos regímenes autoritarios no les importa nada usar Interpol para perseguir periodistas en el exilio.
Cuando se abusa así de las alertas de Interpol, la opresión obtiene un sello de aprobación internacional. Por eso es un problema tan crucial. Si bien es lamentable que países como Turquía, China y Egipto persigan a periodistas a nivel nacional, no debemos permitir que la Interpol se vuelva su cómplice. La comunidad internacional debe mostrar su compromiso con la libre expresión, dejando claro que los periodistas obligados a abandonar sus patrias serán protegidos y se les permitirá continuar haciendo su trabajo.
La Interpol tiene las herramientas para fortalecer sus sistemas de notificación. La agencia ha demostrado un impresionante compromiso con el cambio, lo que se ve en sus nuevas reglas para la protección de refugiados y la creación de un mecanismo de quejas más sólido. Más aún, su constitución, que cada país miembro debe firmar, exige que la Interpol no debe involucrarse en casos políticos y que sus medidas han de respetar la Declaración Universal de Derechos Humanos de las Naciones Unidas, que incluye la libertad de expresión.
Y, sin embargo, hay países que siguen usando a la Interpol como medio para el silenciamiento de periodistas, sin que las autoridades de esta organización adopten las medidas necesarias para impedirlo.
Parte del reto es de procedimientos. Cada año, Interpol emite más de 11.000 avisos de "Alertas rojas" (alertas que piden a los países miembros que ubiquen y arresten a una persona que tiene pendiente su extradición). Interpol ha comenzado a revisarlas antes de su transmisión. Pero los países pueden esquivar esto usando la circulación de "difusiones", es decir, pedidos de cooperación policial menos formales que las notificaciones pero que a menudo tienen un resultado similar. Se envían a las fuerzas policiales de todo el mundo antes de que pasen por un proceso de revisión formal. Y si bien la Interpol finalmente realiza una evaluación antes de cargar una difusión a su base de datos, para entonces el daño ya está hecho.
Claramente existe la necesidad de equilibrar un trabajo policial veloz con mecanismos para desalentar el abuso. Pero, ¿qué puede hacer la comunidad internacional más allá de elevar la vigilancia de la organización misma?
Para comenzar, los países miembros deberían exigir que Interpol destine recursos y financiación a realizar una revisión urgente de los miles de alertas que están a la espera en su sistema, además de reformar su sistema de difusión. Si no puede eliminar las difusiones abusivas de las bases de datos de los estados miembros, debe revisarlas antes de que se pongan en circulación. También se debe hacer rendir cuentas a los países que abusen, o intenten abusar, de los sistemas de la Interpol. Y los departamentos de policía de todo el mundo deberían ejercer más cautela a la hora de actuar sobre alertas recibidas a través de la Interpol.
La credibilidad de la Interpol está en juego. Como bien sabe todo editor de periódico, los lectores acabarán por preferir otras fuentes si constantemente se los bombardea con contenidos imprecisos o engañosos. Lo mismo vale para la información de la Interpol.
Los mecanismos internacionales como la Interpol son esenciales para la seguridad de nuestro mundo cada vez más globalizado. Pero si los secuestran quienes buscan silenciar la libre expresión, se arriesgan a convertirse en parte del problema que debían solucionar en primer lugar.
Traducido del inglés por David Meléndez Tormen