Interpol est-il devenu un outil d'oppression ?
,
LONDRES – Les arrestations de journalistes en Espagne et en Ukraine sur la base de notices d'Interpol ont soulevé des questions sérieuses au sujet des méthodes de l'agence de police internationale. Pour les professionnels des médias en particulier, ces tendances sont très inquiétantes.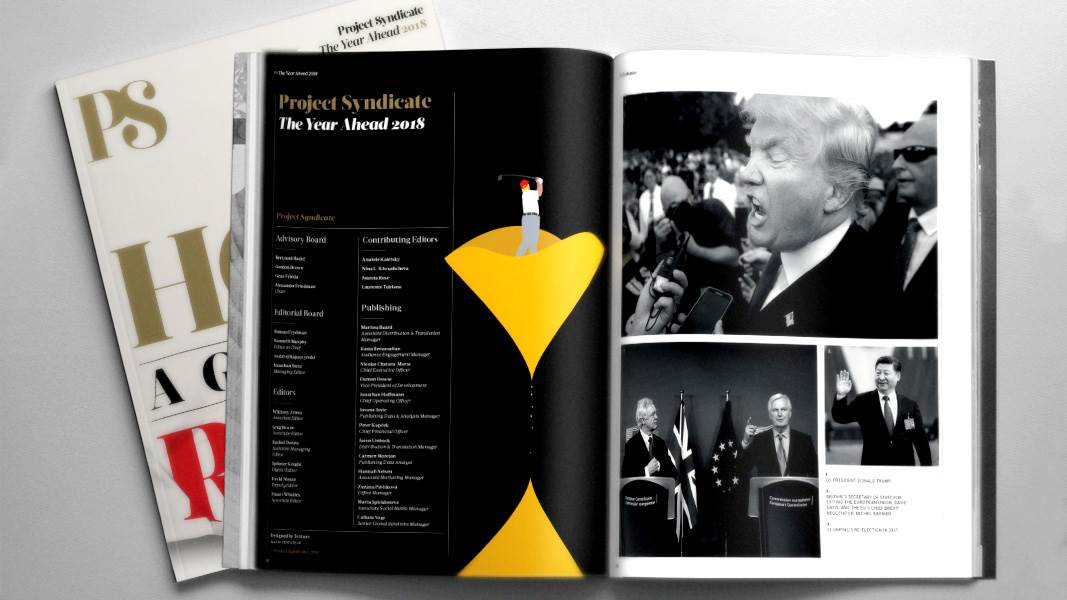 The Year Ahead 2018
The world's leading thinkers and policymakers examine what's come apart in the past year, and anticipate what will define the year ahead.
Les cas de l'Espagne et de l'Ukraine ne sont pas des incidents isolés. Les pays opposés à une presse libre emploient de plus en plus les alertes de « personne recherchée » d'Interpol pour viser et réduire au silence les journalistes qui ont fui. Depuis juillet, Fair Trials and Reporters Without Borders (RSF) ont répondu à un certain nombre de cas dans lesquels des journalistes ont été arrêtés et détenus sur la base de renseignements d'Interpol. Les pays qui diffusent ces ordres sont notamment l'Azerbaïdjan, la Turquie, l'Ouzbékistan et le Kazakhstan.
La diffusion d'alertes de personnes recherchées, en particulier les « notices » et « les diffusions » est l'une des fonctions principales d'Interpol. Ces alertes, communiquées aux bases de données mondiales de police, identifient le sujet en tant que criminel recherché. Ces avis ont des conséquences de grande envergure qui, comme nous l'avons appris, peuvent facilement être détournées. Par exemple, ces derniers mois, des journalistes comme Hamza Yalçin, Fikret Huseynli, Narzullo Akhunzhonov et Can Dündar, ciblés par leurs gouvernements pour avoir simplement fait leur métier, ont tous ont été fichés par Interpol.
Utilisée à bon escient, une alerte Interpol est un outil essentiel pour combattre la criminalité au niveau mondial. La personne faisant l'objet d'une alerte d'Interpol peut faire face à des périodes prolongées de détention durant ses demandes d'extradition. Prouver son innocence peut être difficile. Même lorsqu'une alerte est retirée des bases de données d'Interpol, un individu peut continuer à faire face à la menace d'une arrestation lorsqu'il voyage, ou se voir refuser un visa dans un cycle de persécutions sans fin.
Les alertes de personnes recherchées ne sont pas le seul moyen de détourner certains mécanismes d'Interpol. En septembre 2016, la journaliste syrienne Zaina Erhaim s'est fait saisir son passeport par la police des frontières britanniques à l'aéroport d'Heathrow de Londres, son passeport ayant été faussement signalé comme volé dans le système d'Interpol. Les efforts semblables d'utilisation d'Interpol pour limiter le voyage des journalistes peu complaisants ont été rapportés ailleurs.
Interpol a été créé en 1923 pour aider des pays à se coordonner dans la lutte contre la criminalité transfrontalière et contre le terrorisme. Sa mission est simple : « rendre monde le plus sûr. » Mais bien que son objectif soit noble, ses 192 pays membres ne se conforment pas tous aux règles. Les membres d'Interpol comprennent certains des gouvernements les plus tyranniques du monde, dont les dirigeants abusent systématiquement de leurs propres systèmes de justice pénale pour faire taire la liberté d'expression et l'opposition politique. Ces régimes autoritaires font peu de cas d'utiliser Interpol pour cibler des journalistes en exil.
Lorsque des alertes Interpol sont utilisées à mauvais escient de la sorte, l'oppression y gagne une marque d'approbation internationale. Voilà pourquoi la lutte contre les abus du système d'Interpol est si cruciale. Il est lamentable que des pays comme la Turquie, la Chine et l'Égypte persécutent les journalistes qui travaillent sur leur territoire national et nous ne pouvons pas permettre qu'Interpol devienne le complice d'un tel comportement. La communauté internationale doit montrer son attachement à la liberté d'expression en disant clairement que les journalistes contraints de fuir leur pays d'origine sont protégés et autorisés à poursuivre leur travail.
Interpol dispose des outils pour renforcer ses dispositifs de notification. L'Agence a montré un engagement impressionnant à changer, en présentant de nouvelles règles pour protéger les réfugiés, par exemple en créant un mécanisme de plaintes plus solide. En outre, la constitution de l'Agence, que chaque pays membre doit signer, nécessite qu'Interpol ne s'engage pas dans les affaires politiques et que ses actions respectent la Déclaration universelle des droits de l'Homme des Nations Unies, qui inclut le droit à la liberté d'expression.
Pourtant certains pays continuent d'utiliser Interpol comme un moyen de faire taire les journalistes et les dirigeants de l'Agence ne parviennent pas à les arrêter.
Une partie de ce défi est procédurale. Chaque année, Interpol émet plus de 11 000 « Notices rouges » – des alertes qui demandent aux pays membres de localiser et d'arrêter un individu en instance d'extradition. Interpol a commencé à examiner ces notices avant de les envoyer. Mais les pays peuvent contourner cette précaution et utiliser Interpol pour faire passer des « diffusions » – des demandes de coopération policière moins formelles que les notices, mais qui produisent souvent un résultat similaire. Elles sont envoyées aux forces de police dans le monde entier tout examen officiel. Et avant qu'Interpol ne procède à un examen et ne modifie une diffusion sur sa base de données, entre temps le mal est déjà fait.
Il est clairement nécessaire d'équilibrer la diligence du travail policier avec les mécanismes qui découragent les abus. Mais au-delà d'une meilleure vigilance de la part de l'organisme lui-même, que peut faire la communauté internationale ?
Tout d'abord, les pays membres devraient exiger qu'Interpol consacre une partie de ses ressources et de son financement à une révision urgente des milliers d'alertes qui pèsent sur son système. Interpol doit également réformer le système de diffusion. Si cet organisme ne rappelle pas les diffusions abusives des bases de données des pays membres, il doit les corriger avant même qu'elles soient diffusées. Les pays qui abusent ou qui tentent d'abuser des systèmes d'Interpoldoivent également rendre des comptes. Et les services de police du monde entier devraient faire preuve de davantage de prudence avant d'agir suite à une alerte reçue d'Interpol.
La crédibilité d'Interpol est en jeu. Comme le sait tout rédacteur en chef, les audiences finiront par se déconnecter si elles sont continuellement bombardées par des contenus inexacts ou trompeurs. Il en va de même pour les informations d'Interpol.
Dans un monde de plus en plus mondialisé, les mécanismes internationaux comme Interpol sont essentiels pour nous protéger. Mais si ces organismes sont détournés par des personnes qui s'efforcent de museler la liberté d'expression, ils risquent de devenir une partie du problème qu'ils étaient censés résoudre.