A Interpol tornou-se uma ferramenta de opressão?
,
LONDRES – As detenções de jornalistas na Espanha e na Ucrânia originadas por avisos da Interpol colocaram questões importantes sobre os métodos da agência policial internacional. Especialmente para os profissionais da comunicação social, esta tendência é profundamente preocupante.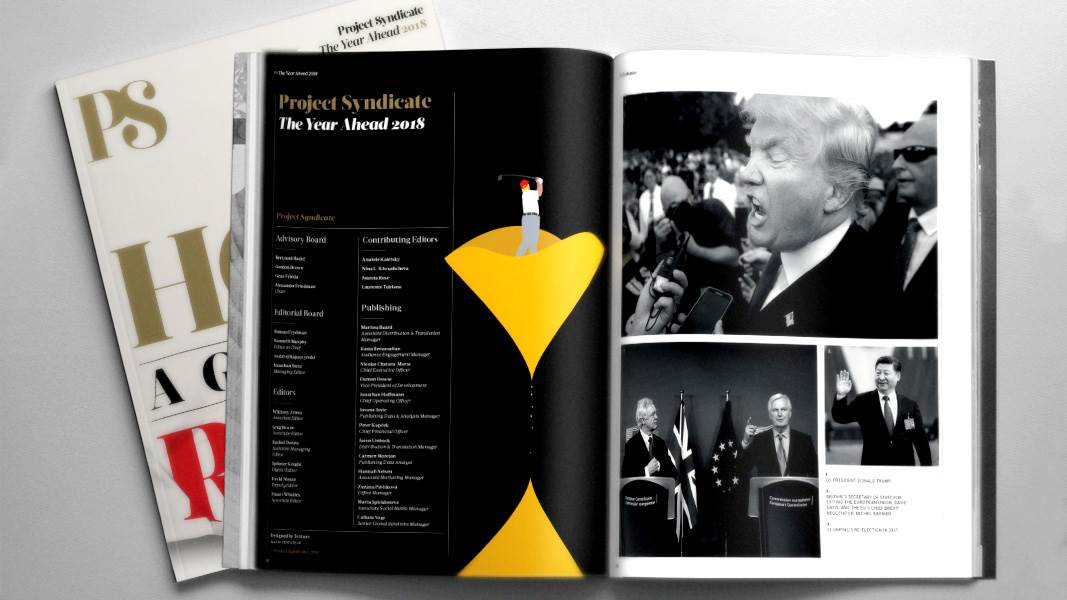 The Year Ahead 2018
The world's leading thinkers and policymakers examine what's come apart in the past year, and anticipate what will define the year ahead.
Os casos na Espanha e na Ucrânia não são incidentes isolados. Os países que se opõem à liberdade de imprensa usam cada vez mais os alertas de "pessoa procurada" da Interpol para localizar e silenciar jornalistas em fuga. Desde Julho, a Fair Trials e os Repórteres sem Fronteiras (RSF) intervieram numa série de casos de prisão e detenção de repórteres com base em informações da Interpol. Os países onde se verificaram estas ordens incluem o Azerbaijão, a Turquia, o Uzbequistão e o Cazaquistão.
A circulação de alertas de pessoas procuradas, que incluem "avisos" e "difusões," é uma das principais funções da Interpol. Estes alertas, transmitidos para bases de dados policiais em todo o mundo, identificam uma pessoa como um criminoso procurado. Estas notificações têm consequências de grande alcance e, como sabemos agora, podem facilmente ser abusivas. Por exemplo, nos últimos meses, jornalistas como Hamza Yalçin, Fikret Huseynli, Narzullo Akhunzhonov, e Can Dündar, perseguidos pelos seus governos apenas por fazerem o seu trabalho, foram todos referenciados pela Interpol.
Quando usado devidamente, um alerta da Interpol é uma ferramenta crítica para o combate ao crime global. O visado por um alerta da Interpol poderá enfrentar períodos alargados de detenção e ver a sua extradição dificultada. A limpeza do seu nome pode ser um processo difícil. Mesmo depois de um alerta ser removido das bases de dados da Interpol, a pessoa pode continuar a enfrentar a ameaça de detenção enquanto viaja, ou ver recusada a emissão de vistos, num ciclo de perseguição interminável.
Os alertas de pessoas procuradas não são o único modo de utilização abusiva dos mecanismos da Interpol. Em Setembro de 2016, a jornalista síria Zaina Erhaim viu o seu passaporte ser confiscado pelas autoridades fronteiriças do aeroporto de Heathrow, em Londres, depois de este ter sido falsamente notificado como furtado no sistema da Interpol. Esforços semelhantes para usar a Interpol na restrição a viagens de jornalistas hostis foram verificados noutros locais.
A Interpol foi criada em 1923 para ajudar os países na coordenação na luta contra o crime e o terrorismo internacionais. A sua missão é simples: "fazer do mundo um lugar mais seguro." Mas embora este seja um objectivo nobre, nem todos os seus 192 países-membros aderem às suas regras. Os membros da Interpol incluem alguns dos governos mais opressores do mundo, cujos líderes usam rotineira e indevidamente os seus próprios sistemas judiciais para silenciar a liberdade de expressão e a oposição política. Estes regimes autoritários não têm quaisquer problemas em usar a Interpol para localizar repórteres no exílio.
Quando os alertas da Interpol são assim indevidamente usados, a opressão recebe um selo de aprovação internacional. É por isso que é tão crucial combater os abusos do sistema da Interpol. Sendo lamentável que países como a Turquia, a China e o Egipto persigam jornalistas internamente, não devemos permitir que a Interpol seja cúmplice desse comportamento. A comunidade internacional deve mostrar o seu compromisso com a liberdade de expressão, deixando bem claro que os repórteres que forem forçados a fugir dos seus países natais serão protegidos, e que lhes será permitido continuarem o seu trabalho.
A Interpol dispõe das ferramentas para fortalecer os seus sistemas de notificação. A agência demonstrou um compromisso impressionante com a mudança, introduzindo novas regras para proteger os refugiados, por exemplo, e criando um mecanismo mais robusto para a gestão de reclamações. Além disso, os estatutos da agência, que todos os países-membros devem aprovar, requerem que a Interpol não se imiscua em casos políticos, e que as suas acções respeitem a Declaração Universal dos Direitos do Homem das Nações Unidas, que inclui o direito à liberdade de expressão.
E, contudo, há países que continuam a usar a Interpol como meio para silenciar jornalistas, e os responsáveis da agência não estão a conseguir impedi-los.
Uma parte do desafio é processual. Todos os anos, a Interpol emite mais de 11 000 "Avisos Vermelhos", alertas que pedem aos países-membros que localizem e detenham um indivíduo para posterior extradição. A Interpol começou a rever estes avisos antes do seu lançamento. Mas os países podem contornar esta condição usando a Interpol para circular "difusões", pedidos de cooperação policial que são menos formais que os avisos, mas que produzem frequentemente um resultado semelhante, e que são enviadas às forças policiais em todo o mundo antes da realização de uma análise formal. E mesmo que a Interpol eventualmente acabe por analisar a difusão antes de incluí-la na sua base de dados, nessa altura já o mal está feito.
Existe claramente a necessidade de equilibrar a velocidade do trabalho policial com mecanismos que desencorajem o abuso. Mas, para além da vigilância acrescida na própria agência, o que pode fazer a comunidade internacional?
Para começar, os países-membros devem exigir que a Interpol dedique recursos e financiamento a uma análise urgente dos milhares de alertas que residem no seu sistema. A Interpol também precisa de reformar o sistema das difusões. Se não puder recolher difusões abusivas das bases de dados dos países-membros, deverá poder analisá-las antes mesmo que sejam postas em circulação. Os países que usem, ou que tentem usar, os sistemas da Interpol de forma indevida, também devem ser responsabilizados. E os serviços policiais de todo o mundo devem ser mais cautelosos, antes de agirem com base em alertas recebidos através da Interpol.
A credibilidade da Interpol está em causa. Como qualquer redactor de jornal sabe, o público acaba por desinteressar-se se for continuamente bombardeado com conteúdos incorrectos ou enganosos. O mesmo é verdadeiro para as informações da Interpol.
Num mundo cada vez mais globalizado, os mecanismos internacionais como a Interpol são essenciais à nossa segurança. Mas se estas organizações forem sequestradas por quem está empenhado em silenciar a liberdade de expressão, arriscam a tornar-se parte do problema cuja resolução motivou a sua criação.